Skyworks Under Fire
Skyworks Solutions (NASDAQ:SWKS) is in quite an ambiguous spot at the moment from a financial perspective as the coming 5G and IoT waves seem poised to boost the company's fortunes while a slowdown in premier smartphone demand in China and for Apple's (AAPL) iPhones pulls in the other direction. I think the distinguishing factor between these two offsetting forces is that the migration to 5G and IoT is a longer-term catalyst which will likely yield significant benefits, while the slowdown in smartphone demand is likely to be a short-term headwind with a relatively small lasting impact on Skyworks' financial future. Therefore, I think Skyworks at current levels represents an attractive investment for those with a long-term investing horizon.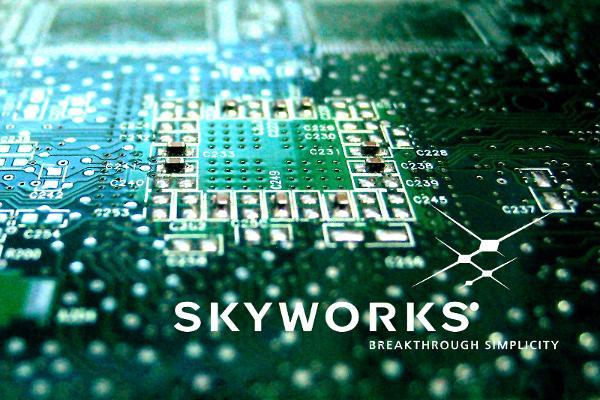 Skyworks' most recent reports were its Q4 and FY2018 fiscal results released in early November, which showed record revenue and EPS on both a quarterly and annual basis. Top and bottom line results were driven by content gains in Tier 1 smartphones sold by the likes of Apple, Samsung (OTC:SSNLF) (OTC:SSNNF) Huawei, and others, and by the continued growth of the company's broad markets segment, much of which is derived from IoT revenue.
And yet, despite these seemingly strong results, the stock fell sharply and has continued to languish a good deal off from 52-week highs: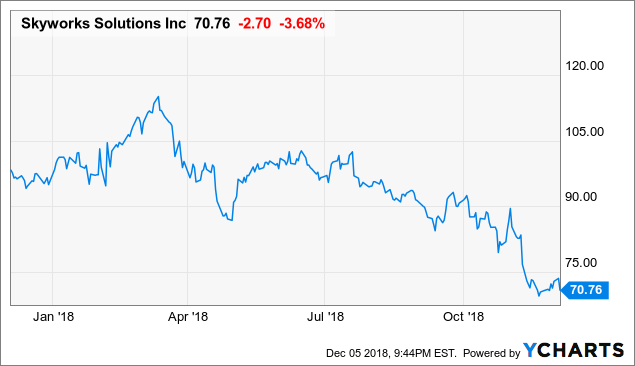 This negative market sentiment is being driven by a few different factors including the perceived overvaluation of tech stocks, and semiconductor stocks especially, and production cuts from largest customer Apple, which according to Skyworks' 10-K accounted for 47% of the latter's revenue for FY2018. I don't think it's likely that either of these storm clouds will fade quickly.
The U.S. economy seems due for a slowdown with interest rates rising and the current bull market nearing 10 years strong (or already there depending on an arbitrary start date). In addition, Apple likely won't be releasing a full-fledged new model for another few quarters. With these two negative catalysts, Skyworks' short-term outlook appears mixed at best and grim at worst.
Therefore, my current evaluation of Skyworks will focus more on the company's long-term prospects as it relates to 5G and IoT technologies, on which the company seems well-positioned to capitalize.
5G has been talked about for quite some time, but it appears the technology is finally ready to make its debut. AT&T (T), Sprint (S), and Verizon (VZ) have all claimed that they will support Samsung's 5G-enabled smartphone slated for release in 2019, while reports state that Apple will start rolling out 5G-enabled smartphones in 2020. China is also on the cusp of a 5G release with the rollout of the technology for commercial use expected to commence in 2020.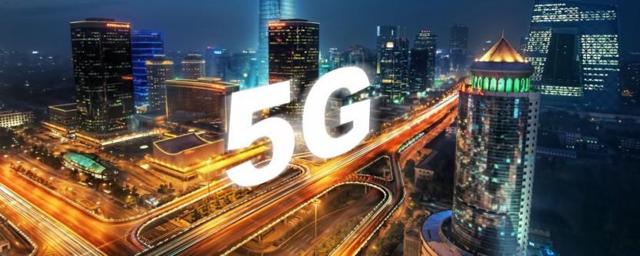 Skyworks' existing business relationships with top smartphone manufacturers and the company's market leadership in the mid-tier band for radiofrequency filters, among other products, will likely lead to increased revenue as the 5G rollout pushes on.
On the topic of RF filters, I have often in past articles on Skyworks discussed the company's lack of bulk acoustic wave ('BAW') filters, which are typically required for high-performance applications, and how it is hindering the company's ability to build integrated solutions at competitive prices and to compete for the high-margin opportunities in the RF market.
In a previous article of mine (linked in the previous paragraph), I argued the following:
. . . SAW and TC-SAW will not be competitive with BAW filters as time goes on for two reasons: 1) the shift is towards high-frequency applications and 2) BAW filters can come down in cost but SAW filters cannot gain much in performance.
Analysts appeared to have the same concerns as not one earnings conference call would go by without at least one question about Skyworks' plans for BAW filters. This is an important topic of discussion considering BAW filters will be a vital part of the total addressable market for 5G.
Well, we finally got an update, and in rather anti-climactic fashion I might add. All the following quotes from management are from Skyworks' Q4/FY2018 conference call found here.
CEO Liam Griffin stated:
Not only on the low-band that gets enhanced and the mid band, but we're going to start to really step up in high-band. And having said that, actually, we've done a lot of work to develop our filter technology and we've talked a little bit about it, but we didn't fully disclose some of the work that we've been doing.

And today, we're ready in BAW. We're developing BAW in-house. We've made targeted investments.
This was in response to an analyst question and not in the prepared remarks, which makes this announcement even more surprising. It seemed to have caught analysts off guard as well as Edward Snyder at Charter Equity Research soon after asked the following:
Liam, what do you mean by you're ready today in BAW? Have you sampled duplexers in BAW? If so, what bands? We've heard of single band Rx filter samples. Beyond that, we've not seen anything. So, I'm just curious, you seem to make a much stronger statement about BAW this quarter than I've heard in any of your periods in the past. What's changed?
To which Griffin responded:
What's changed? What's changed is that we've done a lot of hard work, Ed. We've made investments in the technology. Our engineering teams have been working this for a long time and I haven't been talking about it, because we weren't ready. But we're ready now.
It's quite an unceremonious reveal but it seems Skyworks is ready to include in-house BAW filter technology into its integrated offerings. I found Griffin's reveal amusing considering how much stonewalling and dodging he had done in the past regarding Skyworks' plans for BAW, and then when he finally announces they've developed the tech in-house he does so with a tone that seems to imply 'what, you didn't see this coming?' as if he hadn't been intentionally avoiding the topic for quarter after quarter. But I digress!
The end result is that Skyworks claims it has BAW filters ready for its platform, which will likely allow the company to push further into high-band applications. If successful, this will bring an increase in margins and expand Skyworks' total addressable market, which bodes well for revenue growth and the company's stated goals for margin improvements. With the development of BAW, Skyworks has positioned itself for success in the 5G market, which perhaps was its plan for the BAW roadmap all along.
Beyond mobile phone-related business, Skyworks broad markets segment, which includes the fast-growing and oft-discussed IoT, appears poised for growth due to the increasing connectivity of appliances and devices to the Internet. In the Q4/FY2018 conference call, Griffin stated that projections for 2019 include strong double-digit year-over-year growth in broad markets revenue, which he pegs at a $1.1 billion annualized run rate.
Recent fiscal results showed that, in the most recent quarter, broad markets made up 28% of total revenue. With growth expected to increase between 10% and 15% in the upcoming fiscal quarter, the segment is expected to offset some weakness in smartphone demand, demonstrating the positive diversification effect when the core business is struggling.
The growth in IoT is one of the more exciting aspects of Skyworks' future prospects with the market expected to double to $520 billion in 2021. Estimates, of course, vary widely, but I think as consumers and companies realize the increased efficiencies and benefits of connecting every-day appliances to the Internet, the market will expand to the advantage of the companies that manufacture the underlying hardware that makes the technology tick.
Risks
The two main risks I see facing Skyworks' long-term prospects are 1) its dependence on Apple and 2) competition from the likes of RF filter makers Broadcom (AVGO) and Qorvo (QRVO). Let's start with Apple.
As I stated earlier, nearly half of Skyworks' revenues can be attributed to Apple, most of which is generated through iPhone sales. With the iPhone currently struggling to sell units, the impact on Skyworks will likely be negative considering many of Apple's other suppliers have already reduced forecasts due to soft smartphone demand. While this lack of revenue diversification is certainly a risk, I don't think it will be a long-term issue primarily because Apple's brand recognition in the smartphone market is unparalleled, so sales aren't in much long-term jeopardy, and Skyworks is a cost leader in mid-band applications so isn't likely to lose too much content in the phones.
Regarding competition, it will be interesting to see how Skyworks' in-house BAW filters stack up against filters sold by high-band leader Broadcom. I think Skyworks' strategy to sell integrated filter solutions rather than discrete filters will insulate it from some of the risks of competing directly with Broadcom in the market for high-band applications. Qorvo is currently behind Skyworks in mid-band and behind Broadcom in high-band, which has led the company to lower prices and take a hit to margins in order to secure design wins. This poses a risk to Skyworks because the company maintains a strict margin requirement where they will not compete for a socket if the margins are not up to a certain standard. These pricing wars are and always will be a risk in the RF filter market, but Skyworks continued historical success at growing revenue and improving margins despite competition leads me to believe that this risk, too, is not likely to significantly hinder the company's long-term prospects.
Investor Takeaway
I expect the short-term prospects for SWKS to be fairly unpredictable due to rising interest rates, the high sensitivity of tech stocks to broader stock market declines, and issues related to iPhone production. For those looking to profit off the stock's current valuation, I perceive that to be a risky investment.
For long-term investors, I think the outlook is significantly better. The company is a cash flow machine, producing $1.3 billion in cash flow from operations and free cash flow of around $840 million in FY2018, has zero debt (a major boon going into a rising interest rate environment and possible recession), and is on the verge of industry tailwinds with the 5G rollout poised to boost results in the core smartphone segment and with IoT growth poised to boost results in the broad markets segment.
In addition, Skyworks' announcement that they have developed BAW filters in-house that are ready for integration into the company's suite erases what was, in my opinion, one of the greatest threats to Skyworks' long-term success.
In my opinion, the potential for growth in 5G and IoT markets more than offsets the risks posed by dependency on Apple and competition from Broadcom and Qorvo. At its current depressed valuation, I think long-term investors should consider this an entry point with an allocation small enough where the position could be bolstered should broader economic conditions worsen and SWKS sells off further.
If you want to stay up to date on my articles, you can Follow me by going to my author page or by clicking "Follow" at the top of this page.
Thanks for reading!