Welcome to the new agreement edition of Oil Market Daily!
OPEC and non-OPEC producers agreed to cut production by 1.2 mb/d. Here's what the breakdown looks like: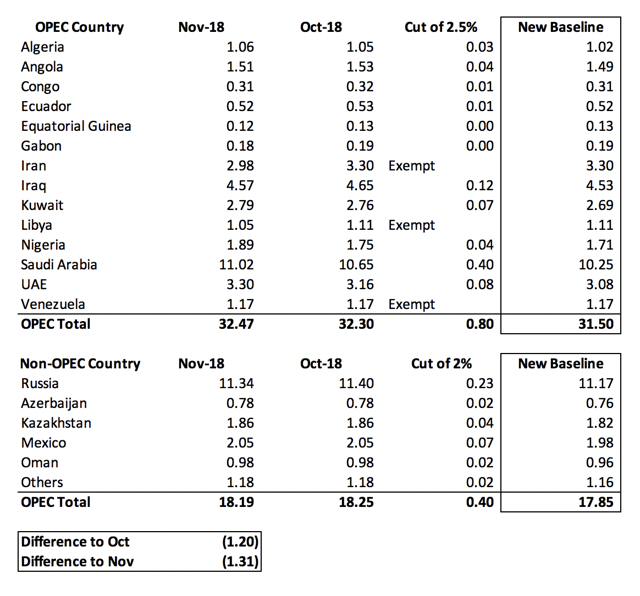 Source: HFI Research
(Note: Figures for OPEC excludes Qatar from the calculation.)
Keep in mind that using the 3 agencies average for "call on OPEC", we get to ~31.5 mb/d for 2019. But because Qatar is now no longer a member of OPEC, we need to subtract the call on OPEC figure by ~610k b/d to ~30.9 mb/d.
This is what production would look like for OPEC in January 2019 using our estimates: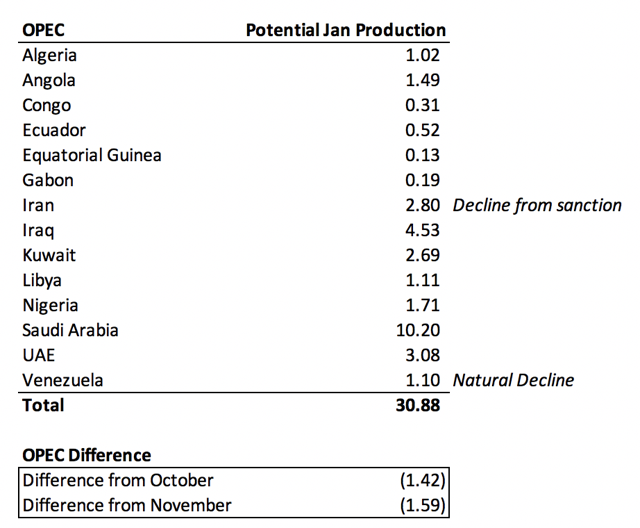 Source: HFI Research
And this is what non-OPEC would look like for January 2019: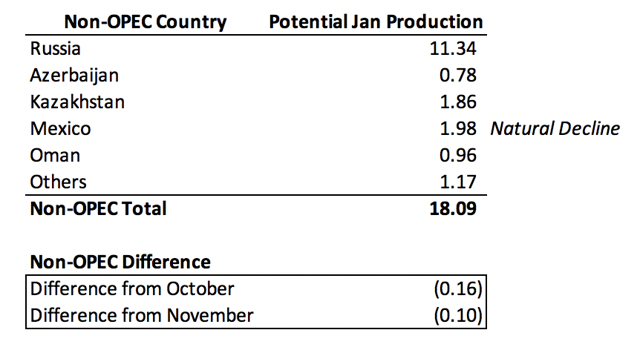 Source: HFI Research
In total, the production difference in January 2019 versus October/November 2018 are as follows:

Source: HFI Research
By our calculation and assuming Russia doesn't start decreasing production by April 2019, total supplies lost between OPEC and non-OPEC total 1.58 mb/d versus October 2018, and a loss of 1.69 mb/d versus November 2018.
Keep in mind that in November 2018, Saudi increased production to 11.1 mb/d and Iranian production falls from 3.3 mb/d to 3 mb/d in November 2018. Our estimate is that Iran will fall to 2.8 mb/d by January of 2019 or where production was previously in the last sanction period, so total OPEC production is expected to decline to 30.88 mb/d by January 2019.
What does this mean for global oil market balances?
As we explained in our prior report titled, "There Are Serious Risks To Oil Supplies Disappointing In 2019." The supply delta arising from Canada and Brazil alone total ~590k b/d. This increases the call on OPEC from 30.9 mb/d to ~31.5 mb/d.
Given the decline we expect for H1 2019 from non-OPEC, we can assume ~200k b/d will be lost (to be safe and accounting for Russia declining only in Q2 2019). Now taking that into account and extrapolating the supplies lost for 2019, we arrive at another 100k b/d of deficit added to the call on OPEC figure (200k b/d for half a year evened out over a year is 100k b/d).
This would bring call on OPEC to ~31.6 mb/d.
Of course the assumption is that OPEC or namely Saudi, UAE, and Iraq would keep production relatively modest for the back half of 2019 as well, but given where we see production for January 2019, we think global balances will be weighed towards a balanced to deficit market.
But the change in sentiment will come a lot earlier since Saudi preemptively cut exports to US already...
The Saudis learned their lesson from 2016's OPEC meeting. By ramping up exports before the 2016 meeting, it flooded the world with excess barrels just as the market was trying to figure out where the OPEC+ cut was real or not. The Saudis this time around tanked exports to the US preemptively to control the narrative with US crude storage.
We already published two pieces detailing this. Here are the articles, article 1, article 2.
Last week's EIA data showed US Saudi crude imports dropping to 730k b/d and based on tanker tracking data, we should see the low import volumes persist going forward.
In addition, with Saudi Aramco releasing its official selling price for January, OSP increased yet again for the US indicating to us that Saudi will continue to choke barrels off to the US. Keep in mind that we estimate higher US Saudi crude imports (above 700k b/d) accounted for 53.8 mbbls of excess crude storage builds in the US. This should soon reverse.
Conclusion
On a projected global balance basis, total supplies lost in January 2019 versus October could be as high as 1.58 mb/d. While the estimates are dependent on the speed of Iranian crude production falling, we think the oversupply narrative for 2019 is greatly exaggerated as we explained above. We also see a lot of room for supplies to disappoint to the downside especially in the non-OPEC area.
Author's note: Thank you for reading this article. If you found this article insightful, please leave a "Like" below.