Apologies in advance for all the ARM wordplay, I'm only human. At least it's not pot stock puns.
UnARMed
Under its visionary leader, Steve Ballmer, Microsoft (MSFT) went from a company whose operating system ran 90% of computing devices in the world to, um, not that. He was so busy protecting Windows and Office monopolies, and fighting off the ghosts of open source, that it already was too late when most devices were running Google (GOOG) (NASDAQ:GOOGL) or Apple (AAPL) operating systems. Now, Microsoft is still a behemoth, but they will never again be preeminent in software the way they were from 1982-2007. Helluva run, though.
Intel (INTC) and AMD (AMD) are about halfway through their own version of this process. The threat from below that they don't even seem to see is ARM-based processors, which are in your phone, tablet, watch, TV box, smart speaker, refrigerator, toaster, TV, soon in your laptop, and coming to a data center near you. All in less time than Intel or AMD think, because they are too busy fighting each other.
Amazon (AMZN) just announced they will be building servers using ARM-based chips that will reduce user costs by 45% for parallel workloads, and at the rate things are going, it will not be long before this is true for all workloads. They will always have Intel and AMD servers so long as that's what customers want, but the savings from ARM may be too much to resist.
Apple just released two new devices — the new MacBook Air sporting the Intel i5 mobile CPU and the iPad Pro with the Apple ARM A-12X. Here's the weird thing: The tablet CPU is faster than the laptop chip, at much lower power consumption and cost. That MacBook Air is likely the last consumer MacBook with Intel inside. Eventually, all Macs will run custom Apple ARM-based chips. Meanwhile in Redmond, Windows for ARM was released this year.
Probably the biggest obstacles to adoption are trust and third-party developers, but Apple, Amazon and Microsoft are leaders. Where they are successful, others follow.
We'll take a look at the history of ARM Holdings and their stealth rise to CPU dominance. Then we'll try and project what it will mean to Intel and AMD when ARM is not just dominating new markets that the chip giants missed out on, but coming right at them where it hurts: Computer and server CPUs.
A Quick Tech Note
I will be discussing the power efficiency and physical size of ARM-based CPUs a lot. Power, and its child, Heat, are the enemies of all hardware design. Everything you own can run faster, but it would produce too much heat and melt your silicon. If it's a mobile device, battery life also becomes an issue, and of course too much heat can spark a fire in a lithium-ion battery. So there are great benefits to reducing both the physical size and the power-consumption of chips.
Increased battery life in mobile devices.
Chips can be clocked faster and not melt, increasing performance.
Smaller chips requiring less heat-dissipation means more room to add other hardware, or increase the size of the battery, or to make the device smaller.
In a data center environment, smaller server cases means more per rack, less A/C, and increased efficiency of the facility in general.
Since Fairchild Semi first put a transistor on a silicon wafer, the game is more transistors, packed into a smaller space, with less power and heat. Steve Wozniak perfected this process for end-user products with the Apple ][ motherboard, a true work of art, combining the functions of multiple chips into a single chips, and performing a range of tasks people thought unimaginable in such a small, low-power package. All hardware design to this day follows the trail cut by Fairchild (and Fairchild's bastard child, Intel) and Woz, and it's the primary reason why ARM chips hold such an advantage right now.
A Brief History of ARM Holdings
For Hanukkah, 2001 I bought myself a first-generation 5GB iPod. At some point in 2002 I was up late playing around with it, and when the battery ran out I realized that there were giant piles of money waiting for whomever could produce smaller, cheaper, more power-efficient batteries, storage and chips.
So I started researching what was inside this little magic box in my hands, and when I got to the CPU, I found this: "PortalPlayer PP5002 system on a chip with dual embedded 90 MHz ARM 7TDMI processors." What the hell is ARM?
Way back in 1990, Apple was developing the Newton, and they needed a low power CPU to run it. The problem was that no such thing existed. So Apple formed a joint venture with Acorn1 and VLSI to design these chips — Acorn RISC Machine, or ARM. This will become a pattern with ARM-based chips — they not only provide size and power benefits, but they allow customization for specific devices.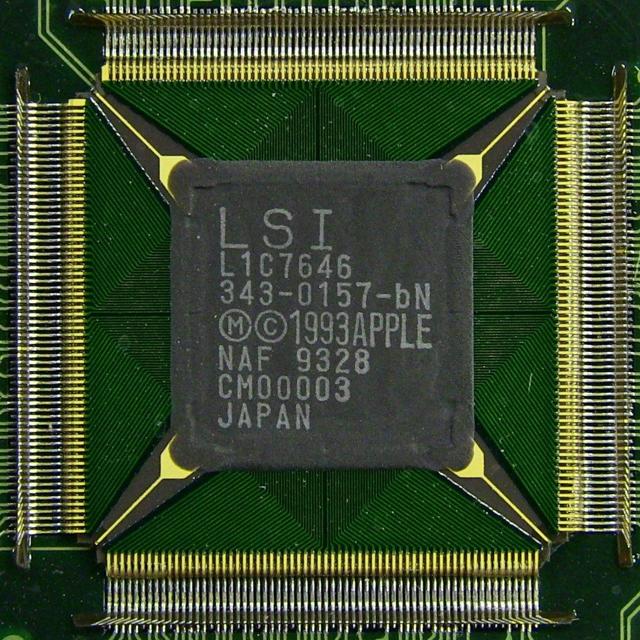 The original ARM Newton CPU. Wikimedia Commons
ARM does not actually design or fabricate chips. They design the cores, or the tiny brains of the CPU, and license the IP to other companies to design and fabricate the actual chips. Their customers see this as an advantage, not a disadvantage. When you buy a CPU from Intel or AMD, they are made for a wide range of applications. When you license an ARM design, you get to make the exact CPU you want for your device, not a generic one.
ARM-based chips have grown like a weed, now with 130 billion units out there through Q2 2018 (chart for full years only):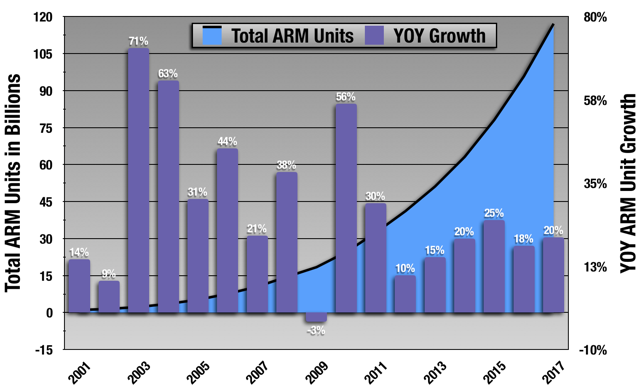 Source: ARM 10-Ks and 10-Qs
The big catalyst here is the iPhone introduction in 2007. Current trends are being driven by smartphone growth, but also the deployment of IoT devices which also largely sport ARM-based hardware, and that will be a huge driver of growth in the next 10 years.
ARM Holdings was bought by SoftBank (OTCPK:SFTBY) in 2016 for $32 billion and they got it cheap. I popped a bottle of champagne and cried, like I was the heroine in a Lifetime movie.
ARMed for Battle: The Data Center
That ARM-based hardware will make its way into Chromebooks, MacBooks and Windows laptops is pretty much a foregone conclusion at this point. And the desktop is next. But the real prize is the data center, where the fixed costs of construction and land servicing dominate, so the game is to get the most computing power per cubic meter, and use the least amount of electrical power to do it. The margins on these high-end chips is very large, yet they remain in demand because how much data you can process per cubic meter is the important metric.2
When we look at the scenarios below, we will see how devastating this could be for Intel and AMD. But how probable is it? Instead of guessing what the future holds, let's compare current offerings. In September, Ampere released their eMAG server CPU with some pretty stunning specs. Let's see how it stacks up against current CPUs from Intel and AMD on price and performance.3
| | | | | | |
| --- | --- | --- | --- | --- | --- |
| | eMAG | Intel 8180 | Intel 8153 | AMD 7601 | AMD 7351 |
| Cores | 32 | 28 | 16 | 32 | 16 |
| Threads | 32 | 56 | 32 | 64 | 32 |
| Clock Speed (Ghz) | 3.0 | 2.5 | 2.0 | 2.2 | 2.4 |
| Proces (nm) | 16 | 14 | 14 | 14 | 14 |
| L1 Cache (NASDAQ:MB) | 2.00 | 1.75 | 1.00 | 3.00 | 1.50 |
| L2 Cache (MB) | 4.00 | 28.00 | 16.00 | 16.00 | 8.00 |
| L3 Cache (MB) | 32.00 | 38.50 | 22.00 | 64.00 | 64.00 |
| Memory Type | DDR4-2666 | DDR4-2666 | DDR4-2666 | DDR4-2666 | DDR4-2666 |
| Max Memory (GB) | 1,000 | 768 | 768 | 2,000 | 2000 |
| Max Memory Bandwidth (GB/sec) | 158.95 | 119.21 | 119.21 | 158.95 | 158.95 |
| PCIe lanes | 42 | 48 | 48 | 128 | 128 |
| Chip area (sq mm) | 2,500 | 4,311 | 4,311 | 3,955 | 3,955 |
| Power (Watts) | 125 | 205 | 125 | 180 | 170 |
| Price | $850 | $10,000 | $3,100 | $4,200 | $1,100 |
Source: WikiChip
I think it's fairly obvious that ARM-based chips can compete with Intel and AMD in this space on performance alone. Then look at the size, power consumption and price, and there's no comparison. This is the situation today, with off-the-shelf hardware. These comparisons will only get worse for Intel and AMD over time.
The Maths: ARMing the Laptop
AMD does not break out laptop and desktop revenue, and further confounds our analysis by combining PC CPUs and GPUs into one segment. Bleh. No matter, Intel is still dominant, even though market share is in flux right now. It really doesn't matter for our analysis that AMD has recently ticked up from 1% server share to 2% share.
Looking at data from our last full year 2017, we can see where Intel's CPU ("platform") revenue comes from:
| | | | |
| --- | --- | --- | --- |
| | 2017 Revenue ($M) | % of Platform Revenue | % of Total Revenue |
| Desktop platform | $11,647 | 24.01% | 18.55% |
| Notebook platform | $19,414 | 40.03% | 30.91% |
| DCG platform | $17,439 | 35.96% | 27.77% |
| | | | |
| 3-Way Platform Revenue | $48,500 | 100.00% | 77.23% |
| Total Revenue | $62,800 | 129.48% | 100.00% |
Source: Intel 2017 10-K; calculations mine
Beginning with the laptop, where we are already seeing ARM chips in Chromebooks from major PC manufacturers, we see that laptop CPUs accounted for 31% of Intel's top line last year.
In estimating the effect of ARM CPUs on Intel, we will use the following formula:
MAL = ARM segment market share in laptops, expressed as a decimal
RL = Intel 2017 laptop revenue
Intel revenue loss = RL x (1-MAL2)
The assumption here is that ARM's incursion into the laptop will begin with the lower-end, less expensive, lower margin chips and then move up the performance ladder. By taking the square of the market share, we model in exponential growth in Intel's revenue loss — starting small, then growing. For example, a 10% ARM market share would represent a 1% hit to Intel's segment revenue, but a 20% share would be 4% hit and a 50% share would be a 25% hit. To be clear, this formulation is very generous to Intel.
ARM Laptop Market Share Gains Effect on Intel's Top Line
ARM Market Share

2017 ($M)

10%

25%

33%

50%

75%

Desktop platform

$11,647

$11,647

$11,647

$11,647

$11,647

$11,647

Notebook platform

$19,414

$19,220

$18,201

$17,300

$14,561

$8,494

DCG platform

$17,439

$17,439

$17,439

$17,439

$17,439

$17,439

3-Way Platform revenue

$48,500

$48,306

$47,287

$46,386

$43,647

$37,580

Total Revenue

$62,800

$62,606

$61,587

$60,686

$57,947

$51,880

Loss to Total Revenue

0.31%

1.93%

3.37%

7.73%

17.39%
Source: Intel 2017 10-K; calculations mine
This is the segment where we are likeliest to see the earliest and most rapid adoption, with the deepest penetration. 75% ARM market share for laptop CPUs may sound like a stretch, but the benefits of designing around that platform on a mobile device are too great for laptop manufacturers to ignore. Once Apple releases a MacBook running on an ARM-based CPU, adoption on the Windows side will be rapid. 75% market share for laptop CPUs is not out of the question.
The Maths: ARMing the Desktop
We will be using the same formula for the desktop CPUs.
ARM Desktop Market Share Gains Effect on Intel's Top Line
ARM Market Share

2017 ($M)

10%

25%

33%

50%

75%

Desktop platform

$11,647

$11,531

$10,919

$10,379

$8,735

$5,096

Notebook platform

$19,414

$19,414

$19,414

$19,414

$19,414

$19,414

DCG platform

$17,439

$17,439

$17,439

$17,439

$17,439

$17,439

3-Way Platform revenue

$48,500

$48,384

$47,772

$47,232

$45,588

$41,949

Total Revenue

$62,800

$62,684

$62,072

$61,532

$59,888

$56,249

Loss to Total Revenue

0.19%

1.16%

2.02%

4.64%

10.43%
Source: Intel 2017 10-K; calculations mine
The benefits of using ARM-based CPUs in the desktop is not as great as with the laptop,4 as battery life is not at issue, so I don't anticipate as rapid adoption as with the laptop. But they are still more efficient and less expensive, and that always works in the computer industry.
The Maths: ARMing the Data Center
And for the data center:
ARM Data Center Market Share Gains Effect on Intel's Top Line
ARM Market Share

2017 ($M)

10%

25%

33%

50%

75%

Desktop platform

$11,647

$11,647

$11,647

$11,647

$11,647

$11,647

Notebook platform

$19,414

$19,414

$19,414

$19,414

$19,414

$19,414

DCG platform

$17,439

$17,265

$16,349

$15,540

$13,079

$7,630

3-Way Platform revenue

$48,500

$48,326

$47,410

$46,601

$44,140

$38,691

Total Revenue

$62,800

$62,626

$61,710

$60,901

$58,440

$52,991

Loss to Total Revenue

0.28%

1.74%

3.02%

6.94%

15.62%
Source: Intel 2017 10-K; calculations mine
The data center will be the toughest nut to crack for ARM. Though the benefits are huge, trust among customers is paramount in this segment. Intel maintains 98% market share here more because of trust and reliability than their performance advantages over AMD CPUs. This can be seen in Intel's outrageous pricing advantage over AMD for similar chips.
So while it makes a ton of sense for data centers to move to ARM-based servers in the near future, it may not happen quickly, as it could take a long time to gain the trust of the buyers.
Putting It All Together: Intel DisARMed
Now let's look at some scenarios and see how they effect Intel's top line.
Scenario 1: Off The Mat
Laptop: 25% ARM market share
Desktop: 10% ARM market share
Data Center: Trust cannot be gained — 0%
Scenario 2: Body Blow
Laptop: 50% ARM market share
Desktop: 25% ARM market share
Data Center: 10% ARM market share
Scenario 3: Standing 8-Count
Laptop: 75% ARM market share
Desktop: 33% ARM market share
Data Center: 25% ARM market share
| | | | |
| --- | --- | --- | --- |
| | Scenario 1 | Scenario 2 | Scenario 3 |
| Desktop platform | $11,531 | $10,919 | $10,379 |
| Notebook platform | $18,201 | $14,561 | $8,494 |
| DCG platform | $17,439 | $17,265 | $16,349 |
| | | | |
| 3-Way Platform revenue | $47,170 | $42,744 | $35,221 |
| Total Revenue | $61,470 | $57,044 | $49,521 |
| | | | |
| Loss to Total Revenue | 2.12% | 9.17% | 21.14% |
In the chip business, this is known as "not good." Even the optimistic scenario.
Cross-ARMed: Obstacles to Adoption
The biggest obstacle to adoption of ARM is going to be trust. Keyser Söze once said, "The greatest trick the devil ever pulled was the Intel Inside sticker," or something like that. But seriously, it's one of the greatest marketing campaigns of all time, that is still paying dividends. People trust Intel, and with good reason, because they have a long, long record of making awesome hardware, and Intel made sure everyone knew what was inside their PC.
So early adopters will be making a leap of faith. Buyers of a $300 Chromebook probably don't care if there's Intel inside, but consumers of more expensive CPUs are much more likely to care. This is where the makers of ARM-based CPUs and the PC manufacturers have to gain trust.
This second big obstacle will be adoption by third-party application developers. ChromeOS began on ARM, so there's no issues there. ARM Windows is here and available for purchase. If you don't think Apple has had an ARM version of macOS running internally for years now, you don't know Apple. There's plenty of ARM *nix software out there, much of it free.
But convincing third-party developers to port their software from the x86 architecture, which has been with us since I was a wee lad, may be a more difficult row to hoe. The porting is fairly simple in many cases — and Apple and Microsoft will strive to make it as painless as possible — but it still sucks time, resources and focus away from other things. Developers will have to be convinced that there is a viable market there.
So it could become the classic Catch-22 of new platforms — consumers don't want to buy the hardware unless it runs the software they need, and developers don't want to spend time on something until there is a market for it. Somebody needs to move first, and that could get stalled by any number of factors.
ARMed With Bullets
Too long? Didn't read? Some handy bullets to impress your (geeky) friends!
ARM began as a designer of small, low-power CPU cores, but over time the chips based on these cores have come to rival the performance of Intel and AMD CPUs.
ARM-based chips are in your phone, tablet, watch, TV box, smart speaker, refrigerator, toaster, TV — they are everywhere. It's a huge market that Intel and AMD completely slept on.
Now ARM is coming for them where it will really hurt — PCs and servers.
If ARM can overcome trust and third-party developer obstacles, the ceiling is unlimited. What happened to IBM in the 1980s can happen to Intel and AMD now.
Conclusions: ARMed and Dangerous
I have long thought that ARM was going to take over the world, but it's happening much faster than I had anticipated. The specs and performance of the Apple A-12X and the Ampere eMag have opened my eyes to the fact that ARM is now ready for prime time. The Amazon announcement just confirms this in my mind.
[Author's update: 12/8/18]
There seems to be some confusion in the comments and I want to be very clear here. My thesis that ARM will hit Intel and AMD hard on their top lines does not require ARM to take over the data center, just to move into specialized workflows, and iterating from there. ARM is good at iterating.
The most likely and present danger to Intel (we don't know about AMD, because they don't break it out), is in laptop CPUs which was 31% of their top line in 2017. If you skipped over it, look at the last table of scenarios — the damage to Intel is in the laptop. The data center is less certain, but still of grave danger.
I am also not suggesting that Intel and AMD will be standing still during all this. But look at the progress of ARM chips over the last 8 years as exemplified by Apple's progress on the A-series
| | | |
| --- | --- | --- |
| | A4 2010 iPhone 4 | A12 2018 iPhone XS and XR |
| Cores | 1 | 6: 2x high speed, 4x high efficiency |
| Clock Speed | 800 MHz | Up to 2500 MHz on the fast cores |
| Process | 45 nm | 7 nm |
| Bits | 32 | 64 |
| L1 cache | 64 KB | 256 KB |
| L2 cache | 512 KB | 8 MB |
| GPU | PowerVR SGX 535 | 4 cores of Apple goodness |
| Neural Engine | Huh? | 8 cores of Apple goodness |
| ISP | Wassat? | Have you seen the photos my wife takes? |
Now think about the next eight years.
If you own any Intel or AMD, sell them now. Never buy them again. This process will take a long time, but it has already begun. It's not yet time for shorting, but that will come.
Thanks for reading. Comments? Questions? Insults? Please direct them to the comments or @LookingGdLouis on Twitter. Probably best to send the insults to Twitter.
Endnotes
1 Like so many great discoveries, the birth of ARM was a bit of an accident. Engineers at Acorn were playing around with different designs, when they realized that one was still running when they disconnected the power source. It was so low power, it was running off of residual power from the other components.
2 The same thing applies to enterprise hard drives, where data center customers don't mind paying large premiums for the largest capacities.
3 Choosing the correct comparison is difficult, because even comparing the x64 chips with each other, it's apples-to-oranges. I basically went with similar clock speeds and core counts. Also, since the Intel and AMD cores have dual threads, I compared both 32-core CPUs and 16-core CPUs. The AMD Arc Opteron CPUs are meant for small SOHO servers, and are not in the same category. Also, prices are MSRP, and of course, the actual price is lower.
4 The all-in-one category is an exception here.
Disclosure: I/we have no positions in any stocks mentioned, and no plans to initiate any positions within the next 72 hours. I wrote this article myself, and it expresses my own opinions. I am not receiving compensation for it (other than from Seeking Alpha). I have no business relationship with any company whose stock is mentioned in this article.