KKR Income Opportunities Fund At A 9.2% Discount To NAV
Summary
A review of the KKR Income Opportunities Fund.
Recently, these credit funds got slammed amidst market turmoil.
Some of them have strong teams and interesting portfolios.
Looking for more? I update all of my investing ideas and strategies to members of Special Situation Report. Start your free trial today »
A reader suggested to look at the KKR Income Opportunities Fund (NYSE:KIO) and compare it to the DoubleLine Income Solutions Fund (DSL) I reviewed yesterday. I thought that was a great suggestion and got on it with it. Let's first look at what KKR Income Opportunities fund does:
KKR Income Opportunities Fund buys any credit instruments to invest in those it thinks are relatively attractive. They also try to protect against macroeconomic risks. This adds up to what KKR calls "potential for attractive levels of current income through monthly distributions." In practice, most people consider this an income fund just like the DoubleLine Income Solutions.
The expense ratio is high (but comparable to peers with strong management teams) at 2.74%, of which 0.63% can be chalked up to interest expenses. The fund trades at a 9.2% discount to net asset value or NAV, which compares favorably to the 5% discount at the DSL: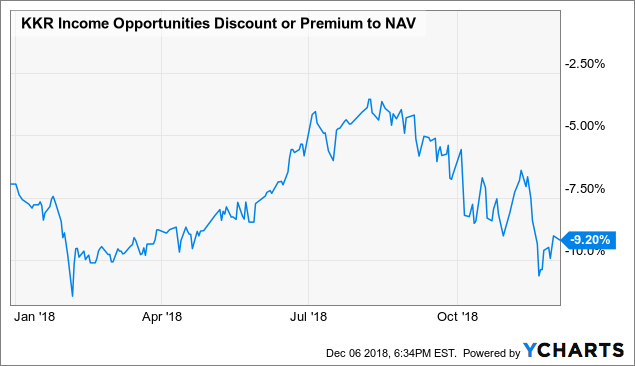 But both funds trade at relatively modest discounts to NAV. You can easily find high yield bond funds trading at 15% discount to NAV and some of those are run by great firms. To clarify, firms I like to see as manager tend to invest based on a fundamental value type of style.
The fund got slammed in the recent market turmoil which happened at DSL as well: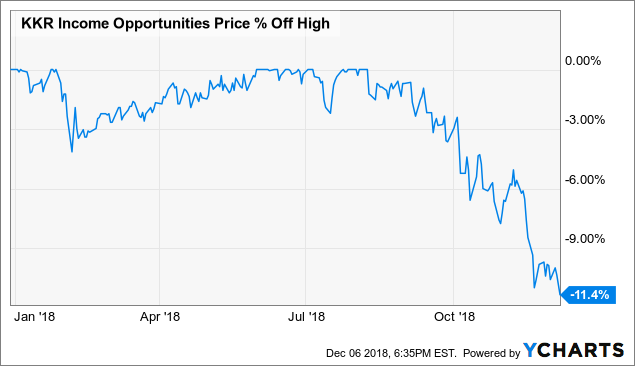 These funds have large yields but do not forget how volatile they are.
I have a lot of confidence in KKR as an organisation. The firm seems wired the right way to set up successful funds. Erik Falk co-manages this portfolio with Christopher Sheldon and a team of 2 but also function as heads of leveraged credit at KKR. There's a lot of special situation experience present throughout the team. He's been at KKR for about 10 years and previously worked at Deutsche Bank as Global Co-Head of the Securitized Products Group. I've spent a lot of time listening to Gundlach at DSL and have a much better idea what he's about. Given Gundlach's prominence, it is easy to favor DSL. However, Falk/Sheldon can likely devote more time to the fund, while Gundlach has other responsibilities.
The fund is primarily invested in the U.S., which is unfortunately common among peers, and it is very low in duration at 2.32 years. Duration of 2.32 means that if interest rates go up/down by 1%, the fund should go up or down by 2.32%. I have recently favored short maturities, and this fund looks well positioned in this regard.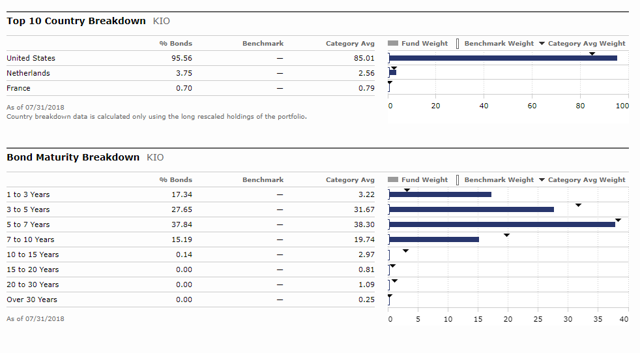 (Data: Morningstar)
This is especially important because the fund is mostly invested in corporate bonds. In the aggregate, I do not like U.S. corporate bonds very much (investment grade or junk). There is so much of it out there, the difference with government credit is small, specialist credit investors like Oaktree are complaining not about the quality of covenants, but their absence and with oil getting smashed, there must be a lot of future defaulters among the lot.
What I like even less is Euro corporate and government bonds, and I short some of that through ETFs.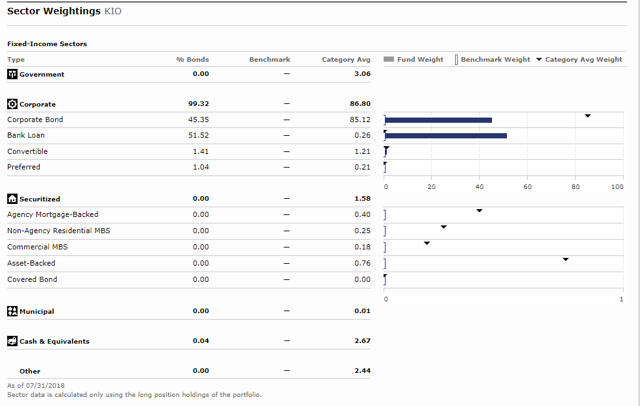 (Data: Morningstar)
In short, I prefer this fund because of its maturity profile but like the DoubleLine fund better, because it is primarily invested in mortgage-related securities.
KKR Income Opportunities Fund Portfolio
To get an idea what the managers are thinking and what stuff I'm betting on, in practice, I always like to look at the portfolio: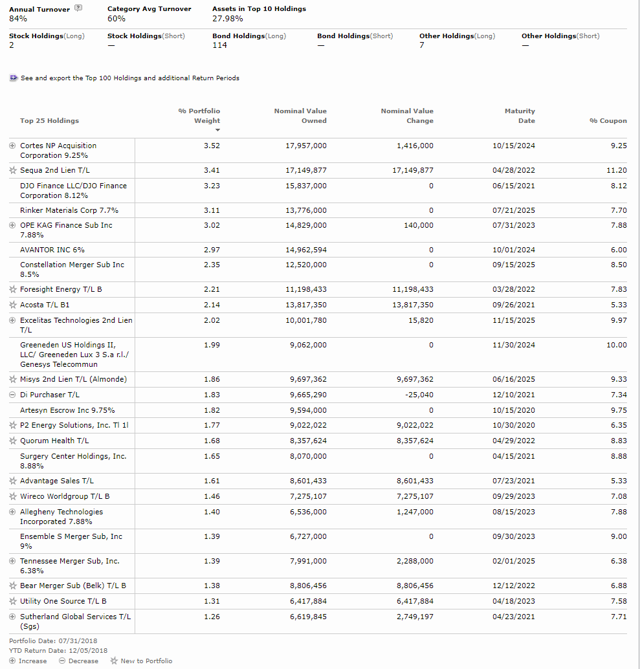 (Data: Morningstar)
My first impression is that we are getting at least a lot of bang for our buck. This team isn't just buying some plain vanilla bonds. There seem to be a lot of specialized bonds in here. For example, there are a lot of merger subs that are probably used to finance acquisitions. I can imagine this being a good category as the M&A market is very hot. There's probably a lot of demand for credit. In addition, companies may not always be very picky about terms if the debt is intended to be employed temporarily.
The high yield is primarily being generated by taking on a lot of credit risk. Most holdings qualify as a leveraged loan or high yield (junk) bond.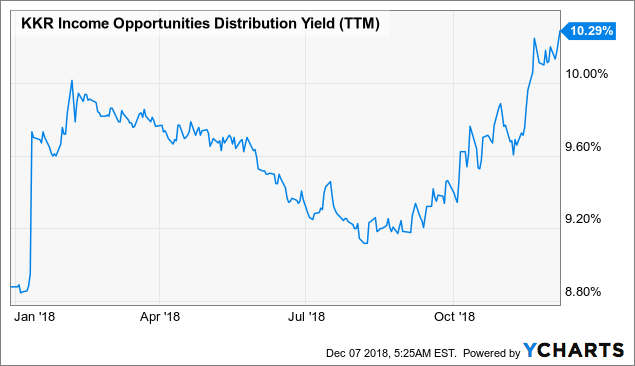 Something else I notice is that there isn't a lot of energy exposure here. This may also have contributed to its relatively modest discount to NAV compared to peers. The fund isn't super-concentrated in issuers, but its biggest exposures are to Sequa Corp (SQA.A), Vertiv Group, Foresight Energy (FELP), DJO Finance Corp., and Cemex (CX).
KKR Income Opportunities looks like an interesting fund. KKR is a firm that I have a lot of confidence in. The ideas in the fund look like they are differentiated enough to justify its high fees. The maturity positioning is something I feel good about, but there is a ton of credit risk. If there is a downturn, this fund may suffer hard. Ultimately, it delivers the same "solution" i.e. high income, but it gets there in a very different way compared to the DoubleLine Income Solutions Fund. Gun to my head and I have to pick, I go with DSL. There's nothing wrong with splitting an allocation between the two of them if you do not have a conviction on credit vs. maturity risk.
Check out the Special Situation Investing report if you are interested in uncorrelated returns. We look at special situations like spin-offs, share repurchases, rights offerings, M&A events, etc. But we also have a keen interest in the commodity space. Especially in the current late stages of the economic cycle.
This article was written by
Special-Situation And Event-Driven Ideas To Improve Risk Adjusted Returns
15 years of investing and I feel like a rookie in his first year at the academy. My roots are in the value school but over time I've learned to respect different approaches. I'm interested in what quants do, options traders do, and even what WallStreetBets is doing (keep your friends close and...)
I gravitate towards special-situations. That means situations around companies or the market where the price can move in a certain direction based on a specific event or ongoing event. This eclectic and creative style of investing seems to suit my personality and interests most closely.

Since 2020 I host a podcast/videocast where I discuss (special-situation/event-driven) market events and investment ideas with top analysts, portfolio managers, hedge fund managers, experts, and other investment professionals. I highly recommend it (pick episodes around topics that interest you) for the amazing guests that come on with regularity.
I've been writing for Seeking Alpha since 2013 after playing p0ker professionally. In 2018 I founded Starshot Capital B.V. A Dutch AIF manager. Follow me on Twitter @Bramdehaas or email me Dehaas.Bram at Gmail
Analyst's Disclosure: I/we have no positions in any stocks mentioned, and no plans to initiate any positions within the next 72 hours. I wrote this article myself, and it expresses my own opinions. I am not receiving compensation for it (other than from Seeking Alpha). I have no business relationship with any company whose stock is mentioned in this article.
Seeking Alpha's Disclosure: Past performance is no guarantee of future results. No recommendation or advice is being given as to whether any investment is suitable for a particular investor. Any views or opinions expressed above may not reflect those of Seeking Alpha as a whole. Seeking Alpha is not a licensed securities dealer, broker or US investment adviser or investment bank. Our analysts are third party authors that include both professional investors and individual investors who may not be licensed or certified by any institute or regulatory body.