On Wednesday, December 5, 2018, midstream master limited partnership Summit Midstream (NYSE:SMLP) gave a presentation at the Wells Fargo Pipeline, MLP, and Utility Symposium. As is the usual case for presentations like this, Summit Midstream spent a considerable amount of time discussing its operations along with its proposition to investors. In addition to this, the company devoted a solid amount of real estate to discussing the current conditions in the midstream industry. Overall, the company itself looks like a very solid way to play the industry and generate a solid 17.95% yield, although the company's third quarter 2018 earnings results were quite disappointing. It should improve though, and overall, the company is quite well positioned to prosper.
Summit Midstream is a pipeline-focused midstream master limited partnership with operations in the Williston Basin, DJ Basin, Utica Shale, and the Delaware Basin of the Permian. This gives the company exposure to several of the areas that are currently dominating North America's energy boom.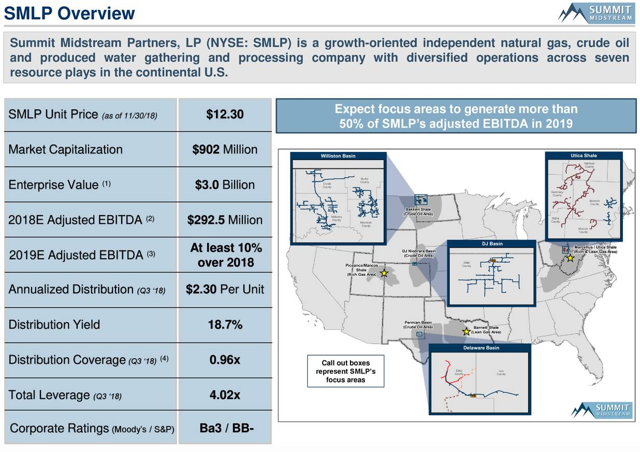 Source: Summit Midstream Partners
Of these regions, the Delaware basin may be the most important since it is responsible for the majority of the production growth that we have seen in North America over the past year or two. Admittedly, midstream companies like Summit Midstream do not make their money from the production and sale of energy resources. Instead, these companies make their money by charging a fixed amount for each of the resources that move through their pipeline networks. Therefore, the greater the volume of resources being produced, the more money these companies make, all else being equal. As we can see here, production in three of the company's operational centers has been climbing at very attractive compound annual growth rates over the past five years:

Source: Summit Midstream
Fortunately, all of these regions are expected to see further production growth going forward; however, the Permian is currently being arrested by a lack of sufficient takeaway (midstream) capacity. As I discussed in an earlier article though, this problem is likely to be solved within the next eighteen months. This could easily help to re-stimulate growth.
Of course, this production growth story is largely dependent on oil prices remaining at a high enough level to allow E&P companies to cover their costs (although few of them are actually cash flow positive due to capital expenditures). When we consider that oil prices have declined significantly over the past two months, this fact may be worrying as declining production levels ultimately have a detrimental effect on midstream companies like Summit Midstream. However, as we can see above, the breakeven level for all three of these resource basins is substantially below the current price of both oil and natural gas. Thus, we will probably have to see oil prices fall substantially from their current levels before production declines become a real concern.
As is the case with numerous other midstream partnerships, Summit Midstream is responding to this projected production growth by constructing new facilities to both process and transport resources. This should allow the company to grow its EBITDA as a result of the increased volumes. Here are the projects that the company has either under consideration or under construction:

Source: Summit Midstream Partners
Perhaps the most ambitious of these projects is the Double E pipeline, which is designed to transport natural gas from various points in the Delaware basin in New Mexico to the Waha hub in Texas.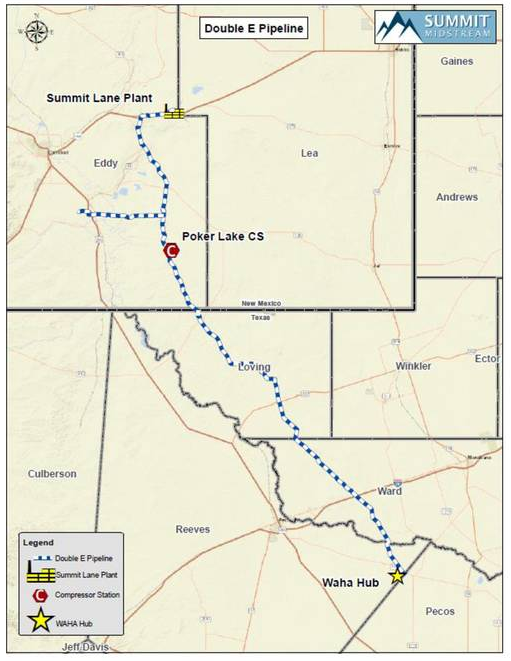 Source: Summit Midstream Partners
It is currently envisioned that this pipeline will be able to transport a maximum of 1.5 billion cubic feet per day of natural gas, which would certainly be good for the region's development. With a current estimated in-service date in the middle of the second quarter of 2021, the pipeline would come online right about the time that production is expected to increase sharply: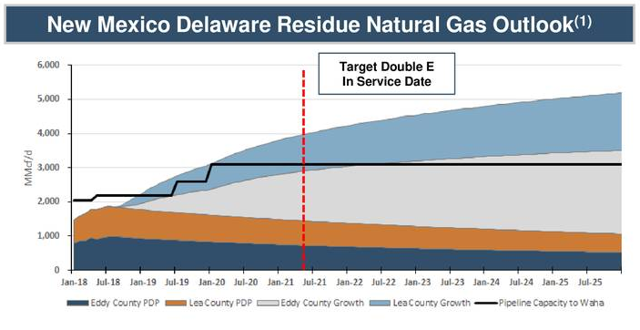 Source: Summit Midstream Partners
Of course, it is always a good idea to ensure that the company's customers will actually use this pipeline if it is constructed. Otherwise, we might see Summit Midstream expend the capital to construct it only to generate no return. Fortunately, the company has followed the practice of many of its peers and obtained commitments from its customers prior to making a final investment decision. Thus far, the company reports that interest among energy companies has been strong, with XTO Energy (owned by Exxon Mobil (XOM)) agreeing to ship 500,000 dth/d through the pipeline over a period of ten years following its completion. The energy giant also acquired an option to acquire up to a 50% equity interest. If this option is exercised, it will allow Summit Midstream to get back some of the capital that it expends in constructing the pipeline, which is generally a good thing.
Another area in which Summit Midstream is very active is the Utica shale. This is a natural gas and condensate region in southeastern Ohio. Summit Midstream's assets span the dry gas, wet gas, and condensate windows in the region and its customers currently have four rigs upstream of the company's assets feeding into them.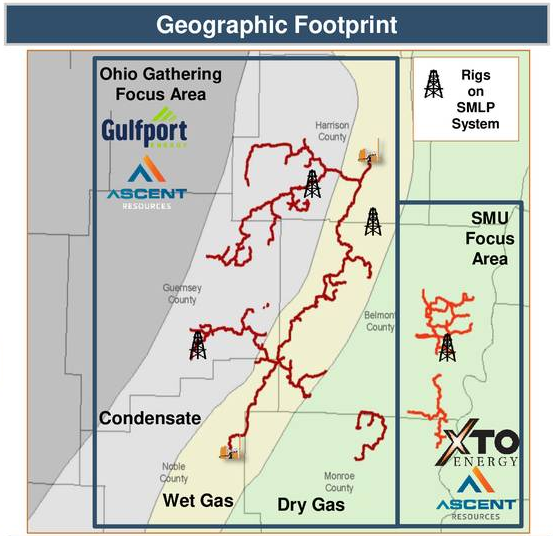 Source: Summit Midstream Partners
Despite this being a very resource-rich area, Summit Midstream has unfortunately not seen its volumes increase much over time.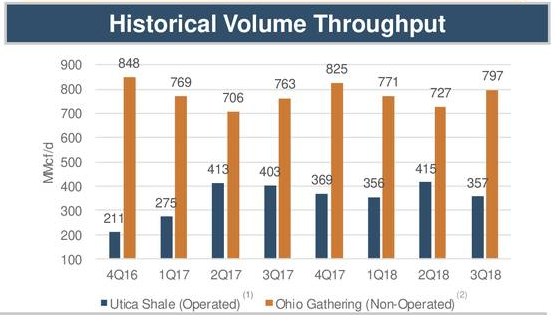 Source: Summit Midstream Partners
Thus, Summit Midstream has somewhat struggled to grow its revenues and profits in the region as a result of this lack of throughput growth. The reason for this lack of growth is quite understandable, however, as natural gas prices have generally remained suppressed and even decreased as oil prices increased. In fact, as I explained in a previous article, energy traders were able to do quite well for themselves over the past few years by shorting natural gas and going long oil. However, upstream companies operating in the Utica have begun to unveil plans to grow their production in the basin. Summit Midstream should benefit from this as those companies that are growing their production need to get their production to market. In its presentation, Summit Midstream stated that its customers are expected to increase the average number of wells at each of the pad sites in the region from three currently to 6-8 over the long term. This can be expected to significantly boost the company's upside over the period as it takes away a growing quantity of gas from the added wells. The company did not, however, provide a time frame in which it expects this to happen, although it did say that it expects dozens of new wells to be commissioned in the next three years based on discussions with its customers. Thus, it is quite possible that we will see at least some volume (and thus cash flow) growth within the next few years.
One of the things that I have always liked about Summit Midstream is the company's relatively low level of debt. We can see this by looking at the company's debt-to-adjusted EBITDA ratio, which tells us how easily the company can carry its debt. At the end of the third quarter, the company had a debt-to-adjusted EBITDA ratio of 4.2x, which is lower than most midstream MLPs have and generally in-line with the 4.0x ratio that I normally target for investments in this sector. In addition, the partnership has no debt maturities until 2022, so the company does not need to worry about refinancing debt for a while and should be a larger and more profitable company by the time it does.
Perhaps the biggest problem with the company revealed itself in the third quarter when it failed to generate sufficient cash flow to cover its distribution. We can see this in the fact that the company had a distribution coverage ratio of 0.96, which means that it only generated 96% of the distributable cash flow that it needed to pay out its distribution. However, as I discussed with subscribers to Energy Profits in Dividends, the company's cash flow was lower than normal during the quarter due to maintenance activity, and normally, the company does generate enough money to cover its distribution. However, in the second quarter, it only had a distribution coverage ratio of 1.04x, so the company does pay out nearly all of the cash that it generates, which leaves it vulnerable to situations in which its cash flow drops temporarily. This could leave it vulnerable to a situation such as an extended industry downturn.
In conclusion, Summit Midstream is a solid 17.95%-yielding midstream MLP that is quite well-positioned to grow in the future as upstream companies continue to grow their production. It also has a much more conservative financial structure than many of its peers, although it does pay out almost all of its cash flow to investors. Overall though, the company seems like a solid play that is deserving of further research.