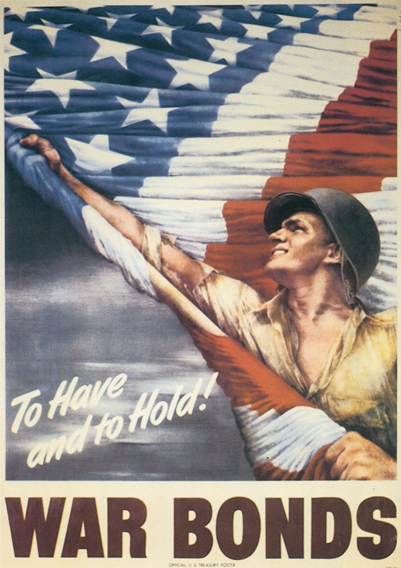 The bond market has become incredibly complex from the time war bonds were sold during WWII. Investors are no longer persuaded (using overt propaganda?) into buying bonds to finance a war (at least not in this country, or right now.) Investors have access to nearly countless instruments including not only government bonds but also bonds issued by municipalities, companies both creditworthy and otherwise, floating-rate loans, and countries and companies from around the world. In fact, by value, nearly 70% of bonds issued worldwide are originated outside of the U.S.
Fixed income typically serves several purposes in investor portfolios. In addition to providing stable, steady current income, it provides diversification benefits that cannot be captured from equities alone. Specifically, it adds ballast to portfolios that acts to reduce volatility of returns while also preserving value and liquidity for future cash flow needs.
Unfortunately, most fixed income has done a poor job of meeting these objectives this year. With the Fed increasing rates (and this trend likely to continue), recent increased volatility in bonds, and the potential for higher inflation, fixed income is likely to be a challenging area for the foreseeable future. The chart below shows the total return performance of various segments of the fixed income market year-to-date. As you can see, most areas are flat to lower as rates have risen this year. The notable exceptions, at least of those included in this chart, are extremely short-duration securities and some high yield.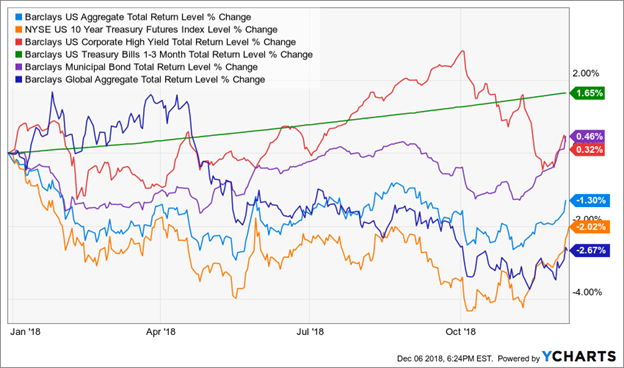 In addition to rising rates, inflation is likely to move higher as employment remains strong and wage data show gains not seen in decades, with a recent Commerce Department report showing 3.1% wage growth.
Inflation poses problems for fixed-income investors on multiple fronts. The fixed payments paid to bondholders diminish in value in terms of purchasing power as inflation erodes the value of each dollar. Furthermore, as inflation creeps higher, the Federal Reserve will be forced to increase the Federal Funds rate in an attempt to contain rising prices. After all, the two mandates of the institution are to maximize employment while maintaining stable/low inflation. As inflation rises, they will simply have no choice but to raise rates in compliance with their mandate. The result will be lower bond prices, and poor performance, at least in the short-term, on a total return basis. This will undoubtedly cause challenges for current bondholders that have already seen negative returns for the year.
But despite the poor performance of the broad indexes this year, fixed income continues to be a critical component of any asset allocation for long-term investors. Because the current challenges are unlikely to abate any time soon, creating a strategy to access fixed income effectively is paramount to managing a diversified portfolio in the coming years.
Shorten It Up – Give Up Duration, Not Yield
The first, and most common, approach to address this challenge is to shorten the average effective duration of investors' bond holdings. For example, for those using ETFs, this change can be as simple as, within investment-grade corporate debt, switching from the iShares iBoxx Investment Grade Corporate Bond ETF (LQD) to the iShares 0-5 Year Investment Grade Corporate Bond ETF (SLQD). Both ETFs are investment grade with average credit rating of "A" with the key difference being the effective duration. LQD has an average effective duration of about 8.5 years while SLQD has an average effective duration of about 2.4 years. This is a simple move that investors can make that despite reducing current yield from about 4.4% to 3.5%, will better protect principal from erosion due to higher rates. To frame the trade-off differently, investors in SLQD can receive about 80% of the yield of LQD for only 28% of the duration.
High Yield, High Risk?
High yield has been an area of relative strength so far this year, although it has also been taken down during the recent sell-off in stocks. The higher current income from these securities generally serves to reduce duration, but the larger coupon payments make the asset class more volatile as interest rates change. High yield can provide at least some insulation from rising rates, particularly during a robust economy. However, in the event of a severe correction in financial markets and/or the real economy, high-yield bonds become increasingly vulnerable to defaults. The benefit from higher current income can quickly evaporate when principal values are reduced through increased default rates.
Like investment-grade debt, limiting the duration within high yield also makes sense. A shorter duration further reduces not only interest-rate risk but also the exposure to defaults. Looking at the iShares offerings within high yield, the switch to shorter duration seems straightforward. The iShares iBoxx High Yield Corp Bond ETF (HYG) has an SEC yield of about 6.12%, average effective duration of about 3.7 years, and average credit quality of B. Although the effective duration is relatively short, the iShares 0-5 Year High Yield Corp Bond ETF (SHYG) is even shorter at about 2.3 years without sacrificing current yield given its SEC yield of 6.15%. It also has average credit quality of B. Given the current Fed policy of increasing rates and the potential for slower economic growth in the near future, it probably makes sense for investors in HYG to switch to SHYG, or make similar changes with other available funds.
Don't Be Fooled By Floating Rate
Floating-rate securities have become more attractive as the Fed's policy has shifted to a generally well-telegraphed tightening strategy. Floating rate is an interesting asset class that needs to be accessed with care. For example, the Invesco (IVZ) Senior Loan ETF (BKLN) is a disaster for several reasons, not the least of which are liquidity and settlement issues of the underlying loans. Specifically, because settlement can take weeks in the loan space, which is a factor that directly impacts liquidity and performance of the fund, it is likely worth paying a professional manager to manage the loan settlements and liquidity, as well as perform the necessary credit work.
Instead of using what appears to be a lower cost, passive strategy, the Eaton Vance (EV) Floating Rate (EIBLX) or Nuveen Symphony Floating Rate Income (NFRIX) both offer professional management, strong track records, and the ability to avoid the pitfalls of the passive BKLN. As seen in the chart below, during the common history of all three funds, the Nuveen fund has outperformed while the Invesco Senior Loan ETF has significantly trailed the other two funds on a total return basis. The Eaton Vance fund has an SEC yield of 4.5% and average effective duration of 0.21 years. The Nuveen fund has a similar yield and duration of 4.3% and 0.25 years, respectively. The average credit quality for each are B and BB, respectively.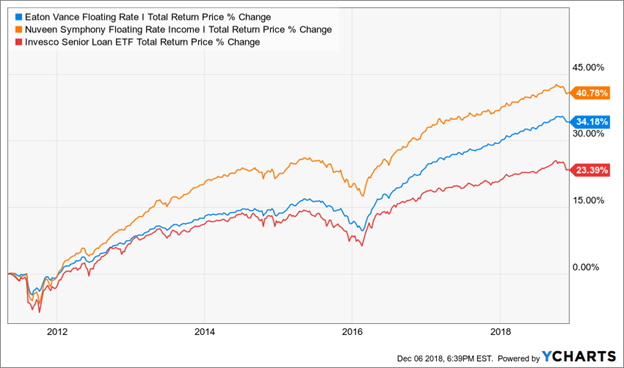 Going Global With Your Bonds
Given that most U.S.-based investors tend to have a home bias toward U.S. stocks, they are also likely lacking a market-weight exposure to foreign bonds, both sovereign and corporate. This in itself is not a bad thing. Most of us invest in what is familiar, what we feel comfortable with. Moving outside the U.S., particularly within the fixed-income space may seem like entering an opaque space at best, and unnecessary at worst. However, adding exposure to bonds from around the world not only provides exposure to the other 70% of the global market, it also enhances diversification benefits at a portfolio level.
While the strengthening dollar has created headwinds for foreign assets, it may have also created an attractive entry point. Apart from recent headwinds, both developed and emerging markets appear attractive based on the thesis of increasing inflation and the debasing of the dollar resulting from increasing deficits and debt. These factors will likely lead to even more debt and possibly money printing. Investing in foreign bonds provides exposure to various yield curves and monetary policy regimes from around the world. As a result, it is an effective diversifier not only within fixed income but also at the portfolio level.
One of the key decisions around investing in foreign assets, but specifically foreign bonds, is whether to take local currency risk. While the expected return of currencies is zero, betting on currency moves is tactical and generally doesn't serve investors well long-term. In other words, while the expected return for a foreign bond allocation is the total return (combined price and income returns) over the long-term, those taking on currency risk will experience a higher level of volatility for the same return. This in turn will decrease their risk-adjusted returns. Conversely, those that hedge their exposure back the U.S. dollar receive the same long-term return, but with a lower average level of volatility. In other words, strategies hedging currency exposures tend to have higher Sharpe ratios than those that do not hedge. Because of this, it makes sense for long-term investors in foreign bonds to manage their foreign currency exposure by hedging back to the dollar. The chart below shows year-to-date performance of various indexes with the hedged global index outperforming meaningfully during a strengthening dollar environment.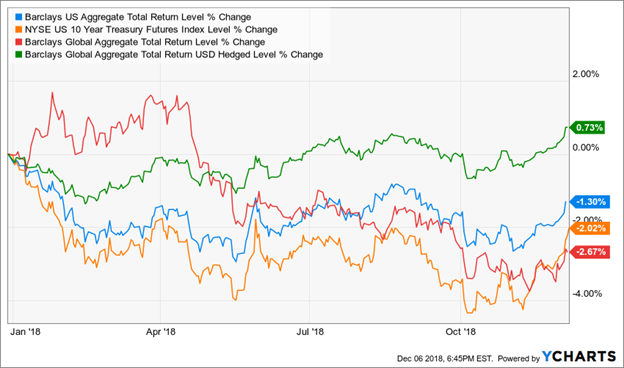 Like with most fixed-income areas, particularly those that are more niche, I think that professional management can add value. Within foreign bonds, primarily within developed markets, the Hartford World Bond (HWDYX) provides exposure to yield curves around the world, retaining the flexibility to ratchet up and down its exposure to the U.S. The fund is primarily invested in the sovereign debt of developed economies, but has the flexibility to gain exposure to corporate bonds as well as emerging markets. The fund tends to hedge at least 90% of its currency exposure back to the U.S. dollar, but again has flexibility on this as well. Although the SEC yield at 1.91% seems low, the total returns of the fund since its inception have been attractive relative to U.S. Treasuries of a similar duration.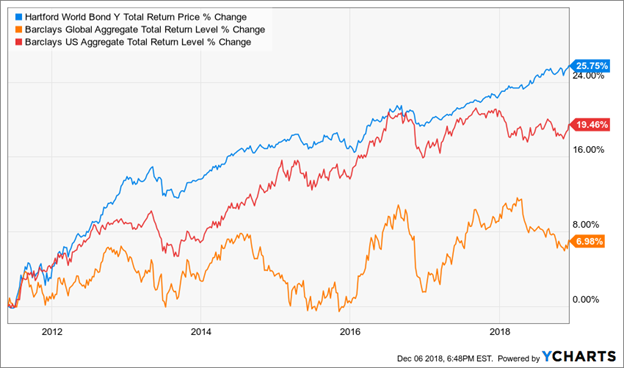 For exposure to emerging-market debt, the Lazard Emerging Markets Income (LEIIX) is managed by a skilled and experienced team. The fund is diversified across more than 30 markets including Egypt, South Africa, and Indonesia. The fund has a historical volatility that has been managed between 3% and 6%. Despite the idiosyncratic risks involved with investing in individual markets, the fund's approach not only manages these risks but keeps volatility low in the meantime. Although relatively expensive at 91 basis points, the SEC yield of 4.59% and effective duration of about 1 year make this attractive in the current environment. Despite its level of diversification, good credit quality, and short duration, it may be appropriate for many investors to consider this as a satellite position to core bond holdings.
Final Thoughts
The ideas I described above can be interpreted as being somewhat contrarian or tactical given the recent performance across fixed income assets. Instead of making tactical moves, the idea is to maintain or initiate exposure despite recent performance in order to benefit from the fundamental and structural characteristics of these assets. The drivers of recent performance, namely rising/volatile interest rates in the U.S. and fears of rising inflation, are likely to persist for the foreseeable future, and investors should respond accordingly. For those not currently invested in these assets, the recent downturn may provide an attractive entry point to gain exposure, or at least an opportunity to re-balance to restore target allocations to the space where applicable.
Using the above strategies should be looked at within the broader context of the global financial markets and sized appropriately. Any overweight or underweight position needs to be considered carefully to understand its impact on long-term total returns. I look forward to your feedback and answering your questions in the comment section below.
Disclaimer
Please remember that past performance may not be indicative of future results. Different types of investments involve varying degrees of risk, and there can be no assurance that the future performance of any specific investment, investment strategy, or product (including the investments and/or investment strategies recommended or undertaken by Mosaic Advisors ("Mosaic"), including the author, or any non-investment related content, made reference to directly or indirectly in this commentary will be profitable, equal any corresponding indicated historical performance level, be suitable for your portfolio or individual situation or prove successful. Due to various factors, including changing market conditions and/or applicable laws, the content may no longer be reflective of current opinions or positions. Moreover, you should not assume that any discussion or information contained in this commentary serves as the receipt of, or as a substitute for, personalized investment advice from Mosaic or the author. Mosaic is neither a law firm nor a certified public accounting firm and no portion of the commentary content should be construed as legal or accounting advice. A copy of the Mosaic's current written disclosure Brochure discussing our advisory services and fees continues to remain available upon request.
Disclosure: I am/we are long EV HWDYX NFRIX.
I wrote this article myself, and it expresses my own opinions. I am not receiving compensation for it (other than from Seeking Alpha). I have no business relationship with any company whose stock is mentioned in this article.