Welcome to the weekly natural gas storage report editionof Natural Gas Daily!
EIA reported a storage draw of 63 Bcf for the week ending November 30. This compares to the -61 Bcf we projected and consensus average of -63 Bcf. The -63 Bcf was larger than the five-year average of -58 Bcf and last year's +2 Bcf.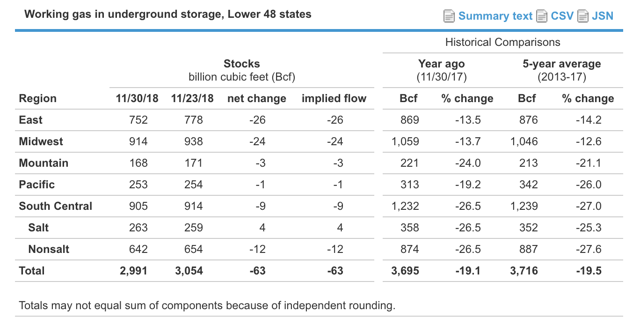 Source: EIA
Next Week's Estimate
For the week ending 12/7, we currently have a forecast of -80 Bcf.
We have April 2019 storage at 1.05 Bcf.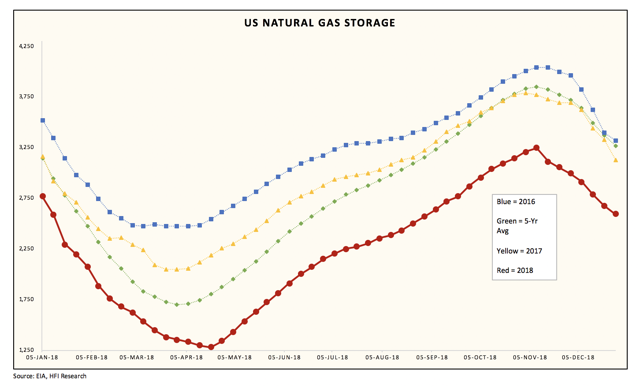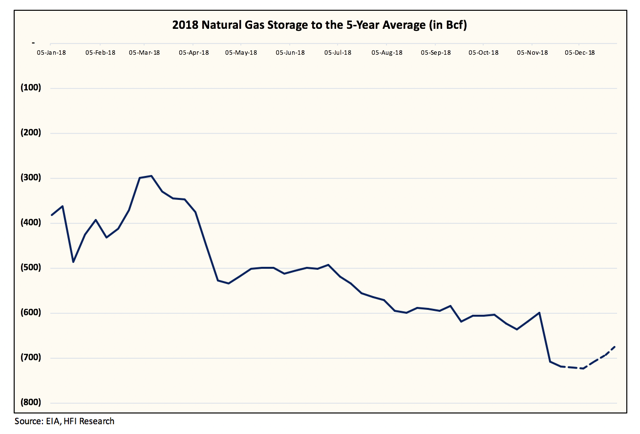 December expected to trend warmer than normal
You wouldn't know this by looking at the natural gas price action, but following the initial cold spell in early December, the weather outlook is expected to keep trending warmer than normal at least till Dec 21.

Source: StormVistaWxModels.com
However, given the low storage levels we already coming into December with, the market is much more fixated on the trend of where weather models are headed. For example, one of the reasons traders stopped turning bearish early last week was because the warm spell duration was questioned in December. While it turns out this may last for almost 10-days, the market ignored it.
But more importantly going forward, our view on the natural gas set-up remains unchanged. We hope that the market realizes that the rest of December may turn out to be warmer than expected, which would result in a price spike followed by a bullish set-up in January. Currently, the long-range models along with independent weather forecasting services show a bullish outlook for Jan. We will need to see confirmation from the daily model updates before we take a position.
Lower 48 production hit an all-time high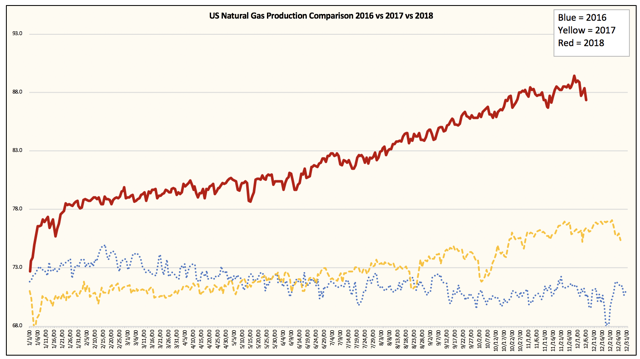 Source: HFI Research
Lower 48 production reached an all-time high at the end of last month boosting total gas supplies to a new record. Since then, production has fallen on the back of maintenance and lower volumes, but the trend remains undeterred.
LNG exports remain strong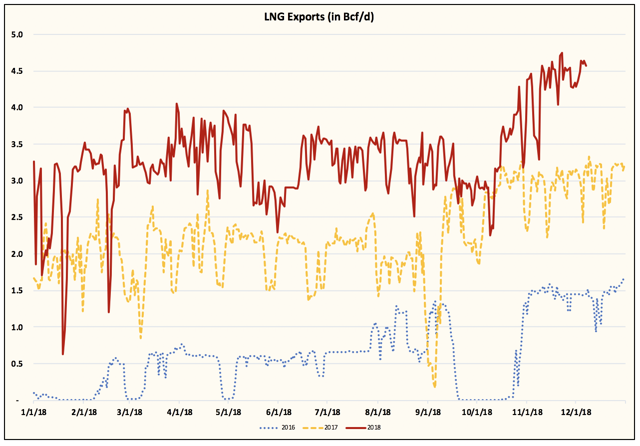 Source: HFI Research
US LNG exports remain very strong averaging above ~4.5 Bcf/d. Over the next 12-months, we should see additional capacity increases of ~4.5 to ~5 Bcf/d. This will help alleviate much of the increase in production this year.
Conclusion
The latest weather outlook shows December to be warmer than normal at least to Dec 21. For readers that are trading natural gas, weather updates continue to be the most important variable in winter gas trading, so staying alert on the twice a day updates are important. We think the warmer than normal outlook warrants a pullback, but traders are already focusing on January projections.
Consensus is starting to factor in a modestly bullish outlook for Jan.
Author's note: Thank you for reading this article. If you found it insightful, please leave a "Like" below.
For traders or readers, the natural gas price movements that are coming will be entirely dependent on weather model updates. We believe you can stay up to date with a subscription to HFI Research Natural Gas. We are now offering a 2-week free trial (first time), so if you are interested, please see here for more info.
Disclosure: I/we have no positions in any stocks mentioned, and no plans to initiate any positions within the next 72 hours.
I wrote this article myself, and it expresses my own opinions. I am not receiving compensation for it (other than from Seeking Alpha). I have no business relationship with any company whose stock is mentioned in this article.