Thor Industries (THO) is experiencing typical turbulence for cyclical companies near the end of a business cycle. Production capacity was increased just as demand weakens and inventory levels need to be cleaned up. Trade tariffs, rising interest rates and oil price volatility are complicating matters for Thor. But investors may want to look through the cycle and temporary head-winds to see the underlying quality of Thor's business as well as the structural growth drivers of the industry. In addition, the RV industry is now an oligopoly (or even duopoly). Thor and Berkshire Hathaway's (BRK.B) Forrest River dominate the North American market after years of acquisitions. The oligopoly status offers prospects for strengthened barriers to entry and attractive investor returns which we do not cover in detail in this article, but interested investors can find a deeper analysis on the topic in our recently posted report on Seeking Alpha. Thor's current valuation provides a good opportunity to pick-up a high quality leader within a structurally attractive duopoly.
Thor Industries background including Erwin Hymer
Thor Industries is the world's largest recreational vehicle (RV) manufacture. The company is the dominant player in the North American RV duopoly, and if the pending acquisition of Erwin Hymer in Germany goes through, Thor will also be participating in the RV oligopoly in Europe where Hymer is the leader with about a 30% share of the market. The company is a leader in both towable and motorized recreational vehicles. Thor was founded in 1980 with the acquisition of Airstream.
A snapshot of Thor including the pending Hymer acquisition can be seen below.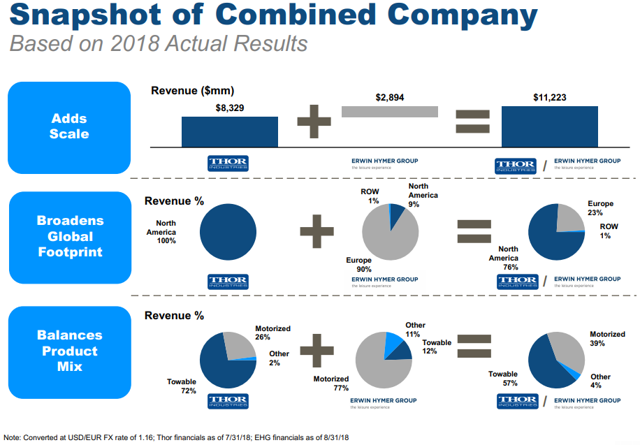 Source: Company investor presentation, December 6th, 2018
The following graphics provide detail on the types of products in each of their segments and highlight the important fact that Thor is a collection of many brands.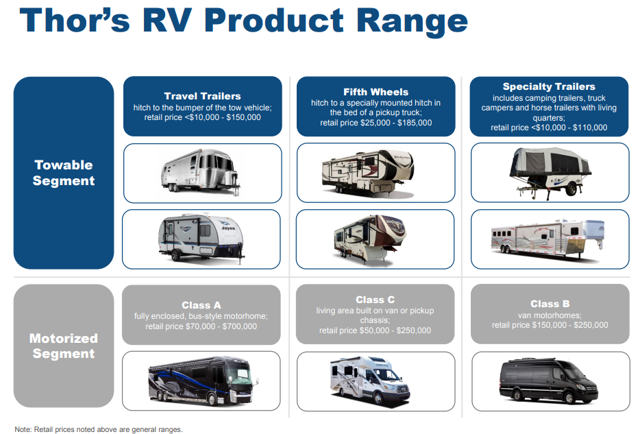 Source: Company investor presentation, December 6th, 2018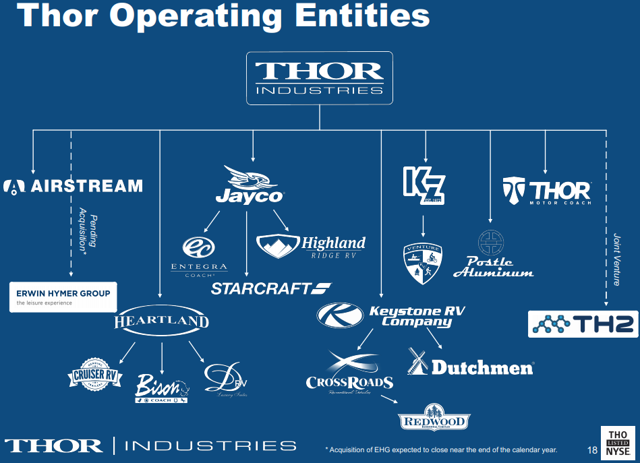 Source: Company investor presentation, December 6th, 2018
Thor has production facilities concentrated around its headquarters in Indiana and also in the northwest of the US. The Hymer acquisition will add production facilities in Europe.
The recreational vehicle industry is an oligopoly with growth drivers
A recreation vehicle (RV) is designed as a temporary living quarters for travel, recreation, camping, and seasonal use. RVs may have their own motor power (motorhomes), be mounted (truck campers) or towed by another vehicle (travel trailers, fifth wheel trailers, folding camping trailers). Sports utility RVs, which contain a built-in garage for hauling cycles, ATVs or sports equipment, are available in both motorhomes and towable RVs. Retail prices for RVs range from about $5,000 for towable models (folding camping trailers) to $500,000 or more for motorhomes (Type A motorhomes). The variety of models allows RVs to appeal to a wide range of consumer preferences and income levels. Motorhomes can be driven and travel trailers can be towed in the US with a regular automobile driver's license. In addition to their recreational use, RVs may also be outfitted for commercial and other specialized purposes, such as disaster assistance. RVs can be produced for use as mobile offices, medical clinics, isolation units, bathrooms and showers, laundries, bunkrooms, command centers and classrooms. They can also be used for temporary shelter for aid workers and contractors at disaster sites or for families that have lost their homes.
There are over 60 RV manufacturers and 200 component parts suppliers in the United States. According to the Recreation Vehicle Industry Association (RVIA), the U.S. RV industry has a total economic impact of $49.7 billion, supporting 289,852 jobs and generating $5.7 billion in taxes. RV manufacturers and suppliers are predominately small and medium-sized enterprises (SMEs). The industry is also highly concentrated. Over 80 percent of U.S.-made RVs are produced in Indiana, with the majority in Elkhart County. Large RV companies have economies of scale in production and distribution. Some large motorhome manufacturers produce their own chassis. A motorhome chassis typically includes the vehicle frame, engine, transmission, axles, wheels, brakes, cooling system electrical system, steering system, suspension and instrumentation. Most motorhome manufacturers purchase chassis from third party manufacturers. Small companies compete successfully by concentrating in specialty products or components. Other notable characteristics of the industry are that production is labor intensive and the workforce is highly skilled. It is also highly entrepreneurial and innovative as manufacturers increasingly produce lightweight towable RVs and smaller, fuel-efficient motorhomes. Green technologies, such as solar panels, are appearing on a growing number of RVs.
RV demand is highly dependent on demographics and consumer income. Consumers, in increasing numbers, are reaching the ages when they want to travel and camp in RVs. While middle-income consumers between the ages of 55 and 64 have had high RV ownership rates historically, customers between 35 and 54 are now the largest group of buyers. Over 9 million households in the United States own an RV. Because purchases of RVs are discretionary, demand is strongly dependent on consumer confidence. As the U.S. economy has recovered over the past several years, purchases of financed non-essential items, such as RVs, have performed better than other categories of retail spending. RV manufacturers have experienced many years of sustained growth since 2009, when shipments dropped to a recession low of 165,700 units. During the economic downturn, a number of manufacturers were forced to close or consolidate, and many that survived did so by cutting their workforce. Since then, pent-up consumer demand, an improved economy, low interest rates, available credit, declining fuel prices and favorable demographics have contributed to continued growth in the industry. In 2015, RV shipments totaled 374,246 units. Towable RVs made up 87 percent of total shipments and motorhomes the remaining 13 percent.
Source: https://www.trade.gov/topmarkets/pdf/Recreational_Transportation_Top_Markets_Report.pdf
In 2017, wholesale RV shipments reached their highest annual level on comparable record at 504,600 units, a 17.2% increase over 2016. The concentration of the industry can be seen in the chart below. Thor is nearly half the market while Forest River, owned by Berkshire Hathaway, controls almost 34% of the market. It is perhaps interesting to note that Grand Design has taken some market share from the top two in recent years. It is also important to note that this extreme consolidation is rather new. Companies like Thor have been consolidating the industry for many years, but with its large acquisition of Jayco in 2016, Thor put control of about 80% of the market into the hands of the top 2 companies. Winnebago (WGO) remains a significant participant with about 3% of the market.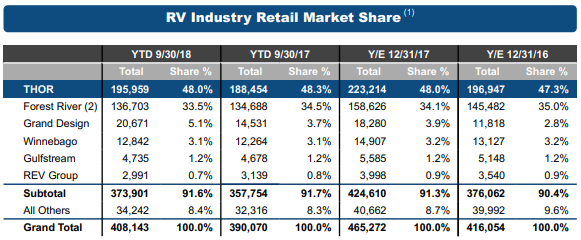 Source: Company investor presentation, December 6th, 2018
There are a number of trends driving growth in the industry, including shifts to more RV relevant lifestyles.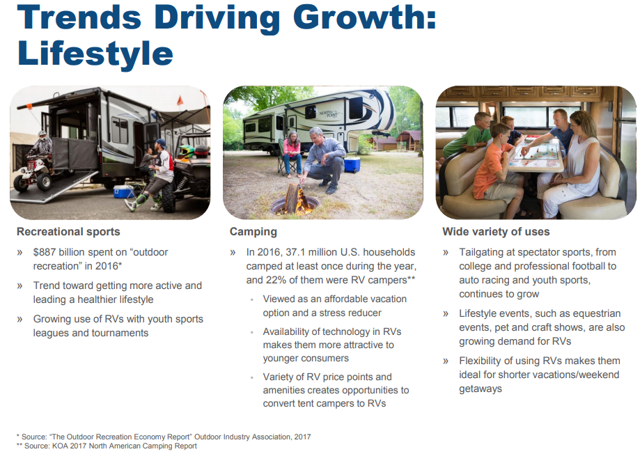 Source: Company investor presentation, June 6th, 2018
A continued favorable macro environment has also sustained growth in recent years.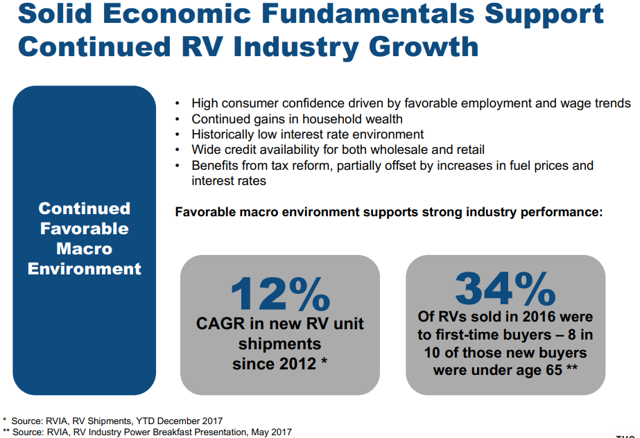 Source: Company investor presentation, June 6th, 2018
Consumer trends are also important for growth in the industry.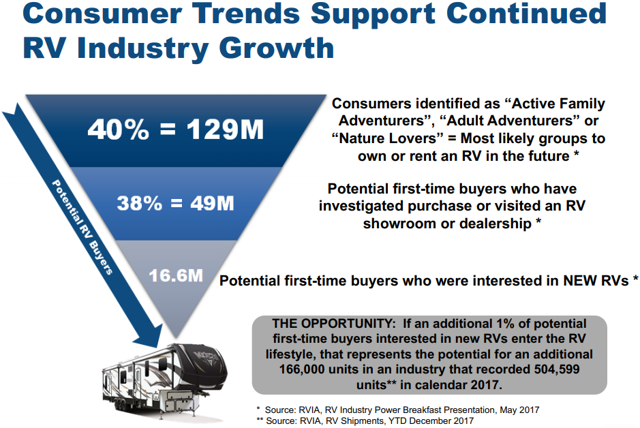 Source: Company investor presentation, June 6th, 2018
The following slides give more details regarding the structural growth drivers in the industry, including the demographic drivers. It is especially important to note that younger, millennial type buyers have been growing as a portion of the market in a trend that is expected to continue and which greatly diversifies the end consumer for RVs.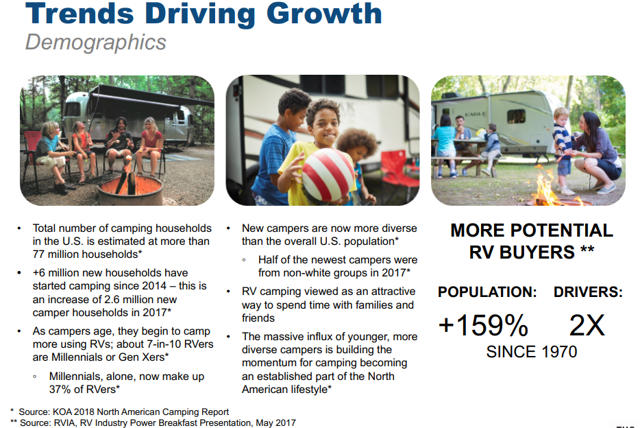 Source: Company investor presentation, June 6th, 2018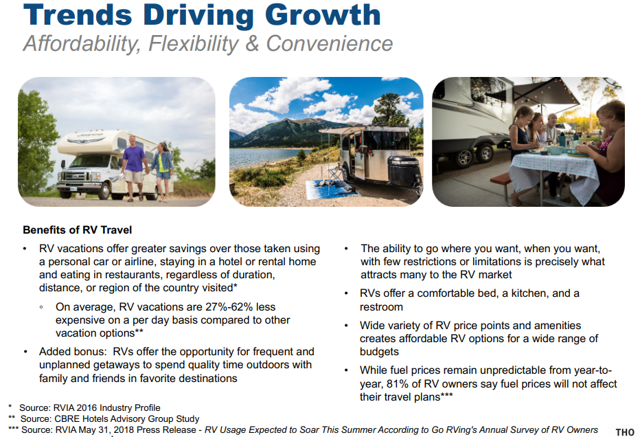 Source: Company investor presentation, June 6th, 2018
We wanted to highlight trends in the overall RV market, but also trends in the two main subcategories. There was clearly a drastic reduction in volume after the financial crisis a decade ago which points to the cyclical and discretionary nature of the industry, but long-term growth has been impressive and is expected to continue for many years.
Thor has a heavy weight on towables where it also has higher margins, but the motorized part of the industry has grown faster in recent years. The Hymer acquisition will increase the weight of motorized product considerably.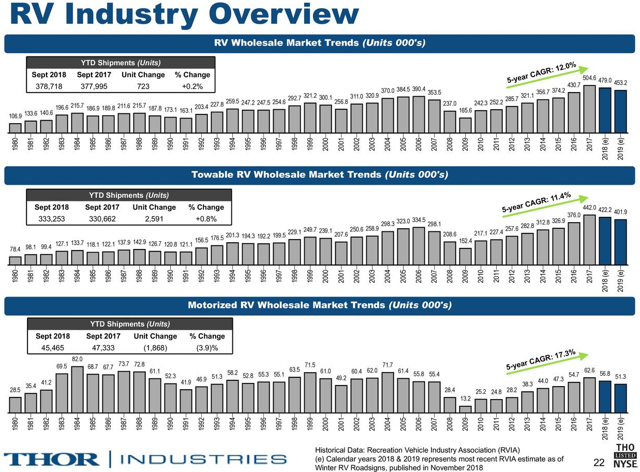 Source: Company investor presentation, December 6th, 2018
Another important aspect of the industry is the seasonal shipment pattern.

Source: Company investor presentation, June 6th, 2018
Thor's competitive position & barriers to entry
Thor has a number of competitive strengths. It is the largest player in a highly consolidated industry. It controls many brands across essentially all product categories. Its scale and brands give the company meaningful barriers to entry in production and distribution. The oligopoly nature of the industry should be protective as well, especially considering that the top two companies are both based in the same Indiana town. It is interesting to note that the fact that the top two players have similar headquarter and production profiles in geographic terms, and supply about 80% of the US RV market, means that no company has an advantage or disadvantage when it comes to cost of production. That means that shifts in labor costs or material costs (through import tariffs for example) will have a similar impact on most of the market which likely means they can also be passed on in terms of pricing in a similar fashion by the leading companies. Extreme industry concentration is recent however, so it is hard to predict exactly what impact it will have on the market. Some key competitive strengths are summarized below.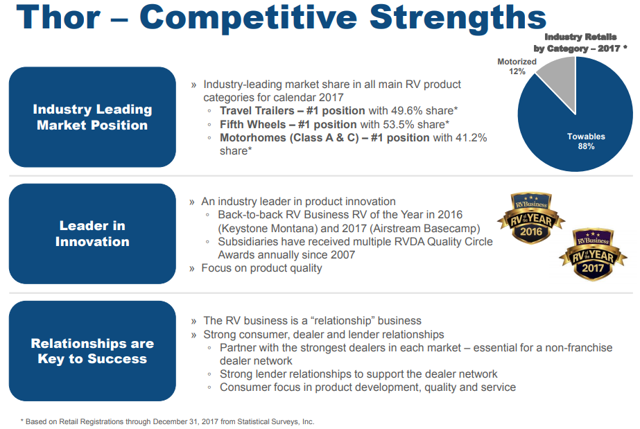 Source: Company reports and presentations
Thor has consolidated its industry position through a number of acquisitions over many years. We expected a shift in how the company views acquisitions and allocates capital as continued consolidation in North America appeared to be limited, but the Hymer acquisition shows a continued focus on growth through industry consolidation, even if it is in new geographies.
Thor has also proven its business model to be sustainable through cycles. End demand is clearly cyclical, but Thor is able to adjust its cost base to some extent which has allowed the company to be profitable in every year since its founding. Impressive indeed for a cyclical consumer company. The business model has also produced solid return on invested capital in a surprisingly steady fashion over many years.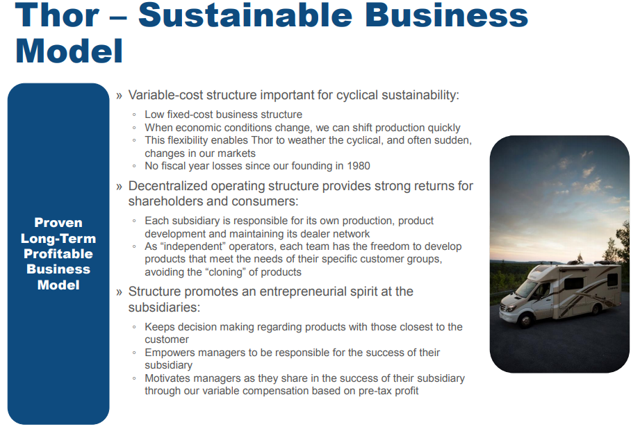 Source: Company reports and presentations
Thor has a strong fundamental profile
Profitability, capital efficiency, and returns on investment: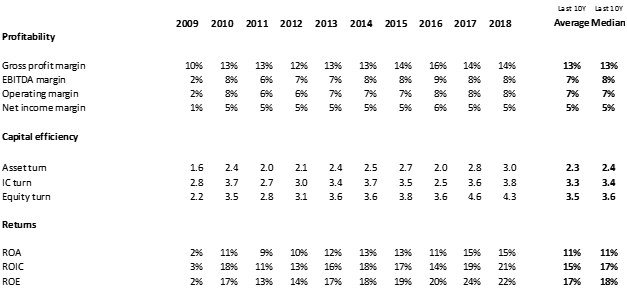 Source: Thomson Reuters
Thor has demonstrated consistent profitability in a cyclical industry. Return on Equity (ROE) and Return on Invested Capital (NASDAQ:ROIC) have both been very impressive through time. Thor is clearly a value creative company. The one major dip in these figures came on the back of the financial crisis when industry demand was essentially cut in half. However, the company remained profitable even in this nightmare scenario and quickly returned to impressive return figures.
Growth:

Source: Thomson Reuters
There are multiple structural growth drivers in the industry which should continue to support mid to high single digit growth going forward. Retiring baby boomers are certainly a growing consumer group for RV companies, but millennials with their active lifestyles have also been a growth driver for the industry. Acquisitions have clearly also boosted growth for Thor, and the sizeable Hymer acquisition proves there is still some potential for inorganic growth even if the North American market is already highly concentrated. A significant move into new geographies with new languages is an underestimated risk in our view however.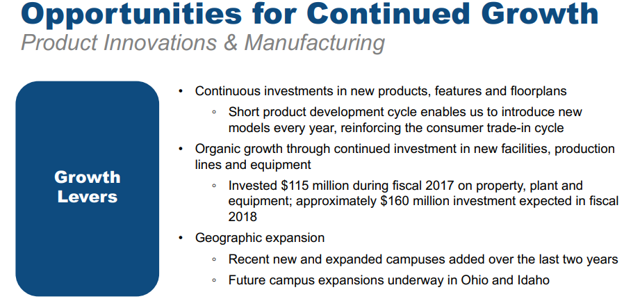 Source: Company reports and presentations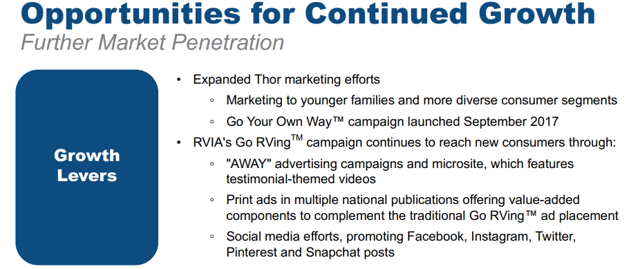 Source: Company reports and presentations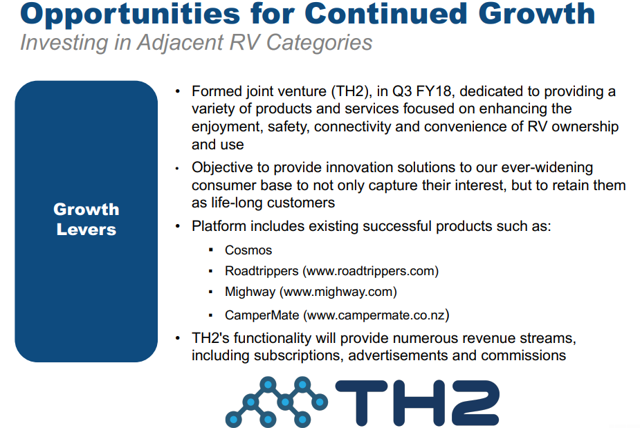 Source: Company reports and presentations
Cashflows: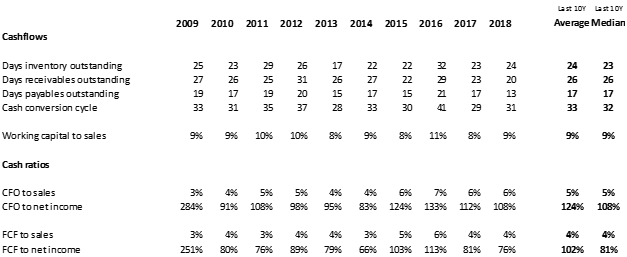 Source: Thomson ReutersCash conversion from net income to cash from operations (NASDAQ:CFO) is impressive with the jump to free cash flow (NYSE:FCF) generally good also. We view the company as well managed from a cash flow perspective.
Hymer complicates things, but Thor has a strong financial position

Source: Thomson Reuters
We are very impressed by the company's financial position and also how management handles the balance sheet. They are transparent and stick to their principles which generally include avoiding debt. The company is usually net cash and returned to debt-free status again after paying off the remainder of their debt in the early part of 2018. The debt raised in 2016 was for the large Jayco acquisition which was commendably paid off as soon as possible afterwards. The company combines a clean balance sheet with strong cash flow which provides it with flexibility in both strong and weak markets.
The company has recently complicated its financial position through the Hymer acquisition. While the transaction will drive debt metrics to the edge of our comfort zone (especially considering the current stage of the business cycle), we do not anticipate any undue financial stress for the company. Even in the deep recession following the financial crisis, the company remained profitable and free cash flow positive. Management has also reiterated its focus on financial discipline and paying down the debt as efficiently as possible.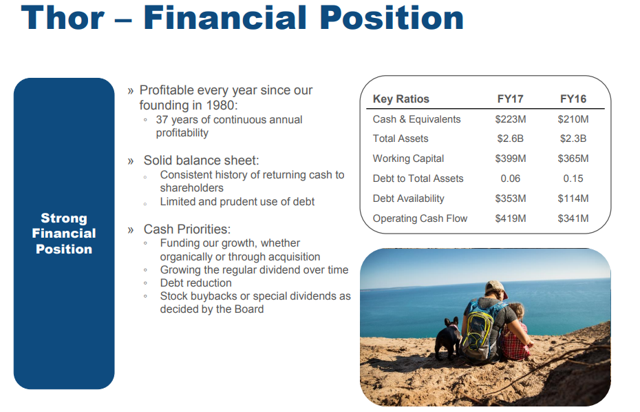 Source: Company reports and presentations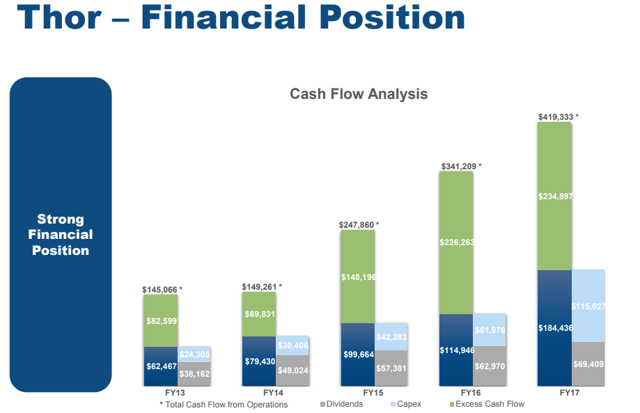 Source: Company reports and presentations
Thor management & track record of capital allocation decisions
We applaud management and how they have handled capital allocation. They have paid a reasonable and growing dividend for many years which they have augmented with several special dividends. They have been effective and efficient with acquisitions in terms of price and leverage and have always stuck to their word to clean up any necessary debt used for transactions.
We expect that capital allocation will shift away from dividends, buybacks and acquisitions for some time as Thor strives to pay down the sizeable debt related to the Hymer acquisition. A recession and potentially reduced free cash flow could extend the payback period.
We also see a high level of transparency and corporate integrity. Compensation structure is in line with shareholder needs and generally reasonable. We also highly value the clean, straightforward financials that offer a high degree of transparency. In fact, the company advertises the fact that they focus on GAAP results and clean reporting.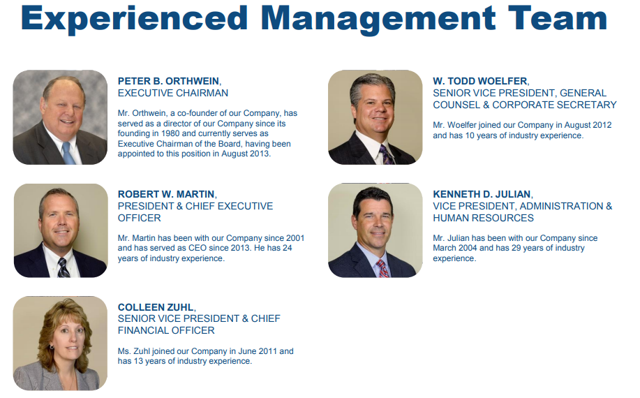 Source: Company reports and presentations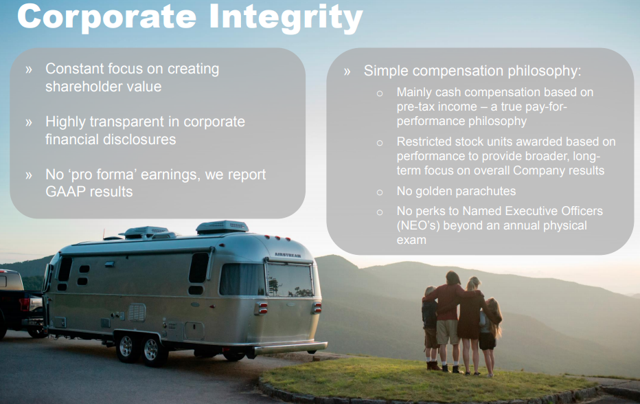 Source: Company reports and presentations
It is perhaps worth noting that the management focus has likely helped generate the excellent combination of growth and attractive return on investment, as well as a steadily improving profitability profile.
Thor has an attractive and safe dividend
The dividend has been safe/growing for many years and is a priority of management. The current dividend yield is close to 2.6% with a low payout ratio. When considering the dividend profile, it is important to note that the company has paid many substantial special dividends in recent years. Despite the Hymer acquisition which may limit short-term dividend growth, we feel management is committed to the dividend (they didn't even cut it during the financial crisis), and consider dividend safety to be high.

Source: Thomson Reuters
Thor's valuation is attractive even with a recession model
Investors need to digest a number of complicated factors when valuing Thor Industries currently. It would be quite easy to achieve a fair value in the $140 range using recent earnings and growth. After all, the most recent annual earnings per share (NYSEARCA:EPS) were $8.14 which was about 15% higher than the previous year. A company growing at 15% could easily achieve an earnings multiple of 17.5x which would result in a fair value above $140 per share using the most recent earnings. And in fact, the company traded at over $160 per share not even a year ago. Our own bullish valuation models also reached fair values above $140 per share.
But basing valuation on what may well be peak earnings and sales at the end of a long business cycle can be dangerous. We only need to look at Thor's own results around the financial crisis a decade ago to see what can happen. Thor's top line dropped by about half and EPS struggled to stay positive. What if we would have used a 17.5x earnings multiple to value Thor in 2009 with its 31 cents of EPS? Thor has now had many years of sustained high growth as the US recovered from the financial crisis, and projecting recent growth trends from the current high base of EPS could certainly be viewed as aggressive. We want to find value in the company using something closer to long-term, mid-cycle earnings or perhaps using valuation models that price in a rather severe recession like the one related to the financial crisis. We certainly don't want to ignore the cyclicality of the business and the current stage of the business cycle, especially considering the ongoing challenges related to demand and inventory as well as the greater debt and consumer backdrop of the US economy.
Ultimately, we assess Thor's fair value to be around $85 - $90 per share. We primarily used a discounted cash flow model with a built in recession scenario, but balanced the outcome with various valuation methods. In Thor's case, as in most cases, it's not really about trying to calculate an exact fair value, but rather determining that the company is most likely trading substantially below its intrinsic value when looking longer term (and using conservative assumptions).
We can share some details of our recession-based valuation model in case investors are interested. Please note however that the information below does not include any impact from the Hymer acquisition. We essentially modeled the top line to follow what happened in the financial crisis, at least on the way down. The graphic below shows what happened to revenue and EPS around the financial crisis. Sales declined for multiple years with a huge drop in 2009 and EPS collapsed. It took sales 6-7 years to return to previous peaks with the net margin needing about the same time to recover.

Source: Thomson Reuters
Our model essentially mirrors the sales declines, but has a more gradual recovery, with sales needing more time to recover to current levels. The net income margin drops below its 2009 level, but also recovers quickly as it did following the financial crisis (keep the new lower US tax rate in mind also). Knowing that acquisitions had a material impact on historical numbers for Thor, our top line recovery projections were based more on the recovery of the underlying industry rather than Thor's more aggressive growth following the financial crisis. Our estimates can be seen below.

Source: Thomson Reuters; Oyat Advisors
The key message is that even with a severe recession factored in, Thor looks to have a substantial margin of safety. Do also note that the above described model has quite modest growth projections compared to history and perhaps doesn't directly factor in potential benefits of the recently acquired oligopoly nature of the industry. There certainly is potential for continued declines in the business in the coming quarters, and we expect stock price volatility, but for long-term investors that can handle volatility, it looks like an attractive entry point.
In addition, we highlight the fact that Thor ranks well in our screen which combines quality with valuation despite having some years below our general 15% hurdle for ROE (during the financial crisis).
We initiated a modest position in Thor at approximately $57 per share despite being wary of the business cycle. We left plenty of room to increase the position size on weakness.
Thor risks & red flags
Recession/Cyclicality: The major concern we have with an investment in the company is the cyclicality of the end market and the potential for a deep recession considering the length of the current business cycle and the debt metrics of governments and consumers. Industry demand and company sales dropped over 50% during the financial crisis a decade ago and a similar event is not entirely unlikely. During the financial crisis, the stock price of the company dropped around 75%. Our concern is primarily on valuation and the stock price. The business itself has proven that it can stay profitable through even deep recessions and the balance sheet is strong enough to handle severe financial stress. Recession scenarios need to be evaluated to determine an appropriate entry point for investment.
Consumer demand: Because purchases of RVs are discretionary, demand is strongly dependent on consumer confidence and the ability of consumers to finance purchases. As the U.S. economy has recovered over the past several years, purchases of financed non-essential items, such as RVs, have performed better than other categories of retail spending. RV manufacturers have experienced many years of sustained growth since 2009 supported by pent-up consumer demand, an improved economy, low interest rates, available credit, declining fuel prices and favorable demographics. While some of these drivers such as demographics are structural and should be supportive for years to come, items such as stretched consumer finances and rising interest rates will surely dampen industry growth.
Oil/Gas prices: Oil/Gas prices affect the cost of RV ownership and use. Higher gas prices can lower demand for RVs and limit the use of RVs.
Tariffs: RVs contain many different materials including metals. Import tariffs on these items can affect the margin of RV producers or the ultimate price paid by consumers.
Labor cost: RV production is labor intensive. With low unemployment, there is a risk of labor cost inflation which can impact margins or pricing.
Competition:While the company has meaningful barriers to entry, new entrants especially in niche areas can steal market share. Recently, Grand Design has taken some market share from the top two players for example.
Distributors: Thor sells its products largely through independent distributors, some representing a significant portion of sales. Financial issues or bargaining power can put pressure on Thor's business.
Industry change: We note that the industry has very recently reached a high level of consolidation (especially in North America) largely through Thor's acquisitions over the past years. It looks like this can't go much further. The result will be that Thor has to change its capital allocation policies, accept lower growth from acquisitions and perhaps the inability to protect itself from competition through buying up successful companies. The Hymer acquisition disproves this to some extent by demonstrating the willingness of the company to extend its geographic reach.
Thor: quality and security long-term, valuation despite market conditions now
Thor is a high quality company that has demonstrated the ability to navigate through the cyclicality of its end markets. Consistently high levels of ROE and ROIC and sustained profitability through even deep recessions are attractive symptoms of the company's quality and strong management. Cash conversion is attractive, and the financial position of the company is sound. Management seems to despise debt and generally runs the company debt free with a substantial net cash position. Management has also been efficiently acquisitive in the past as they have consolidated the industry. The pending Hymer acquisition will push debt levels up late in a cycle, but the proven financial discipline of management and solid ability to navigate recessions will prevent undue financial stress. The recently acquired oligopoly status of the industry sets an attractive backdrop for the company to continue creating value and supports its barriers to entry.
We also appreciate the transparent and high integrity approach of management and the shareholder friendly capital allocation history of the company. Considering the oligopoly status of the industry, the strong and consistent value creation, the solid balance sheet (even with the Hymer acquisition) and the effective management, we see many reasons to invest in the company. However, the cyclicality and dramatic share price drops in previous recessions are cause for hesitation considering the current economic backdrop and business cycle. As such, we recommend a cautious investment strategy that requires a substantial margin of safety. Currently, our base case valuation model provides such a margin of safety, with recession-affected projections indicating a fair value in the $85 - $90 range. We have initiated a position around $57 per share. The initial position size is about one third of our maximum target allowing for sizable increases with further share price weakness. We do hesitate to own highly cyclical companies considering the current stage of the business cycle, but Thor looks like a clear long-term winner that may even provide relative out-performance in a market crash considering the attractive valuation.
Disclosure: I am/we are long THO, BRK.B. I wrote this article myself, and it expresses my own opinions. I am not receiving compensation for it (other than from Seeking Alpha). I have no business relationship with any company whose stock is mentioned in this article.
Additional disclosure: The information enclosed in this article is deemed to be accurate and reliable, but is not guaranteed to or by the author. This article does not constitute investment advice.