Conatus (NASDAQ:CNAT) is a clinical-stage biotech company that is developing a pan-caspase protease inhibitor, emricasan, with Novartis' (NVS) help. Emricasan is undergoing 4 different trials, 3 of which are focused on non-alcoholic steatohepatitis (NASH). On December 5, 2018, it announced top-line results for ENCORE-PH, a placebo-controlled trial that looked at whether three different doses of emricasan (5mg, 25mg, and 50mg BID) could improve hepatic venous pressure gradient (HVPG) in NASH patients with liver cirrhosis. Unfortunately, the trial failed to meet its primary endpoint, which led to a subsequent 56% drop in share prices by the end of the day.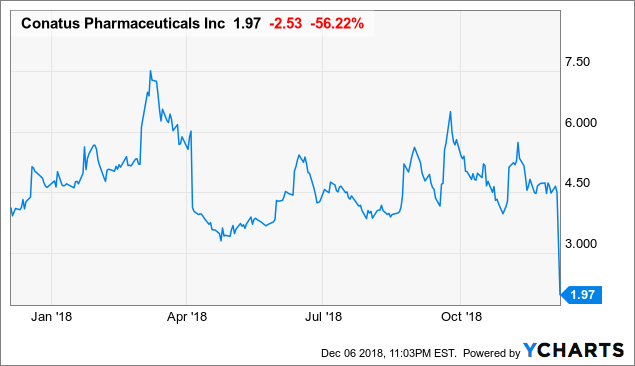 The question now is what value can be unearthed in the data drop?
Compensated vs decompensated patients
Figure 1. Slide from CNAT Dec. 5, 2018, top-line results presentation
While the study included patients with compensated and decompensated liver disease, the number of decompensated patients were on the lower end. The emricasan treatment groups had 16-18 (~25% of cohort) decompensated patients each while the placebo group had only 12 (~18% of cohort). Beyond that, little additional information has been provided about the decompensated cohort. As a result, it is difficult to determine what sort of therapeutic differences exist between the two sub-groups.
Lack of clear dose dependence between emricasan and HVPG
Figure 2. Slide from CNAT Dec. 5, 2018, top-line results presentation
Looking at the figure above, it is difficult to spot a clear relationship between HVPG and emricasan. Typically, a medication's effect is dose-dependent, meaning its effects tend to correlate negatively or positively with the dosage used. In the first 6 measures, there is possibly a slight positive correlation with emricasan dose. In other words, when looking at the overall patient population, a higher dose appears to incrementally reduce HVPG more versus placebo.
However, as the study continues to drill further into the compensated and compensated with baseline HVPG >= 16 mmHg sub-groups, the prior correlation, if there was one, is lost and no clear pattern emerges. This suggests a possible limit to emricasan's therapeutic effect on HVPG (i.e. maximum effect has been achieved), at least at the dosages used. Overall, CNAT demonstrated that compensated patients with an HVPG >= 16 mmHg derived benefits from emricasan versus placebo-treated patients.
Clinically meaningful responses only if HVPG >= 16 mmHg
Figure 3. Slide from CNAT Dec. 5, 2018, top-line results presentation
Historically, reducing a patient's HVPG to under 12 mmHg or by more than 20% of their initial baseline value is considered clinically beneficial1,2,3. From the figure above, we can deduce that there is essentially no clinically meaningful response when baseline HVPG is lower than 16 mmHg. Taking emricasan 5mg BID as an example, 7 out of 46 patients with HVPG >= 12 was a responder, but 6 of these responders can be found in the HVPG >= 16 mmHg cohort. This would mean that only 1 patient with a HVPG less than 16 mmHg had a meaningful response. Using this line of reasoning, the following table can be derived:
| | | | | |
| --- | --- | --- | --- | --- |
| HVPG (mmHg) | 5mg BID | 25mg BID | 50mg BID | Placebo |
| ≥ 16 | 22% (6/27) | 13% (4/30) | 20% (5/25) | 0% (0/26) |
| ≥ 12, < 16 | 5% (1/19) | 29% (5/17) | 18% (3/17) | 19% (5/27) |
| ≥ 12 | 15% (7/46) | 19% (9/47) | 19% (8/42) | 9% (5/53) |
Once again, this seems to stress that emricasan performed better in patients that had a higher baseline HVPG.
Emricasan had a smaller than expected impact on baseline HVPG
Figure 4. Slide from CNAT Dec. 5, 2018, top-line results presentation
If we stop comparing emricasan's response against placebo, we can see that the observed relative change from baseline was small over the 28 weeks. In the HVPG >= 16 mmHg cohort, the mean baseline will have to be at least 16 mmHg; however, the actual average will likely be closer to 20 mmHg or greater. Looking at a mean change of -1.6, -1.7, and -1.5 mmHg for 5mg, 25mg, and 50mg emricasan respectively, the percentage change will likely be between negative 5-10%, depending on the average HVPG of the >=16 mmHg cohort. As a point of reference, in an earlier phase 2 study, emricasan reduced mean HVPG by 18% (Figure 5). Incidentally, there are some slight differences in the top-line presentation for the absolute number of patients with HVPG >=16 mmHg (compare Figure 3 and 4), but it's unclear as to why that is the case.
Figure 5. Slide from CNAT 2018 Biocentury presentation
An underlying difference in patients and the extension phase
The patient population is the likely reason behind why it will be difficult to hit the primary end point. For the initial pilot, anyone on beta-blockers, nitrates, and other vasoactive drugs were excluded. In contrast, ENCORE-PH allowed for vasoactive drugs, as long as the dosage was stable for at least 3 months prior to day 1 of the study. This can be seen in the patient characteristics table (Figure 1), where ~40% of the patients had a non-selective beta-blocker (NSBB). Concomitant usage of other pharmacological agents may make it hard to further reduce HVPG, so it isn't surprising that the end point was missed. A primary endpoint of 20% or greater reduction in HVPG in the given population may be achievable if CNAT chooses to specifically pursue patients with HPVG >= 16 mmHg. On a similar vein, if the above conjecture is true, then the primary end point in the current study will still likely be missed 6 months later.
While there's no expectation of hitting the primary endpoint, emricasan versus placebo results will likely further improve 6 months from now. As can be seen in Figure 4, emricasan-treated patients tended to have reduced HVPG whereas placebo-treated patients saw an increase instead, which may be an indication of disease progression. Assuming further disease progression in the placebo group, the difference versus emricasan-treated patients will only increase unless the emricasan response is lost.
Concluding remarks
CNAT missed their primary endpoint for ENCORE-PH, but there are still a few positives in the ensuing chaos. While emricasan appears to have limited efficacy in the overall population, responses can be seen in patients with HVPG >= 16 mmHg. This is likely in part due to ENCORE-PH's eligibility criteria - chiefly the allowance of vasoactive agents. Such agents may make it difficult to induce further reduction in HVPG under certain circumstances. Overall, it is unlikely that ENCORE's primary endpoint will be reached by the end of the extension; however, it may be achievable in future studies if CNAT chooses to focus more specifically on patients with HVPG >= 16 mmHg. The more likely scenario by the end of the extension is a further increase in the mean HVPG difference between the emricasan and placebo treatment arms.
Disclosure: I/we have no positions in any stocks mentioned, and no plans to initiate any positions within the next 72 hours. I wrote this article myself, and it expresses my own opinions. I am not receiving compensation for it (other than from Seeking Alpha). I have no business relationship with any company whose stock is mentioned in this article.