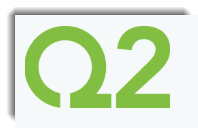 Quick Take
Q2 Holdings (QTWO) announced it has acquired Gro Solutions for an undisclosed amount.
Gro Solutions provides customer relationship management software to banks and credit unions
QTWO is acquiring companies to fill in the gaps with important functions to assist financial institutions in their transition to a digital environment so they can compete for younger demographic clients.
Target Company
Atlanta, Georgia-based Gro Solutions was founded in 2015 to provide banks and credit unions with digital sales and marketing software to increase customer acquisition and account portfolio.
Management is headed by CEO David Eads, who has been with the firm since its inception and was previously Founder of Mobile Strategy Partners.
The company's primary offerings include:
Gro Checkout
Gro Funnel
Gro Business
Investors have invested at least $4.3 million in the company and include BIP Capital, BLH Venture Partners, Croft & Bender, and TTV Capital. Source: Crunchbase
Market & Competition
According to a market research report by Grand View Research, the overall customer relationship management market is projected to reach $81.9 billion by 2025.
The main drivers for this expected growth are 'numerous benefits of CRM suites, including operational efficiency, reduced cost of marketing, and the ability to complete sales cycle "on the go."'
Major competitive vendors that provide CRM solutions to financial institutions include:
Acquisition Terms and Rationale
Q2 didn't disclose the acquisition price or terms and didn't file a form 8-K or provide a change in financial guidance, so the deal was likely for a financially non-material amount.
A review of the firm's most recent 10-Q filing indicates that as of September 30, 2018, it had cash and equivalents of $212 million and total liabilities of $275.1 million.
Free cash flow during the nine months ended September 30, 2018, was a negative ($16.0 million).
Q2 acquired Gro for its account opening and digital selling/marketing system, optimized for mobile devices.
As Q2 stated in the deal announcement,
Gro provides a digital sales platform that drives customer acquisition growth across all digital channels. The Gro platform enables customers to make personalized recommendations and cross-sell products—from deposit accounts to loans for both retail and business clients. Gro's solution combines advanced, multichannel account opening with targeted marketing capabilities as well as a shopping cart experience. Account holders can simply add financial products when and how they need them.
In the past 12 months, QTWO's stock price has risen 29.0% vs. the S&P 500 Index' fall of (1.0%), as the chart below indicates: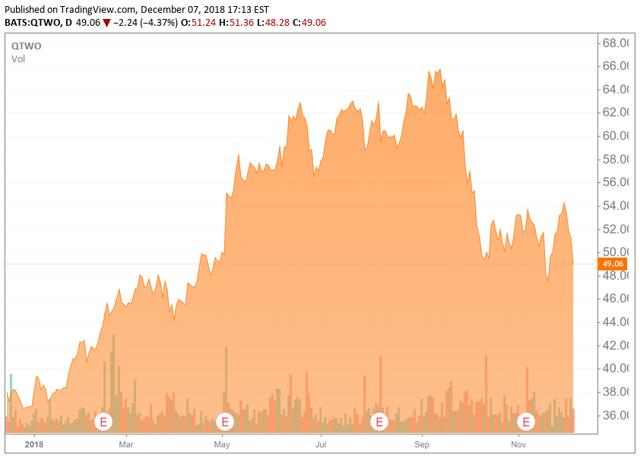 Source: Seeking Alpha
I covered Q2's previous acquisition, a $105 million deal for Cloud Lending. That deal was also to improve lender digital marketing efforts but via web-based interfaces.
This deal for Gro is focused on the very front end of mobile prospects as well as converting them to customer relationships through automated digital selling and marketing functions.
Taken together, the acquisitions point to Q2 management seeking to expand its product offering set to financial institutions seeking better results at every step of the selling and onboarding process.
As FIs are under greater competitive pressure to 'up their game' against non-traditional sources of financial services in the quest to acquire younger demographic clients, companies such as QTWO are well-positioned to sell them the tools needed to improve their results.
I expect to see additional acquisitions as needed to fill in any remaining gaps or advance the state of QTWO's offerings.
Thank you for reading. I write about IPOs and M&A deals, though I focus most of my time on IPOs. If you're interested in investing smarter in IPOs, you should check out IPO Edge.
Disclosure: I/we have no positions in any stocks mentioned, and no plans to initiate any positions within the next 72 hours. I wrote this article myself, and it expresses my own opinions. I am not receiving compensation for it (other than from Seeking Alpha). I have no business relationship with any company whose stock is mentioned in this article.