Quick Take
Ardent Health Partners (ARDT) intends to raise gross proceeds of $100 million from a U.S. IPO, according to an S-1 registration statement.
The firm, formerly known as Behavioral Healthcare Corporation, operates a network of hospitals and healthcare facilities, mostly in the lower Midwest and South.
ARDT has grown recently through several acquisitions, so management's pricing and valuation assumptions will be critical for the IPO's potential value to investors.
Company & Technology
Nashville, Tennessee-based ARDT was founded in 1993 to acquire and develop a network of acute care hospital and healthcare facilities across Texas, New Mexico, Oklahoma, New Jersey, Idaho, Florida, and Kansas.
Management is headed by Director, President and CEO David T. Vandewater, who has been with the firm since its inception and was previously President and COO at Columbia/HCA Healthcare Corporation.
As of Sep. 30th, 2018, ARDT operated '31 acute care hospitals, including one managed hospital, two rehabilitation hospitals and two surgical hospitals, with a total of 4,718 licensed beds, and provided physician and other ancillary healthcare services through a network of more than 1,000 employed providers.'
Below is an overview image of the company's geographic footprint: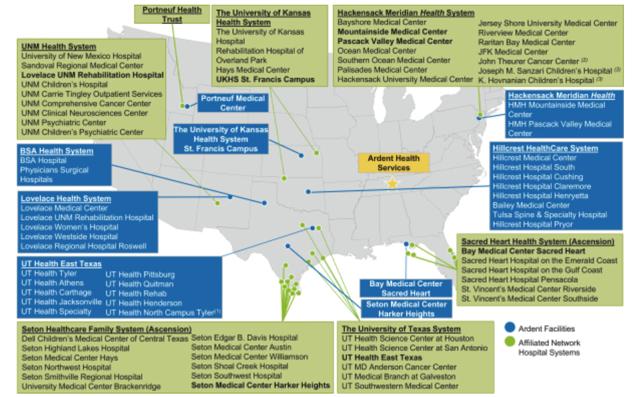 Source: S-1 Filing
The company has also invested in various healthcare solution companies, including BSA Health, Hillcrest Healthcare, and Lovelace Health.
Market & Competition
According to a 2018 market research report by Market Research Future, the global acute hospital care market is projected to grow at a CAGR of 7.8% between 2017 and 2023.
The main factors driving market growth are the 'rising incidences of trauma injury, the presence of a large base of the patient population, increasing number of hospitals, and unmet medical needs in emerging economies.'
North America dominates the market, while the Asia-Pacific region is projected to grow at the fastest rate due to the 'rapidly developing healthcare technology, huge patient population, and high healthcare expenditure.'
Major companies that provide acute hospital care in the U.S. include:
HCA Holdings (HCA)
Community Health Systems (CYH)
Universal Health Services (UHS)
Tenet Healthcare Corporation (THC)
Vanguard Health System
Kindred Healthcare
PruittHealth
National HealthCare Corp (NHC)
Financial Performance
ARDT's recent financial results can be summarized as follows:
Growing topline revenue from several recent acquisitions
Increased operating profit
Uneven operating margin
Fluctuating cash flow from operations
Below are the company's pro forma financial results for the first nine months of 2018 (Unaudited, interim):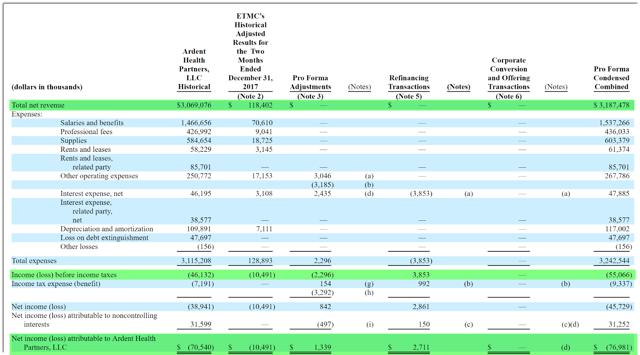 Source: Company Prospectus
Relevant financial metrics derived from the firm's registration statement:
| | | |
| --- | --- | --- |
| TTM Revenue | | |
| Period | TTM Revenue | % Variance vs. Prior |
| To Q3 2018 | $ 3,187,478,000 | 48.1% |
| 2017 | $ 3,877,756,000 | 84.2% |
| 2016 | $ 2,105,216,000 | |
| | | |
| Operating Profit (Loss) | | |
| Period | Operating Profit (Loss) | % Variance vs. Prior |
| To Q3 2018 | $ 195,939,000 | 26.6% |
| 2017 | $ 199,469,000 | 27.6% |
| 2016 | $ 156,266,000 | |
| | | |
| Operating Margin | | |
| Period | Operating Margin | |
| To Q3 2018 | 6.1% | |
| 2017 | 5.1% | |
| 2016 | 7.4% | |
| | | |
| Cash Flow From Operations | | |
| Period | Cash Flow From Operations | |
| To Q3 2018 | $ 63,292,000 | |
| 2017 | $ 119,469,000 | |
| 2016 | $ 85,775,000 | |
Sources: Company Prospectus, IPO Edge
As of September 30, 2018, the company had $61.0 million in cash and $2.0 billion in total liabilities. (Unaudited, interim)
Free cash flow during the nine months ended September 30, 2018, was a negative ($27.8 million).
IPO Details
ARDT intends to raise $100 million in gross proceeds from an IPO of its common stock, not including customary underwriter options. The final figure may be as high as $200 million.
Per the firm's latest filing, it plans to use the net proceeds from the IPO as follows:
We intend to use the net proceeds from this offering to repay certain outstanding indebtedness and the remainder for general corporate purposes, which may include acquisitions of healthcare facilities or related businesses.
Management's presentation of the company roadshow is not currently available.
Listed underwriters of the IPO are Barclays, Citigroup, J.P. Morgan, BofA Merrill Lynch, Credit Suisse, Goldman Sachs, RBC Capital Markets, and Loop Capital Markets.
Expected IPO Pricing Date: Not yet on the calendar.
An enhanced version of this article on my Seeking Alpha Marketplace research service IPO Edge includes my initial commentary on the IPO.
Members of IPO Edge get the latest IPO research, news, market trends and industry analysis. Get started with a free trial.
Disclosure: I/we have no positions in any stocks mentioned, and no plans to initiate any positions within the next 72 hours. I wrote this article myself, and it expresses my own opinions. I am not receiving compensation for it (other than from Seeking Alpha). I have no business relationship with any company whose stock is mentioned in this article.