It has been a very tough quarter for discount retailer Big Lots (BIG) - and the stock price, down 23% post earnings, has reflected it well.
On Friday morning, the Columbus, Ohio,-based company delivered a brick to shareholders in the form of a sizable fiscal 3Q18 earnings miss and sharp downward revision to full-year EPS. Revenues of $1.15 billion increased nearly 4% YOY, while adjusted per-share earnings fell 22 cents to a loss of $0.16 in the most recent quarter.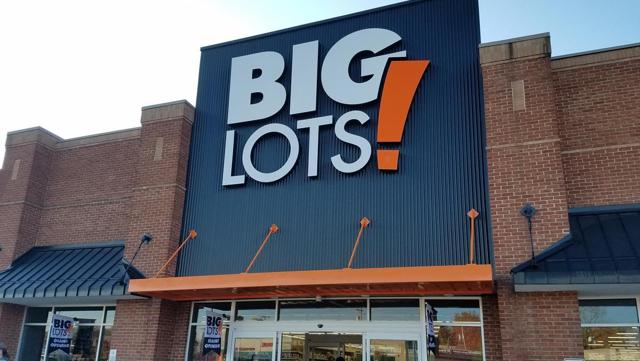 Credit: The Business Journals
The problem with Big Lots' performance was clearly not on the top line. Comps of 3.4%, in fact, landed near the high end of management's guidance range and represented the best read on the metric since 2011. I believe modest yet improving same-store sales are likely the result of a better and more diversified assortment of apparel, furniture (up low teens YOY) and soft home goods, along with improved performance of the remodeled stores that are part of the company's "Store of the Future" efforts.
But here's the catch: Big Lots' op margins are narrow, having reached only 1.9% in 2018 YTD on a GAAP basis - while, granted, the important holiday season still lurks around the corner. So let's assume for a moment that Big Lots managed to deliver an extra 100 bps in comparable sales growth in fiscal 3Q18, something that's really hard to come by. Under this rosy scenario and assuming unchanged gross margin, opex as a percentage of revenues and effective tax rate, I calculate that EPS would have increased by only one penny in the quarter.
The company's key challenge, therefore, seems to lie in maintaining margins afloat - which is precisely what did not happen in the third quarter. Gross profits in fact rose at nearly the same pace as revenues, which helped to limit the YOY deterioration in gross margin to only 5 bps. But opex climbed more than 6%, pushing op margin down 109 bps into negative territory. See summarized P&L below, on a non-GAAP basis.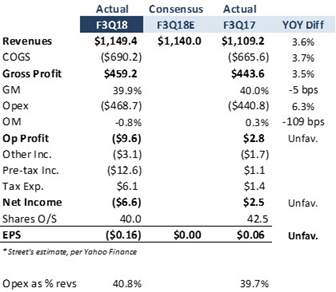 Source: DM Martins Research, using data from company's earnings report
I understand that the third quarter is a tricky one for Big Lots, as most retailers invest in distribution and inventory to prepare for the busy shopping season. These investments tend to be reflected in higher operating expenses, apparently the culprit in driving Big Lots' EPS into the ground in fiscal 3Q18. But considering management's revised full-year earnings guidance that suggests a gut-wrenching 65-cent deterioration on per-share earnings expectations in fiscal 4Q18 compared to the previous outlook, it does not look to me like the company's margin troubles are confined to the immediate term.
On the investment case
Looking at Big Lots today reminded me a bit of fellow Ohio-based Kroger (KR), which I wrote about yesterday.
I understand that these are completely different businesses doing very different things, with only some minor overlap between the two with regard to food and consumables sales. Kroger, in my view, also is a higher-quality company with more encouraging prospects and fewer moving parts that need urgent fixing.
But at a more fundamental level, businesses that operate in a very tight margin environment, as is the case of both companies, tend to suffer the most bottom-line damage from a deterioration in key P&L drivers like cost of goods, supply chain expenses, overhead, interest and taxes, etc. Compared to Kroger, Big Lots seems to be a few quarters ahead in its footprint decline and loss of profitability. As a result, actual and projected EPS have started to fall off a cliff, along with share price.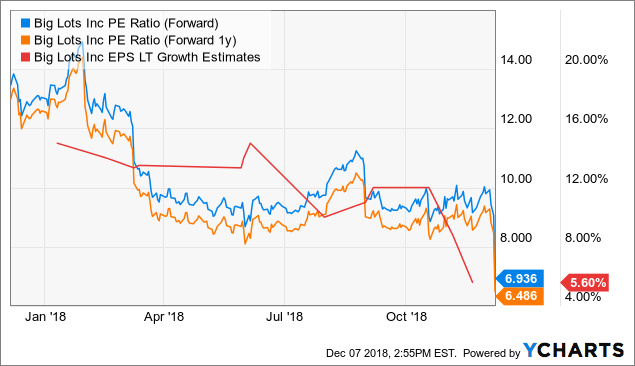 Last time I wrote about BIG I presented a largely bearish argument on the stock, citing "comps (that) do not seem robust enough to spark top-line growth beyond the low single-digits", along with skepticism over (1) "dividend payments continuing to grow at a 20%-plus pace" and (2) "healthy long-term (expectations for an) EPS growth rate of 11%." Today's results only served to reinforce my caution on BIG, while putting at risk future cash flow generation that I previously thought was one of the few bright spots to be taken into consideration.
As the chart above suggests, BIG now trades at a "big" discount: Current-year P/E multiple of 6.5x that is about half what it was 12 months ago. Long-term PEG also looks very decent at 1.2x for such a low-growth company, although earnings expectations are likely to get revised down sharply in the next few days. Despite the stock's modest price tag, I believe there's still too much for Big Lots' new management team to do before the turnaround efforts begin to bear fruit and the stock can finally present itself as a good investment opportunity.
For now, I see this name as a value trap, not a value play. Any sustainable upside to share price is only likely to take place several quarters down the road rather than in the foreseeable future.
Note from the author: While I do not own BIG, I have been tracking a list of other stocks that I believe should outperform the broad market in the long term. To dig deeper into how I have built a diversified portfolio designed and back-tested to generate superior risk-adjusted returns, join my Storm-Resistant Growth group. Take advantage of the 14-day free trial, read all the content written to date and get immediate access to the community.
Disclosure: I/we have no positions in any stocks mentioned, and no plans to initiate any positions within the next 72 hours. I wrote this article myself, and it expresses my own opinions. I am not receiving compensation for it (other than from Seeking Alpha). I have no business relationship with any company whose stock is mentioned in this article.