At long last, we have a positive catalyst to lift Cloudera (NYSE:CLDR) out of its doldrums: the third-quarter earnings release. Cloudera just posted much better-than-expected results, with revenue growth showing a surprise acceleration over last quarter's growth rates, alongside smaller-than-expected losses.
Barely two months ago, Cloudera was flying high on the back of its announced merger with Hortonworks (HDP), which is the #2 vendor in the Hadoop space (though it operates a slightly different business model - whereas Cloudera offers mostly proprietary software on top of an open-source core, Hortonworks primarily offers support services for Hadoop software). The deal is slated to create the largest vendor of Hadoop software - which, as data becomes increasingly complex and voluminous, is an increasingly important infrastructure tool for IT teams.
The stock took a nasty turn in October and November, however, and it's been one of the hardest-hit stocks in the wider market downturn. Cloudera's losses have hit more than 30%, putting the company at an incredibly low valuation: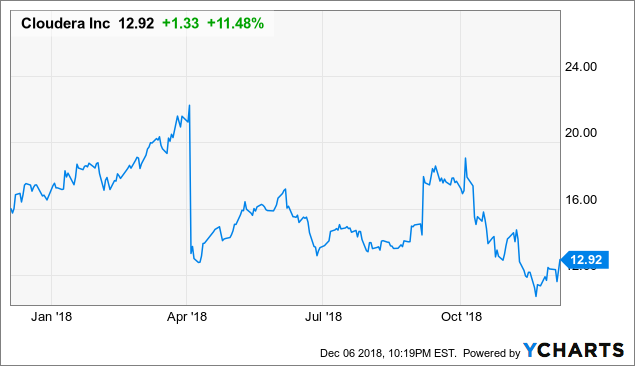 With such a strong quarter under its belt and still a long way for the stock to go in recovering to former prices, it's a good time to review the bullish case for Cloudera.
Bullish drivers: low valuation, enormous TAM
Cloudera's bargain-basement valuation (even after the ~12% earnings pop) remains the top reason to be long on this stock. At present, Cloudera has a market cap of $1.85 billion, and after netting out $449.9 million of cash, the company has an enterprise value of just $1.40 billion.
Figure 1. Cloudera guidance

Source: Cloudera earnings release
As seen in the snapshot above, Cloudera is guiding to $450-$453 million (+23% y/y) in revenues for the current fiscal year, excluding any contribution from the pending Hortonworks merger; and for next year (FY20), analysts are expecting a consensus of $535.2 million in revenues (+19% y/y), per Yahoo Finance. This indicates that the company is trading at a mere 2.6x EV/FY20 expected revenues.
Hortonworks, which will be folded into Cloudera at some point next year, trades at a similarly low multiple: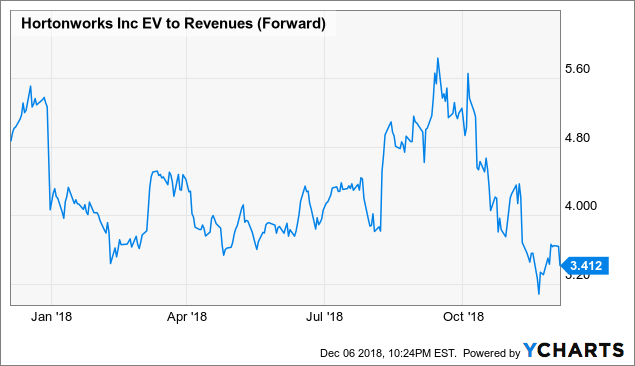 The reasons for buying Cloudera and Hortonworks aren't tied exclusively to valuation, however. Thematically, the merger of the two largest names in Hadoop ensures dominance over a hot growing field within enterprise IT.
Much of the headwind against Cloudera's stock this year has surrounded its slower growth rate and fears of lower net expansion rates in the current installed base. Having Hortonworks doubles Cloudera's sales firepower, and the two companies - which, as previously mentioned, approach monetization of a core Hadoop product from different angles - can more efficiently and fully cover the target market.
Figure 2. Cloudera TAM estimate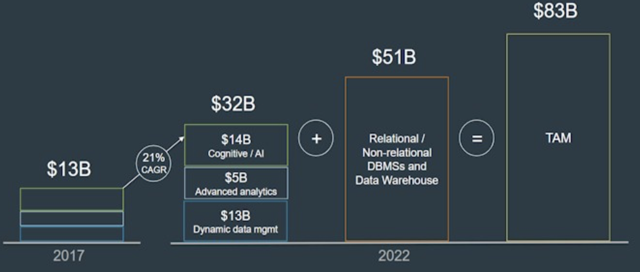 Source: Cloudera/Hortonworks merger presentation
The two companies have barely cracked a fraction of the ~$83 billion it estimates as its total addressable market (NYSE:TAM). As seen in the chart above, this TAM consists of a variety of use cases - apart from standard database applications, Hadoop can also be applied to various analytics and AI use cases as well.
Alongside top-line synergies, recall also that the company forecast $125 million in annual cost synergies stemming from the acquisition. To size this against Cloudera's current revenues, this is approximately one-quarter of Cloudera's standalone FY19 top line.
Q3 download
Here's a look at how Cloudera fared in Q3:
Figure 3. Cloudera 3Q19 results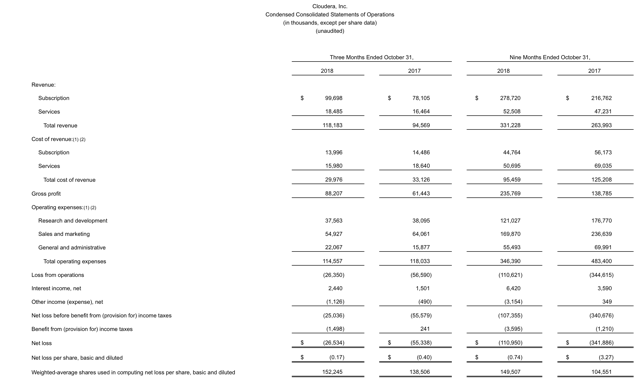 Source: Cloudera earnings release
Cloudera grew revenues at 25% y/y to $118.2 million. To many investors, this growth rate is a breath of relief for two reasons: first, it represents a huge beat relative to Wall Street's expectations of $113.8 million (+20% y/y), and second; it also represents two points of acceleration relative to 23% y/y growth last quarter.
Cloudera is likely never to return to the 30/40% growth clip that it was achieving last year. But this year, much focus has turned to the downside after Cloudera announced its sales transition and expectation of lower net retention rates. With investors bracing for the worst, even a modest two-point acceleration can greatly lift sentiment. It's worth noting as well that net retention rates held steady at 127% (versus 128% in Q2).
Here's some further qualitative commentary from CEO Tom Reilly on this quarter's deals and sales trends on the Q3 earnings call:
We added 63 new customers in Q3, predominantly in our target market. Increasingly, our new customer wins have been driven by our hybrid cloud offerings. We've noted from customer engagements the past few quarters that there is little interest in a public cloud versus on-premises deployment debate. Instead, the hybrid cloud and avoidance of cloud lock-in themes are amplified. Customers are demanding hybrid and multi-cloud capability, and our competitive advantages here evident in their decision making.

Reinforcing our hybrid cloud strategy, even our partner AWS announced an on-premises plans last week to drive -- to address the hybrid cloud expectations of large enterprises. Given our years of investment in both hybrid and multi-cloud capabilities, we have a strong competitive advantage in this rapidly evolving market."
Despite the remarkable top-line advances, Cloudera also made sigificant progress on the bottom line. Its CFO, Jim Frankola, noted that Cloudera managed to slow down hiring in "areas that will be impacted by the merger" (alluding to synergies and layoffs).
In fact, both sales and marketing and R&D costs fell both in dollar volumes and as a percentage of revenues. Sales and marketing costs fell -14% y/y and consumed "only" 46% of revenues, down from 68% in the year-ago quarter; while R&D costs fell -2% y/y and consumed 32% of revenues, down from 40% in the year-ago quarter. As a result, GAAP operating losses pared down by half to -$26.4 million, representing a GAAP operating margin of -22%, a sharp improvement from -60% in 3Q19.
As a result, pro forma EPS of -$0.03 showed a huge beat to Wall Street consensus of -$0.11. Year-to-date cash burn has also slowed down to approximately -$6.0 million - which, against Cloudera's huge cash balance of nearly $0.5 billion, gives the company plenty of liquidity. Recall that the Hortonworks merger is all-stock, so Cloudera doesn't need to outlay any of its cash to get the deal done.
Key takeaways
Of course, with all bullish theses come a set of risks. The most glaring risk facing Cloudera is failed execution of the Hortonworks merger. Management of both companies have made lofty promises of the marriage, implying both a strong lift in growth as well as immense synergies and cost savings.
A clash in the sales teams of the two companies is the greatest concern. Cloudera has already had a bumpy year in terms of sales disruption in FY19; if the companies are unable to merge their sales teams together and align on a go-to-market strategy with clearly-defined territories, Cloudera could see even more deceleration kick in.
That being said, we have to take these risks in context with Cloudera's valuation. With Cloudera shares trading at under 3x forward revenues - lower than virtually every other SaaS stock in the market - it's fair to say these risks have already been priced in. Investors have plenty of bullish drivers to lean on: faster-than-expected growth plus a tremendously greenfield market opportunity, as well as a rapidly improving loss profile coupled with the potential for sizable synergies.
I've been long on Cloudera since its IPO, and though I've endured sizable losses since then, Cloudera remains one of the stocks that I'm comfortable holding onto as we head into a possible bear market. Its bargain-basement valuation gives investors a lot of breathing room in a market that has become increasingly sensitive to richly valued growth names with no path to breakeven.