The good news about stock market volatility in October and November is the fact that many high-flying growth stocks have come crashing back down to earth, and have returned to reasonably-valued, buyable levels. One such stock is Zuora (ZUO), the subscription-software platform that focuses on billing and revenue management for other subscription-based businesses. Zuora was instantly popular immediately after its IPO and traded in the high $20s and $30s for most of this year, but a string of disappointing earnings quarters in other Q2 and Q3 plus general tech stock volatility have finally bought Zuora down below $20.
I've always retained a positive opinion on Zuora's underlying fundamentals. It has a strong recurring revenue base with top-tier, blue chip clients (net retention rates rose again in Q3, by the way), while operating in a niche with very little competition and very clear differentiation against peers. And even despite the deceleration that Zuora has seen over the past few quarters, Zuora is still one of the fastest-growing subscription businesses in the SaaS sector.
The only factor that held me back from going long on Zuora was its excessive valuation. But now, with shares trading near all-time lows and nearly 50% below its all-time highs, it's a good time to revisit the bullish thesis for Zuora.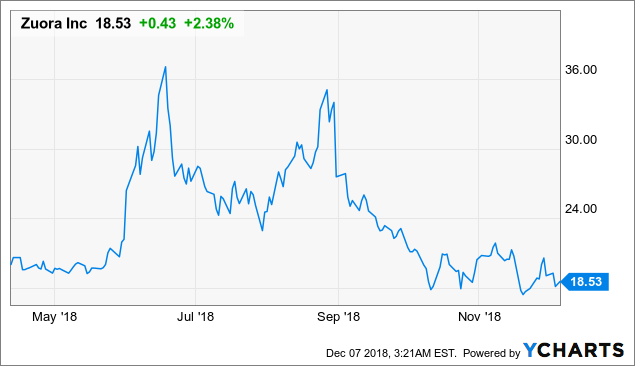 Valuation at unprecedented lows
The most compelling piece of the bullish thesis for Zuora at the moment is its new, attractive valuation.
At the company's current share price of ~$18.50, Zuora has a market cap of $1.90 billion (since last quarter alone, Zuora has shed more than one-third of its market value in an alarmingly short period of time). After netting out $177.0 million of cash and $13.8 million of debt on the balance sheet, the company is left with an enterprise value of $1.74 billion.
Figure 1. Zuora FY19 guidance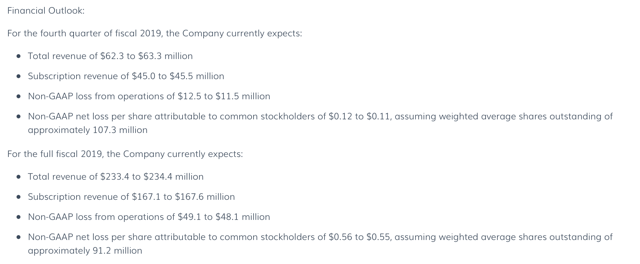 Source: Zuora earnings press release
The company is expecting full-year revenues to clock in at a midpoint of $233.9 million, which would represent growth of 39% y/y over last year's revenues of $167.9 million (growth has been rapidly decelerating over the past two quarters, which we'll discuss next).
Let's assume that Zuora can grow total revenues at a 30% y/y pace in FY19, leading to a total revenue estimate of $304.1 million. This would put Zuora's current valuation at just 5.7x EV/FY19 revenues.
For most of its life as a public company, Zuora traded at a double-digit revenue multiple. For a company growing as quickly as this, Zuora's current ~6x revenue multiple is far lower than peers. Of course, we have to remember that Zuora's revenue mix is heavily tilted toward low-margin professional services, rendering its gross margins lower than most SaaS companies.
However, part of Zuora's deceleration over the past few quarters has been related to a diminishing of its professional services revenues. Over time, Zuora's revenue base should become far "cleaner", leading to gross margins that are closer in-line with other SaaS companies.
Here's a comparison against where other SaaS companies at a ~30% growth range are currently trading: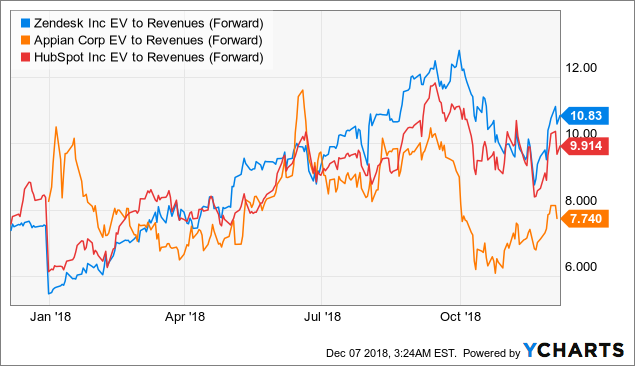 In my view, Appian (APPN) makes for an especially good comp. Appian has slightly lower growth rates than Zuora (revenue growth clocked in at 22% y/y in Appian's most recent quarter), but a similar revenue mix: just under half of Appian's revenues are derived from low-margin professional services (for Zuora, services make up just under one-third),
Yet as seen above, Appian trades at nearly an 8x forward revenue multiple - despite the similar margin/revenue mix profile and the slightly weaker growth rates. I'd be comfortable paying anywhere under 7.5x EV/FY19 revenues for Zuora, implying a price target of $23 and 24% upside from current levels.
Growth is decelerating, but revenue mix is improving
The key debate in the Zuora discussion surrounds its weakening growth rates: what is causing the sharp deceleration? Analysts have weighed in, and Jefferies' John DiFucci has reinforced the key point: the deceleration is due to a slowdown in professional services revenues, which isn't a terrible sign for Zuora.
Here's a look at the Q3 earnings results:
Figure 2. Zuora 3Q18 results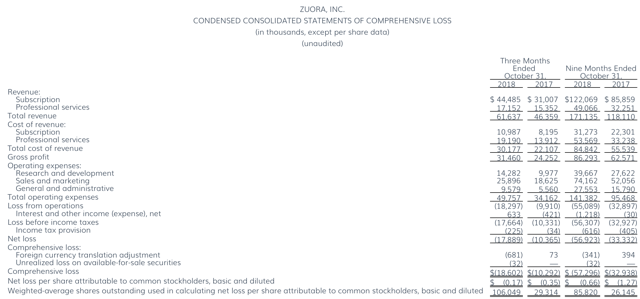 Source: Zuora earnings press release
Revenues grew just 33% y/y to $61.6 million, just barely surpassing Wall Street consensus of $60.9 million (+31% y/y) and decelerating sharply relative to 47% y/y growth last quarter.
What we chiefly care about, however, is Zuora's subscription revenue growth. Subscription revenues still grew 43% y/y to $44.5 million, barely showing any deceleration relative to 44% y/y growth last quarter. It's the slowdown in professional services revenues that caused the total top-line slowdown - services are up just 10% y/y. It's worth noting that the year-ago compare included a large one-time services deal.
As can be seen by the cost of revenues above, we don't want Zuora to be growing its professional services business. In fact, this quarter, Zuora performed professional services below cost. The company incurred $19.2 million of expenses to produce $17.2 million of services revenues, indicating a terrible -12% gross margin on services.
We can't defend Zuora's deterioration of its gross margin. But we can look forward to a future with a lower mix of professional services revenues. This quarter, subscription revenues (which carry a much better 75% gross margin) comprised 72% of the overall revenue mix, up five points from 67% in the year-ago quarter. This richer mix of subscription revenues helped to offset the deterioration in services margins, keeping pro forma gross margins flat at 56%.
As software companies mature, many eventually begin to offload services and implementation work to third-party IT services firms. If Zuora goes down this path, it will seem like the company is undergoing top-line weakness - but as long as its subscription revenue growth is still strong, we shouldn't be worried.
Note as well that Zuora achieved a 115% net retention rate in the quarter, indicating very strong upsell activity. Management noted that this rate came in well above expectations, and they believe strong net retention rates may even trend into the future. Per CFO Tyler Sloat's commentary on the Q3 earnings call:
In Q3, dollar-based retention increased 115%. This is driven by incremental improvement to grow churn coupled with robust upsell activity. Last quarter, we talked about our long-term dollar-based retention settling near the high-end of the 108% to 112% range given our recent outperformance of metric, dollar-based retention may end up at the high end of this range or slightly better for fiscal year '19."
Zuora's pro forma EPS of -$0.10 also came in a hair better than Wall Street's expectations of -$0.11.
Final thoughts
The key takeaway from this quarter's results: Zuora is actually doing a lot better than it seems. Underlying subscription growth and client retention trends are doing well, as is the gradual shifting of revenue mix toward subscriptions. There aren't any red flags that call for a 7% drop in share price.
That being said, however, there is a risk to watch out for: continued acceleration in cash burn. Like most high-growth companies, Zuora is spending a lot on sales and marketing - the company boosted its sales expenses to $25.9 million in Q3, up 39% y/y and growing faster than revenue growth. Due largely to this expanded spending, Zuora's cash burn rate nearly doubled to -$10.3 million this quarter:
Figure 3. Zuora FCF

Source: Zuora earnings press release
On the bright side, Zuora is still well-funded from the IPO and isn't under any imminent threat of needing to raise capital anytime soon. However, as volatility continues to roil tech stocks, investors are becoming increasingly wary of loss-bearing companies with no clear path to breakeven cash flows. Sooner or later, the Street may demand that Zuora improve its margin profile. Many fellow high-growth SaaS companies, after all - like Dropbox (DBX), Mimecast (MIME), Alteryx (AYX), SailPoint (SAIL), and many others - have reached positive free cash flow status.
Overall, however, Zuora's valuation is now cheap enough for investors to bite. As long as subscription growth continues to perform well in FY20 (we'll get the company's first guidance ranges for the upcoming fiscal year alongside next quarter's results), the stock should be able to rebound into the mid-$20s.
Disclosure: I/we have no positions in any stocks mentioned, but may initiate a long position in ZUO over the next 72 hours. I wrote this article myself, and it expresses my own opinions. I am not receiving compensation for it (other than from Seeking Alpha). I have no business relationship with any company whose stock is mentioned in this article.