Welcome to our Cannabis Earnings series where we break down the latest earnings to help you focus on the most important topics.
Introduction
Charlotte's Web (otcqx:CWBHF) has been one of our top U.S. cannabis plays due to its unique positioning in the CBD category. The company has a pristine balance sheet, impressive revenue growth, highly profitable margin, and one of the largest distribution network. We initiated our coverage of the stock in "Charlotte's Web: Best Way To Play The CBD Industry" earlier in October. We remain optimistic over the stock's growth outlook and believe that the Q3 hiccup is transitory in nature and should be resolved next quarter.

2018 Q3 Review
CWB reported 2018 Q3 revenue of $17.7 million growing by 57% from 2017. However, revenue growth has slowed down significantly from last quarter as CWB grew sales by only $0.5 million. Gross margin of $13.8 million / 78% remains healthy and in-line with 2017. Adjusted EBITDA of $5.4 million implies a margin of 30% compared to 39% a year ago.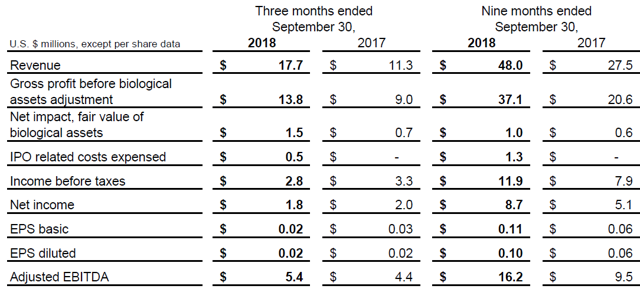 One of the main reasons why profitability has dropped from 2017 levels was the significant investments CWB is making to refresh its product packaging. Management cited product shipment delays related to the rebranding as the reason for the revenue miss. We are also seeing a significant ramp in the G&A and marketing spend as CWB undertook a complete overhaul of its product branding in anticipation of a national rollout should the 2018 Farm Bill passes. Sales and marketing expenses increased 160% from a year ago and G&A expenses also increased by 65%.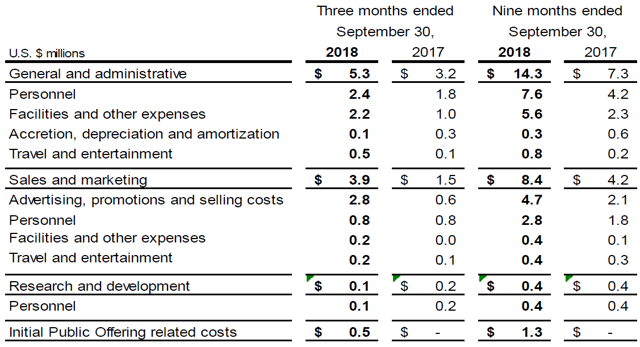 Not The First Time Sales Slowed
Frankly, we think CWB could have managed the rebranding a little better given it is quite common for businesses to release new packaging. We don't buy into 100% of what management said regarding the Q3 revenue miss and believe that Q3 execution clearly had room for improvement. Management has reiterated on the conference call that the Q3 miss was temporary and sales growth will resume next quarter given sales were simply pushed to Q4 (no transcript available, links to the webcast here). CWB has posted impressive revenue growth earlier this year as Q2 revenue grew 89% YoY, respectively. However, we would also like to point out that this is not the first time CWB posted slow sales growth. In fact, Q1 2018 and Q4 2017 were both slow quarters where revenue grew very little on QoQ basis. We think the reason for the lumpiness included production ramp up and expanding distribution channels including its 3,000 strong retail partners.

(Source: Company information)
During Q3, e-commerce revenue increased 37% and wholesale revenue increased 118% from 2017. Interestingly, human consumption products grew 42% while CWB's canine products grew 153% albeit likely from a much lower base. Topical products accounted for 2% of the sales but represent an important growth area for the company.
2018 Farm Bill
One of the key upcoming catalysts for CWB and peers like CV Sciences (OTCQB:CVSI) and Isodiol (OTCQB:ISOLF) is the proposed 2018 Farm Bill. CWB disclosed the legal risk it currently faces in its regulatory filings:
[our] activities fall within the relief from federal interference (e.g. by the DEA) provided by Section 7606 of the 2014 Farm Bill. However, the statute does not explicitly state that private businesses, such as the Company, may cultivate or conduct commercial sales of Industrial Hemp or products derived therefrom. Rather, Section 7606 specifically allows for the ''growing or cultivation of Industrial Hemp'' for the ''purposes of research'' pursuant to state ''pilot programs'' conducted by ''institutions of higher education and State departments of agriculture."
The upcoming catalyst that could change the legal story is the 2018 Farm Bill which Reuters recently reported to be nearing a final resolution. The Hemp Farming Act is currently included in the Farm Bill and there has been little objection from both parties on the hemp law that would legalize industrial cultivation of hemp across the country. No doubt that if the Farm Bill and Hemp Farming Act are passed it would be a hugely positive development for CWB. The immediate and tangible impact would be expanded distributions including major national outlets such as Walmart (WMT) and Target (TGT) and pharmacies such as CVS (CVS) and Walgreens (WBA). So far, CWB's 3,000 retail partners are largely cannabis dispensaries and regional drug stores.
Looking Ahead
CWB remains one of our best ideas in the cannabis sector due to its capital-light business model and massive potential markets should the 2018 Farm Bill passes, with all signs pointing to a positive outcome at this point. The company already achieved >30% EBITDA margin and is investing in its brands to position it for success in the long run. We think Q3 was a bit underwhelming amid a company-wide rollout of new branding and packaging that caused delays and pushed out sales. However, CWB remains a solid investment option in the cannabis space and patient investors will be rewarded.
Author's Note: Follow us to receive our latest publications on the sector. We also publish a widely read Weekly Cannabis Report, which is your best way to stay informed on the cannabis sector. We are the only place to find detailed research on over 60 cannabis companies in the U.S. and Canada.
Disclosure: I/we have no positions in any stocks mentioned, and no plans to initiate any positions within the next 72 hours.
I wrote this article myself, and it expresses my own opinions. I am not receiving compensation for it (other than from Seeking Alpha). I have no business relationship with any company whose stock is mentioned in this article.
Editor's Note: This article covers one or more microcap stocks. Please be aware of the risks associated with these stocks.