Emerge Energy (EMES), along with other publicly traded frac sand names, is already seeing a possible trough in pricing despite slowdowns in industry activity occurring from colder winter weather, lack of takeaway capacity, and exhausted E&P budgets. This comes at a time when volumes are ramping out of its San Antonio mine in Texas and soon to be completed Kingfisher mine in Oklahoma, which is just in time for the new 2019 calendar year when E&P activity is targeted to resume.
We have already discussed pricing and debundling themes in previous articles on frac sand players and Emerge Energy. Please refer to those articles for anyone new to the evolving frac sand space. This article, however, will focus on pad development trends moving to expanding basins in the Permian, Wyoming, and Oklahoma.
While pad development is nothing new to many E&Ps, pad development in areas with more takeaway infrastructure, more local sand, and less bottlenecking issues is. Even in the crowded Permian, the Delaware Basin, for example, is seeing pad development move in because of the ability to finally scale, which was made possible by infrastructure improvements and new additions of sand supply sources.
More interestingly, as more underdeveloped basins become unlocked from new drilling technology and the dynamics listed above, companies with sand mines in these newer areas will have better contracts due to their locational advantage over peers.
EMES should not only see healthy demand and pricing for their services, but it should also continue to take market share from higher cost competitors. Therefore, the dip in share prices that continues to occur in frac sand players like EMES continues to be a buying opportunity, and this is the case throughout most of the depressed oil & gas universe.
Pad Development Moving To The Delaware Basin
Patterson-UTI (PTEN) already announced that zipper fracs are coming to the Permian from northern basins, which is a true game-changer for all companies involved, since fracking operations basically double through simultaneous pumping jobs.
Callon Petroleum (CPE) confirmed in its latest earnings call that it was moving to pad development in the Delaware Basin. The company applied its learnings from larger pads in the Midland Basin in Texas, which is running on the Medallion pipeline, and is applying them now to the Delaware Basin.
Since CPE is receiving more water processing via Goodnight Midstream and takeaway capacity through the Grey Oak Pipeline, not to mention new local sand partnerships with Hi-Crush Partners (HCLP) and Schlumberger (SLB), it can now move ahead with mega-pad development in the Delaware Basin, which accounts for a large percentage of oil & gas activity. Other E&Ps should follow suit since they data share amongst themselves.
While Emerge may not have its mine situated only 15 miles away from Callon, like HCLP, its mine in the Eagle Ford Basin could be in a more enviable position. This is because there is less crowding in the Eagle Ford, which leads to more attractive differentials since volumes are tied to better pricing.
This could mean the difference between at least $5 to $10 in extra margins for an E&P player operating in the Eagle Ford, which strongly influences decisions to add rigs to these newer basins and move to pad drilling. Even smaller Eagle Ford players like Sanchez (SN) are ramping their pad development operations in places like the Catarina. Therefore, since activity is increasing in the Eagle Ford, EMES, which is rated amongst peers to have the highest quality mine in the basin, should be in prime position to benefit from the explosive trend.
Don't Forget About The Anadarko Basin
Most basins are moving to pad development and zipper fracs where new infrastructure is being built, even in newer places like Wyoming and Colorado, which Emerge has recently put new transload stations in to meet new customer demand.
But some of the most prolific basins are situated right where Emerge's new local mines happen to be, as well. Not only is the Eagle Ford one of those basins mentioned with prolific activity, less crowding, and better differentials, but so is the Anadarko Basin.
Most investors refer to the Anadarko as the SCOOP and STACK shale plays in Oklahoma. Much of the activity is happening in the Kingfisher area, which is where Emerge's new local mine is conveniently located.
Companies like Continental Resources (CLR) are finding ways to cut costs and ramp production in the Springer area via Project Springboard, and Encana (ECA) is also following suit with its recent acquisition of Newfield, which allows it to bring its cube development strategies over to the Kingfisher area in Oklahoma.
Many other smaller E&Ps, I would imagine, are replicating the same strategies as the majors listed above. Needless to say, EMES (and Covia (CVIA), which also has a local mine being built in Oklahoma), should benefit from these trends.
Many sand competitors are actually located further west of the Kingfisher area, according to Emerge. This gives Emerge a marked advantage over peers that are consequently higher on the cost curve.
Risks To Emerge's Story
Lower oil prices should not affect EMES in the typical manner since its volumes are contracted for years out and are indexed to wider swings in oil. Contracting structures vary, and aren't discussed much by sand companies.
However, since E&Ps have much lower breakevens than they did in 2014, in many cases now below $30 WTI pricing, oil & gas activity should continue regardless of a $10-20 fluctuation around $60 WTI.
Sand pricing is also a risk, but a rebound is expected next year when E&P activity resumes. I have heard reports that pricing has already improved from the ultimate lows, yet still remain near quarterly averages, and this comes even in the face of a winter slowdown.
Panxchange.com, who actively tracks frac sand pricing trends and even provides analysis with its monthly newsletter service, showed pricing per ton has improved from the low $20s during the month of December (see Northern White pricing in the chart below).

Source: Panxchange.com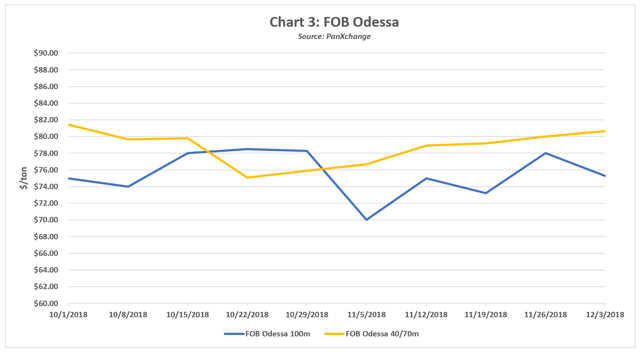 Source: Panxchange.com
This development is bullish for Emerge, even if it is only due to idled mine activity, and alleviates some of the company's downside risk faced from lower margins and fourth quarter frac sand pricing.
Conclusion
Emerge Energy has seen a rout in its share price recently along with other frac sand players, and this is due to an industry-wide slowdown that is expected to be temporary.
With more infrastructure and technology being employed in tertiary basins, pad development strategies are now being used, which is a game changer for sand companies. This will actually require monumental amounts of sand to be supplied for these new ventures, and is the reason why so many mines are being built. Even though there is an oversupply at the moment, this is expected to be temporary by Emerge, as well, especially as more higher-cost tons are idled.
As a result, Emerge Energy, with its new local mines being built in advantageous regions, is in prime position to benefit from the mega-pad development trend migrating to southern basins. This will also become a step change in activity for the E&P industry, and will add elevated levels of production and sand demand for Emerge for years to come.
Disclosure: I am/we are long EMES.
I wrote this article myself, and it expresses my own opinions. I am not receiving compensation for it (other than from Seeking Alpha). I have no business relationship with any company whose stock is mentioned in this article.