When we last looked at AT&T (T) we concluded that we were ready to take the plunge at $30.44 and also to sell the $30 puts for $1.72 for January 2019. Our decision to split the purchase this way turned out to be a good call as AT&T has struggled to make headway. We look at the most recent numbers and give you our take as to what will turn this ship around.
Q3-2018 results
The results were generally in line and cash flow extremely strong. AT&T reiterated that it expects to hit $21 billion plus in free cash flow for the year. The results were overshadowed by the continued declines in the entertainment segment.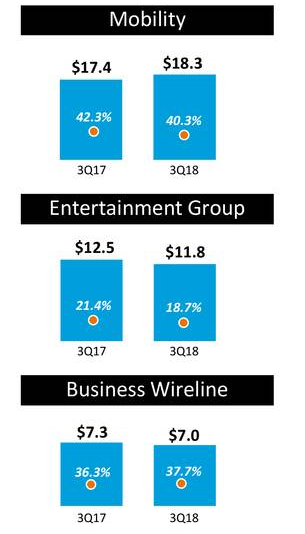 Source: Q3-2018 presentation
The salt on the wound was the decline in EBITDA margins which shows the problems AT&T faces here. On the plus side, Warner media delivered good results and ad revenues continue to grow.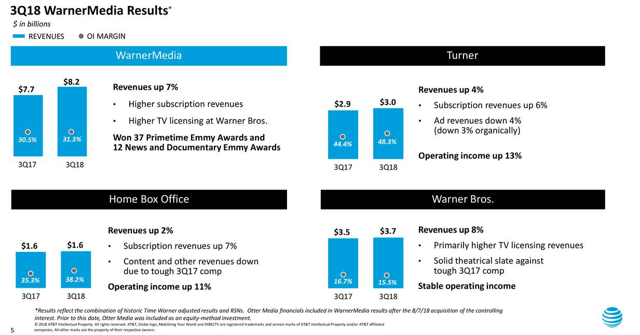 Source: Q3-2018 presentation
Is correlation causation?
Hidden underneath the ups and downs of AT&T moving with chatter about Time Warner acquisition and its quarterly reports has been one glaring correlation. AT&T keeps moving inversely with the BAA bond yield over the last 5 years.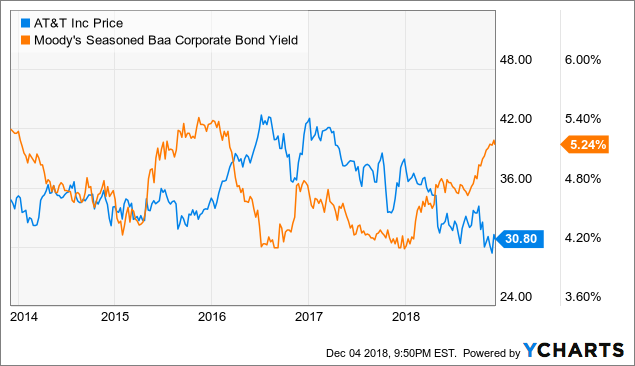 We can visualize this another way by plotting the BAA bond yields versus the yield of AT&T itself. Anyone else see a pattern?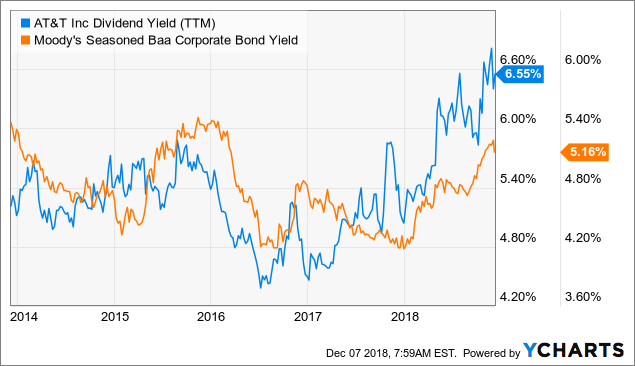 We have shown the BAA yields above but the correlation with the 10 year bond yields is also rather striking. That is because that 10 year Treasury bonds have maintained more or less a constant low spread to BAA bonds.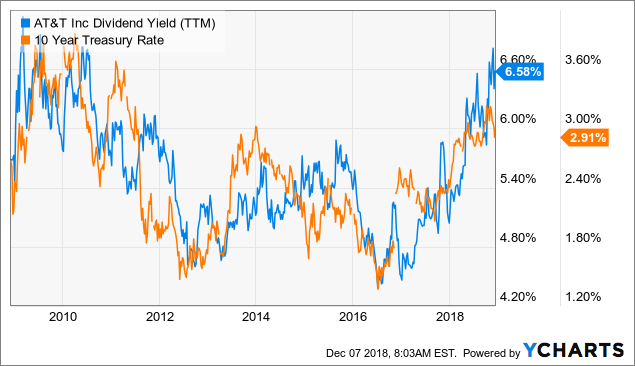 We all love to put our take on the fair value of AT&T and that is great, but this correlation, as long as it persists, is likely to hold AT&T glued to perform one way.
Why would AT&T be correlated with bond yields?
At a larger level, most asset classes jump around with interest rates. But other assets like real estate, have managed to deliver much better total returns over this same time frame, in spite of showing interim movements with interest rates. Shown below is the performance of Vanguard Real Estate ETF (VNQ) versus that of AT&T.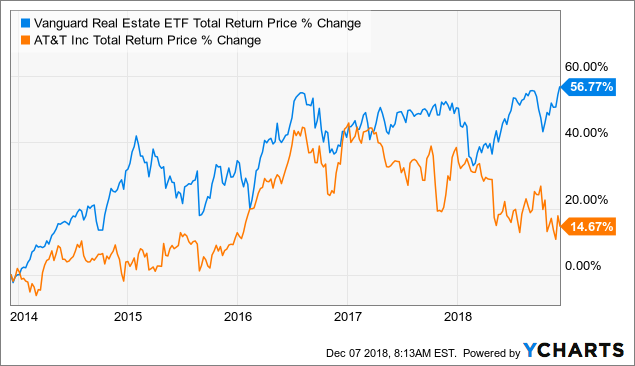 The key difference in our opinion is that AT&T has significantly less pricing power than real estate. This is particularly true during boom times, while AT&T has better leverage during recessions.
What 2019 likely holds
Key forward indicators for the US economy are showing that 2019 will likely be a point of a significant slowdown. Housing in particular has fallen off the proverbial cliff. We think Q1-2019 will be the point where the brunt of this impact will be seen as purchases and inventory building have been pulled forward into 2018 to avoid potential tariffs. This should bode well for the Treasury bonds. However, how BAA bonds react here will depend largely on the depth of the slowdown. If the yields blow out in 2019 with more recessionary fears, then AT&T will again struggle in 2019. If the slowdown is seen as a mid cycle pause, AT&T should finally move towards our $40 target. We think the latter route is more likely for the first half of 2019.
Conclusion
AT&T continues to be high yield bond proxy. The higher debt load, past management decisions and lack of pricing power make this a continuing yield play. Sentiment on high yield bonds and by proxy on AT&T might be reaching a capitulation low in 2018. We can see that through the funds that have been pulled out of high yield bond funds.
Investors pulled almost $6bn out of corporate bond funds in the past week, in the latest sign of nervousness about companies' global debt pile in an environment of rising US interest rates and falling oil prices. Withdrawals from investment grade and high-yield bond funds totalled $5.7bn in the week to November 21, Jefferies said citing data from EPFR, the fourth highest withdrawal since February. Around $3.6bn of the outflows came from high-yield bonds and $2.1bn from investment grade debt.
Cumulative withdrawals look like a full-on stampede.
U.S.-based bond funds have already posted $64.9 billion in withdrawals since October, marking the worst quarter since the same period in 2008, during the financial crisis.
This, to us, has reached a climax and we expect the next 6 months at least to bring good cheer to AT&T shareholders.
For more analysis such as this, along with real-time alerts on income stocks on both sides of the border along with option income ideas, please consider subscribing to our marketplace service, Wheel of Fortune.

The Wheel of FORTUNE is one of SA Marketplace's most comprehensive services. You can now subscribe to it while taking advantage of our year-end bargain, which includes significant discounts, mega prizes, and a two-week free trial.
We view our service as a "supermarket of ideas" with an emphasis on risk management and risk-adjusted returns.
We cover all asset classes: common stocks, preferred shares, public debts, baby bonds, options, currencies, and commodities.
Our monthly review for October, where you can find all suggestions since launch, is only one click away.
Take advantage of a rare, fantastic offer, before fees going up.
Disclaimer: Please note that this is not financial advice. Investors are expected to do their own due diligence and consult with a professional who knows their objectives and constraints.
Disclosure: I am/we are long T. I wrote this article myself, and it expresses my own opinions. I am not receiving compensation for it (other than from Seeking Alpha). I have no business relationship with any company whose stock is mentioned in this article.