American States Water Co. (NYSE:AWR) offers investors a long track record of business success, the longest dividend growth streak in the country, if not the world, and reasonably good growth prospects. Although the above makes for a solid investment thesis, the company is looking overvalued relative to its peers and recent history. AWR might be a great company with a strong history, but it is not a buy at these levels.
Business Overview - Regulated Water Utility
AWR is America's third-largest water utility, behind American Water Works Company (NYSE:AWK) and Aqua America (NYSE:WTR):

(Source: YCharts)
The company has three main business segments: regulated water, regulated electricity, both of which serve the Californian market, and utility services, which manages water and wastewater systems for military bases across several states: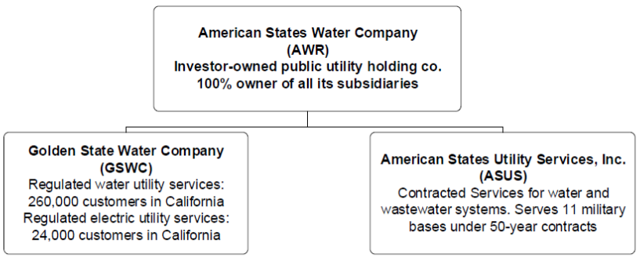 (Source: AWR Investor Presentation)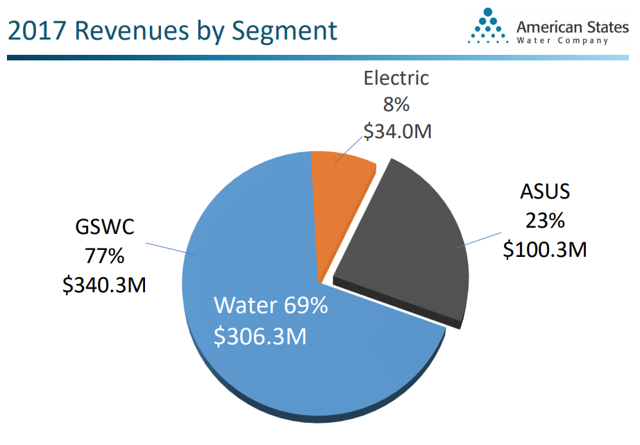 (Source: AWR Investor Presentation)
AWR's business model ensures the company has:
Stable earnings and revenues: due to the heavy regulation in the industry.
Average long-term growth prospects: due to its reliance on CAPEX for growth.
Excessive exposure to California: due to its non-diversified operations.
Stable Earnings and Revenues
Most utilities are very well regarded by dividend investors for the stability of their revenues, earnings and cash flows. Utilities, including AWR, operate in heavily regulated markets. Relevant authorities, the California Public Utilities Commission in this particular case, set prices and ensure companies earn a reasonable rate of profit, usually 7-12% return on equity. Utilities are generally able to pass on most costs and capital expenditures to customers and are therefore all but guaranteed to be profitable. This is a great boon to dividend investors, as it means the company will almost always generate enough revenues and cash flows to fund its dividend.
Average long-term growth prospects
AWR's earnings are almost exclusively driven by increased CAPEX, due to the aforementioned industry regulations. This, combined with further regulations outlining the company's capital structure and limiting its debt, means the company's growth prospects are a bit limited. In my experience, which is just that, companies in capital-intensive industries are generally unable to grow faster than the low teens, 12-15%. Regulations, and the practical difficulties with large-scale capital projects and the financing these require, limit further growth opportunities. Still, companies in these industries usually have reasonably earnings growth.
Excessive exposure to California
AWR derives the majority of its revenues and earnings from assets/operations in California. Although there is nothing wrong with this per se, its peers have more diversified assets/operations across more states/countries. AWR's revenues, earnings and growth prospects are, therefore, a bit more volatile than those of its peers. In this particular case, I believe regulatory risk is particularly important. Changes in the Californian regulatory environment can have and had adverse consequences for AWR.
As a final note, I believe that AWR's business model and markets of operations means it is best suited for income investors, as they can most benefit from the company's stable earnings and cash flows, and should be most willing to overlook the lack of significant growth opportunities.
Financial Track Record
AWR's long-term financial track record has been quite good, albeit not incredible. EPS and cash from operations (CFO) per share have grown at a 10.8% and 7.2% CAGR for the past 10 years, respectively. As mentioned previously, it is extremely difficult for companies in highly-regulated, capital-intensive, industries to grow much faster than the high teens, so AWR's performance is quite good. The company's performance compares favorably to WTR in all relevant metrics, and is about as good as AWK's overall results:

(Source: YCharts - Chart by author)
Its recent performance has been much worse. Earnings were down 12% QoQ, and have been flat for most of the year, mostly due to unfavorable regulatory actions in California. Regulators reduced AWR's authorized ROE for its water services from 8.34% to 7.91%, and for its electricity services from 9.95% to 9.65%. Management expects this decision to reduce earnings by around 4% for the year, a sizable amount. AWR saw some minor growth in its rate base and non-regulated business, although not enough to counteract the above: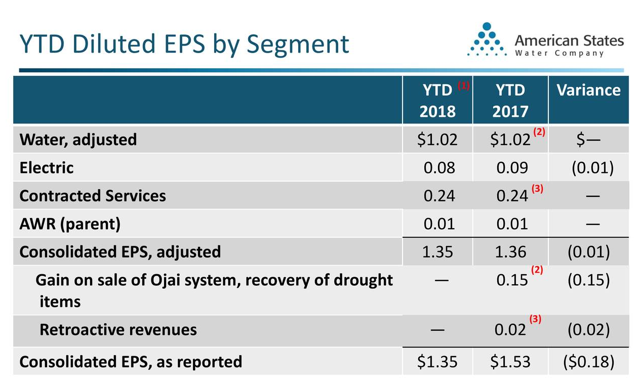 (Source: AWR Investor Presentation)
AWR's peers aren't so concentrated in California, so they weren't particularly affected by the state's changing regulations. Financial performance was broadly positive for both AWK and WTR, with EPS growing 11.5% and 5.6% YTD, respectively, for each company. AWR's recent under-performance was exclusively due to its over-exposure to the Californian market. Although I don't think all future regulatory actions will be detrimental to the company and its shareholders, I do expect some measure of earnings volatility from these actions moving forward.
So, AWR's long-term financial performance was quite good, and roughly comparable to that of its peers. Growth has lagged this year, due to adverse regulatory changes in California. Due to this, I would say AWR's financial performance is worse than that of its peers, but only slightly so.
Dividend and Shareholder Returns
AWR's investors have been very well rewarded throughout the years. The company has achieved double-digit total returns for the past ten years, and has generally outperformed AWK, the utilities industry, and the broader market:

(Source: YCharts - Chart by author)
Outstanding total returns, and the company's dividend track record is even better. AWR has paid a dividend every year without interruption since 1931, 87 years in a row. Its dividend has also grown every year for the past 64 years. It is an incredible record and, according to the DRiP Investing Resource Center, it is the longest streak of consecutive dividend increases for any American company, period.
Dividend growth has been quite good as well, and it has averaged 7.6% CAGR for the past decade. Dividend growth has been roughly comparable to that of its peers and the industry, but much higher than that of the market. The yield itself is, however, a paltry 1.6%:

(Source: YCharts - Chart by author)
Outstanding shareholder returns and dividend growth, AWR's shareholders couldn't be happier.
Future Performance and Valuation Measures
AWR's past performance has been outstanding, but I'm a bit more apprehensive about its future, as the company is looking very overvalued.
An easy way to estimate a company's future shareholder returns is to assume it is fairly valued, and simply add the company's expected EPS growth and dividend yield. In AWR's case, this would amount to 9.4% annual shareholder returns, reasonably good, and even better if you consider the company's stable, almost guaranteed, earnings. Now, this assumes the company is fairly valued, and I don't think this is the case. AWR's stock price has increased much faster than its EPS for the past few years: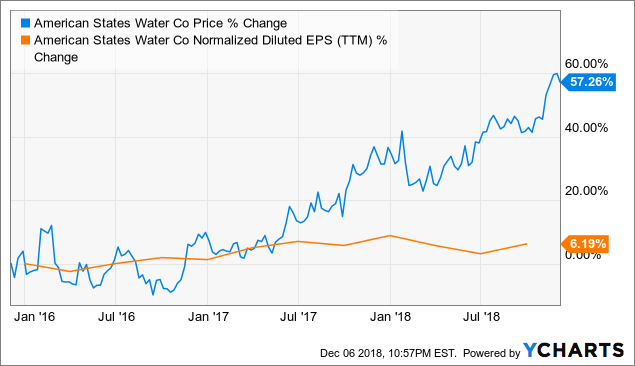 Which has, predictably, caused its valuation to skyrocket. So, for example, AWR's PE and EV/EBITDA ratios are at their highest levels in decades, while the company's dividend yield is at its lowest point for the same time period: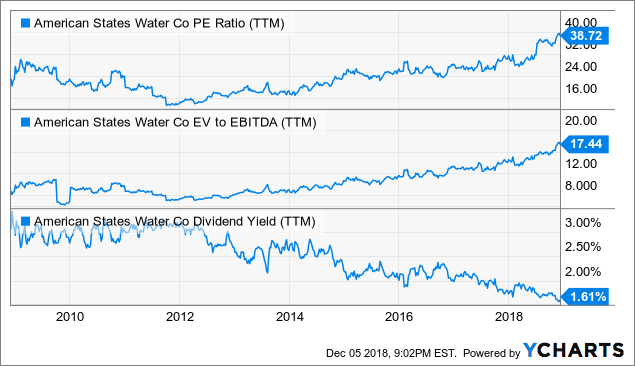 By my calculations, and assuming the above metrics return to their long-term average, the company is overvalued by a whopping 39%. AWR's current valuation could be a new normal, but it's definitely not been the case before.
I also decided to do a quick valuation of the company to complement the above. I used a FCFE model/spreadsheet by Damodaran, a world-renowned corporate finance professor. Most of the model's inputs were taken directly from the company's most recent earnings call. I assumed one extra quarter with no earnings growth, due to the reduction in ROE mandated by regulators, 7.8% earnings for the next five years, as per company guidance, and a terminal growth rate of 2%. For the cost of equity calculation, I used the company's 10-year average Beta. Results were as follow: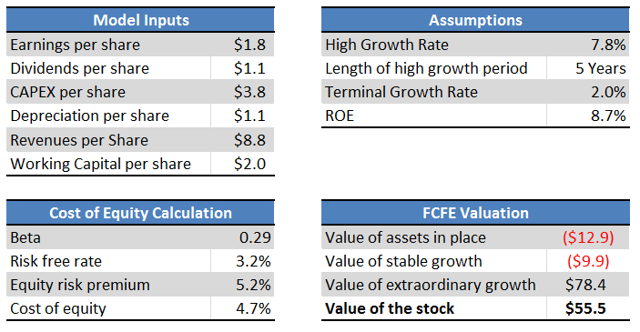 (Source: Company Fillings - Chart by author)
AWR is still undervalued, at least according to my valuation, although only by 19%. I'm always a bit apprehensive about valuations involving low-beta stocks, as this one figure can sometimes fluctuate wildly. For example, I re-did the valuation using the company's latest beta, 0.193, and arrived at a fair value of $70 a share; the company would actually be undervalued in this scenario! You can see how much the company's value fluctuates according to its beta:

(Source: Company Fillings - Chart by author)
You could, perhaps, argue that the company is actually undervalued, as its lower-than-average current beta is the new normal. I don't believe this is the case as, although the company's short-term beta fluctuates wildly, its long-term average has been remarkably stable for decades: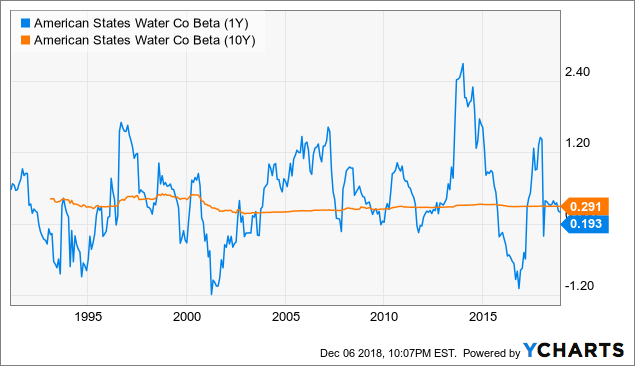 Finally, AWR is looking a little bit overvalued relative to its peers across several metrics, so no value there either:

(Source: YCharts - Chart by author)
AWR is looking relatively overvalued, and it only offers investors a 1.6% dividend yield. Future shareholder returns are, I believe, likely to be meager. If I'm wrong, and the company is currently reasonably valued, investors would still only see 9.4% annual returns. Too little upside for too much downside.
Conclusion
AWR is a fine company with a strong business and outstanding history, but sky-high valuation. The company currently offers a paltry 1.6% dividend yield, less than that of its peers and the broader market, and has significant downside potential. AWR might be a buy as high as $55; at these levels, it is a sell.
Thanks for reading! If you liked this article, please scroll up and click "Follow" next to my name to receive future updates.
Disclosure: I/we have no positions in any stocks mentioned, and no plans to initiate any positions within the next 72 hours. I wrote this article myself, and it expresses my own opinions. I am not receiving compensation for it (other than from Seeking Alpha). I have no business relationship with any company whose stock is mentioned in this article.