Long term, Zuora (NYSE:ZUO) looks like a real winner, and valuations are much more reasonable compared to the summer, but profitability is still quite some time off so we would only pick up a few shares on dips.
Zuora is one of those SaaS stocks that have flamed out recently:
But this is mostly on that ephemeral concept called market sentiment, because we couldn't detect any fundamental problems nor any worsening of performance or outlook.
We wrote earlier about the company, in early June. The company is riding on the wave of the subscription economy, which is one in which companies realize, often as a byproduct of digitizing their business, that some form of subscription model can greatly boost business.
The most obvious candidate here is software itself, where companies like Salesforce (CRM) have pioneered selling their software not as a one-off standalone package, but as a service with recurring fees.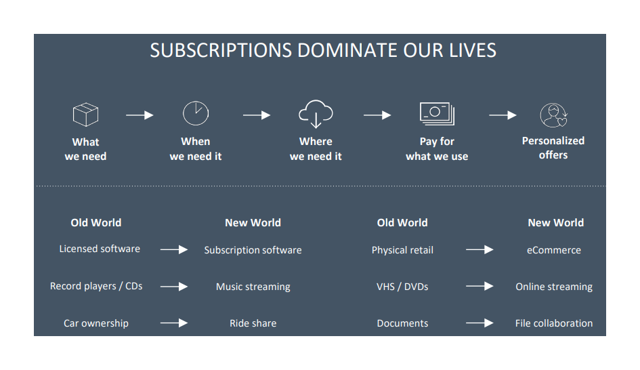 Source: From April 2018 IR presentation.
The company latched on early to this trend and makes it easy for companies to introduce subscription models, as existing software didn't cut it: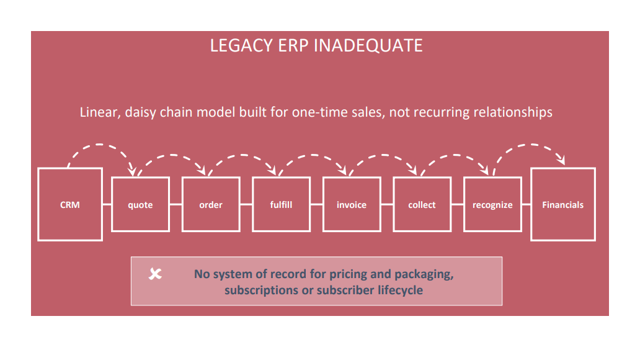 Source: From April 2018 IR presentation.
But Zuora offers innovative solutions: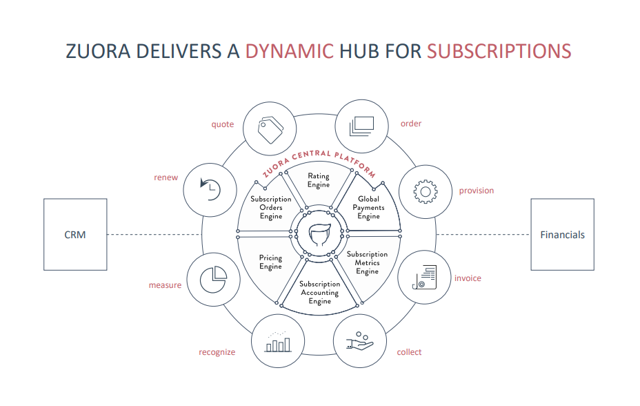 Source: From April 2018 IR presentation.
The company provides two products: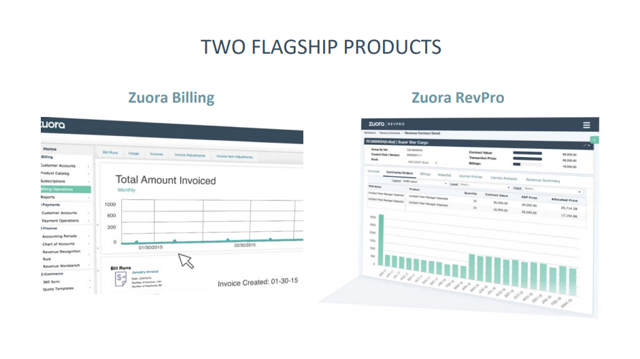 Source: From April 2018 IR presentation.
According to MGI Research, RevPro is the top ranked solution for revenue recognition software. Apart from their main platforms, Billing and RevPro, the company also has a series of add-on products like:
Growth
The company has multiple ways to grow:
Gain new logos
Expand with existing logos (up-selling, increasing seats, increasing transaction volume)
Enter new industries
Build additional services
Here are the basics of their pricing model: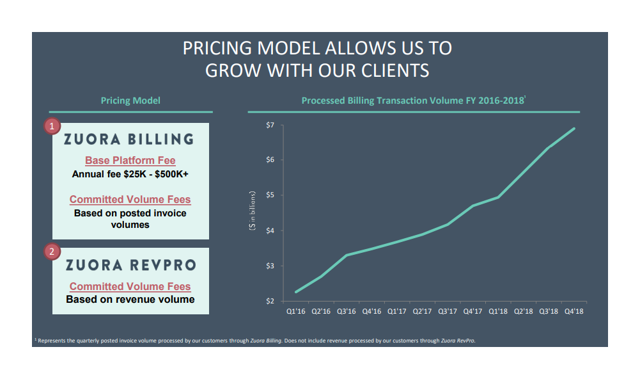 Source: From April 2018 IR presentation.
It shows how the company grows with the subscription revenues of their customers. Here is another way of looking at that, Annualized Contract Value: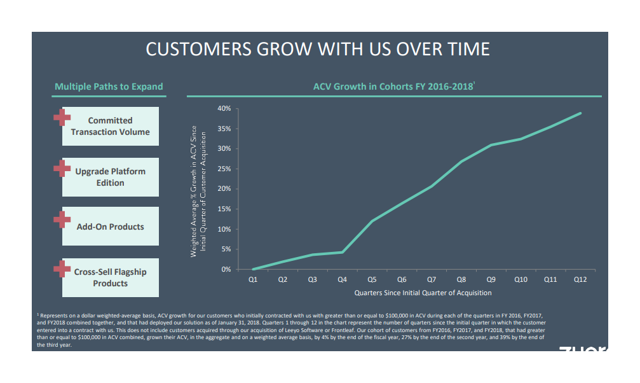 This is a nice indication that these cohorts become more valuable over time, and yet a third metric that throws light on this is the net dollar retention rate, which came in at 115% in Q3, well above their long-term target of 108%-112% and 110% in Q3 last year.
This of course shows the capability to:
Reduce churn
Volume growth at the customer end (more subscriptions)
Up-sell and cross-sell
It is pretty remarkable that there is only a 10% overlap in Billing and RevPro, and management argues that both are very symbiotic so they expect most of their customers to end up with both, indicating quite a cross-selling runway ahead of the company.
One of the more fascinating descriptions from the CC was management raving on how the company sort of conquers whole industries, thereby greatly increasing their TAM. In their words, their land and expand strategy isn't just company directed, it's industry directed. Here is management (Q3CC):
"Over the last few months, we signed on Toyota, as well as Kia Motors, along with our existing customers, GM, Ford, Peugeot, and Renault. We are now behind the connected car initiatives of six of the world's top 10 auto manufacturers. This is an entire new vertical for us that didn't even exist five years ago, and it's a great, great example of how our strategy of landing and expanding within entire industries can lead to long-term durable growth."
Technology is still about half of their revenue and was of course one of the first sectors to embrace a subscription model, and winning a few important clients like Salesforce, Symantc and NetApp has (Q3CC):
"The key here is, now that we are behind these leading companies in the sector, as the entire industry continues to shift to subscriptions this is automatically powering our growth."
This is their land and expand strategy for whole industries, and the same is playing out with media. Starting early with a few newspapers like the Times (Q3CC):
"Today, we're working with about 20 major newspaper publishing groups. We help them launch new digital offerings, experiment with new bundles, scale their businesses, and handle different payment methods around the world, like Amazon, PayPal, or direct debit... So what does that all mean for us? It means that our early bet on newspapers has turned into one of our major growth engine."
Media and publishing now constitutes 13% of revenue for the company and, surprising perhaps to some, autos are next (Q3CC):
"Self-driving cars, when they come, will only celebrate this trend. So the major manufacturers, they all know this. And they're all turning to services for growth, content services, navigation services, diagnostics, analytics. A 2016 McKinsey report says that services could actually expand auto revenue pools by 30%."
The company has already 6 of the top 10 OEMs as client. These industry waves are going to continue as we're still in the very early innings, and management argues that the rate at which they are growing now can be sustained for years, "if not decades."
One of the benefits for clients using Zuora is that it gives all kinds of measurements, enabling them to figure out the best subscription plan metrics and which customers they should be engaging with.
As it turns out, playing around (and enabling subscribers to play around) with the subscription structure (contract length, price, what is included, etc.) pays off (Q3CC):
"...companies that do a usage-based model versus a fixed model grow faster.... And on average, if one out of 10 customers actually come back and modify their subscriptions, those customers seem to grow twice as fast. And the companies where on average every customer does a modification to their subscriptions every year, those companies grow three times faster."
Hence, it's not surprising that management concluded (Q3CC):
"People come to us because they see subscription business models as a big, big growth driver for their business."
Partners
Management argues they have a 10-year head start on the competition and they're cementing that position through first mover advantage, improving their platform and an ecosystem of partners, 25% of their business is coming through that.
One has to think of system integrators and auditing companies (especially for RevPro) like Deloitte and PwC and P2VC.
Q3 Results
In brief (Q3CC):
"In Q3, we grew subscription revenue by 43% year-over-year, to $44.5 million. We grew total revenue by 33%, to $61.6 million. As a quick reminder, which we highlighted previously, the reason that total revenue grew slower than subscription revenue is that we had a big one-time uptick in professional services revenue last year related to our RevPro business."
The company added 30 customers with an ACV over $100K in the quarter and ended with a total of 504. This metric is important as this customer base continues to represent over 80% of the total ACV.
Demand for RevPro, which enables clients to automatically figure out the intricacies of revenue recognition (which can be quite complicated), didn't actually slow down after the deadline of ASC 606.
The reason for that is simple, subscription models can be quite taxing to revenue recognition, but RevPro offers a simple automated solution; 606 only highlighted the problem (Q3CC):
"So you can see that the underlying demand hasn't gone away, but our value proposition is now more centered around automation and efficiencies, versus simply compliance."
Guidance
For Q4:
Revenue of $62.3M to $63.3M.
Subscription revenue of $45M to $45.5M.
Non-GAAP operating loss of negative $12.5M to $11.5M.
Non-GAAP net loss per share of $0.12 to $0.11.
FY 2019 (ending Jan. 31 already):
Revenue to $233.4M to $234.4M.
Subscription revenue of $167.1M to $167.6M.
Non-GAAP operating loss of $49.1M to $48.1M.
Non-GAAP net loss per share of $0.56 to $0.55.
Margins
GAAP operational figures still don't look too appealing: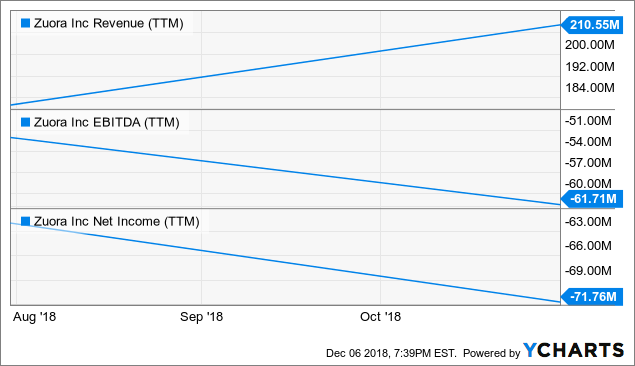 But as it happens, non-GAAP operational loss is actually down in dollar terms, improving by $1.7M to $10.6M sequentially, improving non-GAAP operating margin by 4% sequentially.
Non-GAAP gross subscription margin is 78%, non-GAAP professional service margin was negative 2% for Q3.
Cash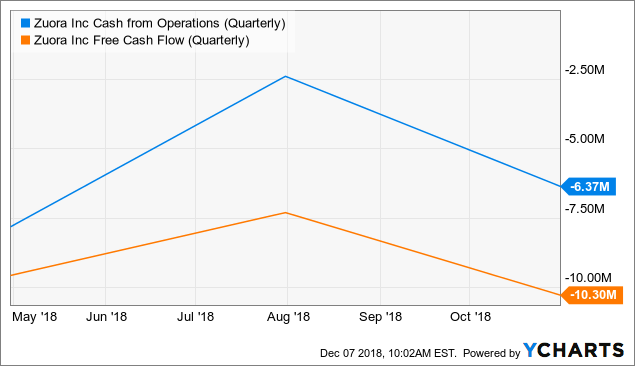 Cash flow is still quite negative and management expects a negative free cash flow for the year of $42M. The company should have enough cash ($175M including short-term investments) from its IPO.
Valuation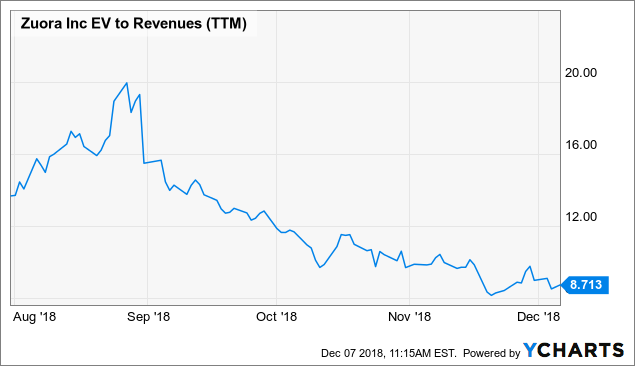 Valuation got way too high in the summer, today's level looks a much more reasonable level to us. Analysts still expect a fairly hefty EPS loss of $0.44 next year (starting in February), after a $0.56 loss this year.
Conclusion
The shares fell with other SaaS companies and valuations are now more reasonable. The company has unique products and a long runway for them with little competition on the horizon, but profitability isn't either.
We expect the latter to become in focus in the medium-term future when operational leverage will kick in and that should happen before the company runs out of cash.