In the past, we have covered niche companies, and why they can make for great investments. When a company brings expertise to a very focused area of need, it generates a lot of added value for companies in need of that product or service. Today's dividend champion spotlight provides value to various financial institutions and businesses. Jack Henry & Associates, Inc. (NASDAQ:JKHY) has raised its dividend for 28 consecutive years. The company's technology offerings generate strong operational metrics. Though the business is lucrative, the stock is grossly overvalued at the current time. We explore the fundamentals of the business, and what investors should look out for moving forward.
Jack Henry & Associates provides products and services that enable financial institutions and other businesses to process payments and deposits. These include software, cloud, and digital infrastructure to increase customer capabilities and efficiency. The company operates as three subsidiaries, including Jack Henry Banking, Symitar, and ProfitStars. The company was founded in 1976, and is headquartered in Monett, MO. The company does business with more than 9,000 entities across the US and generates annual revenues of more than $1.5 billion.
Financial Performance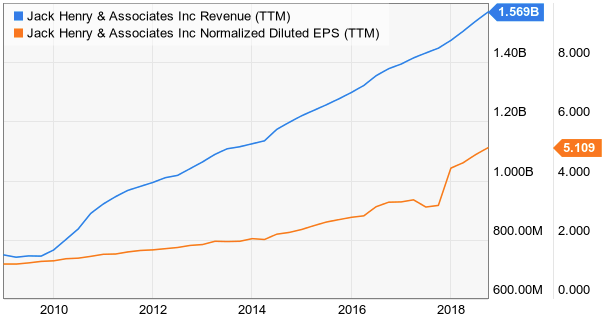 Source: Ycharts
The financial institutions industry is very fragmented, and thus changes throughout the sector do take time. This has allowed for a nice growth trajectory for Jack Henry, as revenues and earnings have both consistently tracked higher over the past 10 years. Revenues have grown at a 10-year CAGR of 7.54%, while earnings per share have grown at a CAGR of 15.38% over the same time period.
When evaluating the financial performance of the business, we want to begin with operating margins and the conversion rate of revenue to free cash flow. It's important that a company is consistently profitable in its operating environment so we want to see margins that are steady, or trending higher. We also want a company to generate strong cash flows that can be used to reward shareholders, and grow the business without relying on debt. That is why we look for a company to convert at least $0.10 of every sales dollar into cash.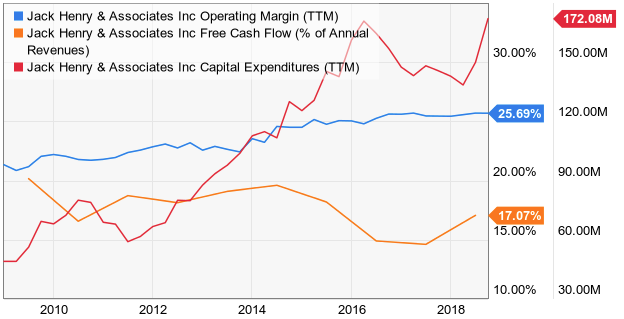 Source: Ycharts
We see very strong trends in the above chart. The operating margin has gradually expanded over the past 10 years from near 10%, to more than 30% today. Meanwhile, the company is a strong cash flow generator with a conversion rate at 17% - despite increased capital expenditures in recent years.
The next base metric we look at in companies, is the cash rate of return on invested capital. This metric measures the effectiveness of management's utilization of company resources from a cash generation basis. It is also a good indicator of the strength of a company's competitive "moat". A company with a high CROCI percentage (in the low teens or higher) is usually well managed, profitable, and not overly capital intensive.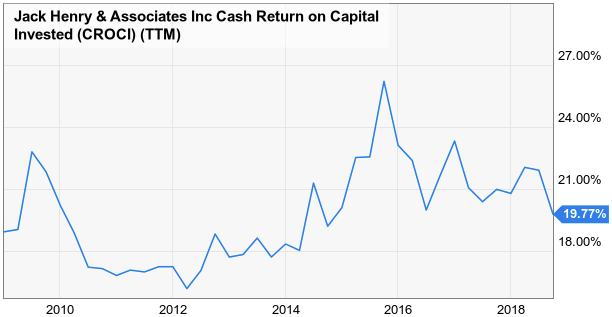 Source: Ycharts
Jack Henry & Associates has maintained a performance level that exceeds our benchmark. Even after a dip, the CROCI still remains at 19.77%. This is a benefit of a capital light business model, with added value that brings margin. The software and products are also proprietary, so they are insulated from competition. For a bank or credit union to completely gut and reform their systems and process infrastructure is a massive undertaking that doesn't get done at the drop of a hat.
The last area of review before moving on is the balance sheet. It is crucial that a company operates with a level of fiscal responsibility that maintains reasonable leverage ratios. Taking on too much debt can make a company vulnerable to rising interest rates, or a cash flow "crunch" in the event of an unexpected downturn in the business.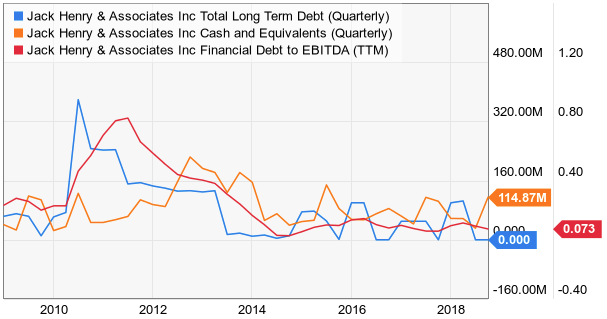 Source: Ycharts
In the case of Jack Henry & Associates, the balance sheet is a shining example of why strong cash flow generation is a crucial element to most good investments. The company currently carries no debt and a cash position of $114.87 million. This gives the company plenty of cash to grow the dividend, or invest into growth (acquisitions are a prime example) without having to burden the company with debt. Some will argue that debt can be a good thing if your rate of return exceeds the cost of borrowing. However, a company that operates on a debt free basis is of the most safe investments.
Dividend Outlook
Jack Henry & Associates is relatively new to the dividend champions club, with 28 years of consecutive dividend increases. The dividend is paid quarterly, and totals an annual sum to shareholders of $1.48 per share. The current yield of 1.09% is low compared to 10-year US treasuries (2.88% yield), so investors who need investment income may not find Jack Henry & Associates to be an appealing investment option.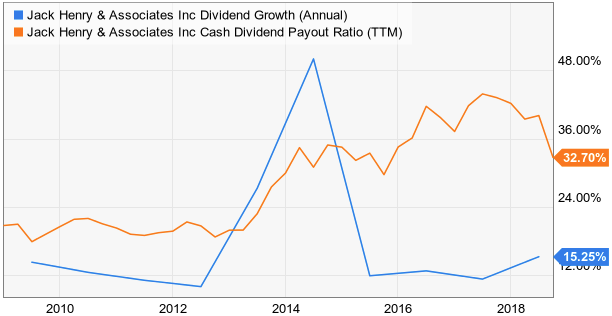 Source: Ycharts
What the dividend lacks in yield, however, it makes up for in growth. Management has aggressively grown the dividend, with a 10-year CAGR of 16.9%. The most recent dividend raise was 19.4%, so the growth still holds strong momentum. The dividend's payout is also low, only consuming 32.7% of cash flows. These types of growth rates cannot last forever, but investors can feel pretty confident about dividend increases routinely hitting double digits for the foreseeable future, there just isn't much else to do with a growing cash stream and no debt to speak of.
Growth Opportunities & Risks
As a technology company working primarily in the financial services sector, there is a somewhat unique set of opportunities and challenges that Jack Henry & Associates must navigate. The company's strong cash flows have enabled the company to expand through numerous acquisitions over time.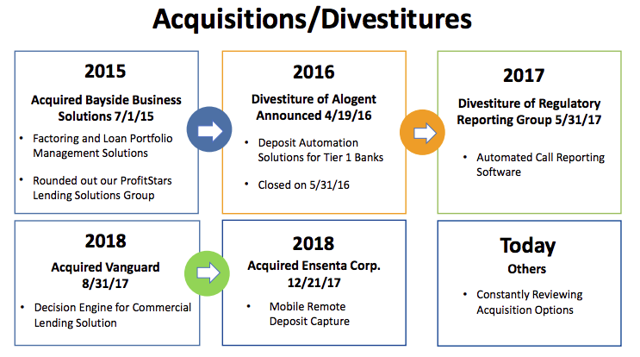 Source: Jack Henry & Associates, Inc.
The company's acquisitions have fleshed out Jack Henry's portfolio of services/products with new capabilities, augmented existing services, and helped the company reach new strategic microcosms within the industry. This has helped aid growth over the years.
Of the company's sustained top line growth (about 7% annually on average), 3% of that has been the growth of Jack Henry's "OutLink" segment, which provides outsourced solutions to banks. Outsourcing has benefited customers by reducing their overhead, and taking that "burden" off of brick-and-mortar institutions. For Jack Henry, it provides cross selling opportunities (getting them into the "ecosystem"), and usually ties up business in the form of multi-year contracts. Outsourcing has been a great growth engine for Jack Henry, and should continue to be so.
There are some broad industry trends that could impact the company down the road that investors should keep in mind. The banking business is highly fragmented (as mentioned earlier). While Jack Henry & Associates has taken advantage of this, rising consolidation within the industry is not good for business.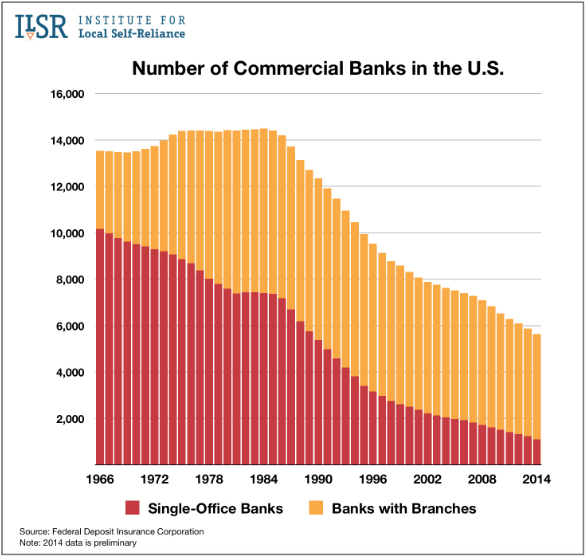 Source: ILSR
Single office banks that are too small to put their own infrastructure in place (a prime target for a company like Jack Henry & Associates) have closed, or been acquired by larger banks over time. These larger banks have existing systems in place that might cause Jack Henry to lose an existing customer, or the opportunity to obtain a new customer. The company must continue to penetrate larger banks to grow moving forward (which it has had success in doing so). While the company will never do business with the mega-banks that hold incredible amounts of assets (the nation's top six banks hold assets worth approximately 60% of US GDP), there are still a lot of opportunities in multi-branch regional banks.
In addition, the digital nature of the services that Jack Henry & Associates provides, such as the outsourcing segment and cloud services, presents a cyber security risk. Given the sensitive nature of information within a financial institution, a breakdown in this area would be potentially devastating to the company's reputation within the industry. This would hurt future growth more so than the existing client base due to the contracts and switching barriers in place.
Valuation
At just under $134 per share, the stock of Jack Henry & Associates currently trades near the midpoint of its 52-week range. Analysts currently project that the company will earn approximately $3.72 for the current fiscal year. This places the stock at an earnings multiple of 36X earnings. This is a large premium (48%) to the stock's 10-year median earnings multiple of 24.3X.
While this implies drastic overvaluation of the stock, we will compare it to the company's yield on free cash flow to provide more context. Free cash flow is an organic measure on a company's performance, so it can be a useful valuation metric.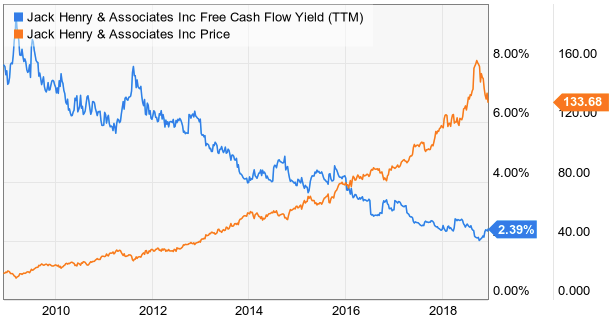 Source: Ycharts
The stock has been on a heck of a run over the past decade, appreciating by more than 638% over that time. We can see from the downtrend in the graph and a current FCF yield of only 2.39% that the share price has outrun the growth of the company's cash flows. Given the company's premium earnings multiple and low cash flow yield, shares are clearly very expensive at this time. Even to get back to historical norms, the stock would need to fall all the way to $90 per share. The stock probably won't fall this low unless a recessionary environment/bear market forms.
Wrapping Up
Jack Henry & Associates is a great niche company. Its technological solutions bring value to the financial institutions throughout the country and allows the company to earn high margins and strong cash flows. This is reflected in a dividend that continues to grow like weed. Although the banking industry is consolidating, the company has yet to reflect this trend in its growth numbers. The biggest problem with the stock in the near term is the valuation. Shares are prohibitively expensive, so investors should bury Jack Henry & Associates on the "watch list" for a later date.
Author Disclaimer: Wealth Insights is an investor and investment author. His content is not geared to anyone's specific investment goals, time horizons, or risk tolerance. Content is for illustrative purposes only and is not intended to displace advice from a fee-based financial adviser. Accuracy of data is not guaranteed.