Global Trends and Declining Prices
Tyson Foods Inc (NYSE:TSN) is a major supplier of food products across the globe with a presence in over 125 countries. Their operations are currently focused on five product lines: chicken, beef, pork, prepared foods and others (operations focused on raising and processing live chicken in China and India) which constitute 30.1%, 38.6%, 8.9%, 21.6% and 0.8% of the firm's total FY18 revenue respectively. Chicken and beef constitute the highest weighting in their portfolio, therefore changes in either the price or volumes sold has dire consequences on the firm's top and bottom lines as has been the case over the last quarter.
Increased supply in the chicken market has continued to lead to a decline in the product's prices. While this comes as good news to consumers, it has had a significant impact on both the top and bottom lines of TSN. Over the last quarter, the price of chicken has been down 7% and this has weighed on the overall growth of the company's chicken segment, which grew by 2.6% despite the 10.4% year over year (YoY) increase sales volume. While investors hope this is a one-off event, the continued increase in supply across markets – especially the American market – will continue to have a downward push on the prices over the coming quarter. This has further exacerbated an already difficult situation for Tyson Foods as the chicken business has been suffering low margins in the past and the falling prices are only compounding this problem for the firm.
The pricing pressure cited above has not only been the case for chicken but also for other segments such as beef and pork. Over the last quarter, the prices of both beef and pork also fell by 0.6% and 14.5% respectively; management attributes the declining beef prices to the increased supply of cattle and lower cost of livestock. In the case of pork, prices have been particularly low both as a result of the increase in supply as well as retaliatory tariffs imposed by both China and Mexico – China consumes about 10% of United States pork exports valued at about $700 million.
All in all, it is clear that trends globally have negatively impacted the top lines of TSN. Despite this – as we discuss further on – the firm found a way to mitigate the imminent disaster thus, providing consistent results over the last quarter, especially for their bottom lines. However, macro uncertainties, from trade tensions to unfavorable supply-demand dynamics, keep us on hold for now.
Savings, Growth and Acquisitions
Tyson has adopted a new strategy which will see the firm focus on protein-packed brands. This segment is estimated to grow by 3% YoY with sales therein expected to increase by 2.2% YoY. In total, Tyson's management guided sales to hit $41 billion in 2019.
In trying to realize this, the firm has opted to divest out of certain segments. Over the past quarter, this divestiture was carried out for Pizza Crust, a business which was sold to Peak Rock Capital – a private equity firm. Proceeds from this transaction, combined with cash and new debt are expected to be redirected to the firm's newest announced acquisition: KeyStone Inc.
Through the $2.16 billion transaction, Tyson is hoping to expand into protein-packaged offerings. This will also see them benefit from 3 additional innovation centres and 8 plants in South Korea, China, Thailand, Australia and Malaysia, therefore ensuring they grow their international presence. The deal is meant to see Tyson capitalize on their synergies with KeyStone – such as their experience in primary animal rearing and distribution as the firm remains McDonald's top meat supplier – and is estimated to have an accretive effect on Tyson's top line, adding approximately $50 million in synergies by the end of the third year.
Financial and Segment Performance
Amidst the backdrop of declining prices, TSN's top lines were negatively impacted. The firm's net revenues declined 1.4% to close the period at $9,999 million. This was lower than the consensus estimates of $10,154 million. As previously postulated, the primary driver for the sales decline was price declines of 4.1% experienced during the period against a relatively lower volume growth of 2.7%.
A breakdown of the YoY revenue growth rates and sales (volumes and prices) as well as income by segments was also carried out and is seen below:
Chicken: (+10.4% vol, -7% price);(+2.6% revenue to $3,115 million, -43% operating income to $182 million).
Beef: (+3.4% vol, -0.6% price); (+2.7% revenue to $3,913 million, +11% operating income to $348 million).
Pork: (-2.7% vol, -14.5% price); (-16.7% revenue to $1,134 million, -38.8% operating income to $76 million)
Prepared foods: (-7.9% vol, +0.6% price); (-7.3% revenue to $2,079 million, +54.6% operating income to $235 million)
Other: (-41.7% vol, +11.8% price); (-34.8% revenue to $60 million, -11.1% operating income to a loss of $10 million)
In addition, the firm's gross and net profit also fell by 0.1% and 7.9% to $1,346 million and $831 million respectively as a result of the diminished revenues. Moreover, their adjusted net income margin also declined by 60 basis points (bps) to close the period at 8.3%. Despite this, the gross profit margin increased by 20 bps to 13.5%. Tyson Foods, in addition to lower revenues, attributed the declining margins to higher labour costs – which the firm has been investing in so as to increase productivity – as well as high freight charges and other grow out expenses.
While this was the case, the firm has continued to generate cash and invest massively. The past year saw them generate over $1,039 million in operating cash, a 32% increase from the previous quarter. Additionally, for the previous quarter, the firm closed with a cash balance of $270 million. The firm's current cash position will be critical to catering to their expected capital expenditures – which stood at $1.2 billion for the current year and is estimated to rise to $1.5 billion over the coming year – as well as the anticipated acquisition of KeyStone – discussed later in this piece.
Tyson also announced $6.16 in earnings per share. The firm's earnings have continued to grow consecutively over the past three quarters. Over this period, the firm's earnings have continued to beat analysts' estimates as seen in the corresponding chart. In this quarter, moreover, they were supported by the change in the tax regime allowing for lower corporate taxes – the effective tax rate stood at about 23.6%. Tyson also announced a 25% dividend increment to 37.5 cents per Series A share. This offers investors an additional 2.6% dividend yield on their share, allowing for a much higher return, a figure which is backed by the firm's current cash generation.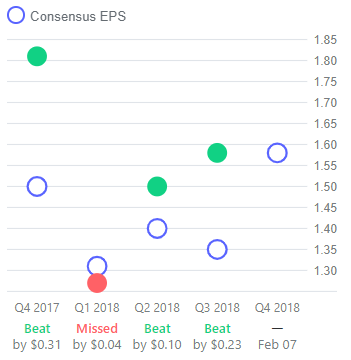 Source: Yahoo Finance
Company Analysis and Outlook
Current Tyson revised valuation was pegged on declining global prices. As discussed earlier in this piece, macroeconomic factors have played a key role in the price declines, especially due to the trade war between China and the United States along with the supply glut across markets.
Recent encounters have, however, altered this pessimistic position as meetings between China and the United States at the G20 summit have led to a deal which will see a truce between the two nations, thus suspending the trade tariffs. As a result, Tyson is expected to benefit from increasing prices during a period when demand for their product – specifically beef and pork – is estimated to remain constant. Upon price stabilization, Tyson growth is expected to be founded on growing sales volumes. While prices were expected to decline, volumes in the protein-packed segment were expected to grow by 3% over 2019 therefore net revenues are thus going to increase on the premise of higher ad more stable prices, cementing the firm's expected top lines.
In addition, the continued cash flow generation continues to play a crucial role in the firm's dividend pay-outs as well as in shaping their capital expenditures and acquisitions. With a closing cash position of $270 million, Tyson has the financial muscle required to execute transactions such as the US $2.16 billion KeyStone deal as well as budget for$1.5 billion in capital expenditures. While these two options will be executed using both the firm's cash and debt, their cash flows and strengthening financials should aid in negotiating for better debt terms. This also helped the firm in settling $332 million in debt over FY18. Furthermore, backed by a growing cash position –Tyson was able to increase their dividend pay-out by 25%, increasing capital return for investors.
Finally, synergies associated with investment in KeyStone will continue to be realized over the next few years, however, the next three years will be critical for the firm. It is forecast that these synergies will total to about $50 million, a significant benefit for Tyson. Coupled with the $250 million in savings which the firm has made courtesy of streamlining their operations and cutting down on unnecessary overheads, Tyson is expected to be making a lot of savings going forward – US $400 million and US $600 million in 2019 and 2020 respectively – and this is bound to reflect positively on their books.
Verdict
Tailwinds from savings and expected stabilization in prices should benefit Tyson going forward. Any price stability coupled with growing demand – especially with their protein-packaged brands strategy – will positively impact Tyson's top lines. This, coupled with new acquisitions and management of their freight charges, should see them grow their bottom line. However, given the recent trade tensions and potential impact on commodity prices, we believe it would be more prudent to remain on the sidelines for now.