Chinese internet search engine Baidu (NASDAQ:BIDU) braved market volatility Tuesday to price an additional US$250m of notes in a reopening of a recent issuance.
The company was the lone issuer to grace the docket, as investors generally flocked to safe-haven assets, while unease resurfaced about trade war tensions between the U.S. and China.
The yield on the 10-year U.S. Treasury note fell 7bps to 2.91%, and the 30-year Bond dropped 11bps to 3.16%. Meanwhile, U.S. equities seeped deeply into the red, with the S&P 500 off nearly 3.25% and NASDAQ down 3.8%. Also, investment-grade credit spreads gapped out to their widest level in more than two years.
Against this backdrop, Baidu sold its follow-on 4.375% notes due May 14, 2024 at a yield to maturity of 4.432% -- a spread of 162.5bps over the five-year benchmark Treasury note.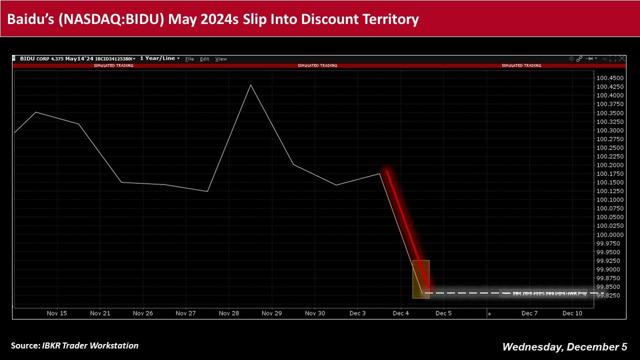 The new outstanding amount of the issuance rose to US$850m after the sale, with the yield on the notes last at around 153bps more than matched-maturity U.S. Treasuries. The debt had fallen into discount territory Tuesday – with the IBKR Trader Workstation displaying a price of US$99.83.
The deal didn't appear to receive an entirely warm welcome from risk averse bond investors, as final pricing on the offering was about unchanged from initial price talk.
Goldman Sachs (NASDAQ:ASIA) and J.P. Morgan Securities acted as joint bookrunners on the offering.
Yield curve inversion and 'Tariff Man' concerns
Jitters about riskier assets had set-in Monday, amid yield conversion in the front part of the curve, and as the difference between 2-year and 10-year notes have narrowed to a level not seen since 2007. The spread between the 2-year and 10-year notes squeezed to 11bps Tuesday.
When the yield curve inverts – when long-term rates fall below short-term rates – a recession typically ensues. This scenario has included the past two recessions, which occurred in 2001, as well as from 2007 to 2009.
Against this backdrop, investors have been busy speculating about the Federal Reserve Open Market Committee's (FOMC) path of monetary policy normalization, and the frequency of potential interest rate hikes in 2019.
While the market continues to widely expect the FOMC to raise rates at the conclusion to its two-day monetary policy meeting on December 19, uncertainties over the path of future increases has become less clear for the year ahead.
Moreover, geopolitical risks – notably trade-related concerns between the U.S. and China – have added to fears, with U.S. President Donald Trump's self-proclaimed 'Tariff Man' tweet having stirred uncertainties over the recent agreement formed with China's President Xi Jinping.
While it wasn't the best time to bring a debt sale to market, Baidu took advantage of the quickly closing window Tuesday to sell its notes – and with little impact to its credit standing.
Moody's Investors Service analyst Lina Choi noted the internet company's tap bond offering helped improve its debt maturity profile, while adding capacity to accommodate its funding needs over the next 12-18 months. She added that the deal "will not have much impact" on its debt leverage, given the proceeds will be mainly used for the company's debt refinancing.
Baidu said it intends to use the net proceeds from the 'A'-rated sale to repay existing indebtedness and for general corporate purposes.
Moody's said it only expects the notes to have a limited impact on Baidu's net cash position and low debt leverage, due to the company's "strong ability to generate cash flow." Baidu's adjusted debt/EBITDA for its core search businesses will likely register around 1.5x at the end of 2018 compared with 1.7x at the end of the prior year.
However, the ratings agency said its 'A3' credit rating on Baidu is constrained in part by China's competitive internet market, as well as rising acquisition risks related to the company's efforts to build an artificial intelligence (AI)-powered platform.
Baidu's efforts in AI appear to be paying-off.
In the third quarter of 2018, the firm's total revenues rose 27% year-on-year to RMB 28.2bn (US$4.11bn), which it attributed to its search, feed and new AI businesses. As of September 30, 2018, its free cash flow stood at RMB 9.1bn (US$1.33bn).
For Q4 2018, Baidu expects revenues to be between RMB 25.48bn (US$3.71bn) and RMB 26.72bn (US$3.89 bn), representing a 15% to 20% increase year-over-year and, excluding revenues from announced divestures, a climb of 20% to 26% over the prior year.
However, Baidu warned that the figures are "subject to substantial uncertainty."
Targeting tech
U.S. and Chinese tech sector stocks have both been victims of the crossfire of trade war concerns – especially in times when the U.S. intensifies its protectionist rhetoric with respect to national security.
In August 2017, U.S. trade representative Robert Lighthizer had formally initiated an investigation of China under Section 301 of the Trade Act of 1974.
The probe was enacted to determine whether acts, policies, and practices of China's government, where related to technology transfer, intellectual property, and innovation, may be found "unreasonable or discriminatory and burden or restrict U.S. commerce."
Among the Section 301 investigation's findings, China was found to direct and facilitate "the systematic investment in, and acquisition of, U.S. companies and assets by Chinese companies to obtain cutting-edge technologies and intellectual property and to generate large-scale technology transfer in industries deemed important by Chinese government industrial plans."
Shares of Baidu's ADRs have fallen more than 34.7% since mid-May, and the Invesco China Technology ETF (NYSE:CQQQ) lost over 33.8% over the same period.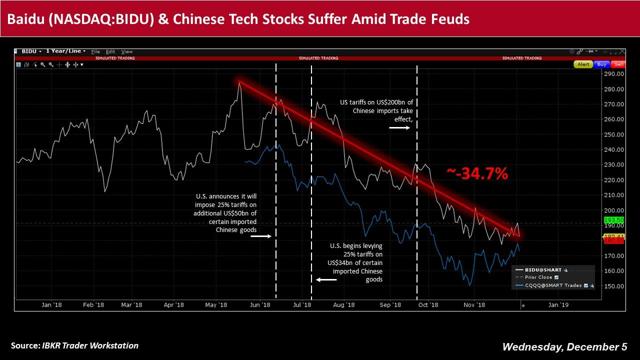 The Securities Industry and Financial Markets Association (SIFMA) recommended all fixed-income cash markets close Wednesday in honor of the national day of mourning for former U.S. President George H.W. Bush.
SIFMA made its recommendation following President Donald Trump's announcement that the U.S. government will be closed on Wednesday in honor of Mr. Bush.
Note: This material was originally published on IBKR Traders' Insight on December 5, 2018.
The analysis in this material is provided for information only and is not and should not be construed as an offer to sell or the solicitation of an offer to buy any security. To the extent that this material discusses general market activity, industry or sector trends or other broad-based economic or political conditions, it should not be construed as research or investment advice. To the extent that it includes references to specific securities, commodities, currencies, or other instruments, those references do not constitute a recommendation by IB to buy, sell or hold such investments. This material does not and is not intended to take into account the particular financial conditions, investment objectives or requirements of individual customers. Before acting on this material, you should consider whether it is suitable for your particular circumstances and, as necessary, seek professional advice.
Disclosure: I/we have no positions in any stocks mentioned, and no plans to initiate any positions within the next 72 hours. Business relationship disclosure: I am receiving compensation from my employer to produce this material.