Real Estate Weekly Review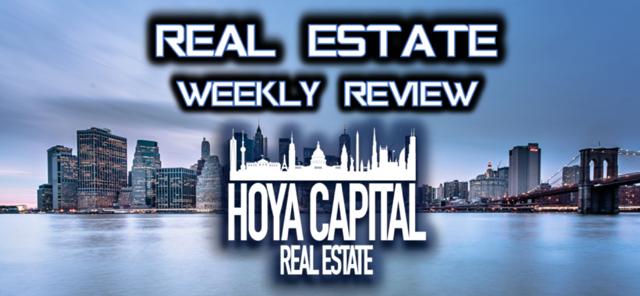 The unrelenting volatility in US equity markets continued this week as the S&P 500 (SPY) dipped more than 4.4%, erasing its 2018 gains. Optimism regarding China/US trade talks faded following the G20 summit last week while global economic data has noticeably cooled over the last four months. Oil prices (USO) finally stabilized following an OPEC deal to cut production. The plunge in oil prices since early October, through its effect on inflation expectations, has contributed to the decline in the 10-year yield, which is now at its lowest level since early September.
On the back of the decline in the 10-year yield, for the first time all year, REITs (VNQ and IYR) are outperforming the broader market. The REIT ETFs were underperforming the S&P 500 by as much as 13% in late February, but have caught a bid in recent months amid a favorable inflection in underlying property fundamentals and a more REIT-friendly macroeconomic environment of moderate growth and low inflation.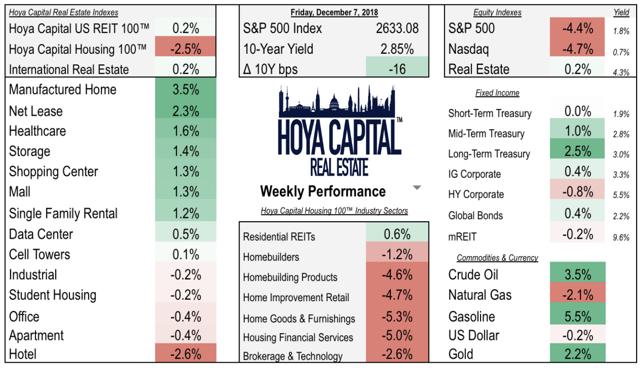 Homebuilders (XHB and ITB) also outperformed, but still ended the week lower by 1.2%. The Housing 100, an index that tracks the performance of the US housing industry, finished the week lower by roughly 2.5%, dragged down by 4%+ declines in the homebuilding products, home improvement, home goods, and furnishings, and housing financial services industry sectors. Restoration Hardware (RH) was the best performer on the week, jumping 18% following strong earnings. At Home Group (HOME) was the worst performer, diving 28% following a downbeat guidance outlook. Residential REITs (REZ) were the lone housing industry sector in positive territory for the week.
Real Estate Economic Data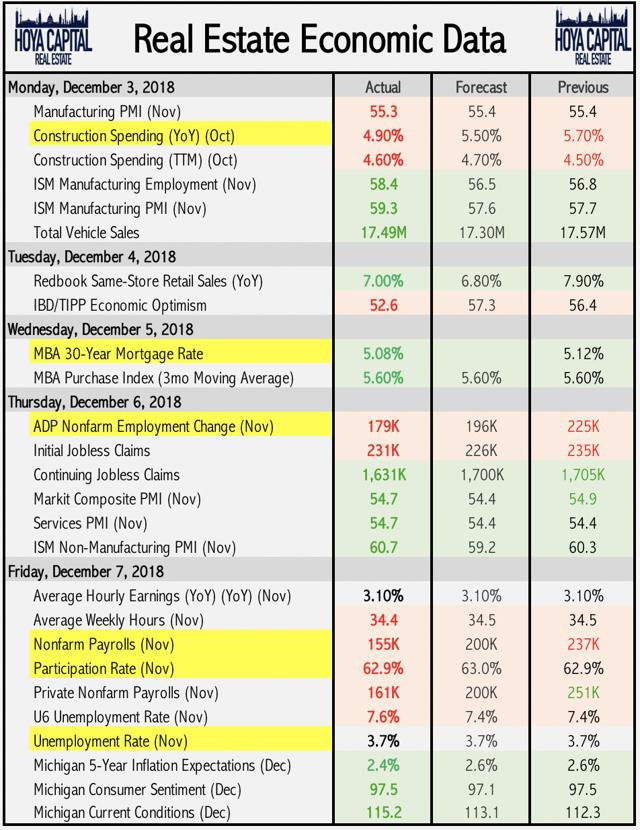 (Hoya Capital Real Estate, HousingWire)
Job Growth Solid, But Slowing
The US economy delivered another solid month of job growth in November, but there are indications that the economic reacceleration of 2018 may be losing steam into year-end. The BLS reported a 155k rise in nonfarm payrolls, slightly missing estimates following a strong October. Earlier in the week, ADP reported a 179k rise in private employment, also missing estimates. At 170k, the three-month average rate of job growth is the lowest since November of last year.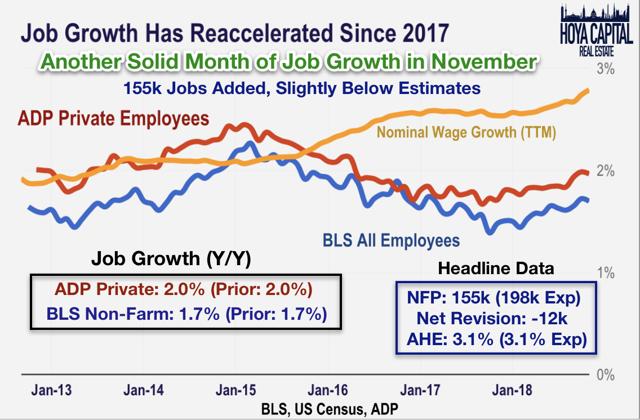 Investors remain keenly focused on average hourly earnings data for signs of tightness in the labor markets, which would generally be expected at the late stages of the economic cycle and would typically precede a slowdown in hiring. Average hourly earnings rose 3.1% in November which was in line with expectations, another sign that inflationary wage pressures remain muted. Wage growth is a positive for the US economy and corporate earnings when it results from productivity gains, but wage growth attributable to tight hiring conditions or government wage mandates (wage floors) is generally inflationary and results in higher interest rates and downward pressure to real economic growth and real wages.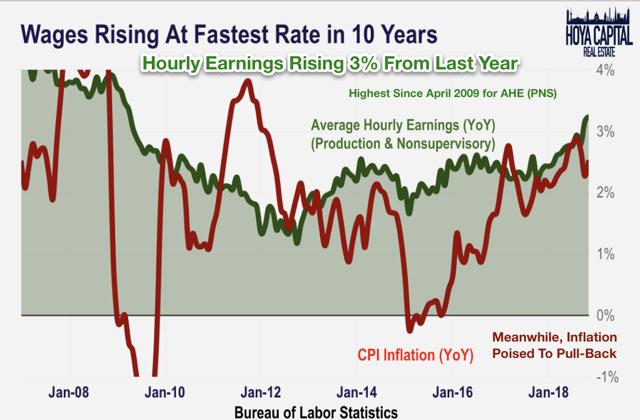 The story of the 2018 economic reacceleration has been a resurgence in the long-dormant goods-producing sectors. Manufacturing jobs, which had entered a mild recession in 2016, have seen significant growth in recent quarters. Jobs growth in the goods-producing sectors grew at a seasonally-adjusted rate of 3.1% over last year, retreating from last month's 3.3% rate, which was the strongest rate of goods-producing job growth since January 1985. Job growth in the services sectors, which accounts for roughly 85% of total jobs in the US, has trended sideways since early 2017 at 1.4%. Retail hiring continues to be a drag on job growth following a brief acceleration early this year.

The debate among Federal Reserve economists centers around the degree to which slack remains in the US labor markets. Based on traditional metrics, such as the U-3 unemployment rate, there appears to be a limited number of available workers left to fuel further economic growth. The traditional measure of unemployment remained at 3.7% in November, the lowest rate in 49 years. A broader measure of unemployment, the U-6 rate actually ticked up to 7.6%. We continue to believe that there is significantly more labor market slack remaining in the labor market than traditional metrics would imply, slack that could be unleashed by policy changes. The prime-age labor force participation rate remains nearly 100 basis points below the lows of the mid-2000s recession. A return to that level would imply slack of 8 million jobs, suggesting that the recovery could very well endure for another half-decade, or at very least shouldn't be hampered by the lack of labor market slack.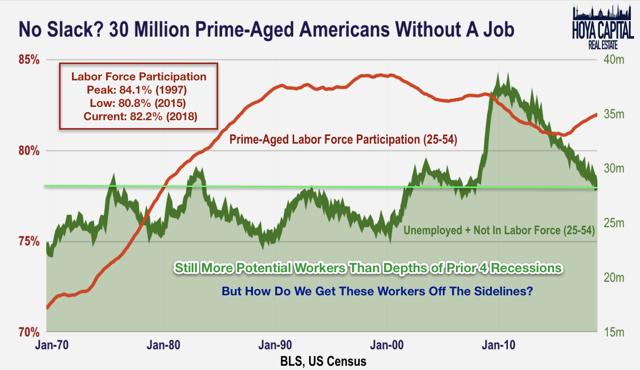 According to the OECD, the inactivity rate among prime-working-age males has surged from below 4% in 1960 to more than 12% today, remaining near record-high levels despite the best labor market conditions in at least a generation. There are several common explanations for the sustained decline in prime-working age male labor force participation: high incarceration rates and inability to qualify for a job after release, the higher rates of use and/or abuse of government benefits programs, higher rates of opioid and drug usage, and longer time spent in the educational system. Structural reforms may be needed to fully unleash that segment of the workforce. If this can be accomplished, we believe this suggests further slack in the labor markets and continued modest pressure on wage growth.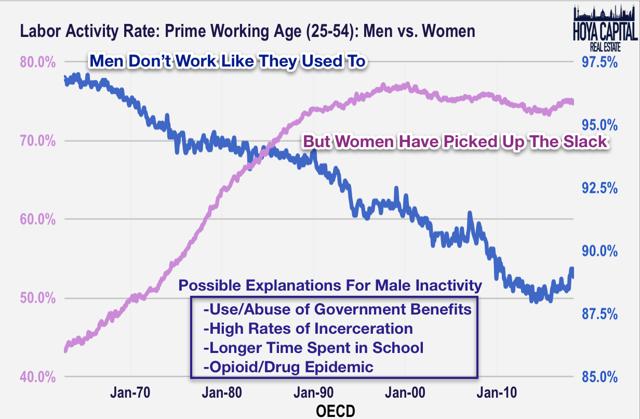 Mixed Signals on Construction Spending
Private construction spending growth has slowed since peaking in 2015 as rising construction costs and moderating real estate fundamentals have dampened the appetite for new development. As private spending has pulled back, however, infrastructure spending has seen a sudden resurgence. Public construction spending is higher by 6% over the last year, the strongest rate of growth since 2009, powered by robust spending at the state and local levels on infrastructure.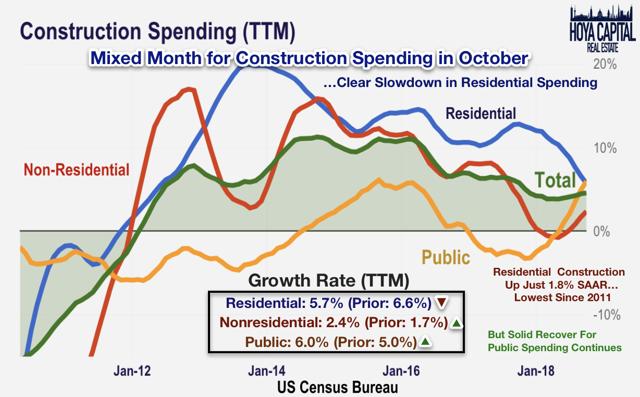 As we've discussed, rising construction costs can have a tightening effect on supply growth in the commercial real estate market. The PPI index for construction materials is higher by nearly 7% year over year, but the recent decline in lumber prices may indicate that the rapid rise in costs may be topping out. The PPI index for lumber and wood products is now lower by 4% YoY after surging as much as 18% in July.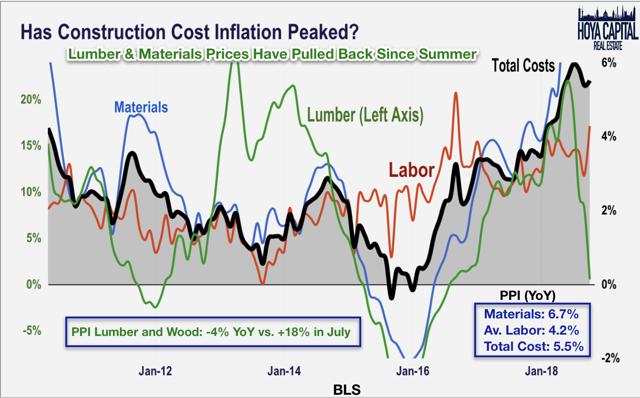 As we discussed last week, the combination of rising land, materials, and labor costs have compressed homebuilding margins to near-zero for all but the largest national homebuilders. It's a very different scenario than the pre-recession period as home price appreciation has been driven primarily by rising replacement costs to build rather than pure speculation and credit-fueled demand. Rising construction costs and their impact on raising home prices have had the effect of keeping new home development and supply growth far below the levels normally associated with this level of recent economic growth.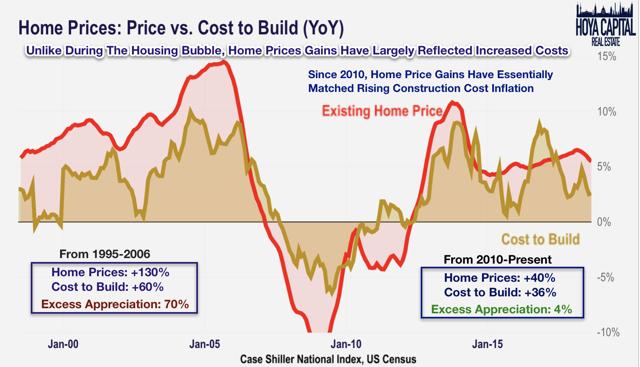 On an inflation-adjusted basis, real construction spending has been flat so far in 2018. The 6-8% average rise in construction costs implies that the majority of the growth in total spending has been the result of higher costs rather than 'real' growth in new supply. For REIT sectors facing supply pressures, the tightening effects of rising construction costs have been good news. Only the residential sector has seen 'real' supply growth in 2018.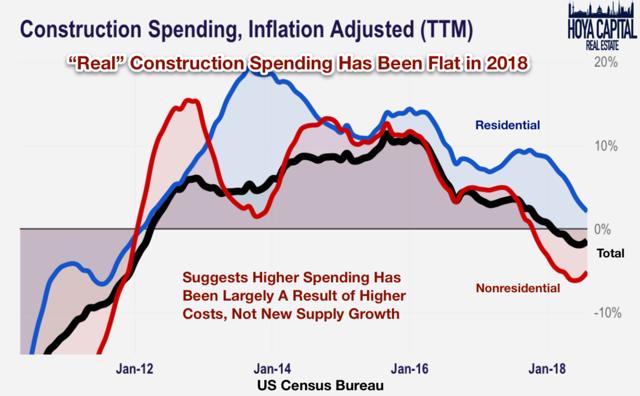 Interestingly, the construction labor data has been telling a far more optimistic story. Construction job growth has actually been quite strong in 2018 according to the BLS, led by a reacceleration in residential building jobs, which includes not only new home building but also remodeling and repairs. Considering that nearly all other metrics tracking residential construction activity have inflected downward in recent months, we wonder if there are other factors at play in this data set.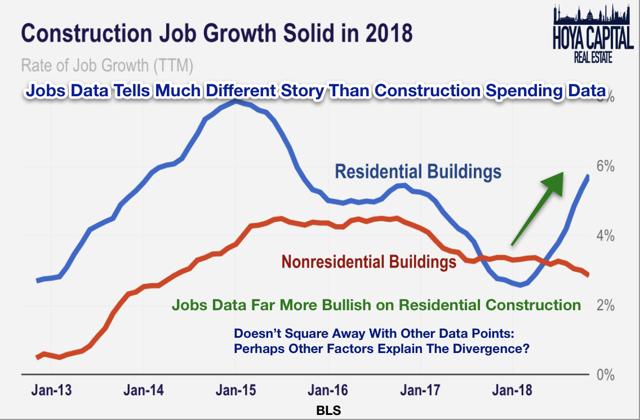 Earnings Season Recap
This week, we published Single Family Rental REITs: Cost Concerns Re-Emerge. Two steps forward, one step back for the sector. Despite strong performance across the residential REIT sector in 2018, SFR REITs have taken a step back this year. Growing pains continue for the still-young sector. Following several years of improving NOI margins, the positive momentum has seemingly stalled this year as cost concerns re-emerge. Outside of rising costs, underlying fundamentals remain solid. Rising mortgage rates give SFR REITs room to push rent growth. Leasing trends have been impressive in 2018 as turnover ticks lower.

External growth remains slow amid the persistent NAV discount, but acquisition opportunities may emerge as the housing market cools. We analyze the growth of iBuyers and their synergy with SFR REITs. The institutionalization of the single-family housing market is a trend that is poised to accelerate given the removal of key homeownership tax incentives and continued housing unaffordability.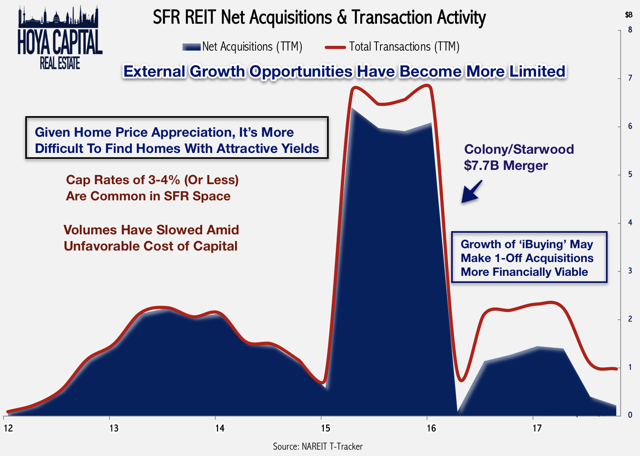 In addition to our recent quarterly reports on the Apartment, Net Lease, Manufactured Housing, Data Center, Mall, and Homebuilding sectors, we recently published our third-quarter REIT Earnings Recap: Solid Quarter Powers Outperformance. Beneath the interest-rate-driven market swings, REITs have quietly delivered a solid year in 2018 as fundamental metrics have inflected higher after bottoming at the end of last year. REITs delivered strong third quarter as, for the first time since mid-2016, dividends per share and FFO per share were both positive on a trailing twelve-month basis. Same-store NOI ticked higher to 2.82%, the third straight quarter.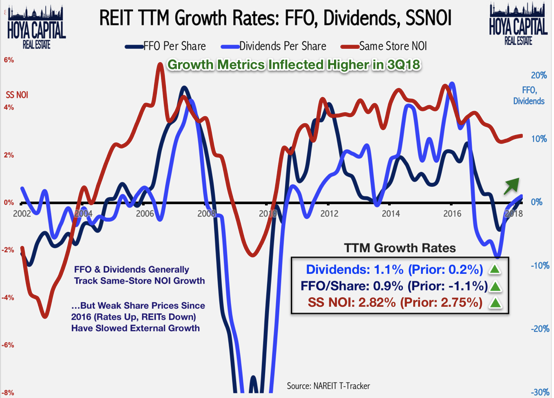 While the NAV discount has shrunk in recent months, the persistent NAV discount has forced many REITs to scale back their acquisition plans and many REITs have sold assets in an attempt to close the valuation mismatch. REITs have acquired just $5 billion in net assets over the last year, far below the $60 billion peak pace of 2016.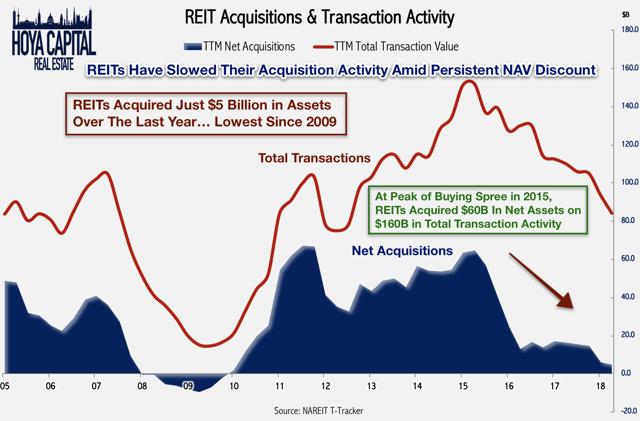 REITs are no longer simply buy-and-hold real estate holding companies, however. The development pipeline remains near a record-high at $43 billion, exceeding the 2008 peak of $38 billion.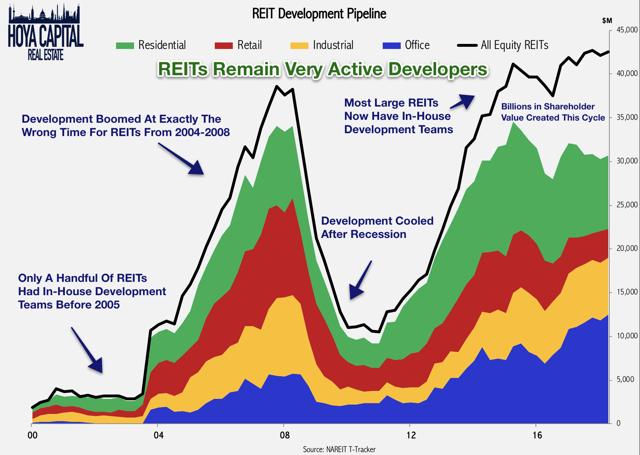 2018 Performance
REITs are now lower by just 0.8% on the year, outperforming the S&P 500 for the first time in 2018. Homebuilders remain lower by more than 27% on the year, the weakest of the seven US housing industry sectors. The 10-year yield is higher by 45 basis points since the start of the year even as the price of crude oil has erased all of its YTD gains.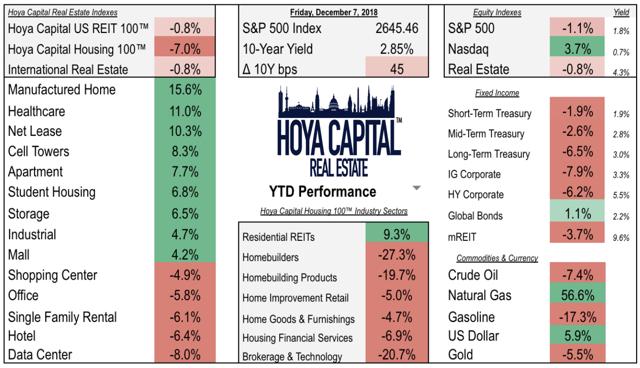 REITs and housing-related equities have outperformed the broader US stock market over the last 25 years. The NAREIT All-Equity REIT Index has delivered a 12.1% average annual return while the Fidelity Construction & Housing Fund (FSHOX) has delivered a 10.8% annual return since 1994. The S&P 500, meanwhile, delivered a 9.9% annualized rate of return during this period.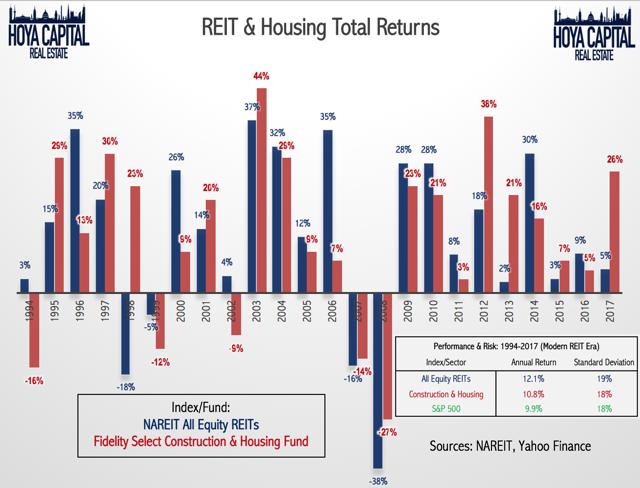 Since 1995, shelter inflation has outpaced the broader rate of inflation by more than 1% per year, fueled by a persistent supply shortage in the US housing markets. Over the last three decades, structural impediments to supply growth, aggravated by the dramatic dislocations during the housing crisis, have dramatically slowed the rate of housing starts per capita. The implications of this housing shortage, we believe, will be a continued persistence of "real" housing cost inflation (rent growth) and a long runway for growth in residential housing construction.

Bottom Line: REITs Catch A Bid on Rough Week
On a wild week, the S&P 500 dipped more than 4%, erasing its 2018 gains amid continued trade tensions and concern that the US economy may be losing steam into year-end. For the first time all year, REITs are outperforming the S&P 500 as the 10-year yield dipped to levels last seen in early September. Mortgage rates are poised to follow.
Job growth fell short of expectations in November, but most labor market metrics continue to show solid strength. We continue to believe that there is significant labor market slack outstanding. As the yield curve flirts with inversion, the market may be forcing the Fed's hand. A dovish Fed would be likely good news for yield-sensitive REITs and Homebuilders. Construction spending fell short of expectations in October, dragged down by the weakest growth in residential spending since 2011. A resurgent public sector has made up some of the slack.
For an in-depth analysis of all real estate sectors, be sure to check out all of our quarterly reports: Net Lease, Data Center, Manufactured Housing, Student Housing, Single-Family Rentals, Apartments, Cell Towers, Manufactured Housing, Malls, Shopping Centers, Hotels, Office, Healthcare, Industrial, Storage, and Homebuilders.
Disclaimer: All of our published commentary is for informational purposes only, always provided free of charge. Commentary is purely theoretical and not intended as investment advice. Information presented is believed to be factual and up-to-date, but we do not guarantee its accuracy and it should not be regarded as a complete analysis of the subjects discussed. The information presented does not reflect the performance of any fund or other account managed or serviced by Hoya Capital Real Estate. An investor cannot invest directly in an index and index performance does not reflect the deduction of any fees, expenses or taxes. Visit our website for a definition of indexes discussed. Data quoted represents past performance, which is no guarantee of future results. Please consult with your investment, tax or legal adviser regarding your individual circumstances before investing. For complete disclosure, view our profile via the link above.
Disclosure: I am/we are long VNQ, XHB. I wrote this article myself, and it expresses my own opinions. I am not receiving compensation for it (other than from Seeking Alpha). I have no business relationship with any company whose stock is mentioned in this article.