The S&P 500 Low Volatility Index Fund (NYSEARCA:SPLV) continues to outperform the overall markets this year. Yesterday when I was checking to see what the markets were doing, I noticed the SPLV was down less than half the S&P 500.
1-Day Return Chart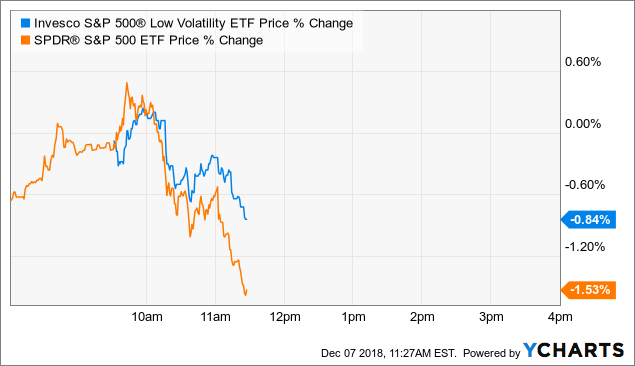 When you go out further say three months, the out-performance is even more noticeable. The S&P 500 Low Volatility Fund is outshining the S&P 500 by over 600 basis points. With many investors asking if they can reduce the volatility of the stock market roller coaster, I would say the SPLV has especially demonstrated this the past three months.
3-Month Return Chart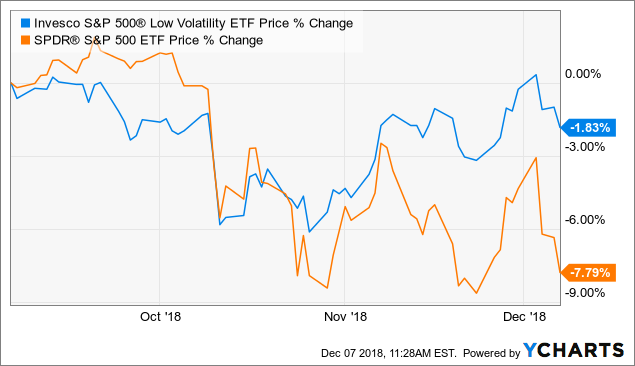 Just because I want too, lets take a look at one more return chart, which is the year-to-date chart.
Year-To-Date Return Chart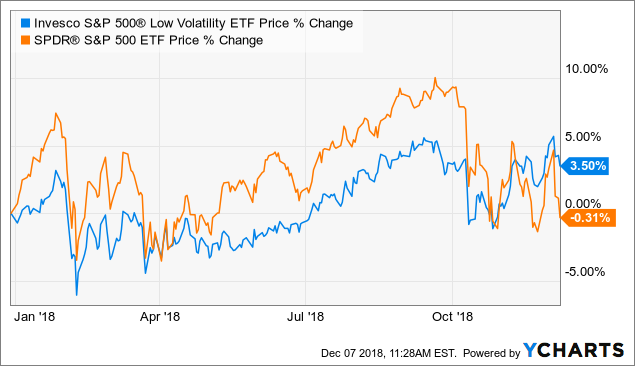 As you can see from the above three charts from YCharts, the SPLV has handsomely outperformed the S&P 500 ETF (SPY). You can also see from the three-month chart, the SPLV has really done its job compared to the market. When evaluating investment funds, I find it easier to do it when you look at them side by side on a monthly basis, (starting from January 1st). Most investors get a monthly statement from their brokerage account, but it usually doesn't show it as simple as this. You can also build your own monthly comparable charts here at portfoliovisualizer.com.
| | |
| --- | --- |
| SPLV | SPY |
| 2.44% | 5.64% |
| -4.33% | -3.64% |
| 0.89% | -2.74% |
| -0.61% | 0.52% |
| 0.65% | 2.43% |
| 1.45% | 0.58% |
| 3.54% | 3.70% |
| 1.77% | 3.19% |
| -0.36% | 0.59% |
| -2.91% | -6.91% |
| 4.68% | 1.85% |
When you look at this monthly-return chart, you can see the out-performance has really came in to play the past two-months. In October the S&P 500 dropped almost seven percent, while the SPLV dropped only around three percent. When I see those types of numbers, that's what I think 'seeking alpha', really is here on seekingalpha.com.
What could be the reasoning for such an out-performance as of late?
The SPLV in the make up of what it owns, holds the lowest volatile sectors it can. The largest sector it currently owns is Utilities. The utility sector has a strong correlation with interest rates themselves. As interest rates have stabilized and actually dropped, the (XLU) utility sector has outperformed the overall markets as well. Whatever conclusion we jump to with why SPLV has been doing so well, its the nature of the fund itself. In all times, the SPLV will own the 100 lowest volatile companies, period. Some periods of out-performance was due to the lack of it owning financials in 2008, or even the lack of owning energy stocks in 2015 when energy corrected substantially.
I know this article is full of tables and charts, but lets take a look at one more table and breakdown whats important it. This is a metrics chart brought to us by portfoliovisualizer.com as well, and it shows a couple key numbers.
| | | |
| --- | --- | --- |
| Metric | SPLV | SPY |
| | | |
| Arithmetic Mean (monthly) | 0.66% | 0.47% |
| Arithmetic Mean (annualized) | 8.16% | 5.84% |
| Geometric Mean (monthly) | 0.62% | 0.41% |
| Geometric Mean (annualized) | 7.75% | 5.08% |
| Volatility (monthly) | 2.64% | 3.63% |
| Volatility (annualized) | 9.16% | 12.59% |
| Downside Deviation (monthly) | 1.59% | 2.50% |
| Max. Drawdown | -4.33% | -6.91% |
| US Market Correlation | 0.78 | 0.99 |
| Beta(*) | 0.56 | 0.99 |
| Alpha (annualized) | 4.77% | 0.26% |
| R2 | 60.99% | 98.88% |
| Sharpe Ratio | 0.67 | 0.31 |
| Sortino Ratio | 1.07 | 0.44 |
The monthly volatility of the fund is at 2.64% vs. 3.63% for the S&P 500. The expected annual volatility of the fund is only 9.16% vs. the 12.59% for the S&P 500. The alpha of the fund currently is at 4.7% which is what we want, since this is seekingalpha.com!
Beta
One figure that really gets the geeky investment research side of me is Beta. What is Beta? According to investopedia, Beta is a measure of volatility to a given security or an appropriate benchmark. Beta is also a way to look at how the security will respond to recent market swings. As we all know, this market has been manic depressive to say the least. So how does the beta of SPLV measure up to the SPY? The current reading today is a .57, which is good for those looking to reduce draw-down exposure to the SPY.
Summary
What makes all these metrics and tables so sweet is the SPLV is walking the talk. You have to ask yourself, how many investment funds or products actually do that for you out there on Wall Street? I always come across products or funds that say they will do one thing when they actually don't. When looking for an investment to help you navigate retirement or save long-term, SPLV does a great job of managing risk, while passively investing your capital. For younger investors who are saving for retirement like myself, this could also be utilized as a core holding as well.
Additional Disclosure: Ortner Capital consults clients who own SPLV. Please seek out advice on your own risk tolerances and objectives from a qualified financial professional.