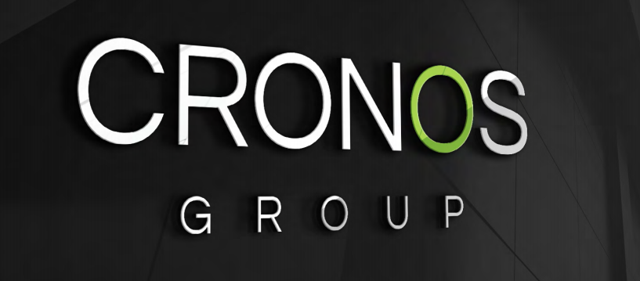 (Cronos Group December 2018 Investor Presentation)
On December 7, 2018, Altria (NYSE:MO) announced a U$1.8 billion (C$2.4 billion) investment in Cronos (NASDAQ:CRON) group to acquire 45% ownership in the Canadian cannabis company. Altria also received warrants sufficient to raise their Cronos stake to 55%, receiving warrants with a C$19 strike price and a four year expiration. In making this investment, Altria also snubbed Aphria (APHA), after talks between the two had been reported in October.
This deal is the third deal between a major American "sin" company and a Canadian cannabis company. The first, and largest deal was Constellation Brands' (STZ) C$5 billion investment in Canopy Growth (CGC) back in August (which I covered in "Constellation's Risky, Leveraged Bet On Canopy Growth"). Earlier in August, smaller Canadian cannabis producer Hexo (OTCPK:HYYDF) (then Hydropothecary) announced a joint venture with Molson Coors (TAP) to develop "non-alcoholic, cannabis-infused beverages for the Canadian market". That venture is now known as Truss, and is likely to release products in 2019 when cannabis-infused beverages are legalized in Canada.
Of those two deals, Altria's investment is more similar to the Constellation deal: Altria will take a large, non-majority stake in a Canadian cannabis maker but with warrants that could turn that stake into a majority stake.
The Price Looks Fair Based on Thursday Prices...
Under the terms of the deal, Altria will receive 146.2 million shares of Cronos at a price of C$16.25 each. In additional, Altria receives warrants that will allow it to obtain "incremental ownership of 10% for a total potential ownership position of 55%."
| | | |
| --- | --- | --- |
| | Shares | Proportion |
| Common shares, Sep 30 | 178,700,446 | 55.0% |
| Altria Shares | 146,200,000 | 45.0% |
| Total Shares Outstanding | 324,900,446 | |
| Altria Warrants (C$19, 4 years) | 72,212,017 | |
| Other Warrants/options | 38,306,198 | |
| Total Fully-Diluted Shares | 435,418,661 | |
| Altria Diluted Stake | 218,412,017 | 50.2% |
(Author's estimates based on company filings)
Based on Cronos' existing shares outstanding as of their Q3/18 results, Altria's 146.2 million shares are a 45% stake in Cronos, and Altria should receive about 72 million warrants as well - sufficient to increase its stake to 55% of Cronos before other dilutive options are accounted for. Altria's warrants will also contain "certain anti-dilutive provisions," presumably to ensure that Altria's total potential ownership of Cronos does not drop below 50%.
| | | |
| --- | --- | --- |
| (Closed at C$13.98) | Shares | Value (12/6)* |
| Altria Shares | 146,200,000 | $2,043,876,000 |
| Altria Warrants | 72,212,017 | $356,900,000 |
| Total Value Received | | $2,400,776,000 |
| Total Price Paid | C$16.25/share | $2,375,750,000 |
(Author's estimates)
This deal looks fair based on Cronos' closing price on Dec 6th.
The above value of Altria's warrants is based on the Black-Scholes model using a risk-free rate of 2.09% and an expected volatility of 55%. That 55% figure comes from Cronos' valuation of their options and warrants from their Q3/18 filings, although their most distant call options (January 2021 strikes) trade for an implied volatility of ~65% (which would increase the price of the warrants to ~$430 million).
... But Cronos is Costly Compared to Peers
In my view, the biggest winners in this deal are Cronos shareholders. Cronos is being valued as a top five company while operating like a top-ten company.
With this deal, Cronos instantly becomes a much more important cannabis company. While Cronos' visibility has always been relatively high, due to being early to receive a U.S. market listing, they are not a top five player in either medical or recreational cannabis in Canada. Consider the following metrics:
| | | |
| --- | --- | --- |
| | Cronos | Rank Among Peers |
| Revenue (Last Q) | $3,760,000 | 7th |
| Est. Production (Last Q) | ~3,800 kg/year | 8th |
| Planned Production | ~80,000 kg/year | 8th |
| Provincial Supply Agreements | 4 | 10th (tied) |
| Nova Scotia Market Share | 11% | 2nd (tied) |
| PEI Market Share | 9% | 6th |
Cronos ranks 7th among Canadian cannabis companies in revenue, generating $3.8 million in revenue last quarter.
Estimated production here is based on both the sales and the additions to inventory of each Canadian cannabis company. Based on their increase (or decrease) of inventory, we can estimate how much cannabis that company produced last quarter. Based on that, I estimate that Cronos was producing at a rate of ~3,800 kg/year last quarter - good for 8th among Canadian cannabis producers.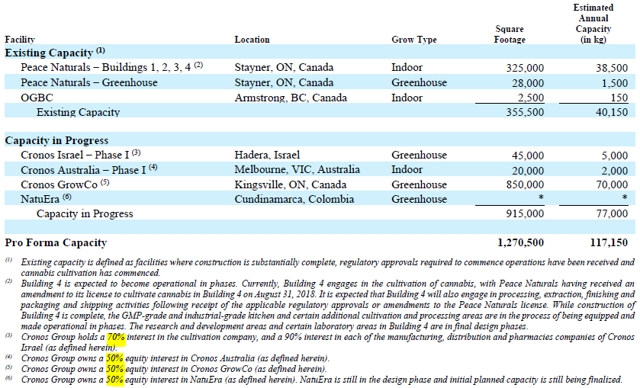 (Cronos Q3/18 MD&A; and note that most of the Peace Naturals production is not coming online until Q2/19, despite being listed under "Existing capacity" here)
Planned production is based on Cronos' announced plans (for 117,150 kg/year of production), but pro-rated based on Cronos' ownership stake in those projects. This excludes potential NatuEra production in Colombia. Cronos ranks 8th in planned production capacity compared to peers.
Cronos has announced four provincial supply agreements (with Ontario, British Columbia, Nova Scotia, and Prince Edward Island), which puts Cronos in a tie for 10th place among Canadian cannabis producers.
Market share in Nova Scotia and PEI are both based on data that BNN Bloomberg received last week, which suggested that Organigram was the top-selling brand in both provinces during the first week of legalization, with Cronos taking second spot in Nova Scotia and sixth spot in PEI. Notably, these are both small provinces, and results in British Columbia and Ontario are likely to be much higher. As of today, Cronos' best-selling strain in British Columbia (an indica called Rest) is the 19th-best-selling dried cannabis product with Aurora occupying the top four spots.
Cronos' results in the Nova Scotia has been great so far, but there's little to suggest that those results are translating to British Columbia or Ontario, and thus, Cronos is probably in the bottom half of the top ten cannabis producers in Canada. But it is not priced like a Top 6-10 company: Cronos is currently the fourth-most-valuable Canadian cannabis company:
| | |
| --- | --- |
| Company | Enterprise Value |
| Tilray | $ 13.6 billion |
| Canopy Growth | $ 11.7 billion |
| Aurora | $ 7.5 billion |
| Cronos | $ 3.6 billion |
| Aphria | $ 1.6 billion |
(Author's estimates; Cronos value excludes new shares to be issued to Altria)
My Thoughts
The price is fair, based on Thursday's closing prices. Given the warrants that Altria receives and Cronos's usual warrant value calculations (55% volatility, as used in their filings), Altria is receiving shares at their value: They are getting $2.4 billion in shares and warrants for $2.38 billion in cash.
This is a great deal for Cronos shareholders. Cronos goes from a mid-sized Canadian cannabis company to a potential powerhouse with the addition of a C$2.4 billion war-chest and the backing of one of the most powerful tobacco companies in the world.
This is a risky deal for Altria shareholders. Altria is paying a high price for a medium-sized Canadian cannabis producer, and I believe it will be difficult for them to get full value from this deal. The new Cronos will, however, benefit from Altria's expertise in operating in highly-regulated markets - which could be a big boon for Cronos. That said, any company Altria invested in would receive the same benefit, so this isn't a benefit to Altria per se, but rather, a benefit to Cronos shareholders.
This is a loss for Aphria. Altria had talks with Aphria, but backed away for one reason or another. Obviously the recent short thesis came out, but Altria may have been a but put-off by the previous Nuuvera scandal. Ultimately, Altria's management team wants a deal that makes their company look good - and not a deal where they are buying what might be seen as a damaged asset. It is possible that Aphria asked for too much money, or Altria backed away due to news leaking about the talks. Either way, this deal does not help Aphria or make Aphria look good. That said, there are many other potential acquirers out there.
This deal shows the value of a U.S. stock listing. Altria spoke to Cronos and to Aphria - both of which are U.S.-listed. Recent new American listings have not cause large stock price bumps, but they increase visibility and decrease the paperwork needed to allow an American company like Altria to make an investment.
Cannabis investors are hopeful this might start another cannabis gold rush. Cannabis stocks boomed after the Canopy Growth/Constellation deal was announced in August - based on hope of further investments from other companies. Many investors are hopeful that could happen again.
But this isn't the first rodeo. When Constellation Brands invested C$5 billion into Canopy Growth, it was a proof-of-concept that multi-billion-dollar investments from major corporations were possible. In some ways, that investment may have legitimized the industry, especially for somewhat more conservative institutional investors. Here, we already knew this type of deal was possible - since we've seen it before - and so market response may be more muted.
For my part, I'm not confident that such a gold rush will happen again. However, this is a positive sign for stocks that have been in decline since mid-October.
Happy investing!