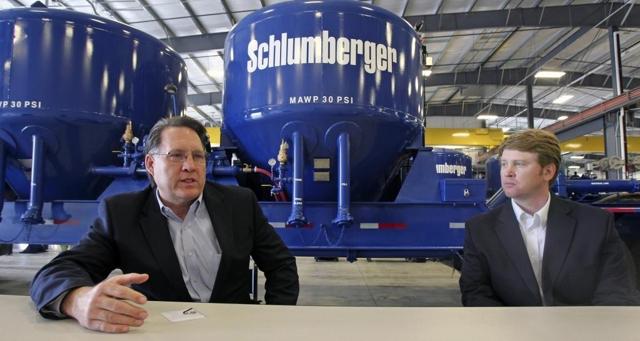 Source: Fuelfix
Falling oil prices are wreaking havoc on oil services names like Schlumberger (NYSE:SLB). Oil prices are just under $60 - around 30% off their October 2018 peak. There are concerns that an oil glut may exist due to excess supply. Now Schlumberger is warning its North America revenue could fall 15% Q/Q due to a steep decline in hydraulic fracking:
This year's decline in fracking activity has been "significantly larger" than expected, executive VP Patrick Schorn said today at a conference in New York, leading to a bigger decline in pricing than the company had forecast.

Recent price declines likely will cause customers to take "a more conservative" approach early in 2019 and any ramp-up in international investment also could be tepid, Schorn said.
North America land drilling has been white-hot over the past few years. A steep decline in fracking activity could reduce revenue for oil services firms with exposure to North America land drilling. It could also create pricing pressure. With the same number of firms competing for less business, something has to give. My guess is that pricing power will break first.
Schlumberger receives 38% of its total revenue from North America, up from 24% two years ago. Earlier this year the company beefed up its North America presence with the acquisition of Weatherford's (WFT) U.S. pressure pumping assets for $430 million. The deal gave Schlumberger more heft to compete with Halliburton (HAL) and Baker Hughes (BHGE), but it may have come as North America E&P was peaking.
In Q3 the company's total revenue was up 2% Q/Q; North America's growth was practically in line with the other regions. If North America's revenue falls by double-digits next quarter then Schlumberger's total revenue growth will likely be negative as well.
At the end of the day, Schlumberger's chasing of North America market share at market heights could come back to haunt it. The slow down would likely hurt smaller operators like Weatherford (WFT), Oil States International (OIS) and Core Labs (NYSE:CLB) even worse. Halliburton, which receives over 60% of its revenue from North America, could fall hard next quarter as well.
Will The Economy Hold Up?
I understand another OPEC production cut helped spike oil prices recently. At some point the demand for oil should drive prices. I believe the U.S. economy, nor the U.S. consumer, are on strong footing. Most of the government stimulus after the Financial Crisis went to corporations and the investor class with the hopes it would trickle down to the masses. RV shipments are free fall and purchases of other discretionary items could soon follow. Industrial production has also been weak of late.
Weak industrial activity and a weak consumer do not bode well for oil demand. There could be oil shocks or additional production cuts in the future, but oil prices will likely fall under recessionary pressures. The shares of oil services firms will likely continue their descent as well.
Battle Of The Balance Sheets
A strong selling point for Schlumberger is its fortress balance sheet. It has cash and short-term securities of nearly $2.9 billion. Its $17 billion debt load is just 2.5x trailing EBITDA, which appears manageable. Schlumberger has proven it has the ability to cut costs to maintain liquidity and its best-in-class EBITDA margins amid a downturn in the oil patch.
Baker Hughes and Halliburton also have size and liquidity to sustain a downturn. Core Labs (CLB) has solid free cash flow and working capital of about $135 million. Oil States has $36 million of cash on hand; its liquidity took a major hit after it acquired GEODynamics in Q4 2017 for over $500 million. Oil States's Q3 revenue and EBITDA both declined Q/Q. I believe it could be extremely vulnerable if the oil patch turns down next quarter.
Conclusion
SLB trades at just under 9x trailing EBITDA. The stock is off 30% Y/Y and will likely fall further. Sell SLB.