Canadian banks form the cornerstone of my investment portfolio. They operate within a protected Canadian regulatory system that virtually guarantees their success. Between the Big 5 Canadian Banks, they touch almost every part of Canadian society from both a personal and business perspective. But we live in an era of extraordinary change, and the banking sector is no different. Whether it be fintech, piracy or government interference, there are shadows lurking around every corner potentially impacting their businesses, but you don't generate billions in profits every quarter sitting back and letting the world happen. In my personal portfolio, I own the 3 largest Canadian banks - Royal Bank of Canada (NYSE:RY), TD Bank (NYSE:TD) and Scotiabank (NYSE:BNS) - and they have proven their willingness to reinvent their businesses, laying the groundwork for future success.
If you are not going forward, you are going backward
I ran a successful retail business for 17 years and through that business was able to build an investment portfolio that has allowed me to be financially independent in my early 50s. When I ran my business, I lived by the motto that if you were not going forward, you were going backward. Over the years, I watched as many of the businesses around me become comfortable with their success, refusing to adapt to changes in the retail environment that eventually would overwhelm them. I chose a different path, constantly experimenting with different ideas, different products and embracing technology to stay relevant with my customers. When I look at the Canadian banks, I see similarities, but on a much greater scale.
The Canadian Banks have been around for a long time; in the case of Bank of Nova Scotia and Royal Bank longer than Canada. All of the Big 5 Canadian banks have paid a dividend for more than 100 years, taking them through wars, depressions, recessions, stock market crashes, great leaders and poor without wavering. This should give comfort to all investors in these great institutions. But the past is not always the predictor of future success, and the strength of any great business is to recognize this. In its most recent year-end presentation, Royal Bank produced a pyramid, outlining potential threats to its business with the base of the pyramid listing those challenges most under its control, and at the peak of the pyramid, those factors that it has the least control over.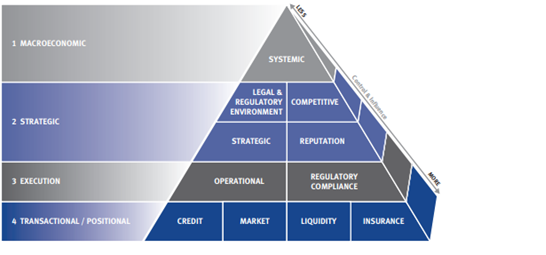 Source: RBC investor presentation
Looking at this pyramid, we see the base comprising transactional and positional factors such as credit quality, market positioning, overall liquidity and insurances that protect the business. In all of these areas, the big Canadian banks have excelled when compared to their peers around the world. No time was this more evident than in 2007-08 during the height of the financial crisis when major international banks were relying on bailouts and other government interventions to survive, but the Canadian banks remained profitable and requiring no government assistance.
In fact their ability to execute their business plans, combined with Canadian regulatory practices, allowed them to preserve and generate sufficient capital to drive expansion. Once markets had stabilized and international banking regulations were standardized, the new set of rules reflected many of the existing Canadian regulatory guidelines, while US and other international banks had to raise significant additional capital. This has led to Canada being recognized by the World Economic Forum as having the Best Banking Systems in the World.
From a strategic standpoint, this positions the Canadian Banks well when they enter foreign markets because their reputation for stability allows them to compete anywhere. This becomes particularly important when we look at the uncertainty being created by restrictive trade policies being implemented by the US administration which are impacting traditional trade relationships around the world. For a bank like TD and RY where their primary international business is in the US, this is less of an issue. For Scotiabank, this becomes more important as it has smaller holdings in the US but significant operations throughout Latin America and Asia where stability is much more important. For Scotiabank, one of its greatest challenges following the rapid expansion will be its ability to execute on its business plan as it tries to incorporate recent acquisitions into its business culture, driving the efficiencies and stability customers expect from Canadian banks.
Perhaps the greatest challenge for the banks and the one least under their control is systemic change. Banks and markets look for certainty and stability. Trade wars, tariffs, and personal attacks on foreign governments are things which markets have not encountered for generations and add uneasiness. This is even more concerning when government starts discussing things like deregulation and how might that look. Personally, I think this should make the steady approach shown by Canadian banks more appealing to business and consumers especially as markets begin to wobble.
Focusing on the highest growth/profitable parts of their business
The Canadian banking system is very stable and profitable. In 2018, the 3 largest Canadian banks produced a similar story line. Record profits, strong shareholder returns and above-average dividend yields that increased between 8% and 11%. In addition, all 3 of the banks enjoy manageable payout ratios (40-60%) and strong CET1 capital ratios (10.5-12%), providing additional room to grow, especially in the case of Royal Bank and TD.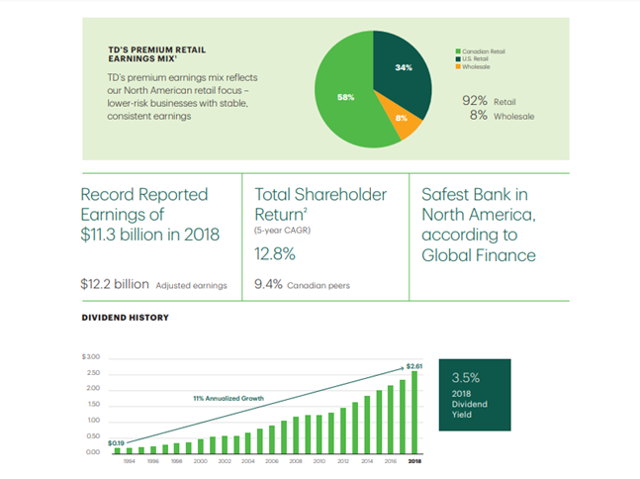 Source: TD Investor Presentation
For the Canadian banks, their foundation is centered on solid Canadian banking operations, providing them stability, and enhanced by foreign operations, providing them growth. With TD, it now has over 1,300 branches in the US vs. 1,150 branches in Canada. However, its 11 million Canadian customers still provide 58% of its earnings. Scotiabank is similar in that approximately 50% of its earnings now come from its International, Global Banking and Markets operations. Despite Canadian operations being more efficient, a higher growth rate will mean that international operations should pass Canadian operations in the not too distant future for the bank as a longer runway of growth opportunities presents itself.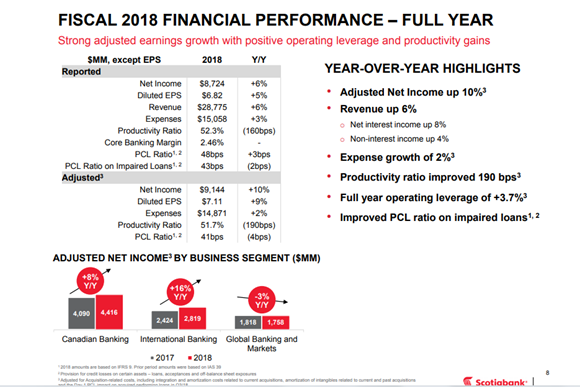 Source: BNS Investor Presentation
Spurring much of this growth was the strong financial position these banks found themselves in following the 2007-08 financial crisis. It is during this period that TD Bank accelerated its US expansion by buying up smaller regional banks along the US east coast to Florida. These banks became attractive when tougher regulatory requirements combined with higher capital needs created opportunities to partner. The same is true of Scotiabank which accumulated more than 20 banking operations in Central and South America in the 5 years following the financial crisis and continuing to this day building a leadership position within the Pacific Alliance Countries of Mexico, Chile, Peru and Colombia. Not to be left behind, Royal completed the acquisition of City National Bank in 2015, giving it a substantial presence in the US, appealing to high new worth clients in California and growing operations on the east coast in cities like New York and Washington. In 2018, 23% of Royal Bank's revenues were in the US and that stands to continue growing.
With a current CET1 ratio of 11.5% for RY vs. its targeted 10.5-11%, the bank is looking for growth opportunities. At 12% for TD, I would look for it to take advantage of opportunities that present themselves as well. That said, both banks have indicated that current prices are high and the banks are more focused on quality and the right opportunity, which may come as uncertainty creeps back into the market. As for Scotiabank, its 10.5% CET1 ratio leaves it less room for expansion, but a greater incentive to focus on integrating after a busy 2018.
Technology is revolutionizing the way we bank
The one strategy all three banks are employing is substantial investments in new technology. Listen to the year-end conference calls and you hear statistics about digital retail sales, adoption rate and in-branch versus online transactions. In Scotiabank's most recent report, it indicated that investment in technology is growing at a 9% rate compared to overall expenses rising by 3%. Royal Bank talks about its Borealis Artificial Intelligence Institute for Research and TD its acquisition of Layer 6, a world renowned artificial intelligence company. All three companies are creating partnerships with major universities and opening data and analytics labs where software developers and fintech start-ups can partner with the banks to advance new technologies.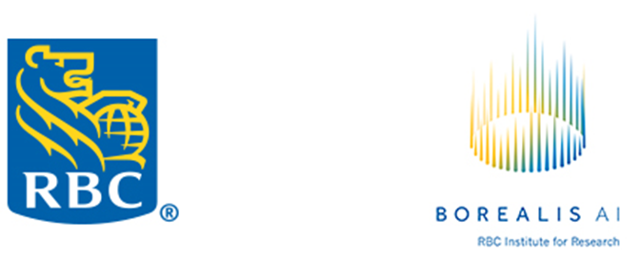 The banks are using new technology and inter-connectivity to drive efficiency at the branch level, reducing their brick-and-mortar presence in favor of greater online relationships. Last year, around 95% of transactions took place outside of the branches, and those figures continue to grow. Today's relationships are being built online, and nowhere is this more evident than international markets. In 2018, BNS watched its number of digitally active users in Mexico, Colombia and Peru grow by 30% compared with high-single digits for the rest of its business. With a significantly younger demographic, in these countries, having a strong online platform is a key advantage.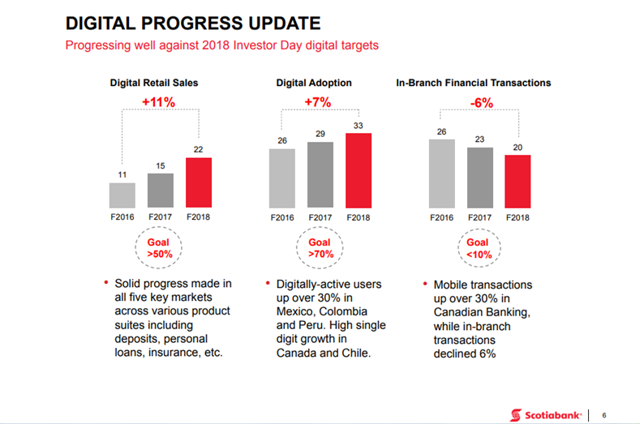 Source: BNS Investor Presentation
In addition, these investments are helping the banks to limit threats. Data protections and cyber-crime threaten all businesses and individuals, as does the threats posed by new fintech companies. By embracing new technologies and welcoming new development, the banks are staying one step ahead of those seeking to challenge them. Trust is one of the greatest strengths the banks have with their customers and something they are investing heavily in technology to protect.
Invest in stability during unstable times
Markets crave stability, and with storm clouds on the horizon, it's understandable that these are very jittery times for many companies and their shareholders. It's during these times that smart investors are looking for one of two things. They are looking for opportunities and they are looking for stability. If you have a long time horizon and are building your portfolio, it makes sense to look for opportunities and companies that are undervalued or are getting pulled down by macroeconomic forces beyond their control. If you are a retiree or someone who depends on your investment income, then you should still be looking for opportunity but also be looking for stability.
There is an investment strategy that says buy the worst-performing Canadian bank in any year and you will generate above-average returns. Currently, the most attractively valued bank of the Big 3 would be Scotiabank with a P/E ratio of 10.5 and dividend yield 4.8%, RY is at 11.4 with a dividend yield of 4.1%, and TD at 11.3 with a dividend yield of 3.7%. The current Dow Industrial average P/E is over 20, and the average for the US banking sector was 13.5 with dividend yields below 3%. That means that the Canadian banks are undervalued compared to US banks and paying a higher dividend yield, making this a good time to buy.
Canadian banks have also proven that they are among the most stable of investments. They have dividend histories stretching back more than 100 years, and they offer a diversified business model connected to every part of our society. They are protected by government regulations that insulate them from risk, yet have the flexibility to look to international markets for growth. They are well capitalized and ready to take advantage of opportunities ahead. They have embraced new technology as a way to protect their business, engage with customers, and grow.
As someone who has been investing in Canadian banks for many years, they provide me the diversification that I want, the income that I need, and help me sleep well at night. If you have a holding in any of the three banks mentioned, I would stay the course; if you don't have a position in the Canadian banks, now is a good time to do so.
Disclosure: I am/we are long RY, TD, BNS. I wrote this article myself, and it expresses my own opinions. I am not receiving compensation for it (other than from Seeking Alpha). I have no business relationship with any company whose stock is mentioned in this article.