There's something more unsettling.
There has been a lot of jawboning in the past few days about a small inversion in the middle reaches of the Treasury yield curve. It appeared on Monday as a single basis point edge of the three-year yield over the five-year. As we pointed out this summer, inversions are notorious harbingers of recessions. But not this particular one.
Not that an inversion should be ignored. It's definitely a wobble. But as a predictor of recession? The three-to-five term spread is not really a bellwether.
No, there's something more worrisome brewing. See the chart below? It's the spread between the Fed funds rate and the 10-year yield.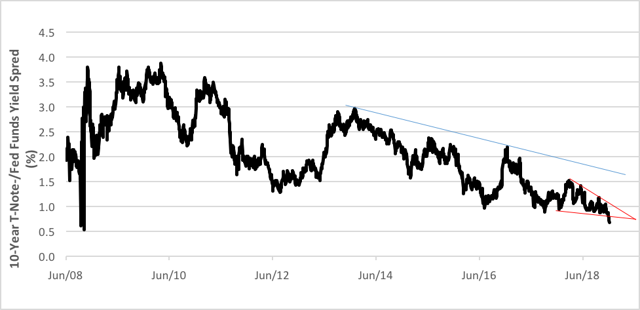 So, what's the trouble? Look at the red wedge on the right. There's been a downside breakout in the term spread from a nearly yearlong congestion pattern. One that has the possibility of sending the spread down to the 25 basis point level. Let that sink in - 25 bps. That's a deep dive. Though not an inversion, it's still troubling. You see, just getting close to inversion sometimes suffices as a signal of an upcoming economic slump.
Federal Reserve economists view a spread of 121 basis points as a tipping point at which the probability of recession arises. The narrower the spread, the greater the odds of economic reversal 12 to 16 months forward, say these worthies. On Thursday, the spread closed at 67 basis points, the lowest level since the 2008 recession and well below the Fed's baseline.
At its present pace, the yield spread is expected to slip to its technical target by mid-2019, meaning we could be in recession by 2020. Worrying as that may be, it's still shaping up to be a milder decline than the 2008 recession, which was heralded by a late-2006 inversion. So far anyway.