By Robert Hughes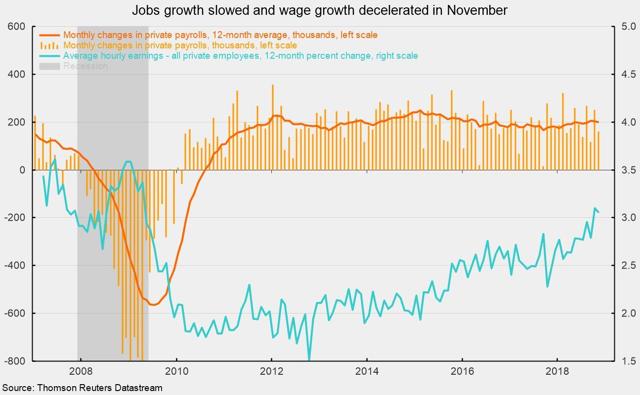 U.S. nonfarm payrolls added 155,000 jobs in November, below the consensus expectation of 200,000. The prior two months were revised downward by a combined 12,000, putting the October gain at 237,000 and the September increase at 119,000. Private payrolls added 161,000 in November following revised gains of 251,000 in October and 117,000 in September.
Monthly payroll estimates tend to be somewhat volatile. Over the three months ending in November, private payrolls added an average of 176,000 per month, while over the prior three-month period, private payrolls added an average of 199,000. However, over the past 12 months, private payrolls have added an average 200,000, the same pace as the 12 months through May 2018 (see chart). Despite the monthly volatility, the trend in job creation has been relatively stable over the past six months or so.
Within the 155,000 gain in jobs, goods-producing industries added 29,000 employees in November, below the average gain of 52,000 over the past year. Durable-goods manufacturing and nondurable-goods manufacturing led with additions of 15,000 and 12,000 jobs, respectively. Mining and logging industries lost 3,000. For private service-producing industries, which typically account for the lion's share of job creation, payrolls added 132,000 workers, led by a 40,000 increase in health care and social-assistance industries. Professional and business services added 32,000, transportation industries gained 25,000, and leisure and hospitality added 15,000 in November. Retail added 18,000 workers after averaging just 2,000 per month over the past year while information services lost 8,000. The public sector shed 6,000 employees.
The unemployment rate was unchanged in November at 3.7 percent as 133,000 people entered into the labor force, holding the participation rate steady in November at 62.9 percent. The participation rate remains well below the 66.0 percent rate that prevailed from 2004 through mid-2008.
Average hourly earnings rose 0.2 percent in November, resulting in a 12-month gain of 3.052 percent, slightly below the 3.098 percent pace in October (see chart again). Gains in average hourly earnings have been below gains in previous cycles. The average length of the workweek decreased by 0.1 hours to 34.4 hours in November. Average weekly hours have been bouncing around between 34.3 and 34.6 hours since 2012.
Combining payrolls with hourly earnings and hours worked, the index of aggregate weekly payrolls rose 0.1 percent in November and is up 4.7 percent from a year ago. This aggregate measure has posted relatively steady year-over-year gains in the 3 to 5 percent range since 2010. In prior business cycles, this measure tended to be more cyclical, hitting growth rates in the 7 to 8 percent range but then collapsing. The slower and relatively steady gains in the current expansion may prove more beneficial as they may help sustain the economic expansion over a longer period compared to the faster, more cyclical gains of previous economic expansions.
Though pressures on prices remain, they are moderate enough that it is unlikely the Federal Open Market Committee will retreat from its path of normalization. At the moment, the likely action by the committee will be to implement a total of four quarter-point rate increases in 2018 (with three already implemented). The 10-year Treasury note yield has already risen to a high of 3.23 percent in early November from less than 1.5 percent in 2016, though the yield has pulled back to about 2.9 percent recently. Rising short-term rates, solid growth, and moderate price pressures are likely to push longer-term rates even higher in coming quarters. Rising federal deficits may exacerbate the upward pressure on bond yields.
The preponderance of economic data suggests continued economic expansion over the coming months and quarters, and increases the probability that the current expansion will remain on track. However, volatility in equity markets, weakness in the housing market, and the high degree of uncertainty regarding trade policy and potential fallout from trade wars remain significant concerns.