Since the beginning of the year 2018, silver has been a severe casualty with prices falling tremendously and is down approximately 13.4% with reference to last Friday's close price of 14.6 as shown in Figure 1.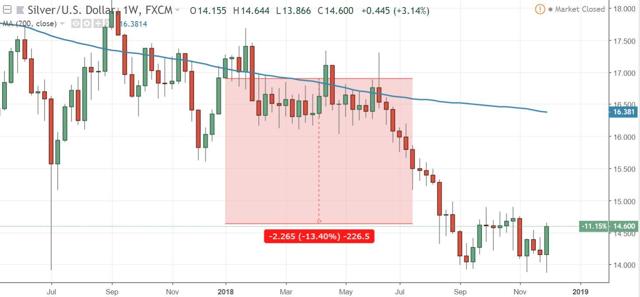 Figure 1
Source: Tradingview Silver/US Dollar Weekly Chart
Silver prices have been battered on the backdrop of a higher US dollar, higher US Treasury yields and Fed rate hikes. The key question one might ponder would be where silver prices will be heading going forward?
A more dovish tone from the Fed
In early October, Fed's chairman Powell mentioned that the Fed was still a long way from neutral and that has sparked off worries among investors that the Fed will continue to carry on more rate hikes moving forward. This has provided a lift for the US dollar and has weighed precious metals. However, just last week, we have witnessed a more dovish tone from the Fed where we saw Powell indicating that the central bank's benchmark interest rate is "just below" neutral. This was an important distinction from the remarks he has made less than two months ago. A more dovish tone from the Fed will presumably lead to limited upside potential for the US dollar coupled with the fact the net speculators are already heavily long US dollar. Furthermore, considering the tailwinds from fiscal stimulus fades, US growth is likely to slow into 2019 and the comeback of twin deficit worries suggest that US dollar currency appreciation will likely to reverse. Hence, given the inverse relationship between the US dollar and precious metals prices. A weaker USD will bode well for precious metals specifically silver bullion moving forward.
Rebound in Indian Rupee should spur jewellery demand
In terms of jewellery demand, India is the top silver consuming countries. A strong surge in crude oil prices and foreign portfolio investors pulling out money from the Indian debt segment have been keeping the Rupee under pressure since the start of the year. However, things have started to turn around over the last few weeks, where we saw a sharp downward reversal in crude oil prices and this has resulted in the rebound in Indian Rupee where it recovered from its all-time low of 74.5 to the current levels of 71.3 as shown in Figure 2.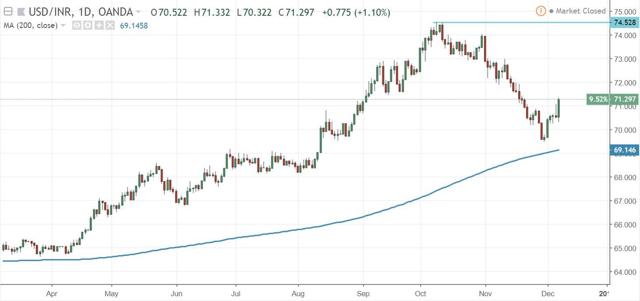 Figure 2
Source: Tradingview OANDA USD/INR Daily Chart
Hence, a combination of a weaker US dollar as mentioned above and a recovery in the Indian Rupee should brighten the demand outlook for silver prices moving ahead.
Gold/Silver Ratio
From a Gold/Silver Ratio perspective, silver at present looks attractive with the ratio currently standing at 86.93 all-time high as shown in Figure 3 below.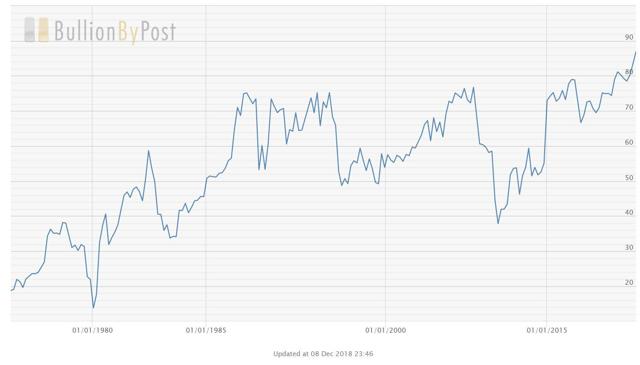 Figure 3
Source: Gold/Silver Ratio Bullion By Post
The ratio between the two metals shows how many ounces of silver it would take to buy one ounce of gold, currently standing at 86.93 all-time high. The all-time low ratio was 13.76 back in the Jan 1980. As the saying goes, what goes up must come down. Hence, the upside potential for the Gold/Silver Ratio seems limited and the bottom line is that the current ratio signals that silver remains significantly undervalued which deserves a second look from investors.
Silver Speculators are heavily net-shorts
At the current juncture, speculative short positions in silver are extremely large. This has only occurred on a number of occasions since the inception of the data notably in 2018 during the period from March to April and August to present periods as shown in Figure 4.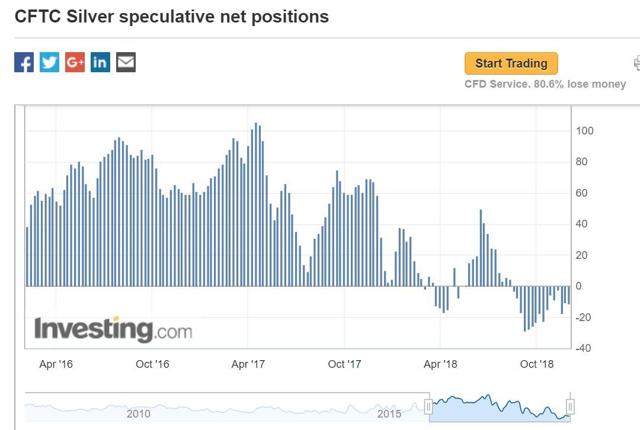 Figure 4
Source: Investing.com CFTC Silver Speculative Net Positions
In addition, with large speculators heavily short silver, there are few speculators left to continue to drive the price down lower. If investors would become more optimistic about the silver price outlook or the return of silver as a safe haven status, they will want to book profits and this will bring a wave of buying which will result in a substantial rally in silver prices. Thus, the upside in silver prices is far greater than the downside at the current moment.
Conclusion
To conclude, at the current juncture, silver is cheap and it deserves a second look from investors as it presents a great buying opportunity for investors at the moment from a Silver/Gold Ratio perspective. The bullish outlook for silver will continue on the backdrop of a more dovish Fed, a weaker US dollar, a rise in jewellery demand as well as the return as a safe haven status as we march into the new year 2019.
Disclosure: I/we have no positions in any stocks mentioned, but may initiate a long position in XAGUSD over the next 72 hours. I wrote this article myself, and it expresses my own opinions. I am not receiving compensation for it (other than from Seeking Alpha). I have no business relationship with any company whose stock is mentioned in this article.