In this article, we examine the significant weekly order flow and market structure developments driving WTI price action.
02-07 December 2018:
As noted in last week's WTI Weekly, the primary expectation for this week was for key support, 49.41s, to hold. Our primary expectation played out as price discovery higher developed early week, achieving the stopping point high, 54.55s, where buyers trapped and rotation lower toward key support developed, achieving a stopping point, 50.01s, as sellers trapped late Thursday ahead of the OPEC announcement. Rotation back through the range developed during Friday to 54.22s, closing at 52.53s.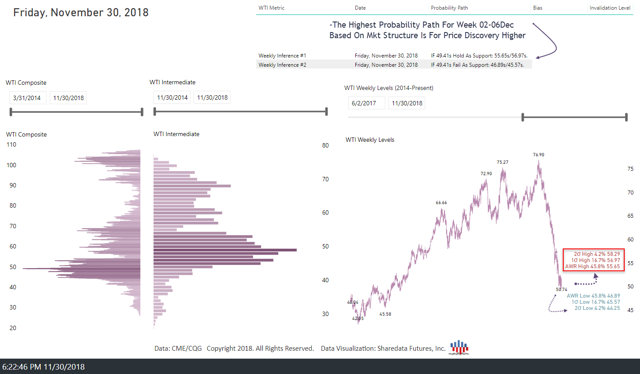 This week's auction saw price discovery higher on Monday as buying interest emerged, 52.08s-52.95s, driving price higher, achieving a stopping point high, 54.55s, early in Tuesday's auction. Buyers trapped there within overhead supply as rotation lower ensued through Tuesday's auction into Wednesday. Selling interest emerged in size, 52.34s/52.08s, driving price lower through the key demand area of early week into Thursday's auction.
Price discovery lower continued in Thursday's auction, achieving a stopping point, 50.01s, following Thursday's EIA release (-7.3mil vs. -900k exp). Sellers trapped in large size, 50.60s/50.40s, near the low into Friday's auction. Price discovery higher ensued as short covering began during Friday's London auction. Price discovery higher developed into Friday's NY auction, achieving a stopping point, 54.22s, amidst OPEC chatter of production cut of 1.2 mbpd. Selling interest emerged there, as rotational trade continued toward 52.50s ahead of Friday's close, settling at 52.53s.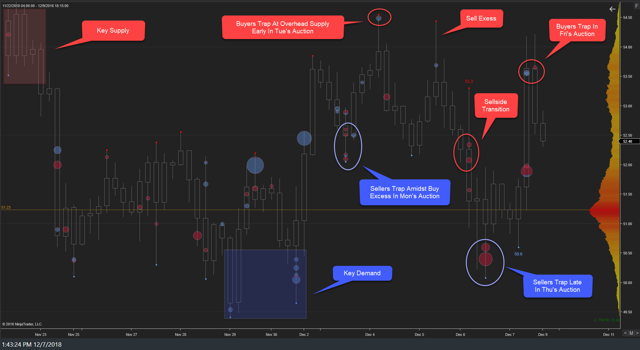 NinjaTrader
As noted last week, this week's primary expectation was for a buy response and potential balance development above key support, 49.41s. This expectation did play out as rotation higher to 54.55s developed early week and balance development ensued thereafter through the EIA and OPEC data releases.
Looking ahead, there is now evidence of a structural stopping point low and subsequent balance development. The two-week development of balance continues to mature. A high-volume node develops (47.5k contracts) at 51.23s. This consensus and the maturation of the balance will result in the next directional phase of inventory adjustment. Given the amplitude of the initial corrective phase from the high (approximately -35% as of this writing) and stopping point low development, the primary expectation remains in a buy-side bias near-term (2-4 weeks).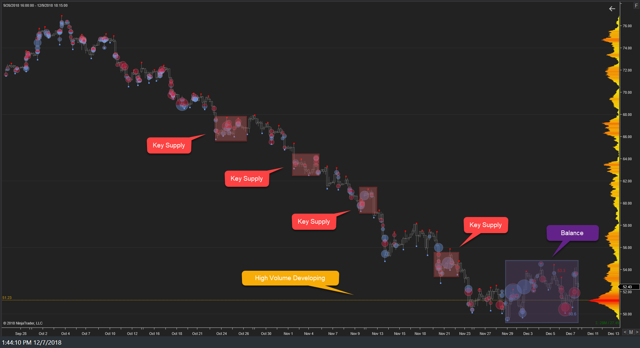 NinjaTrader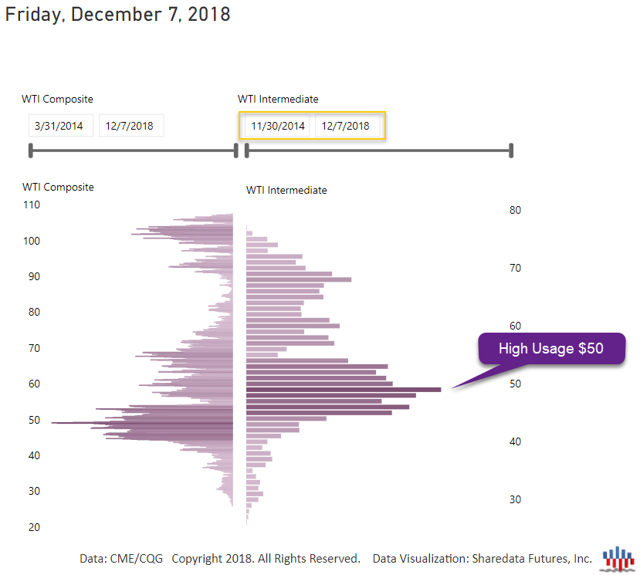 Due to the US holiday on Wednesday, 05 December, this week's CFTC data release is delayed until next week. It is worth noting that based on the Commitments of Traders report, Open Interest (OI) increased modestly (2.9mil contracts) as the deleveraging trend within the WTI market since late August 2018 has paused. Additionally, the Managed Money (MM) net long position which peaked in January 2018 at 495k contracts increased to 155k contracts, the lowest MM net long posture since September 2017. MM short posture declined (-77k contracts). The MM short posture trend higher has paused now in confluence with MM long posture decline also pausing. Without increasing MM long posture and substantially higher MM short posture, the market will struggle to develop a structural low. The market now trades into the period where seasonal lows are developed. Though the intermediate term context remains sell-side, there is the potential for support to develop around the long-term high usage area, $50/bbl, based on the market generated data.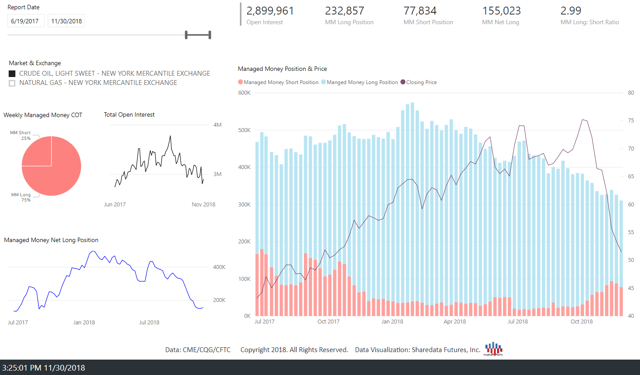 The market structure, order flow, and leveraged capital posture provide the empirical evidence needed to observe where asymmetric opportunity resides.