Packaged foods companies have not had it easy in 2018.
The sector (PBJ) has under-performed the broad equities benchmark (SPY) by about 310 bps, after having trailed the index during a more bullish 2017 by a sizable 19 percentage points. But with the market having recently shown signs that the fourth quarter correction might be here to stay, I figured I should do a bit more homework on this defensive sector. Amid the carnage, PBJ has remained nearly flat since October 1st, while the S&P 500 has already lost 10% of its market value.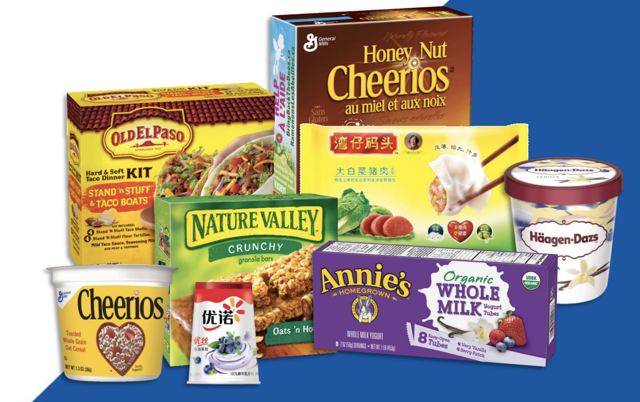 Credit: Simply Safe Dividends
So this past week, I decided to dig a bit deeper into the financials of five key companies in the consumer packaged food industry (see the full list below, under the "Final considerations on the stock" heading). For a few specific reasons, General Mills (GIS), a company that I have been hopeful about (and disappointed with) for the past several months, crossed my radar once again as an interesting name to consider.
What I like about it
In one simple word: dividends.
Those who value a strong track record of dividend payments might appreciate the fact that General Mills has been issuing them without interruption for 120 years, according to the company. The disbursements have been growing at a modest but healthy annual pace of 6% since 2012, although at only 2% (i.e. roughly in line with the inflation rate in the U.S.) since last year. With GIS now worth $38/share, the lowest since 2012, the stock yields a very enticing 5.1% today ($0.49 in quarterly dividends). The yield is better than virtually any other player in the sector, and on par with peer Kraft Heinz (KHC).
Of course, dividends alone are usually not enough to do the trick. They need to be sustainable in order to support the bullish case on the stock. Although dividend coverage is usually measured as a function of earnings, I prefer to look at free cash flow generation to assess the robustness of a company's dividend distribution policy.
In that regard, and even through a period of struggling sales and contracting margins, General Mills has been able to fully support both dividend and interest payments (i.e. returns to shareholders and bondholders) with cash produced from operations while already taking into account capital expenditures of nearly $160 million per quarter on average. In the most recent quarter, despite the extra debt servicing cost associated with the $8 billion acquisition of Blue Buffalo, FCF covered dividend and interest combined at a factor of 1.2x -- not necessarily awe-inspiring, but also not overly concerning, given all the headwinds that the company has been facing recently with pricing and cost pressures.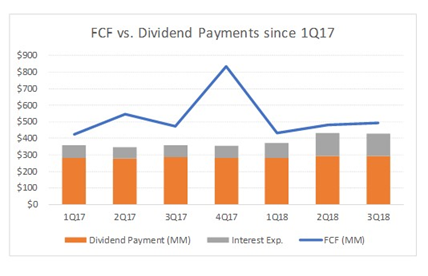 Source: DM Martins Research, using data from company reports
The near-term future might not look so bright for General Mills, as the company continues to work out the kinks of its restructuring process. Organic sales growth is still hovering around flat, while gross margins have yet to find a firm floor.
But I was encouraged to see, in fiscal 1Q19, that General Mills seems to have left behind the worst of its tough years. Key product categories, including yogurt, meals and baking, are on the brink of seeing modest top-line growth again, albeit over unimpressive comps. And the acquisition of Blue Buffalo, while helping to shoot net debt-to-asset levels to nearly 50% last quarter (vs. only 42% in the prior year, see graph below), should contribute with about $1.5 billion in inorganic revenue growth in the post-acquisition year, along with a bit of extra help on the earnings and cash flow front.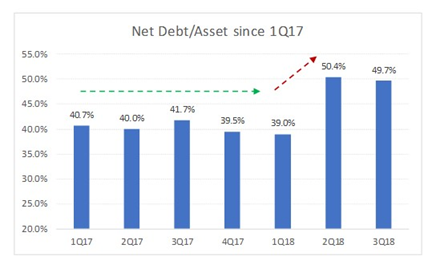 Source: DM Martins Research, using data from company reports
Final considerations on the stock
I understand that holding GIS over the past couple of years have been frustrating. The stock has lost nearly half of its market value since the start of calendar 2Q16, precisely during a period when the bull marched forward and produced outstanding results for U.S. stocks in general.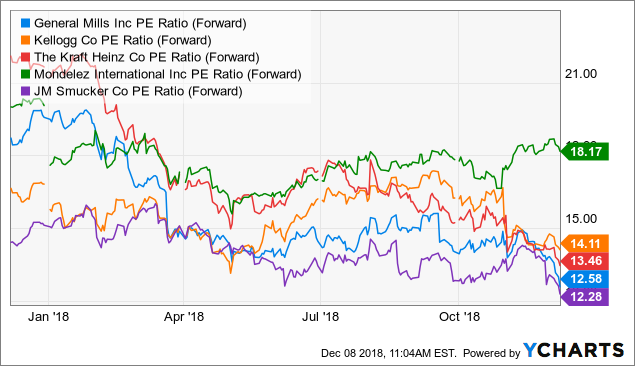 | | | | |
| --- | --- | --- | --- |
| Company/Ticker | Forward P/E | Forward PEG | Price/Book |
| General Mills - GIS | 12.6x | 2.1x | 3.7x |
| Kellogg (K) | 14.1x | 2.8x | 6.9x |
| Kraft Heinz (KHC) | 13.5x | 2.2x | 0.9x |
| Mondelez (MDLZ) | 18.2x | 2.0x | 2.5x |
| J.M. Smucker (SJM) | 12.3x | 3.1x | 1.4x |
But investing is all about looking forward, not backward. While I can not conceivably make a strong bull argument for GIS on the basis of robust growth, given the mature nature of the packaged foods industry, I see a good case here for income investors, or those who might be satisfied "dripping" the 5%-plus yield over a long period of time -- maybe even boosting the annual returns closer to 10% through a covered call-writing strategy.
Being careful not to sound overly optimistic, I believe GIS might make sense to many investors at current levels, most likely within the context of a diversified and slightly more defensive portfolio.
Note from the author: This article is part of a recent study that I have done on the U.S. packaged foods sector. I have shared all my data in an Excel spreadsheet, along with additional thoughts on the stocks, with my Storm-Resistant Growth group. To access all the premium material and dig deeper into how I have built a risk-diversified portfolio designed and back-tested to generate market-like returns with lower risk, join the Storm-Resistant Growth community. Take advantage of the 14-day free trial, read all the content written to date and participate in the discussions.
Disclosure: I am/we are long GIS. I wrote this article myself, and it expresses my own opinions. I am not receiving compensation for it (other than from Seeking Alpha). I have no business relationship with any company whose stock is mentioned in this article.