Summary
We initially purchased a small number of shares of Chico's FAS (CHS) earlier this year for our portfolio. We felt that their unique and loyal customer base of older women would insulate them during the industry transition to omnichannel retail. The retail industry has always been brutal for companies that make fashion and merchandising mistakes. This is exactly what happened to Chico's when they reported third-quarter earnings last week. This stock is rightfully down significantly given the bad news. We just purchased more shares of Chico's below $5 per share and will look to take profits if the stock moves back above $7 per share. Overall with the recent investment, we are overweight this stock compared to where we would like to be, but this position is a small percentage of our portfolio. We think investors who believe that management can course correct the Chico's brand can consider buying the stock at current levels. Our original projections were for Chico's to be a $10 stock in 2019, but with this huge miss on expectations, Chico's has fallen at least a year behind in the turnaround plan. We will look to rightsize our position into strength and watch out for signs of further deterioration in the business.

Source: Chicos
Financial Strength
Chico's business has not done well over the past few years as sales have declined significantly leading to minuscule profits for shareholders. We still have a long way to go until the business becomes as profitable as it once was. In the meantime, investors can benefit from their strong balance sheet and shareholder-friendly dividend and stock buyback policy. Chico's has approximately $225 million in cash on the balance sheet, which is a lot for a company with a $700-800 million market capitalization. This works out to around $1.8 per share based on 125 million shares outstanding. Chico's has also generated free cash flow of at least $100 million per year for the last 8 years. Chico's also just raised their quarterly dividend to 8.5 cents per share which on an annual basis is a 5.9% yield based on an average purchase price of $6 per share. With the shrinking share count, investors can expect to see the dividend increase if the business improves. Today investors get paid a very strong dividend to wait for a turnaround in the business for those willing to take the risk.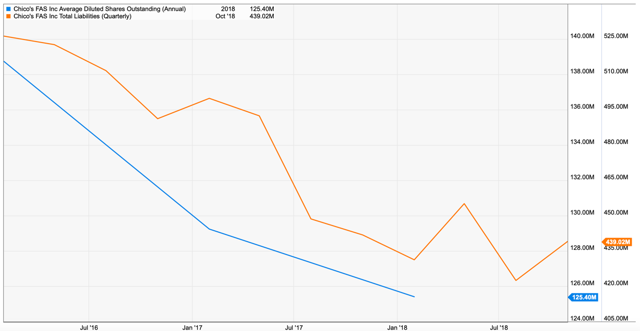 Source: YCHARTS
Omnichannel transition
Chico's third-quarter earnings made it clear that the company needs to build out their multi-channel capabilities. with their brick and mortar business clearly at its peak, sales growth stabilization needs to come from their investments in selling more frequently on Amazon, with Shoprunner, and on QVC. The CFO of Chico's, Todd Vogensen, mentioned a few times on the call that the cost of fulfilling orders is beginning to show up in SG&A expense although multi-channel sales are still immaterial for the company. We are concerned that Chico's does not have the infrastructure to handle large volumes of online orders without shipping costs eating away at profits. When online sales and shipments from stores or distribution centers become a material part of the business will it require millions in capital expenditures? We all remember the billions of dollars that Amazon (NASDAQ:AMZN) spent on their distribution capabilities. The transition to omnichannel will be a big part of the story for the coming years and depending on the costs and quality of execution investors could be rewarded greatly or see even more capital destroyed.
Chico's shouldn't focus on younger customers
After researching the most recent conference call and earnings report, we are not entirely convinced that Chico's tried to abandon their existing customers the way others have written. We believe that it was clearly a mistake in regards to style and merchandising. Although since the topic has been brought up a lot recently, it's worth noting how we view Chico's and the millennial generation. The Atlantic and the Washington Post have written extensively about the different buying habits of millennials compared to prior generations like baby boomers, and we encourage retail investors to read some of the articles to learn more. The "Fast Fashion" model has been in decline for years as millennials tend to purchase clothing less frequently and try to spend ethically whenever possible. It is also no secret that clothing is one of the largest contributors to climate change.
So does that mean that millennials don't buy clothes? No, millennials tend to purchase clothing from companies that demonstrate sustainable practices. And again, this is a secular trend - not all millennials are the same. In practice, this means that when millennials do buy clothes they tend to spend more on items that last longer and buy less frequently. This is one of the reasons why Chico's should stick with their customer base; older customers tend to believe that they need a new outfit for each event of the year. And frequent purchases of clothing is the business model that Chico's is in. Chico's could consider starting or acquiring a new brand for younger customers as long as they build it with the understanding that the younger customer base has completely different preferences and should not be treated as a younger version of baby boomers.
Conclusion
In order to better our purchase price we just purchased more shares of Chico's below $5 per share and will look to take profits on some of our shares if the stock moves back to $7 per share. The business is in decline and has not yet shown signs of turning around. We are long the stock given our belief that the customer base is loyal, but we do not want to build a considerably larger position in this company until we see a turnaround in the business.
Disclosure: I am/we are long CHS. I wrote this article myself, and it expresses my own opinions. I am not receiving compensation for it (other than from Seeking Alpha). I have no business relationship with any company whose stock is mentioned in this article.