Co-produced with Preferred Stock Trader for High Dividend Opportunities.
With the recent market correction, the preferred stock space has seen a large pullback. This pullback has been aggravated by fears of rising interest rates. Note however that the Federal Reserve Chairman Mr. Powell just signaled last week that interest rates are nearly back to "normal" - meaning that there is not going to be many interest rate hikes going forward. I believe that 2019 will be the last year that the Fed will be able to hike rates again. Therefore the recent pullback in the Preferred Stock space has created a buying opportunity, and we have been taking advantage.
Part of our service we provide to our investors includes the search and identification of mispriced Preferred Stocks (not only in the absolute, but also compared to other Preferred Stocks), and we have just identified a new one. This preferred stock that we are recommending today is issued by a Private Equity Company ARES Management Corporation (NYSE:NYSE:ARES). The Preferred Stock is Ares Management LP 7% Non Cum Pfd Registered Series A (NYSE:ARES.PA) or ARES-A. Why is ARES-A opportunistic? Because the issuing company ARES has just decided to convert from an L.P. status to a C-Corp Status, and stopped issuing K-1 tax forms. Instead, it will issue going forward 1099 tax forms, and it seems that the markets have not factored this into the price of ARES-A. Also importantly, the dividend will become a qualified dividend. ARES-A trades today at $25.57/share. It goes ex-dividend this week on Friday December 14 and will pay a dividend of $0.4375 /share. So in effect, ARES-A is trading very close to its Par Value and therefore the yield is close to its stated yield of 7%. In this article, we compare ARES-A to similar Preferred stocks, and we conclude that the conservative fair value for ARES-A is at $26.50 or 3.6% higher from here.
Overview of ARES Management Corporation
ARES Management Corporation (NYSE:ARES) is primarily a Global Private Equity company (or financial company) with a mix of businesses in the United States, Europe, and Asia. This is a leading global alternative asset manager that manages $125 billion in total assets under management. They manage capital across three distinct but complementary investment segments: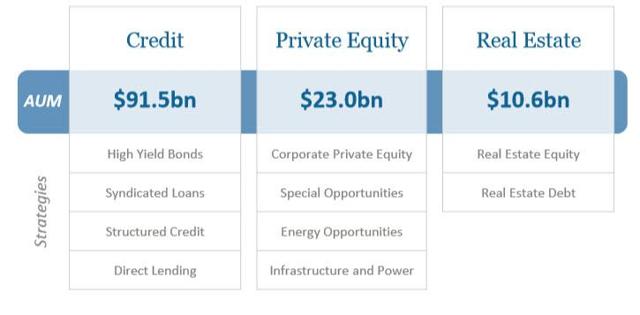 Its Direct Lending Group segment provides financing solutions to small-to-medium sized companies. The company's Private Equity Group segment focuses on majority or shared-control investments primarily in under-capitalized companies. Its Real Estate Group segment invests in new developments and the repositioning of assets, with a focus on control or majority-control investments; and originates and invests in a range of self-originated financing opportunities for middle-market owners and operators of commercial real estate. Basically ARES operates a business model similar to the Blackstone Group (BX), Apollo Global Management (APO) and the KKR Group (KKR).
ARES 'Price Return' Chart Since Its IPO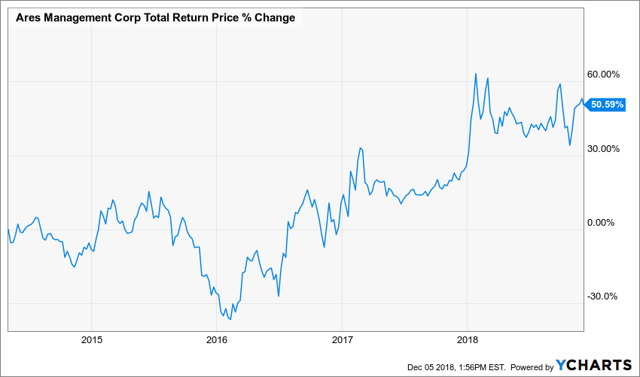 Above is ARES "price return" chart since coming public in early 2014. As can be seen, it has been a very stable stock. The only hiccup came in early 2016, but anything yield-related collapsed in price during that period, so this decline had nothing to do with ARES performance. Since its IPO, ARES has returned over 50% in price and dividends to its shareholders.
Important News Event
Recently, on November 26th, ARES made an announcement (Ares Management, L.P. Completes Corporate Conversion and is Renamed Ares Management Corporation) that it has completed its conversion to a corporate structure and has changed its name from ARES Management L.P. to ARES Management Corporation. What this means for investors is that ARES will now issue 1099s rather than K-1s and that their dividends will now be classified as "qualified dividends" which will mean a much lower tax rate on common and preferred dividends paid out by ARES.
ARES Preferred "A" Stock (Symbol ARES-A)
ARES-A IPO'd in June of 2016 with a par value of $25
It pays an annual non-cumulative "qualified" dividend of $1.75 or 7% at par.
ARES-A closed at a price of $25.57 on December 4th, 2018.
ARES-A carries close to a 7% "qualified" stripped yield with a 6.7% "yield to call".
It is callable on June 30th, 2021.
ARES-A is an investment grade preferred stock rated BBB- by S&P.
Dividends are paid quarterly, around the middle of March, June, September and December with the next ex-dividend date being very soon on December 14th.
Apollo Global Management (APO) and KKR & Company (KKR) are 2 similar companies to ARES. ARES does carry more leverage than APO and KKR, but that is accounted for in their credit rating with KKR and APO carrying S&P ratings of BBB+ while ARES carries a BBB- rating, 2 notches lower.
Why We Believe ARES is a Great Bargain
We did a screening of all preferred stocks meeting the following criteria:
Companies that pay a "qualified dividend".
Companies with credit ratings of BB, BB+ or BBB- by Standards & Poors ('S&P').
Not past their call date (so yield-to-call can be computed).
Yield to call (YTC) of less than 7.75%, primarily to eliminate the preferred stocks of troubled SCE (Southern California Edison) which still carry an old BBB- rating and would greatly skew our chart. ARES-A still has a higher yield than the troubled SCE preferred stocks.
Below are the results of our screening: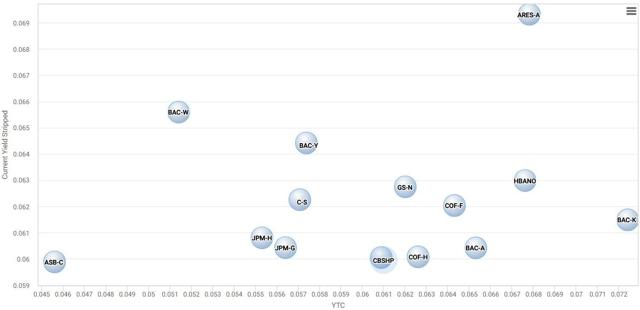 Source: Author
This chart really surprised us as to how superior ARES-A is in all ways relative to other "qualified dividend" paying preferred stocks. It is striking that ARES-A not only has a stripped current yield that is well above other preferred stocks, but that its yield-to-call is also one of the best. Only Bank America Corporation Preferred K Stock BAC-K has a better yield-to-call but its credit rating is a notch below that of ARES-A ,with a BB+ credit rating, and BAC-K also has a significantly lower current yield. So BAC-K is clearly inferior.
What surprised us most is that many of the stocks in the screening have credit ratings that are 2 notches below that of ARES-A (BB versus BBB- for ARES-A), yet ARES-A has much better yield metrics than these inferior preferred stocks. That is just plain illogical. The preferred stocks that have credit ratings that are 2 notches below ARES-A are the preferred stocks of Goldman Sachs (GS), Associated Banc-Corp (ASB), Webster Financial Corporation (WBS), Capital One Financial Corporation (COF), Huntington Bancshares (HBANO), and BB&T Corporation (BBT). Bank of America Corporation (BAC) preferreds and Citigroup (C) preferred S carry credit ratings one notch below ARES-A at BB+.
There are not a lot of REIT preferred stocks that are rated, but we found that in the BB+ to BBB- range, there are the Digital Reality (DLR) and National Retail Properties (NNN) preferred stocks. The chart below shows even more starkly just what a huge difference in yield there is between ARES-A and equivalently rated REIT preferred stocks.

Source: Author and Quantumonline
The chart above shows what a huge advantage ARES-A has over these similarly rated REIT preferred stocks in terms of "Pre-Tax Equivalent Yields". For taxable accounts, ARES-A is clearly the superior preferred stock to own among all of its peers.
In our research, we could find no investment grade fixed-income security (qualified or non-qualified) that is competitive with the after-tax yield metrics of ARES-A and that includes non-investment grade securities rated BB+.
ARES-A Fair Value Price
According to our screening (see above bubble chart), aside from ARES-A, JP Morgan Preferred H (JPM-H) looks like the best of the qualified dividend paying BBB- preferred stocks. It carries a stripped yield of 6.12% and a YTC of 5.80%. We believe that today, ARES-A should trade at $26.50 which equates to a 6.70% current yield, still quite a bit higher than JMP-H (and higher than its lower rated peers), but with a lower yield to call of 5.09%. We think that this is a fairly conservative price given that the current stripped price of ARES-A is $25.19 (current price less accrued dividends) which means that the YTC may not be very relevant since ARES-A may not be called on its call date.
If ARES-A traded today at its conservative $26.50 fair value, its pre-tax equivalent yield would still be around 8.10% versus non-qualified dividend paying preferred stocks like DLR and NNN which yield only around 6.2%. At $26.50, the yield on ARES-A is still much better than any other preferred stock in its credit rating class.
Additionally, for those concerned that Standards & Poors has over-rated ARES-A with a BBB- rating, the charts above demonstrably shows that ARES-A would be quite undervalued and a strong buy even if it was downgraded to a rating of BB+ or even BB.
Do note that once ARES-A goes ex-dividend this week, with its price dropping accordingly, our fair value price and target price should be adjusted lower by the amount of the dividend.
Excellent Entry Point
ARES-A has traded down from over $27.00 on September 1st to its current stripped price of $25.19.
Lately 10 year treasury rates have fallen significantly from 3.25% to 2.92% and ARES-A, as well as other preferred stocks, have yet to rally.
ARES-A goes ex-dividend very soon on December 14th.
The announcement finalizing the conversion to a corporate structure, the elimination of K-1s, and the fact dividends will now be classified as "qualified" has been very recent and the market appears to have not yet made the adjustment. We had to notify Quantumonline to update their database for the change (which they just now did) and Yahoo Finance still calls ARES an L.P. rather than a corporation.
Target Price
Our target price is the same as our conservative fair value price, $26.50.This target price should be adjusted lower by $0.4375 (the amount of the ARES-A dividend), once ARES-A goes ex-dividend and drops in price accordingly. At that price, its yield would still be much superior to its "qualified dividend" paying preferred stock peers, as well as REIT preferred stocks with similar ratings. Additionally, ARES-A traded as high as $27.16 not much more than 3 months ago, and this was before ARES-A started paying qualified dividends and finalized its conversion to a corporate structure, so a $26.50 target does not seem at all beyond reach.
Summary and Conclusions
ARES very recently finalized a conversion from an L.P. structure to a corporate structure, meaning no more K-1s, but more importantly its dividends are now classified as "qualified" for the 15% tax rate making their dividends much more valuable.
It seems the market has not yet taken this major event into consideration in the pricing of ARES-A. Thus, ARES-A is now an extremely undervalued preferred stock, as it has a significantly higher yield than its peers with the same investment grade BBB- S&P credit rating, and ARES-A even has a significantly higher yield than non-investment grade preferred stocks with BB ratings, 2 notches below BBB-.
At a price of $25.57 (stripped price of $25.19), ARES-A offers a 7% "qualified dividend" or the after-tax equivalent of an 8.5% yielding bond, REIT preferred stock, or other fixed-income security which does not pay a qualified dividend (using a 30% marginal tax rate). In our research, we could find no other investment grade (or even BB+ rated) fixed-income security that has an after-tax yield approaching that of ARES-A.
Given the yields of the peers of ARES-A, we believe a conservative fair value price for ARES-A is $26.50. It would be higher except the yield-to-call would be problematic at a higher price. However, ARES-A traded at a price of $27.16 not much more than 3 months ago, and this was before the dividends of ARES-A became "qualified", so we may be overly conservative with our price target.
We believe the market will wake up to the change in the taxation of the dividends and the gross undervaluation of ARES-A, so this buying opportunity may be short lived.
ARES-A goes ex-dividend this coming Friday on December 14th.
If you invest in high yield preferred stocks and other income stocks and liked this article, please click "Follow" next to my name at the top of this article to receive our our latest research updates.
Note: This article was published to subscribers of High Dividend Opportunities who get a first look at all of our reports.