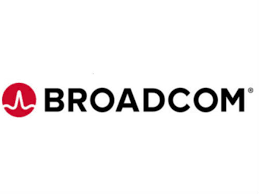 Taken from the company's website
I believe that Broadcom (AVGO) currently presents the best setup of growth versus value in the semiconductor sector. Specifically, my high conviction investment thesis in Broadcom is based on three success pillars. The first pillar is revenue growth, accompanied by a significant rise in free cash flow. The second pillar is shareholder friendliness, or how Broadcom treats its shareholders well. The third pillar, as in with every investment, is the current compelling valuation of shares following the takeover announcement of CA Technologies. Recently, Broadcom released an outstanding quarterly earnings report that greatly supports my investment thesis in the stock.
Perfect Metrics
In its most recent quarter, Broadcom generated net revenues in the amount of $5.85 billion, up 18 percent compared to the same quarter last year. The company's growth is well balanced between its different divisions. Wireless generated $1.69 billion in revenues, down 5.4 percent year over year but up 31 percent quarter over quarter. The strong rise sequentially is attributed to higher volumes from Apple (AAPL).
Wired Infrastructure recorded $2.2 billion in revenues, up 2.9 percent compared to the same quarter last year, supported by a recovery in broadband spend. Enterprise Storage recorded revenues of $1.26 billion, up 1 percent quarter over quarter, mainly attributed to higher level of spend by the IT sector.
Broadcom exhibits exceptional efficiency. In the past quarter, the company recorded an operating margin of 52.5 percent, way above the company's long term guide of 47.5 percent. By acquiring new technologies and streamlining them into its existing platform, the path to ongoing efficiency is almost guaranteed. And Broadcom will continue to execute in that aspect for years to come.
Shareholder Friendly
But Broadcom doesn't only grow revenues and margins. It also generates free cash flow at a rapid clip. In the most recent quarter, Broadcom generated free cash flow of $2.5 billion, or 42 percent of net revenue. That's a highly remarkable revenue conversion rate.
Management isn't sitting idle on that pile of cash. It is putting it to good use, which basically means – creating shareholder value by accretive M&A activity, high dividends and a commitment to buy back massive amounts of share. In its most recent update, Broadcom disclosed that it had bought 6.4 million shares during the past quarter, with total investment of $1.53 billion – and that's just in the past quarter alone.
During the most recent fiscal year, Broadcom has invested a total of $7.2 billion in repurchasing its own shares. In addition, management has given its shareholders a nice early Christmas present by raising the dividend by 51 percent to $10.6 per share. Only a cash cow like Broadcom can grow its dividend at a such a rate without stretching its balance sheet.
What The Market Is Missing
Down 11 percent in 2018, Mr. Market is obviously not too thrilled about the company's prospects. I believe that the most obvious reason for the uninspiring annual share performance versus business performance is attributed to a miscommunicated takeover of CA Technologies. Specifically, investors were not too happy with the idea of a semi company purchasing a software company like CA. They thought that this recent diversification is very bad for business.
The recent earnings announcement should calm investors. Contrary to the original takeover announcement, this time around - management communicated a very clear message regarding the pending acquisition of CA Technologies. Specifically, management has explained the strategic rationale behind the deal and mentioned that it is accretive in its own right. In addition, it is likely to open doors in the future into the broader enterprise space where Broadcom's data center solutions will play a significant role.
And it shows in the numbers. The most important sought after information during the recent conference call was the impact of CA on Broadcom. Management stated that the annual run- rate of revenues from CA is estimated at $3.5 billion a year. However, the big news was the cost cutting program.
You see, previous operating cost base at CA stood at $2.4 billion, while Broadcom's management stated that they could bring this cost base down to $900 million only. This translates into operating profits of $2.5 billion from CA, which is roughly 14 percent return on the initial purchase price of CA which stood at $18.4 billion. Now that's what I call a high quality M&A deal.
Valuation Is A Screaming "BUY"
You see, due to current headwinds from the trade war with China and the miscommunicated takeover of CA, Broadcom is trading at a lowly ten times next year's earnings. This is a very low valuation compared to the average earnings multiple of the sector as a whole, as expressed in the ISHARES PHLX Semiconductor ETF (SOXX), which currently trades at a forward multiple of 16 times earnings.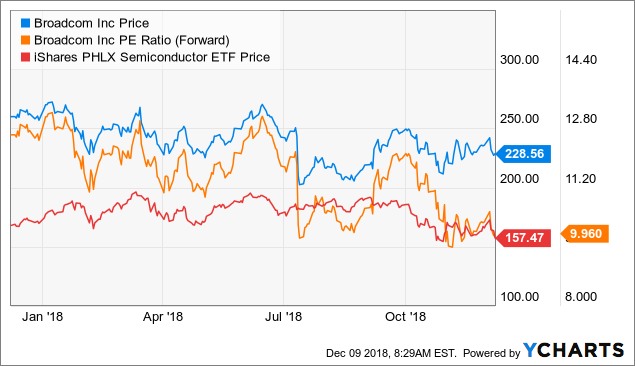 This represents one of the lowest valuations in the company's history. Especially notable is the contrast between the gradual rise in revenues and earnings (white and green line, respectively) versus the recent sharp decline in valuation (brown line). This is precisely the setup that I like the most.
Risks
There are two main risks in this investment – a business risk and a macro risk. The business risk will materialize if Broadcom is unable to successfully unlock value from its recent purchase of CA Technologies. The second risk will materialize if the trade war continues to escalate, which will cause pressure on the semi sector as a whole and on Broadcom in specific.
My Bottom Line
Broadcom is a leading company in the semiconductor sector. It gushes cash flow, grows revenue and earnings at a rapid pace and treats its shareholders very well. Shares are trading at a great price due to the turmoil surrounding the acquisition of CA Technologies and the ongoing trade war. Considering the growth prospects versus current valuation, Broadcom is probably the best semi stock in the world.
Author's note: If you enjoyed this article and would like to read more from me, you can hit the "Follow" button to get informed about new articles. I am always glad to see new followers!
Disclosure: I am/we are long AVGO. I wrote this article myself, and it expresses my own opinions. I am not receiving compensation for it (other than from Seeking Alpha). I have no business relationship with any company whose stock is mentioned in this article.