The S&P 500 (SPY) had one of its worst weeks in December in the last 70 years.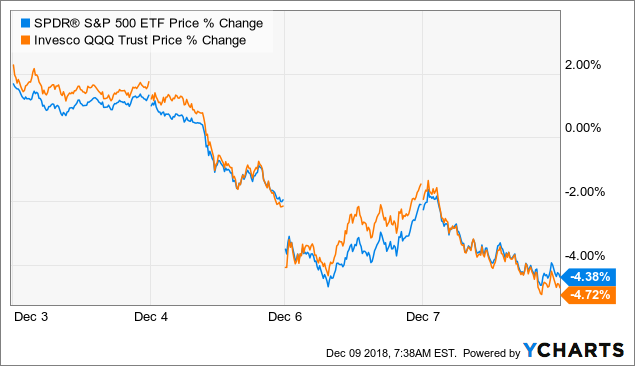 While the Trump-Xi dinner went as planned, the rally proved to be a big head fake and the selloff deepened, putting all indices heavily into the red.
What ails the market
It has been a long time since washout sentiment, bad breadth readings have not resulted in a more sustainable rally in the markets. We have had very large moves both up and down and the fear is truly palpable. Even the reintroduction of the "Fed Put" with Powell suggesting that rates are close to neutral, did nothing for the markets.
At the fundamental level, the trade war is still ongoing, despite Trump's recent assurances that a deal will be struck soon. The arrest of Huawei's CFO was big step backward for the current negotiations.
New York (CNN Business)The arrest of a top Huawei executive has roiled the business world and threatens to derail the tenuous trade truce between the United States and China.

Meng Wanzhou, the Chinese tech company's chief financial officer, was detained in Vancouver on Saturday at the request of US authorities.

She's accused by the United States of helping Huawei cover up violations of sanctions on Iran, according to Canadian prosecutors. Huawei exec's arrest opens a new front in the US-China trade war. US lawmakers are condemning Huawei, which they say poses a national security threat to the United States. Chinese officials have called for Meng's release. An op-ed in the Chinese tabloid Global Times said the United States is just trying to stifle Huawei because it's a business competitor.

Experts are warning that what happens with Weng's case could have huge implications for the broader US-China relationship.
This is now escalating even beyond the US-China fight with China threatening severe consequences for Canada should they extradite Weng.
Zero success so far for Trump
Trump's complaints have been far and wide on China but at the heart of the matter is the extremely large trade deficit with the US. Trump has proudly proclaimed himself as "Tariff-Man" and in the past claimed that trade wars as extremely easy to win when you have a trade deficit with a country.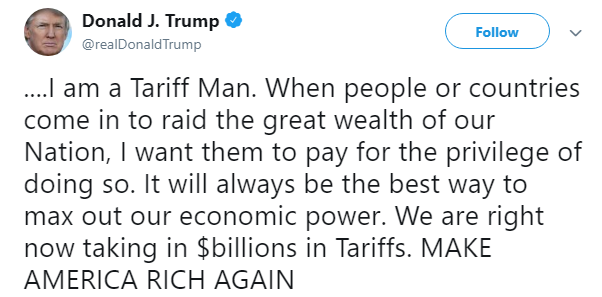 Source: Twitter
It turns out that they are NOT that easy to win. China was able to more than offset that trade pressures and the US-China trade deficit exploded to a new high.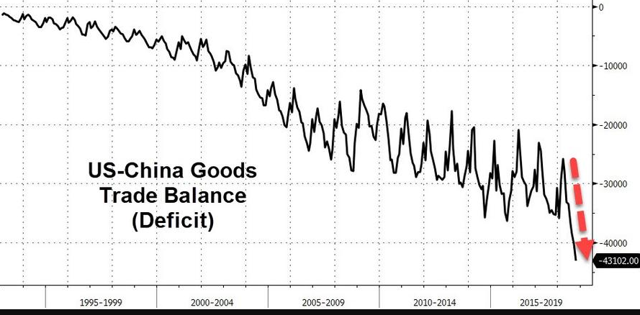 Source: Zerohedge
They were able to do this by reducing US imports at an annualized 25% clip.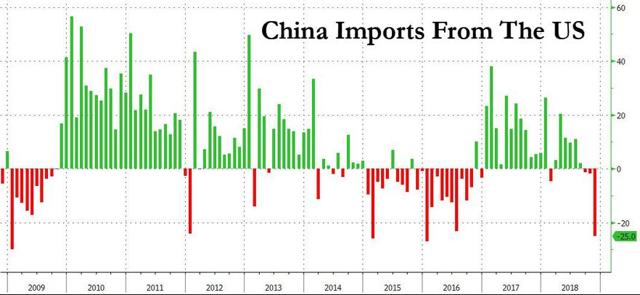 Source: Zerohedge
What has also happened is that companies fearing more tariffs on China's goods in the new year have decided to buy before such a move and thus exacerbated the move in the trade deficit. This creates a fundamental problem for Trump as declaring this as a "win" is going to be really hard.
Trump also has another problem with stepping up the escalation. The Chinese Yuan can be used to offset some of the pressures by weakening the currency.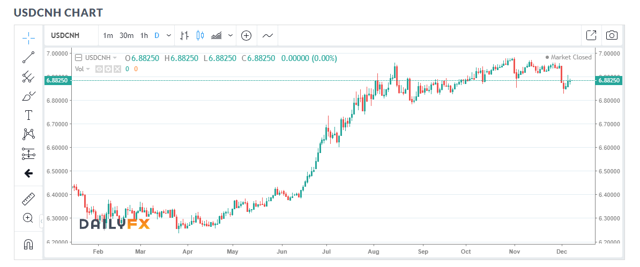 Source: DailyFx
In US dollar terms, the 10% tariffs on China have been completely offset by the Yuan weakness. On the hand, China's tariffs on US goods have had a big impact, because in Chinese Yuan terms, US goods have become significantly more expensive due to currency weakness adding to tariffs.
What this means for investing
2018 has had a massive tax tailwind which is now dissipating. The trade pressures along extremely weak housing are likely to bite heavily in Q1-2019, unless we reverse course soon. The market is losing patience with this and it needs to get resolved soon.
At the same time, Trump benchmarks his performance pretty much straight from the stock market. After cheering the performance during 2017 and early 2018, the stock market has become a violent rollercoaster that no one can take credit for. The recent fluctuations have actually got the President's attention at a whole new level.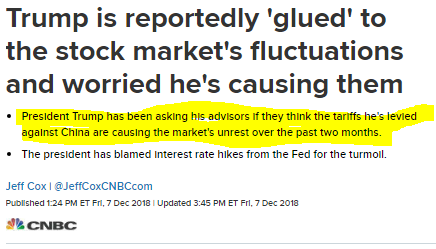 While investors are capitulating in droves, we need Trump to say "No Mas" and wave the white flag. At this point we think we are close to the point where Trump gets religion and looks to finalize matters. He already has some China concession on intellectual property issues. Couple more violent 5% moves intraday, with perhaps a touch flash crashiness will get him on board.
Conclusion
Sentiment is set up for a great rally and the stock market breadth has moved to washout levels.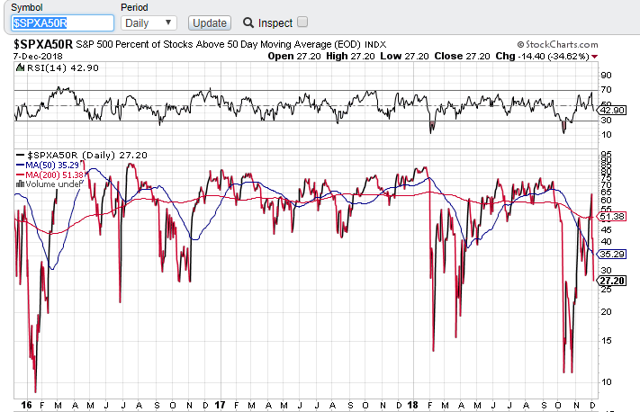 Source: Stockcharts
However trade impacts are spreading fast across emerging and developed markets alike and a hard reversal is the only way to avoid a catastrophe. We think we will get that hard reversal, soon, but a little more violence in intraday moves might be needed before that happens.
For more analysis such as this, along with real-time alerts on income stocks on both sides of the border along with option income ideas, please consider subscribing to our marketplace service, Wheel of Fortune.

The Wheel of FORTUNE is one of SA Marketplace's most comprehensive services. You can now subscribe to it while taking advantage of our year-end bargain, which includes significant discounts, mega prizes, and a two-week free trial.
Disclaimer: Please note that this is not financial advice. Investors are expected to do their own due diligence and consult with a professional who knows their objectives and constraints.