It has been a long time in coming, but things are finally looking up for gold. After a drawn-out bottoming process over the last four months, the gold price is climbing out the basement in stair-step fashion. Today we'll review the key signs which confirm gold's intermediate-term (3-9 month) turnaround process is still underway.
A weak stock market, coupled with a below-consensus U.S. employment report, gave gold a boost late last week. The growing prospects that the Federal Reserve will be forced to drastically slow the pace of its interest rate increases, if not halt them altogether, have increased gold's appeal of late. After gaining some 2% last week, gold saw its best weekly performance in almost nine months.
While gold's bear market is still technically underway – the gold price remains below one of its most technically important benchmarks, the 200-day moving average – a turnaround of intermediate-term proportions continues to gain traction. Gold confirmed an interim bear market in April when it broke under this psychologically significant trend line, but the bottoming process has been underway since August. What's more, gold is within striking distance of the 200-day MA as can be seen in the graph below. A weekly close above this key trend line would all but confirm that the bears have lost control of the intermediate-term trend (just as they lost control over the short-term trend in October).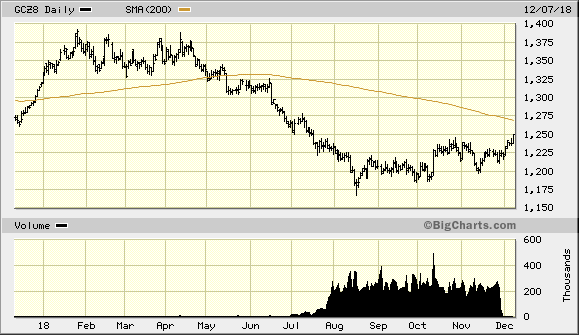 Source: BigCharts
It's worth noting that gold has already recovered around 7 percent of the losses it suffered this year between its January high and its August low. This is also the first time in nearly a year that gold has shown gains on a 3-month basis and represents an important first step in the turnaround process.
One of the factors which has helped increase gold's appeal is the loss of momentum in the U.S. stock market. The broad equity market as measured by the popular Dow Jones Industrial Average (DJIA) has given back all its gains for 2018 as of early December. After more than two months of underperformance in stocks, investors have begun turning their collective attention to the neglected safe havens of Treasury bonds and precious metals.
The positive correlation between rising T-bond prices and a strengthening gold price has been well established in recent years, and the last couple of weeks have proven this link to be still intact. Shown below is a chart of the iShares 20+ Year Treasury Bond ETF (TLT), which reflects the recent rally in long-dated government bonds. Note that the rally in TLT since early November has coincided with gold's recent pickup in demand. Uncertainties over the global economic outlook have given investors pause to consider a flight to safety as the risk-on approach to investing has been temporarily shelved.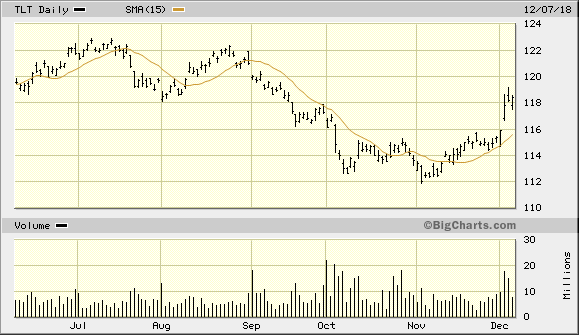 Source: BigCharts
The positive aspect to the latest bond market turnaround is that while bond prices have risen, yields have declined precipitously. This means that gold, a non-yielding asset, has less competition from higher bond yields. And while one of the most popular safe-haven assets – the Japanese yen currency – is showing signs of bottoming, it hasn't begun to rally yet. Shown here for illustration is the Invesco CurrencyShares Japanese Yen Trust (FXY), my favorite yen proxy. While FXY recently confirmed an immediate-term bottom per the rules of my trading discipline (by closing two days higher above its 15-day moving average), its price line has remained subdued since October. This lack of a yen rally is actually helping gold since it means the metal has even less competition for flight capital.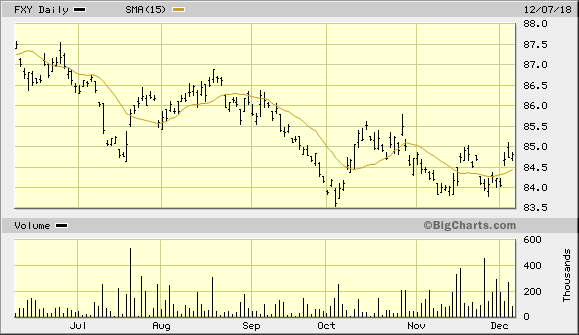 Source: BigCharts
While we're on the subject of currencies, we can't ignore the single most important factor for gold's intermediate-term health. I'm referring of course to the U.S. dollar index (DXY), which forms the basis of gold's currency component. I've argued in this report for several weeks that until DXY breaks decisively under its 15-day moving average, and especially its 50-day MA, gold would remain vulnerable to news-driven volatility and would likely remain stuck in a wide, but sideways, trading range. Now that DXY has at least closed under its 15-day MA on a weekly basis, gold has finally enough strength to push slightly above its 4-month trading range ceiling.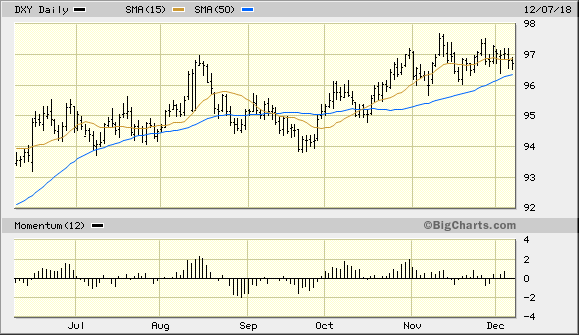 Source: BigCharts
However, it will be difficult for gold to gain a head of steam and continue to rally in a sustained fashion unless the dollar shows even more weakness. Specifically, the dollar index should break below its psychologically significant 50-day moving average as shown by the blue line in the above graph. A move below this widely-watched trend line in DXY would put a lot of upside pressure on the gold price and would no doubt result in a run on the stops for the gold bears. There is still a significant amount of short interest in the gold market, and when the dollar finally closes under the 50-day MA, the fuse will finally be lit on what should be an explosive rally for the gold price.
Let's now turn our attention to my favorite gold-tracking fund, the iShares Gold Trust (IAU). IAU still remains on a buy signal and is still in strong hands as evidenced by its strong performance in the last three weeks. After jumping above its 15-day and 50-day moving averages on a weekly closing basis in late November, the gold ETF has never looked back and has made impressive strides ever since then. I've emphasized in recent reports that a close above the late Oct. 26 high of $11.92 would confirm a trading range breakout for IAU and would likely result in some additional short-covering. This level was broken on the upside on a weekly basis as of Dec. 7 (see chart below). The next few days will be an important test of IAU's strength, but I expect to see some additional upside follow-through as the month progresses.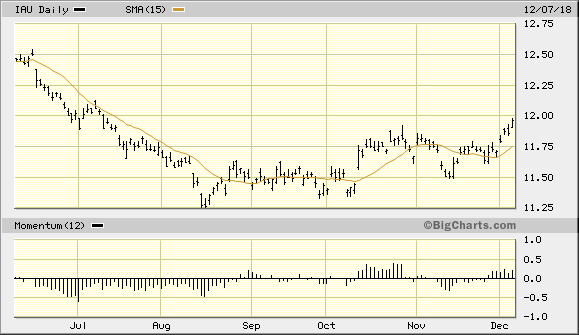 Source: BigCharts
Meanwhile, I recommend raising the stop-loss for this trading position to the $11.50 level on an intraday basis. IAU has clearly established a stair-stepping pattern of higher lows, which suggests that the ETF is laying the groundwork to eventually reverse its April-August decline.
While the intermediate-term outlook for gold is looking brighter by the week, patience is still in order. For now, investors should continue to walk slowly and expect a continuation of the lateral range in the gold price until the dollar index drops sharply. In the meantime, traders can remain long the gold ETF mentioned above, while long-term investors should hold off on initiating new long positions in gold until the dollar shows greater weakness.