The proposed merger between T-Mobile (TMUS) and Sprint (S) is one of the most contentious deals of 2018. There is a robust bull/bear debate regarding whether the deal will receive regulatory approval. Proponents of the deal advocate that if T-Mobile and Sprint merge, they will have the capital and spectrum needed to successfully launch a nationwide 5G network and compete on an equal footing with AT&T and Verizon. However, prior attempts to merge T-Mobile/Sprint/AT&T have been opposed by regulators. The market has pinned the odds of the merger succeeding at 50% or less. While I agree with the merits of the deal, I also tend to agree with the market that the deal is at best a 50/50 outcome. In this article, I will provide a detailed assessment of both sides of the for/against debate. At the end of the article, I will outline a few different strategies investors can employ to invest given the different outcomes.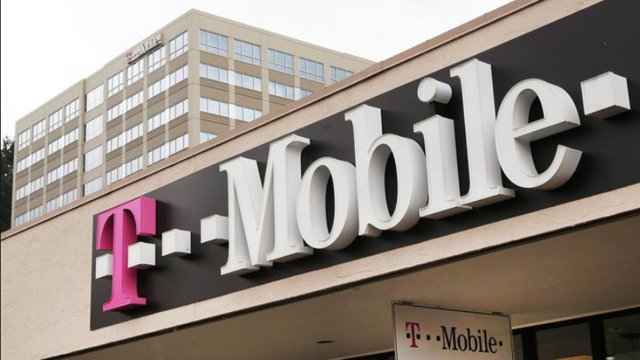 The Merger Makes Financial and Strategic Sense for T-Mobile/Sprint
On April 29th, T-Mobile (TMUS) and Sprint (S) announced an all-stock merger. Under the agreement, each Sprint shareholder would receive 1 T-Mobile share for every 9.75 shares of Sprint owned. This implied a $6.62 share price or a 1.8% premium to Sprint's prior closing share price at the time the deal was announced.
The new company will retain the T-Mobile name and existing T-Mobile CEO John Legere will remain CEO of the combined company. The majority shareholder of both companies, Deutsche Telekom and SoftBank (OTCPK:SFTBY), will roll over their equity stakes into the new company. Public shareholders will own the remaining 30.9% of the company.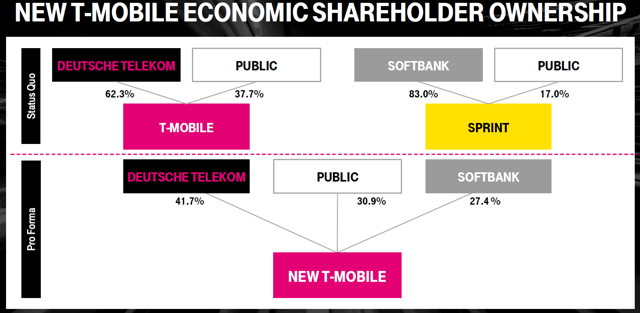 Source: T-Mobile M&A Presentation April 29, 2018.
From a shareholder perspective, the merits of the deal are solid. The deal is being sold as the best hope for the US to get a competitive market for 5G service. Telecom is a business where competitive advantage comes from economies of scale and spectrum. T-Mobile and Sprint argue that without a merger, the two carriers simply do not have the economies of scale or spectrum to deploy a 5G network. I believe the facts back them up on this claim; however, that's not necessarily the determining factor that would result in regulatory approval.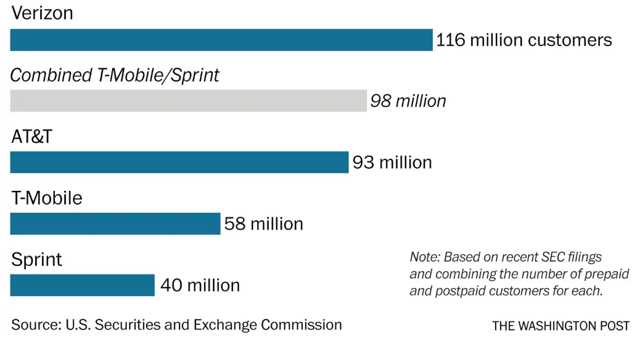 Source: The Washington Post.
As it currently stands, T-Mobile is the third-largest US wireless carrier with 58 million customers. Sprint is a distant fourth with 40 million. However, the two combined would overtake AT&T to become the nation's second-largest carrier by wireless customers. This is a game changer for the entire industry. For years T-Mobile has marketed itself as the "uncarrier" and has taken market share by discounting prices. Consumer advocates (and the DoJ) worry that a combined T-Mobile/Sprint could firm up pricing because the company would no longer need to aggressively take share to gain economies of scale.
As already mentioned multiple times, economies of scale is crucial in this industry. T-Mobile believes it can achieve $6 billion in annual cost synergies. The company stated that 93% of the projected synergies would come from operating expenses (fixed overhead, retail store consolidation, reduced advertising spend, and more) while the remaining 7% would be capex synergies.
However, it would take 3-4 years to achieve all these synergies. The first challenge is that only half of current Sprint customers have handsets compatible with the T-Mobile network; therefore, Sprint customers using CDMA technology would need to be migrated to VoLTE. Second, mobile phone plans are complicated, often containing multi-year provisions and warranties. It will take time to fully transition mobile phone plans and the staff supporting those plans. Finally, there would need to be significant network capital investments. The company estimates that an incremental $10 billion of capex would need to be invested in the network to support current customers under a shared infrastructure.
The last important advantage relating to economies of scale is balance sheet strength. T-Mobile has a strong balance sheet. TMUS is net levered 2.6x and has an investment grade credit rating of BB+. Sprint, on the other hand, is net levered 2.5x but has a junk tier credit rating of B. T-Mobile's bonds currently yield around 5.5% while Sprint's yield closer to 7.25%. A 175-basis point spread on tens of billions in bonds really adds up. T-Mobile projected the combined company would be net levered at 2.9x immediately after closing the deal but projected that the company could de-lever below 2.0x net leverage within 4 years. The combined company could achieve significantly lower borrowing rates given the additional asset coverage and cash flows.
A strong balance sheet will be extremely important in the coming years. Significant capital will be needed to make the upgrade to 5G. Furthermore, mmWave spectrum auctions are ongoing. Additional spectrum is critical to securing a future in next-generation wireless network technologies and it will not come cheap.
Speaking of spectrum, T-Mobile and Sprint independently do not have adequate spectrum to launch a nationwide 5G network. Sprint has the right mid-band spectrum while T-Mobile has the right low-band and mmW spectrum. The two spectrum portfolios complement each other well, providing strong strategic rationale for the merger. It would be exceedingly expensive for either of the two to acquire the missing spectrum needed.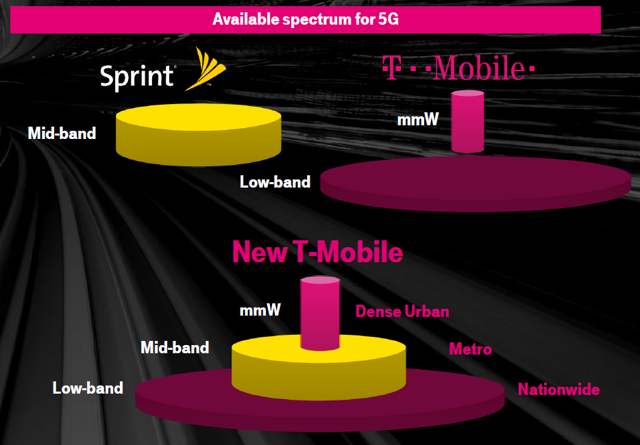 Source: T-Mobile M&A Presentation April 29, 2018.
Arguments Against the Deal Receiving Regulatory Approval
In my opinion, the strongest argument that the currently proposed T-Mobile/Sprint deal will not receive regulatory approval is that numerous iterations of this/similar deals have been blocked. Back in 2011, Obama's DoJ blocked a merger between T-Mobile and AT&T (NYSE:T) on anti-trust concerns. In 2014, the FCC signaled concern over a potential merger between T-Mobile and Sprint which ultimately killed the deal before it was formally agreed upon.
In 2014, Sprint/T-Mobile argued privately that a merger was needed because of how hard it was to compete against Verizon (VZ) and AT&T. Former FCC Chairman Wheeler expressed skepticism that an industry consolidation from 4 to 3 would be beneficial for the consumers.
The current argument from Sprint/T-Mobile is somewhat derivative of the 2014 argument regarding difficulty to compete vs. Verizon and AT&T. However, the new spin to the argument is that the upgrade to 5G will not be viable for the two carriers as they are currently situated. Therefore, if they are not allowed to merge, they will not be competitive with AT&T and Verizon in the coming years due to a network disadvantage.
What makes this argument hard to swallow is that despite not consummating mergers in 2011 or 2014, T-Mobile has thrived. From 2011 to the end of 2017, T-Mobile's total customer count has more than doubled from 33.2 million to 72.6 million. T-Mobile has achieved that growth through discounting wireless plans. T-Mobile's postpaid ARPU declined from $57.56 in 2011 to $46.97 in 2017. In other words, US wireless consumers benefited from an independent T-Mobile, validating the DoJ's arguments.
The other key argument for why the current T-Mobile/Sprint deal will be blocked has to be due to foreign ownership. In the Trump era, foreign ownership over US technology and telecom assets has faced significant scrutiny. A recent example is the ire over Huawei and ZTE telecom equipment. Furthermore, several proposed M&A deals have been rejected on foreign ownership grounds.
As noted earlier, the majority shareholder of both T-Mobile and Sprint are foreign entities. A majority foreign ownership would continue to be the case after the deal is closed. It is safe to say that CIFIUS will take a close look at this deal. Some argue that this deal will receive CIFIUS approval because it actually dilutes the foreign ownership. The reality is that foreign ownership is another wild card element and we simply do not know exactly how it will be viewed by regulators.
An unsettling development for the merger is the killing of Jamal Khashoggi and SoftBank's ties to the Saudi Royal family. Fortunately, Sprint is not one of the investments in the SoftBank Vision Fund, but the connection alone could draw unwanted political attention.
Arguments For the Deal Receiving Regulatory Approval
The key argument for the deal comes down to competitive dynamics and the prospect of having a third carrier with a 5G network. Without rehashing what I wrote earlier, I agree with T-Mobile's competitiveness arguments regarding 5G. The New York Post reported in August that the FCC and DoJ may also be sympathetic to this argument. This provides a glimmer of hope but is really just a rumor at this point.
The other key argument being made by T-Mobile/Sprint is that the competitive landscape has widened due to the convergence of media and telecom. I previously described this phenomena of media/telecom convergence as it relates to my bull thesis on Verizon. To summarize, cable TV, cable internet, wireless carriers, and media companies are becoming vertically integrated to provide differentiated consumer offerings and benefit from cost synergies. T-Mobile argues that as a result of this trend, it now also competes with Comcast (NASDAQ:CMCSA) and Charter (NASDAQ:CHTR). In fact, Comcast added more wireless phone subscribers last year than AT&T. Therefore, regulators should view the competitive dynamics of this merger with a different lens than they viewed prior deals.
To make this deal more politically acceptable, T-Mobile/Sprint claim that the merger would create jobs and result in up to $40 billion in new network investments in the first 3 years. The company also pledges to keep both headquarters offices open after the deal.
Finally, part of the bet T-Mobile and Sprint are making is that the deal has a better shot of getting approved within the context of the pro-business Trump administration. It was the Obama-era FCC/DoJ that rejected prior wireless mergers. Some see Trump-appointed Ajit Pai as being much more amiable towards megadeals such as the one being proposed.
What are the Odds?
Market participants and Wall Street analysts view the likelihood of this deal being approved at or below 50%. The below survey from Citi Research shows a 36% likelihood of the merger being approved.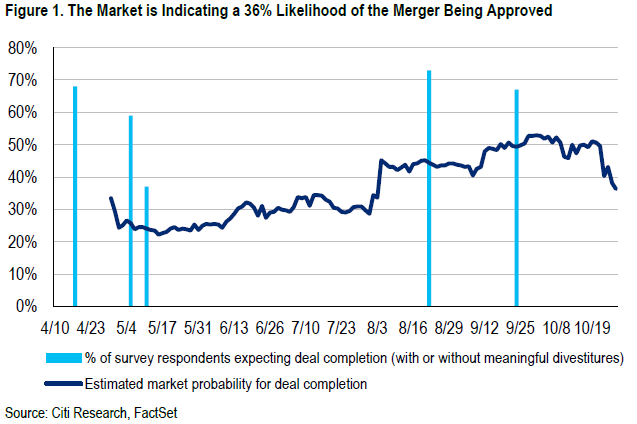 The current deal price for Sprint implied by taking T-Mobile's most recent share price of $65.69 (at time of writing) and applying the equity consideration ratio of 0.10256 is $6.74. Sprint's share price is $6.01. This implies a 12% deal spread. Given that there is no financing risk (all-stock deal) and no risk of shareholders voting against the deal, a 12% spread is quite wide and implies that the market doesn't see a high likelihood of regulatory approval.
When it comes to handicapping the odds of a deal, I tend to agree with what the market is saying. In this case, I also agree that the deal has at best a 50/50 chance of approval. While I find the 5G competition argument compelling, the regulatory track record in blocking very similar deals is somewhat damming. Given that there is no break-up fee (unlike the AT&T/T-Mobile proposal), it appears that T-Mobile also doesn't have a high degree of confidence in approval.
Ways to Invest
For investors interested in expressing a position in this situation, there are essentially 3 ways to invest.
Merger Arbitrage
For those interested in betting on the likelihood of the deal getting approved (and this truly is a speculative bet), one could go long Sprint and go short T-Mobile with the appropriate deal ratio: 9.75 shares of S for every share of TMUS.
If the deal is approved, the 12% spread will narrow. However, if the deal is not approved, the two stocks would likely move against you and you could suffer a fairly large loss.
Based on the probability of the deal closing, I would not recommend this strategy.
Long Sprint or T-Mobile
I believe this merger would be a very good move for the combined company if it gets approved. New T-Mobile would be able to compete on an equal footing with AT&T and Verizon and would benefit from significant cost synergies.
If the deal gets approved, you can buy the new T-Mobile stock at a discount by owning Sprint. When the deal closes your shares will be converted into new TMUS shares. If the deal does not close, Sprint shares will likely fall; however, I don't think they would fall very much because the market already puts low odds on the deal closing. Furthermore, as a standalone investment, Sprint is attractive. Sprint trades for just 4.4x forward EV/EBITDA, this compares to Verizon at 7.2x and AT&T at 6.5x. I would caution investors that Sprint is a higher risk investment due to its inferior balance sheet.
Investing in T-Mobile stock is a safer way to play the merger for the long term. If the deal gets approved, T-Mobile would benefit from the financial and strategic synergies. If the deal is rejected, T-Mobile is still a well-run wireless carrier that is taking market share. T-Mobile trades for 6.4x forward EV/EBITDA, making it more expensive than S but cheaper than T and VZ.
Reader Note: This is a continuation in my series covering the telecom industry. You can read my analysis on AT&T here. You can read my analysis on Verizon here.
Disclosure: I am/we are long VZ. I wrote this article myself, and it expresses my own opinions. I am not receiving compensation for it (other than from Seeking Alpha). I have no business relationship with any company whose stock is mentioned in this article.