Prudential Financial (PRU) recently held its annual investor outlook call and, in my opinion, there was a lot to like about what management had to say. Not only did management project for Prudential to have a strong 2019 but they also announced a meaningful addition to the insurer's buyback program ($2B).
PRU shares have not performed well so far in 2018, so the positive takeaways from the investor outlook call should be welcomed news.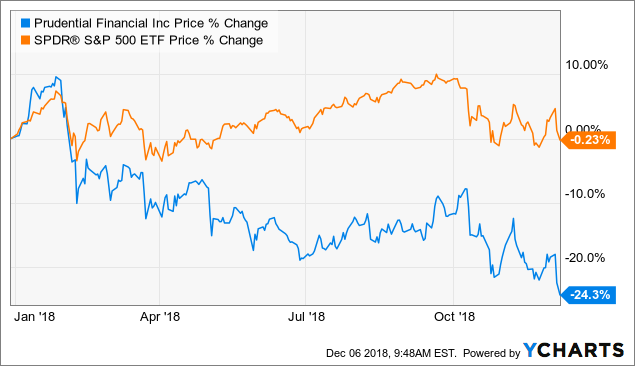 With shares down almost 25%, I believe that Prudential is worth a look, of course, if you are willing (and able) to hold onto the position for at least the next two to three years.
A Strong(ish) 2019
During the 2019 investor outlook meeting, management guided for Prudential to earn $12.50 to $13.00 per share next year.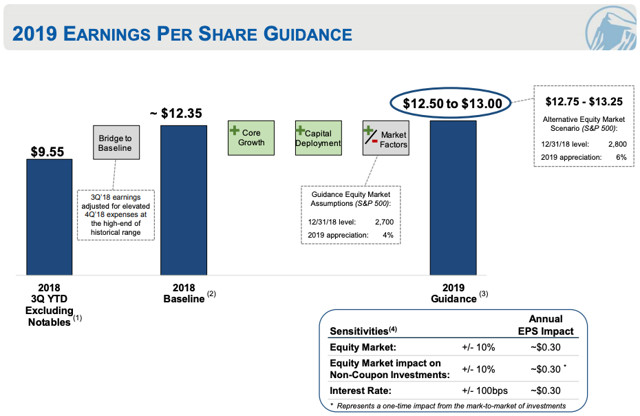 Source: 2019 Financial Outlook Conference Call Presentation
The guidance was strong almost across the board, as management guided for a double-digit adjusted ROE number in 2019, in addition to a free cash flow ratio in the mid-60% range. Additionally, the board authorized $2B to be added to the buyback program (represents approximately 5% of the total market cap).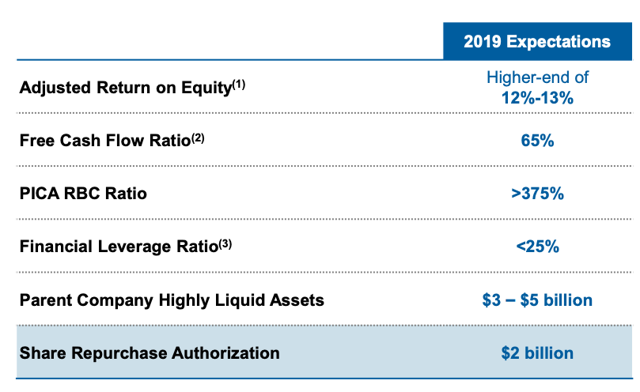 Source: 2019 Financial Outlook Conference Call Presentation
An above-10% adjusted ROE is impressive, but more importantly, Prudential's businesses appear to be well-positioned for 2019 and beyond.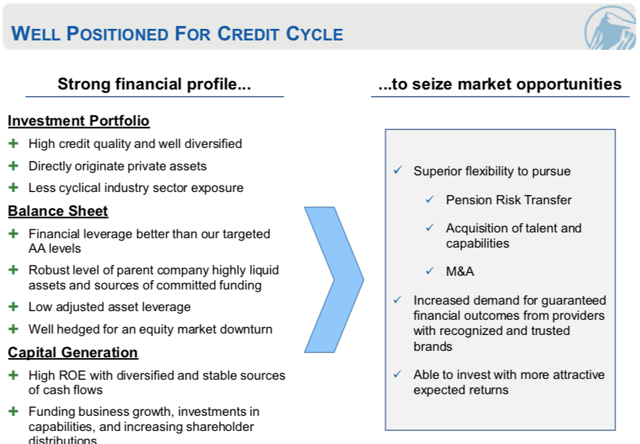 Source: 2019 Financial Outlook Conference Call Presentation
The insurer's diversified business should benefit from several tailwinds if the economy continues to improve, but even without an improving backdrop, management has levers to pull. For example, the company's PGIM division should be able to leverage the large amount of assets under management (over $1T) if difficult times come over the next few quarters.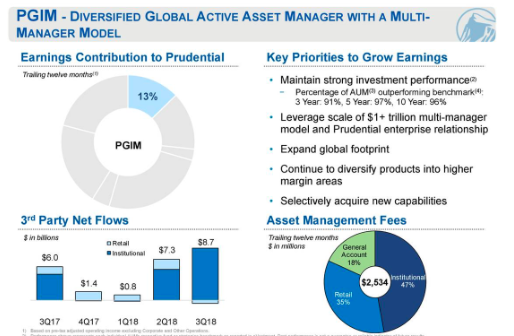 Source: Q3 2018 Earnings Presentation
Looking back, Prudential's Q3 2018 results were nothing to brag about (missed the consensus earnings per share estimate by $0.01), but the company's PGIM division reported record unaffiliated third-party net inflows of $8.7B during the three months ended September 30, 2018.
Additionally, it is important to note that this global insurer has been able to report strong results over the last five years, even with the last few quarterly results not being anything to write home about.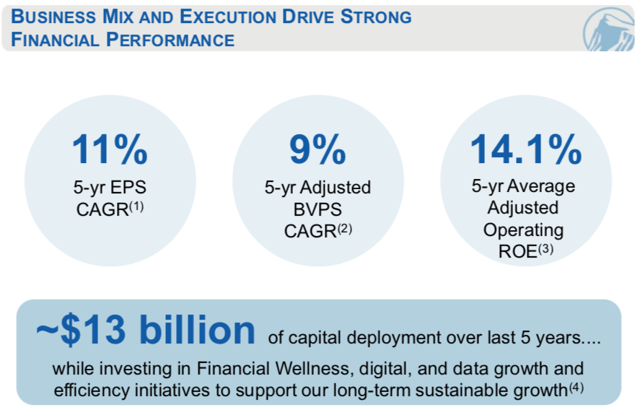 Source: 2019 Financial Outlook Conference Call Presentation
The main takeaway from Prudential's 2019 investor outlook call, in my mind, was that this large, diversified global insurer appears to be well-positioned for the next 12 months. Not every division is performing well in today's environment but the insurer's main growth drivers appear to be firing on all cylinders. Yes, management has a lot to prove in 2019 but the stock will likely trade well above $100 per share if the insurer is able to achieve the financial targets that were provided during the call. It also helps the bull case that PRU shares are trading at an attractive valuation.
Valuation
PRU shares are trading at a steep discount to its peers.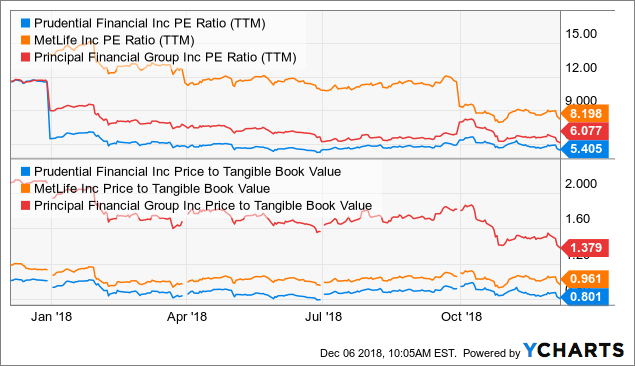 PRU shares are dirt cheap at today's price. I do not believe that Prudential's stock will trade above 10x earnings in the near future, but in my opinion, the risk is currently to the upside.
Let's also not forget that the government recently rescinded Prudential's systemically important financial institution, or SIFI, designation, which should be viewed as a catalyst for the stock. Not being designated as a SIFI should allow management to focus strictly on running the business instead of dealing with burdensome rules and regulations. Plus, management will now have the ability to return capital to shareholders as they see fit; so, in my opinion, investors should expect for the dividend to increase and the share count to shrink in 2019.
Risks
The biggest risk for any insurer, including Prudential, is the sufficiency of the company's reserves. The company will likely have immaterial one-off reserve charges on a somewhat consistent basis but any material adjustment could negatively impact Prudential's stock price.
Given the recent uncertainty in the market, it is important to remember that an economic downturn would negatively impact Prudential's near-term business prospects.
Bottom Line
There was a lot to like about what management had to say during Prudential's 2019 investor outlook call, but in my opinion, it is a little too early to get really excited about this insurer. Are shares cheap? Yes. Does Prudential appear to be well-positioned for 2019? Yes. But, talk is cheap. Management will need to first prove to their investor base that value can be created in the current business environment before they will be able to win over the market.
The insurer should benefit from rising rates (even if interest rate hike projects have toned down in the last week), a stable economy, and lower taxes over the next year. Prudential's stock has significantly underperformed the broader market so far in 2018 but I believe that PRU shares are a great long-term buying opportunity at today's price.
Author's Note: I have a small PRU position in my R.I.P. Portfolio and I have no plans to sell shares in the near future.
Disclaimer: This article is not a recommendation to buy or sell any stock mentioned. These are only my personal opinions. Every investor must do his/her own due diligence before making any investment decision.
Disclosure: I am/we are long PRU. I wrote this article myself, and it expresses my own opinions. I am not receiving compensation for it (other than from Seeking Alpha). I have no business relationship with any company whose stock is mentioned in this article.