Golar LNG (GLNG) had a very strong 3Q18 with revenues and EBITDA both beating consensus by 10% and 20%, respectively. Several developments during this quarter include: 1) Hilli FLNG being fully operational with potential expansion of two more trains, 2) Tortue FLNG on track for 2018 FID, 3) Delfin LNG started gaining momentum as a result of the management change, and 4) the stronger-than-expected LNG shipping market thus far. In addition, turning FCF positive for the first time in 6 years represents a landmark event for the company, giving glimpses of the company's cash flow potential, and should enable it to continue its recent trend of increasing the quarterly dividends till 2020, at least.
Despite the upbeat company-level prospects, our primary concern lies in the macro picture. Should a weakening macro environment materialize, we think Golar might face challenges from a worsening supply/ demand balance to a deterioration in the value of its units should there be any weakness in the MLP space as well as potential challenges with the Hilli monetization. We remain on the sidelines pending further visibility on our macro concerns.
Profitability is turning the corner with 3Q18 EBITDA the highest ever in the company's history
GLNG total revenues for 3Q18 were 10% above consensus reaching $98.4m, which translates to a whopping yoy increase of 384% and a qoq growth of 129%. The tight LNG shipping market mainly drove 3q revenues with time charter equivalent (TCE) rates reaching $41,200/day leading to an increase of 110% qoq in the LNG carrier's TCE revenues.
GLNG recorded its highest ever EBITDA in 3Q18 reaching $84m. Although this number includes a one-time cash recovery item of $26m and $2.7m cost related to the dissolution of OneLNG, the adjusted EBITDA of $60m still beat the consensus of $50m by 20%. Moreover, EBIT came at 47% above consensus due to lower than expected depreciation and amortization; yet, on the other hand, the interest on the company's debt continued to lead to operational loss generation.
However, a one-time unrealized gain on FLNG derivative and other income drove the net income (GAAP) to $66m. Operating EPS for 3Q18 was -$0.24 which is lower than consensus; on the other hand, the company increased its dividends for the second consecutive quarter, on the prospect of the imminent release of $126.2m of restrictive cash, to $0.15 leading to a yield of 2.1%.
Segment results: Booming shipping business led to accelerated revenue and EBITDA growth; while Hilli FLNG becoming fully operational provided an additional boost
GLNG shipping revenues drove its strong quarterly performance by reaching $45.3m in 3Q18. The stronger-than-expected revenue growth was due to higher TCE rates, which were up from $19,600 in 2Q18 and $13,300 in 3Q17, a 110% and 210% increase, respectively; and fleet utilization rate of 86% in 3Q18 versus 62% in 2Q18. This increase resulted in GLNG's TFDE ships earning an average of $48,000 and its two steam vessels earning on average $11,000.
Also, FLNG revenues continued its robust growth with 186% increase qoq reaching $53.1m for the quarter as Hilli FLNG became fully operational for the first time.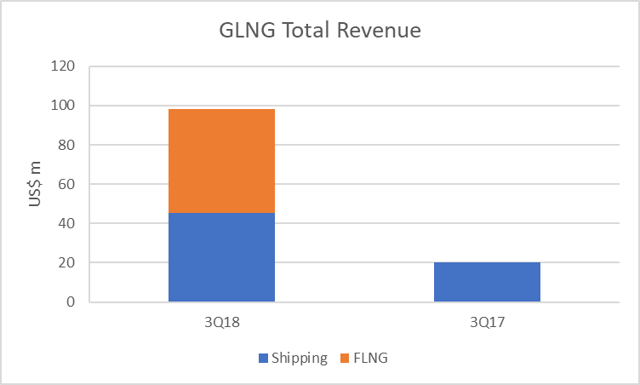 (Source: Author, Quarterly Filing)
EBITDA was the highest ever for the company in 3Q18 with $13m from the shipping business, up from -7m in 3Q17. Hilli FLNG's two fully operational trains contributed c. $48m, which boosted the company's results in 2018.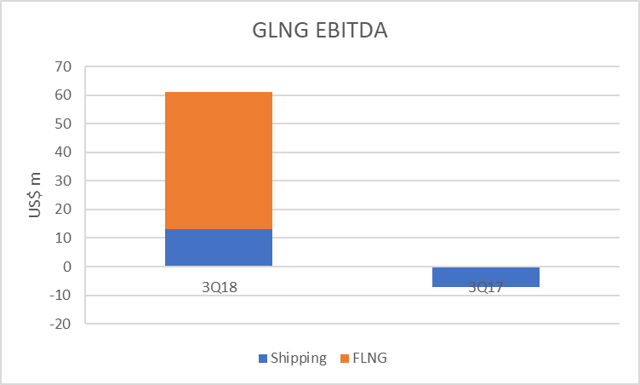 (Source: Author, Quarterly Filing)
New projects coupled with the potential expansion of current ones can drive GLNG's shares up
With the release of 3Q18 results and the conference call, GLNG management made several announcements regarding new projects and future expansions. With regards to Hilli FLNG, the company expressed confidence in finalizing its current discussions with Perenco about expanding the operations with two more trains. Another project that is showing progress is the BP-led Tortue FLNG project. The project is targeting FID by the end of 2018 and anticipated startup by 2021. GLNG has agreed to provide an FLNG unit for this project on a rolling basis for 20 years.
Other notable projects include Avenir LNG Limited in which GLNG invested $25m for a 25% stake. This entity will focus on developing small-scale LNG opportunities, and the company has already FID on an LNG receiving terminal in Sardinia and trying to create opportunities to distribute LNG in Brazil. Finally, the change of ownership and management at Delfin FLNG project provides sources for enthusiasm about this project in the future as it is already starting to turn its performance around.
Improved Liquidity allowing for an increase in dividends
GLNG reduced its total debt in 3Q18 to $2.62bn, down from $2.72bn in 3Q18, leading to a lower net debt/EBITDA of 3.8x. The debt reduction, coupled with the release of restricted cash, turned the company into FCF-positive for the first time since 2012. Moreover, management has no further CapEx plans in 2019, which should further boost the company's liquidity, paving the way for a potential dividend increase in the coming quarters.
Changes to 2019 guidance: Higher guidance
GLNG management provided higher guidance for TCE in 4Q18 to reach $70-80kpd, which resulted in increasing the guidance for vessels' EBITDA to approximately $50m. With the LNG shipping market expected to remain tight till 2021 at least, and management calling for a third and fourth train at Hilli FLNG, this might add around $130m more to EBITDA in the future.
Tight shipping market coupled with the expected expansion at Hilli FLNG and other projects make us bullish about this stock
At the company level, current events surrounding GLNG's operations make us optimistic about Golar long term. The higher guidance for the LNG shipping rates in 4Q18 means the potential of setting a new record EBITDA for GLNG and improving its profitability further, and the expansion of Hilli FLNG to add two more trains and other potential projects, like BP's Tortue and Delfin, bode well for the company. However, we are also cognizant of various risks which could adversely impact the stock including - 1) Macro uncertainty, 2) Industry supply/ demand balance, 3) potential weakness in the MLP space and implications for the value of units held by Golar, and 4) Potential monetization of the Hilli in a challenging macro environment. We think it might be more prudent to adopt a wait-and-see approach on the stock until we get more visibility on the overall macro picture.
Disclosure: I/we have no positions in any stocks mentioned, and no plans to initiate any positions within the next 72 hours. I wrote this article myself, and it expresses my own opinions. I am not receiving compensation for it (other than from Seeking Alpha). I have no business relationship with any company whose stock is mentioned in this article.