Welcome to our Weekly Cannabis Report, a reliable source for investors to receive the latest developments and analysis in the cannabis sector.
Trading Summary
The cannabis sector continued to drop last week. The Horizons Marijuana Life Sciences Index ETF (OTC:HMLSF) declined 4.0% while the U.S.-listed ETFMG Alternative Harvest ETF (MJ) also declined 1.5%.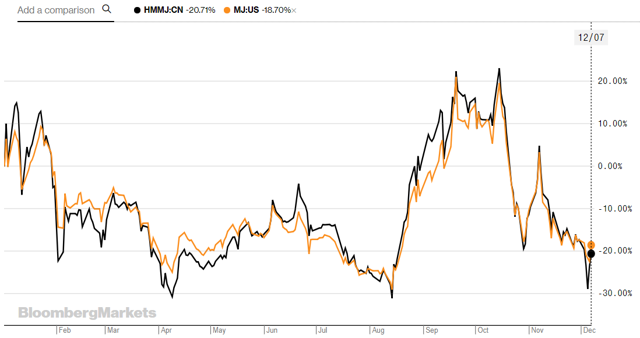 Canadian Large-Cap: Canadian cannabis stocks were roiled last week by the short report targeting Aphria (APHA) which drove the stock down 33.8%. On the other hand, Altria's (MO) $1.8 billion investment sent Cronos (CRON) up 39.0%. Canopy (CGC) lost 6.4% after acquiring German vaporizer equipment maker Storz & Bickel for €145 million. Aurora (ACB), Tilray (TLRY), Canntrust (OTC:CNTTF) and Green Organic Dutchman (OTCQX:TGODF) were down slightly with little news. HEXO (OTCPK:HYYDF) and Organigram (OTCQX:OGRMF) lost ~14% last week after getting caught in the general market volatility.
Canadian Small/Mid Cap: Most of the small to mid-cap stocks declined high single digits after the Aphria short report caused a sell-off in the Canadian cannabis sector. Namaste (OTCQB:NXTTF) lost another 9.4% despite announcing C$1.2 million in revenue during the Black Friday weekend. Khiron Life Sciences (OTCQB:KHRNF) lost 12.2% despite announcing approvals to enter the Mexican market. Aleafia (OTCQX:ALEAF) lost 7.0% as one of the biggest recent cannabis bubbles continues to deflate. The only bright spot was the 16.7% gain at National Access Cannabis (OTCPK:NACNF) which is a cannabis retailer that has seen its stock subject to extreme volatility recently. Also worth noting is that Hempco (OTC:HMPPF) jumped 36.9% on Friday. We plan to cover this Aurora-affiliated Canadian hemp-CBD play this month.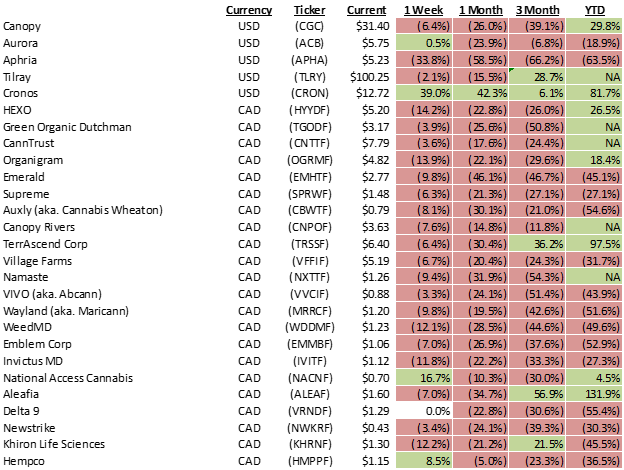 U.S. Sector: The U.S. cannabis sector was also implicated by the Aphria short attack. Liberty Health (OTCQX:LHSIF) dropped 37.6% after being alleged by the short sellers as another company that was used by Aphria insiders to profit themselves. Trulieve (OTCPK:TCNNF) lost another 17.5% after news emerged that the Florida governor-elect might scrap the cap on cannabis licenses which would be hugely negative for the stock. Other large-caps that suffered substantial losses include Curaleaf (OTCPK:LDVTF) down 6.4%, Charlotte's Web (OTCQX:CWBHF) down 4.6%, and iAnthus (OTCQX:ITHUF) down 5.0%. Green Thumb (OTCQX:GTBIF) held up better than most with a 0.2% gain. Medmen (OTCQB:MMNFF) continued its plummet with its 7.3% drop.
Of the November RTOs, Acreage Holdings (OTC:ACRZF) dropped 19.1% last week and is now 30% below RTO price. MJardin (OTC:MJARF) lost 22% last week and now trades at $4.58 after raising capital at $12.00 during the RTO. Harvest Health (OTCPK:HTHHF) dropped 16.2% last week and now trades 30% below RTO price. On the other hand, Body & Mind (OTCPK:BMMJ) lost 31.3%, reversing all of the gains from its California investment. Pick-and-shovel plays KushCo (OTCQB:KSHB) and Innovative Industrial Properties (IIPR) both held up better than most pot stocks.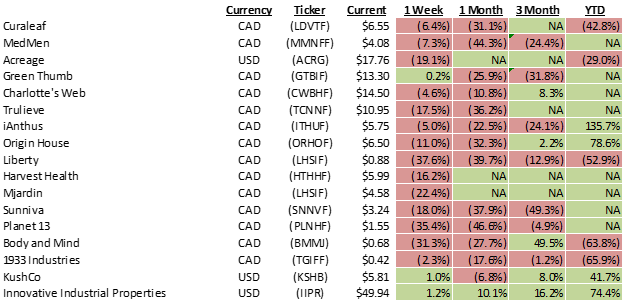 We recently initiated coverage on several U.S. stocks, including Origin House (OTCQX:ORHOF), Planet 13 (OTCQB:PLNHF), Body and Mind, and 1933 Industries (OTCQB:TGIFF). Check out "Best Ways To Play The U.S. Cannabis Industry (Part 2) for a primer on the U.S. cannabis sector.
Aphria Short Report
We have analyzed this well-reported incident in "From Nuuvera To Scythian, It's DéJà Vu All Over Again" last week. Since we published our article, there have been several new developments. Aphria issued three press releases, including forming a special committee to review the LATAM transactions. However, the company still has not provided direct responses to the allegations made by the short sellers. The formation of the special committee was also strange given it somehow implies that the company is not prepared to respond to the short report directly. We continue to rate the stock Neutral given heightened investor concerns and the fact that those detailed allegations made by the short sellers remain unanswered by Aphria.

Liberty Health Implicated
Liberty Health became the latest causality in the Aphria short attack as Hindenburg released Part 2 of the Aphria investigation. In the report, the author alleged that the same group of insiders at Aphria also used Liberty to net millions of profits before Aphria invested in Liberty. Liberty has responded the short report with a preliminary release of its quarterly revenue of $3.2 million and a corporate update. However, it is clear that Liberty also failed to respond to allegations made by the short report directly, including its deals with Aphria insiders and other related parties. We think there seems to be a high likelihood that Liberty won't be addressing the short report directly which would be disappointing. Interesting to note that even after the 38% drop last week, Liberty's stock remains one of the most expensive.

Altria Invests $1.8 Billion into Cronos
Altria became the second company to make a billion-dollar bet on a cannabis stock when it announced its $1.8 billion investment into Cronos on Friday. We previously wrote about the rumor between Altria and Aphria, and frankly, we were surprised to see Cronos as the chosen one. We have long been critics of Cronos' slow execution and lack of progress in Canada as near-term headwinds; however, the Altria investment has dramatically changed the story and Cronos will have one of the strongest cash position to enable its global expansion aspirations. We plan to publish a detailed analysis next week.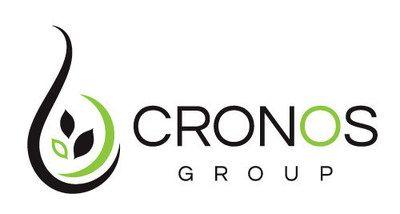 Other News
Looking Ahead
Last week was one of the most dramatic and eventful in our recent memory. Monday's short seller report caused a sector-wide selloff, with Aphria losing over 50% of its value by Wednesday. Aphria rebounded more than 50% on Thursday but continued to slide on Friday. Altria's investment in Cronos instilled a dose of much-needed confidence into the market. We think the general sector volatility caused by the Aphria short report will subdue in the coming weeks and investors should start to identify buying opportunities as valuation has come down across the board. We will continue to provide coverage on the cannabis sector and identify opportunities should they arise.
Good luck to all this week!
Disclosure: I/we have no positions in any stocks mentioned, and no plans to initiate any positions within the next 72 hours. I wrote this article myself, and it expresses my own opinions. I am not receiving compensation for it (other than from Seeking Alpha). I have no business relationship with any company whose stock is mentioned in this article.