This article was co-produced with Dividend Sensei.
Nothing brings me more joy than pointing out great high-yield dividend growth opportunities for long-term investors. Nothing that is, except for when those opportunities are trading at obscene discounts to fair value that can result in not just generous, safe and growing income, but also market-smashing long-term total returns.
Which is why I'm thrilled to present Brookfield Real Estate Partners (NASDAQ:BPY) for your consideration. Not just does this 7% yielding stock offer one of the best long-term dividend growth opportunities you can find in real estate (5% to 8% per year), BUT it's also run by one of the world's most proven real estate investment managers, with a fantastic track record of enriching income investors over time.
And over the next five years, management is expecting BPY to deliver between 15% and 25% annualized total returns, courtesy of its currently trading nearly 40% below intrinsic value. That makes this high-yield blue-chip not just one of the best income stocks you can buy today, but one of the best long-term investments (of any kind) you can make, period.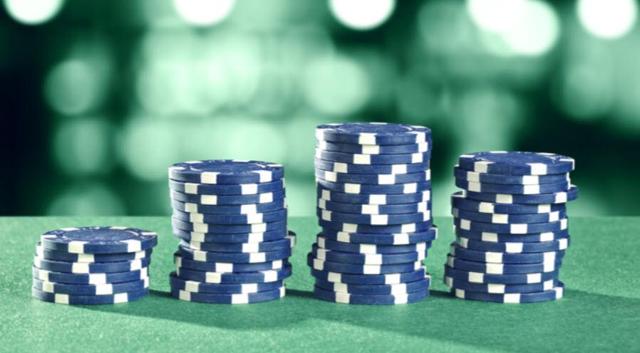 Brookfield Property Partners: World Class Assets And World Class Management
Brookfield Property Partners is managed by Brookfield Asset Management (BAM) which has 115 years of experience in investing and managing real estate, infrastructure, and utilities. Brookfield has amassed over $300 billion in assets under management thanks to its proven ability to deliver 12% to 15% long-term total returns to investors.
BPY IPO'd in 2013 and is structured as a limited partnership or LP, with BAM as its general partner and sponsor. This means that BPY is similar to an MLP in that it uses a K-1 tax form and pays distributions (a tax-deferred form of dividend).

(Source: Investor presentation)
But unlike most MLPs, Brookfield Property is structured as an LP whose assets are themselves LPs, meaning it generates no unrelated business taxable income or UBTI. That means it's safe to own in retirement accounts like IRAs and 401Ks.
Brookfield Property Partners is designed to be BAM's primary funding and investment vehicle for its global real estate investing strategy. When it launched in 2013 BPY had just $31 billion in assets while 80% of BAM's real estate holdings were held in other publicly traded securities.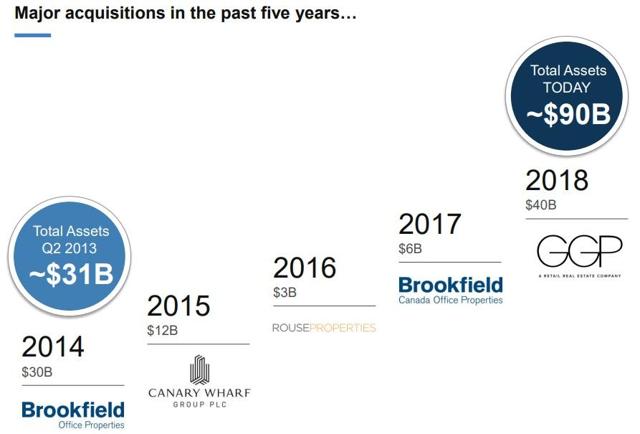 (Source: Investor presentation)
But over the past five years, BPY has grown via several major acquisitions to bring most of Brookfield's real estate holdings under one umbrella. As a result, BPY has not just tripled in size, but it's become diversified into 10 different REIT industries.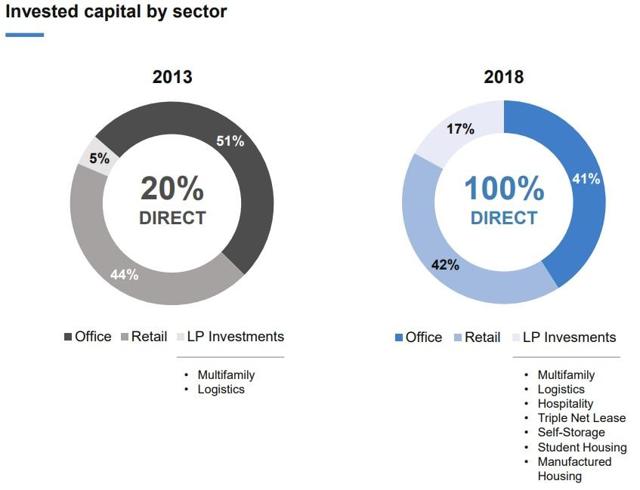 (Source: Investor presentation)
As a result of this mega-growth BPY now owns some of the world's most famous properties, including London's Canary Wharf and the Fashion Show convention center in Las Vegas.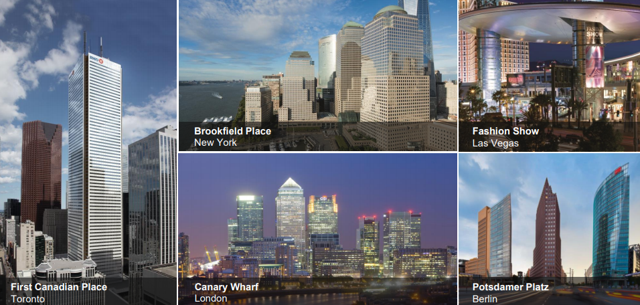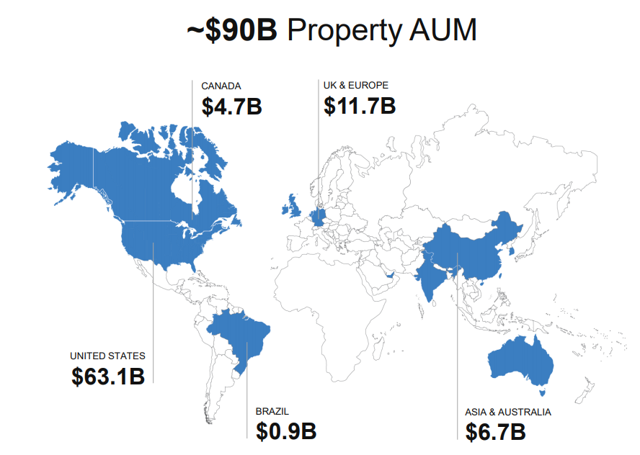 (Source: Investor presentation)
In recent years returns have been even better including:
IDI Gazeley (industrial properties in North America and Europe): 30% annualized returns after five years of ownership

Simply Self Storage: 2.5-year investment, 46% annualized returns
And thanks to BPY now owning limited partnership interests in over 1,400 properties around the world, the benefit to investors from those brilliant deals has been accelerating over time.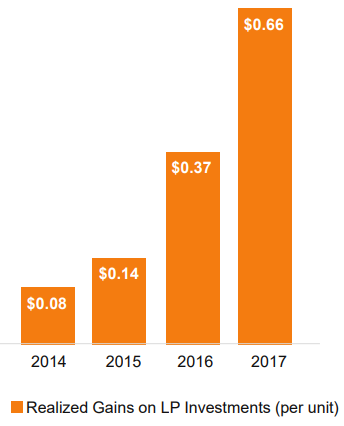 (Source: Investor presentation)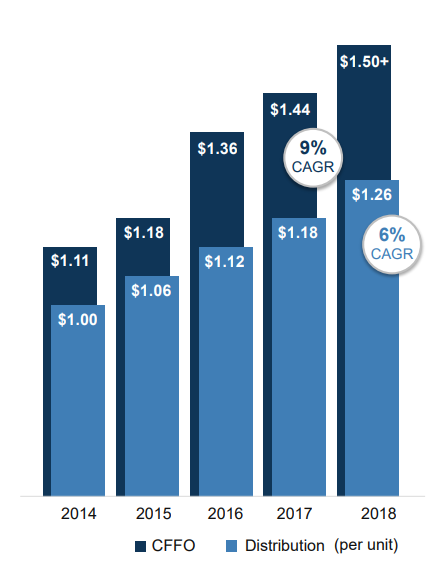 (Source: investor presentation)
That kind of master deal-making, when combined with the LP's core office space (46 million square feet and 93% occupancy) and retail properties (122 million square feet, 8% of premium US retail space, 95% occupancy) has allowed BPY to grow its cash flow from operations or CFFO/unit (equivalent to REIT AFFO and what funds the distribution) by 9% over the past four years.
That has translated into 6% annualized distribution growth over that time while bringing the payout ratio down from 90% at IPO to 81%, which is in-line with management's long-term goal of maintaining an 80% payout ratio while growing the payout 5% to 8% per year. That's not just one of the highest payout growth rates in REITdom, but more importantly, the LP has proven it can deliver on that guidance safely.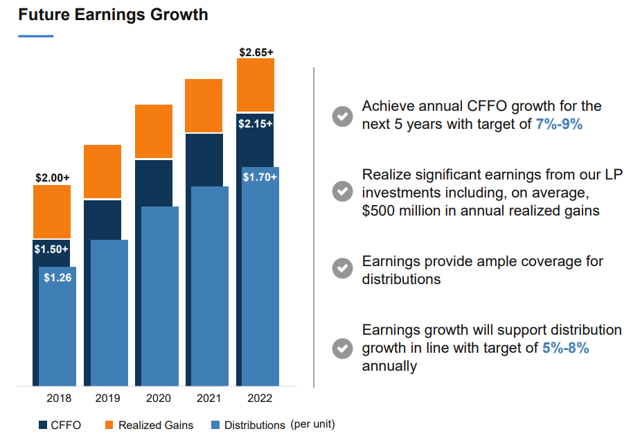 (Source: Investor Presentation)
Over the next five years, BPY expects to grow CFFO/unit by about 8% and its payout by 7.5%. Such guidance is lent strong credibility given that Brookfield is literally the Berkshire of global real estate, and almost never misses its long-term guidance.
That strong cash flow and payout growth is going to come from both organic 2% to 3% same-property net operating income growth (3% in Q3 2018), cash flows from rents on newly completed properties, as well as Brookfield continue to realize profits on its LP portfolio (those 1,400+ properties it's invested in).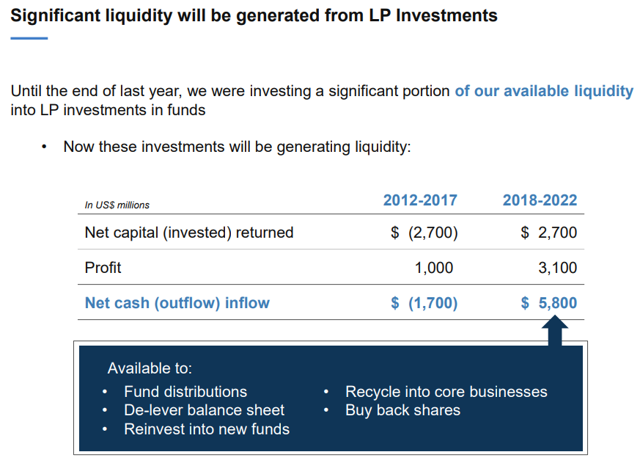 (Source: investor presentation)
That LP portfolio alone is expected to generate $5.8 billion in cash flow and profits over the next five years and $11 billion over the next 15 years (like Buffett, Berkshire thinks very long-term).
Basically, Brookfield Property Partners is a great way to enjoy a safe and fast growing 7% yield, courtesy of one of the world's most proven real estate investment managers. But not just is BPY a great source of income, but likely to also prove one of the best investments you can make over the next five years, period.
A Safe 7% Yield, With Great Payout Growth And 25% Total Return Potential
The most important part of any income investment is the payout profile, which consists of three parts: yield, safety, and long-term growth potential. Combined with valuation this is what drives total returns.
Yield: 7.0%
AFFO payout ratio: 81%
Long-Term Distribution Growth Expected: 5% to 8%
Debt/EBITDA: 13.2 (REIT average 5.8)
Corporate Level Debt/EBITDA: 2.1
S&P Credit Rating: BBB (Investment Grade)
Average Interest Rate: 3.3%
There's no questioning that Brookfield's 7.0% yield is mouthwatering, especially compared to the S&P 500's 2.0% or even the average REIT's 5.3%. More importantly, that distribution is highly secure, thanks to the LP's low payout ratio and strong balance sheet.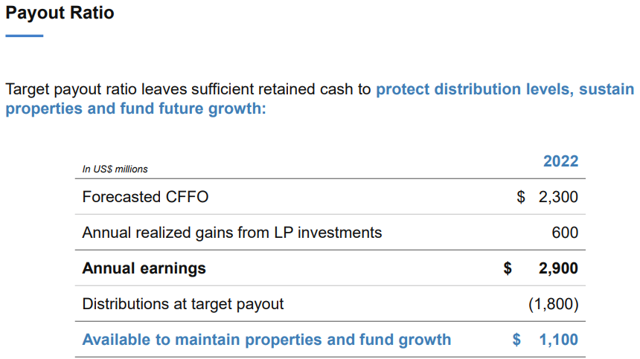 (Source: investor presentation)
By 2022 BPY expects the payout ratio to fall to 78%, despite its industry-leading payout growth rate. That will allow it to invest $500 million per year in retained cash flow into further growth, which it plans to augment with an estimated $600 million average in profits on its real estate investments.
Now at first glance, you might think me mad, claiming that anything with a 13.2 times leverage ratio (debt/EBITDA) is either a healthy balance sheet or capable of providing a safe payout. But while true that BPY has $45 billion in total debt 84% of that is non-recourse, self-amortizing property level debt (think mortgages). Brookfield is famous for its smart use of non-recourse asset level debt and uses it extensively across all its LPs.
The reason it does is that in the event of a worst case scenario (an asset can't fund its debt service), it can hand over the keys to creditors who are not able to come after the rest of the LP's cash flow. Thus this form of debt financing builds a wide moat around BPY investors, protecting their payout despite the initially frightening debt levels.
Another thing to point out is that the debt level just went up by $5 billion due to the most recent major acquisition, General Growth Properties. BPY just bought the remainder of that REIT for $15 billion (the rest of the deal was funded with equity). Brookfield is currently in the process of selling off non-core assets (at large profits) to get to its long-term target of a 10.5 leverage ratio and a 50% debt/capital ratio (a safe capital structure for real estate companies).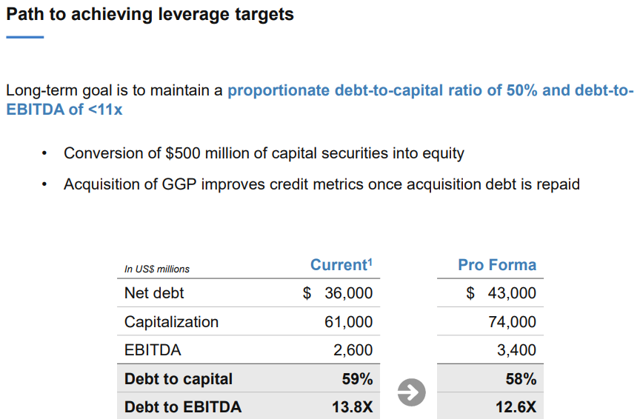 (Source: investor presentation)
In the last quarter, BPY sold $494 million in assets to pay down its debt, and note that it retains a healthy BBB investment grade credit rating from S&P that allows it to enjoy an average interest rate of 3.3%. That's because at the corporate level (debt investors are responsible for) its leverage ratio is just 2.2, far below the REIT sector average of 5.8. Within a few years, management expects the net leverage ratio to be at its target of 10.5x, which will ensure the safety of its credit rating and ongoing access to low-cost debt financing.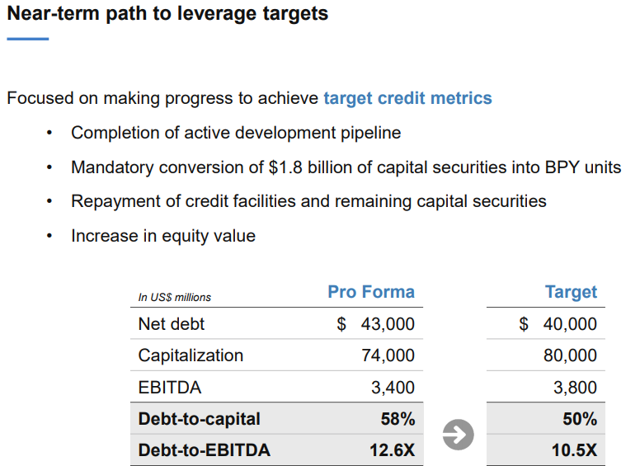 (Source: investor presentation)
And thanks to BPY's proven ability to deliver on its 5% to 8% distribution growth target investors can expect at least 13.5% long-term total returns (7% yield + 6.5% payout growth), even if the current rock-bottom valuation never improves. In fact, based on management's own total return guidance, BPY is likely to deliver closer to 8% distribution growth over the next five years.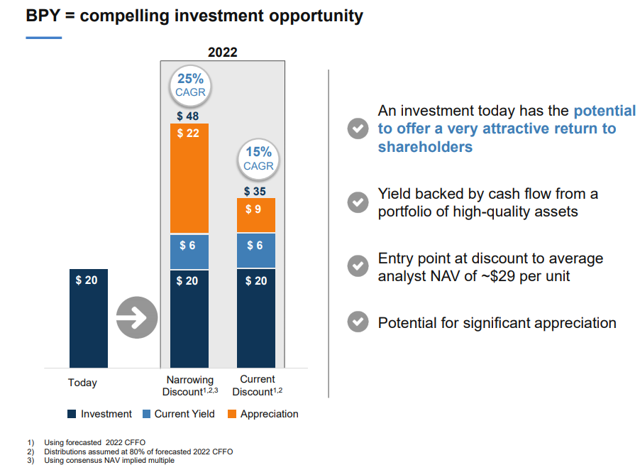 (Source: investor presentation)
However, as management itself points out, BPY is currently trading at an incredible 38% discount to net asset value (estimated liquidation value)/unit, meaning that buying it today is like purchasing $1 for $0.62.
If BPY eventually hits fair value, then management estimates that investors will see 25% annualized total returns over the next five years. Why is BPY trading so cheap, given its world-class assets, led by one of a management team that's legendary for minting real estate profits? Well, most likely two reasons. First, the latest big mergers (GGP plus Forest City) increased the LP's exposure to Class A shopping malls.
While these are thriving businesses with strong occupancy and rising same-store rents and NOI, the market continues to hate retail REITs due to the false narrative of a "retail apocalypse". Yes, class D through B malls (low quality and low sales per square foot) are struggling and closing. But the Class A assets that BPY owns are not distressed but located in dense urban markets with affluent shoppers who are keeping their tenants thriving.
The other possible reason for the deep discount to NAV is due to both the complexity of BPY's corporate structure (an LP that owns LPs and is part of Brookfield's empire of other LPs). Add to that the market's misunderstanding of the balance sheet (the leverage ratio of 13.2) and you have the makings of a massively mispriced high-yield blue-chip. And make no mistake, BPY is indeed a blue-chip, thanks to its $90 billion in quality, income-producing real estate assets, which is being managed by literally the world's largest, most trusted, and most proven hard-asset managers.
But not only is BPY unlikely to perpetually trade at such a deep discount forever, but management has specifically said it plans to begin repurchasing its ultra discounted units in the future (BAM has begun doing so). That is going to not just be incredibly accretive to CFFO/unit (buybacks are the equivalent of making investments with cash yields of 8.8%) but likely help eventually drive the stock price up as well.
But while I can certainly recommend BPY as arguably the most undervalued high-yield blue-chip name in real estate, anyone considering investing needs to be comfortable with the risk profile.
Risks To Consider
First, it should be pointed out that because of BPY's LP structure it does issue a K-1, which some investors simply want to avoid due to higher tax preparation complexity. For these investors, Brookfield Property REIT (BPR) is a good alternative. This was created during the GGP merger and issues a 1099 tax form and pays non-qualified dividends just like any other REIT.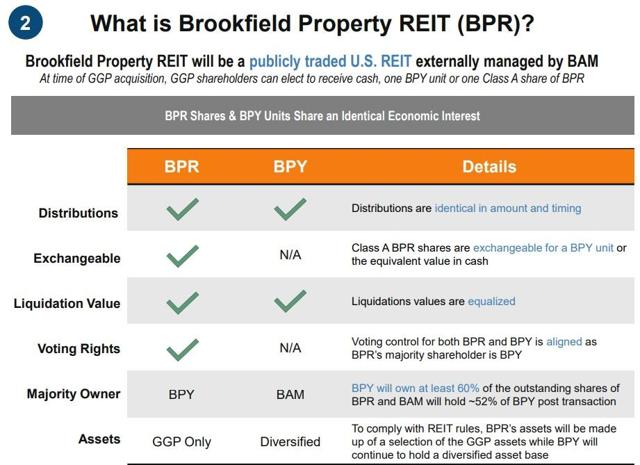 (Source: BPY/GGP merger presentation)
BPY owns 60% of BPR and supplies the same world-class management. The assets are purely retail (from GGP) but the distributions are the same.
As far as BPY's fundamental risks go there are several to consider. First, the $5 billion in debt the LP took on to close the GGP acquisition is floating rate debt, priced at LIBOR + 2.36%. Thanks to LIBOR (global floating rate debt standard) rising in recent months in Q3 BPY suffered a $0.03 (7%) decrease in its CFFO . Until that floating rate debt is paid off BPY will be relatively interest rate sensitive should LIBOR continue rising.
Another thing to consider is the LP's global exposure also creates currency risk. The strong dollar resulted in a $0.01 decrease in CFFO in Q3, a 2% decrease in cash flow per unit.
Finally, it should be pointed out that due to the aggressive nature of Brookfield's capital recycling (selling properties at a profit), the LP's future growth potential is somewhat at the mercy of the global economy, specifically global property prices. While the distribution is well covered by funds from operation and thus doesn't require profitable asset sales to remain safe and growing, BPY does count on the profits from its LP portfolio to be able to invest in future opportunities, as well as to pay down debt (until it reaches its long-term target) and buy back its deeply undervalued units. Should we suffer a global recession that lowers global retail property prices BPY's ability to execute on that plan could be hamstrung, at least temporarily.
Bottom Line: Brookfield Is One Of The Best Names In Real Estate And BPY Is Now One Of The Best High-Yield Investments You Can Make Thanks To Its Insanely Undervalued Price
Profitable global real estate investing is complex but over the past 115 years, Brookfield has proven that literally no one is able to make Buffett like opportunistic real estate deals like it can. Brookfield Property Partners and Brookfield Property REIT (for those who can't stand K1s) are two deeply undervalued high-yield blue-chip income growth stocks that offer investors the perfect combination of generous, safe yield, strong long-term payout growth, as well as potentially 25% long-term total returns.
Author's note: Brad Thomas is a Wall Street writer and that means he is not always right with his predictions or recommendations. That also applies to his grammar. Please excuse any typos and be assured that he will do his best to correct any errors if they are overlooked.
Finally, this article is free, and the sole purpose for writing it is to assist with research, while also providing a forum for second-level thinking.