Cold temperatures and LNG exports are two strong drivers for storage levels to be on more than 10 years low. It is now becoming really interesting how long the rebalancing will take. Will it return to normal by the end of 2019 (likely the base-case scenario with futures curve trading at $3 per mcf in 2H19) or the next year's s/d balance will be also quite tight like it turned to be in 2018?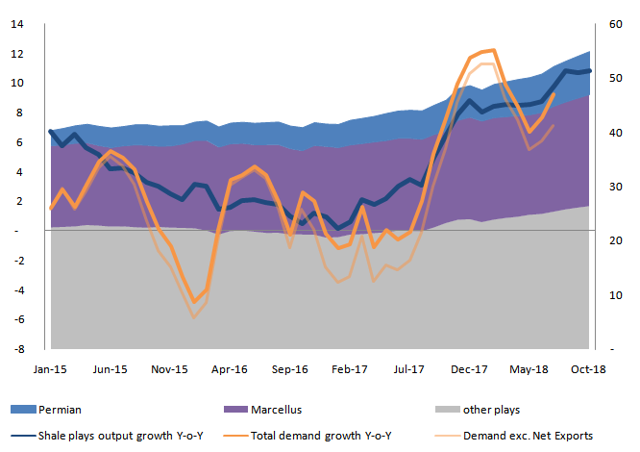 Source: EIA
Before this Winter Ends
Next 2-3 months natural gas prices will be following weather forecasts. Meteorologists are attracting all the attention, in spite of some forecasts for November have not aged well...

Source:@USAEnergyNatGas
The end of December and the start of January are believed to be freezing for the Northeast. Natural gas futures are likely to storm the $5 per mcf level one more time before the winter ends.
January/February Forecast - Cold in the NorthEast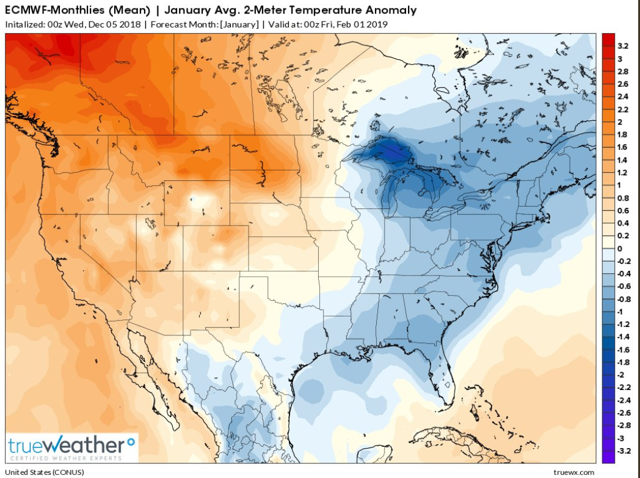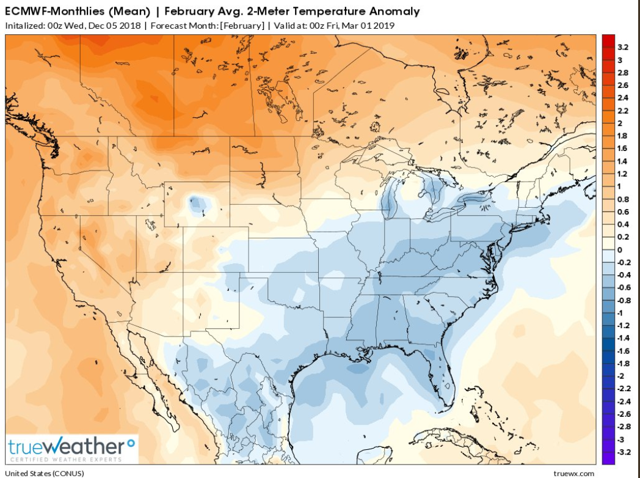 At the moment, natural gas spike in price is still much lower than the last severe weather impact was.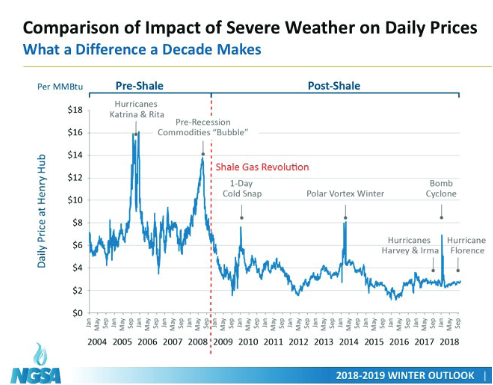 Supply/Demand Balance Next Year
Supply
1) Permian's oil production next year is expected to grow by about 700 kbpd. It equates to 1,750 MMcfpd of associated natural gas (current Permian gas-to-oil production ration of 2.5).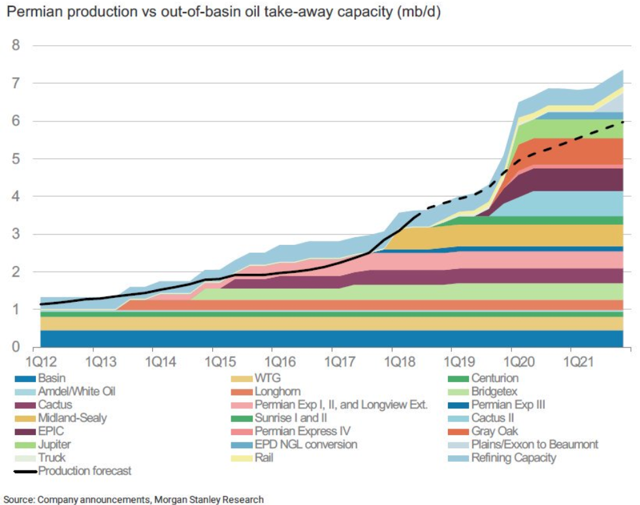 Additionally, there are more than 3 thousands of DUC wells in the Permian basin or about 6 Bcfpd of production if all were to come online in one year. When the pipelines become available, about one-third of this output looks realistic enough, according to EVA report.
2) In Marcellus/Utica, there is about 4 Bcfpd of new takeaway capacity, having been added recently. In its short-term outlook, EIA forecasts supply growth in 2019 (excluding Permian's volumes) not far from this number. Overall, growth in dry natural gas output from Lower-48 States is expected to be closer to 7 Bcfpd.
Interestingly, between late-2015 and the end of 2018, 23 takeaway projects out of Appalachia have been completed, totaling nearly 14.5 Bcfpd of capacity, according to RBN Energy. That leaves just a handful of projects with little more than 6 Bcfpd of capacity to come, most of them facing stiff environmental opposition, regulatory turmoil, and higher costs. The future for Marcellus/Utica is not without constraints, it seems.
Demand
1) Pipeline exports to Mexico are at about the same level as a year ago, but overall exports (including LNG supplies) are steadily growing. Once TransCanada's (NYSE:TRP) Sur de Texas-Tuxpan pipeline (2.6 Bcfpd) comes online, LNG imports to Mexico are expected to drop. EIA forecasts average annual growth in pipeline export at 1.2 Bcfpd.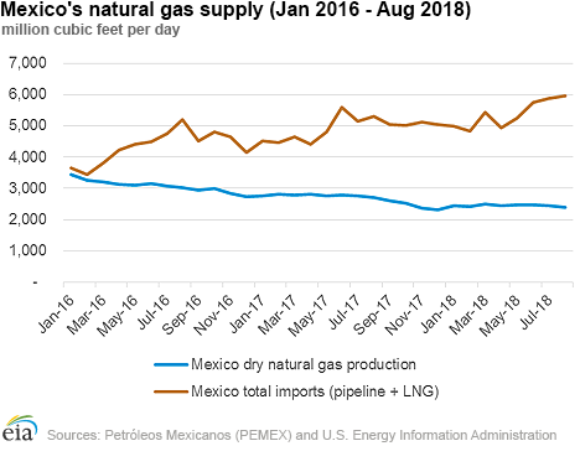 2) LNG export is the most important driver for demand growth. New projects like Cameron LNG and Corpus Christi could double export volumes by 2020. Average annual growth is forecasted by EIA at 2.3 Bcfpd in 2019.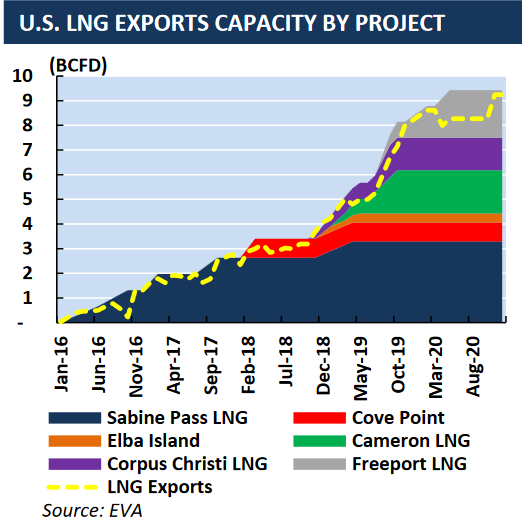 3)Power burn demand in the foreseeable future will be less robust than in 2018. Wind and solar projects will surpass natural gas additions.

Source: EVA
New natural gas combined cycle power plants in 2018, representing 19 Gigawatts, to increase demand from the electric sector by less than 1 Bcfpd.
4) Industrial demand looks healthy next year. The growth from new projects is expected at the 0.7 Bcfpd level. Annual average growth in 2019 is almost close to zero in EIA's last short-term outlook.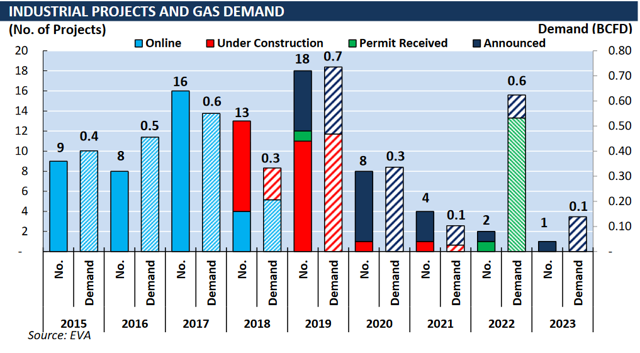 Bottom line
All else equal, I've got +4.5 Bcfpd growth in demand next year against at least +7 Bcfpd rise in natural gas output. It matches my view that natural gas prices will eventually return to the $3 per mcf level. Freezing winter could just postpone the rebalancing of storage levels. Natural gas futures are interesting like speculative instrument on weather forecasts, but shares of gassy shale producers are reasonably not following the temporary spike in NG price.
Disclaimer: This article is for informational purposes only. Please do your own due diligence before making any investment decisions.
Disclosure: I/we have no positions in any stocks mentioned, and no plans to initiate any positions within the next 72 hours. I wrote this article myself, and it expresses my own opinions. I am not receiving compensation for it (other than from Seeking Alpha). I have no business relationship with any company whose stock is mentioned in this article.