Does MongoDB (MDB) even realize that there's a correction going on? The database software company, which touted itself as an "Oracle killer" in the early days of its IPO, remains oblivious to wider market conditions, as investors bid up the stock for its sheer pace of growth and enticing narrative. MongoDB is one of the only software companies that is up since October, whereas many of its peers are still suffering from a multi-month correction that have left them significantly below peaks.
Looking at MongoDB's price chart in 2018 almost defies reality - the stock is up 184% (nearly triple), while many fellow tech stocks have dipped into the red: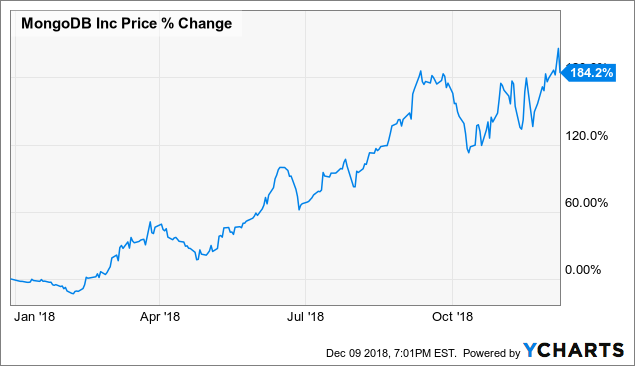 The main question for investors now is: Can MongoDB's impressive rally continue? Is it a safe haven for investors' capital while the rest of the tech sector is sliding into decline?
In my view, MongoDB's astronomical price growth over the past year is a major risk to the company's bullish thesis - and this is especially true when MongoDB's relative valuation against other sliding software stocks has ratcheted to an even higher premium.
A quick check on where MongoDB is currently trading: At its current share price of $84, the stock carries a market cap of $4.70 billion. I've frequently sense-checked MongoDB's valuation against that of Cloudera, a fellow open-source infrastructure software stock. Cloudera is currently trading at less than half of MongoDB's market cap, despite being twice its revenue scale.
If we net out MongoDB's $522 million of balance sheet cash against its $214 million of convertible debt, we arrive at a net cash position of $308 million and a resulting enterprise value of $4.39 billion. For fiscal 2020 (which is the fiscal year beginning in February 2019), Wall Street analysts are expecting consensus revenue of $346.1 million (per Yahoo Finance). This puts MongoDB's current valuation at 12.7x EV/FY20 estimated revenues.
As we head into a possible recessionary cycle with investors backing away from growth stocks, it's quite egregious for any company to trade at an elevated multiple like this. It's true that MongoDB has one of the highest growth rates in the SaaS sector, but much of that is due to the fact that MongoDB is still a small company revenue-wise, and as it becomes larger, its growth rate will naturally decelerate.
Profit-taking, in my view, will limit MongoDB's upside. This is one of the only winning stocks of the past quarter, and many investors will want to take gains off the table. It's also important to note that MongoDB's lockup expiration date has long passed, so big holders inside the company are also free to let go of their stock. Steer clear of this stock until its valuation has backed down to appropriate levels.
Traces of deceleration already showing in Q3 results - how will competition factor in?
Here's a look at MongoDB's latest quarterly results:
Figure 1. MongoDB 3Q19 results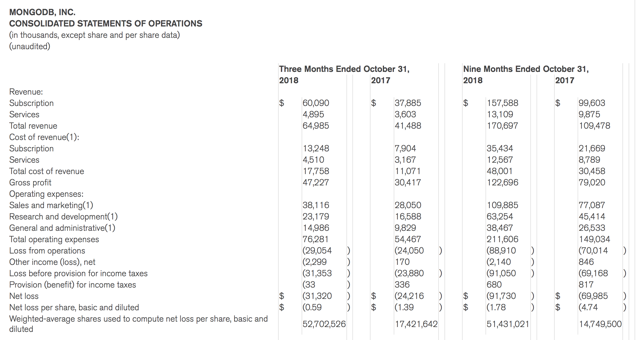 Source: MongoDB Q3 earnings release
Revenues grew 57% y/y to $65.0 million, besting Wall Street estimates of $60.3 million (+45% y/y) by a 12-point margin. While there's no doubt that this beat magnitude is impressive, we note that MongoDB's furious growth rates have already begun to come down from last quarter's 61% y/y growth rate.
Much of MongoDB's growth over the past several quarters has been driven by strong adoption of its new MongoDB Atlas offering, which is an automated and fully managed version of the core MongoDB offering. Atlas contributed 22% of this quarter's revenues, up from 18% last quarter.
Yet as MongoDB continues to tout its database offerings, we can't help but to be wary of Oracle (ORCL). Of course, perceptions of MongoDB and Oracle right now are like night and day - MongoDB is a hot, cutting-edge new technology company steeped in open-source roots, while Oracle is commonly viewed as a legacy tech company with high support and renewal fees despite seemingly limited innovation.
But we can't forget that Oracle's Larry Ellison basically brought database technologies to the mass market in the 1980s. Ever since relinquishing the CEO post to Safra Catz and Mark Hurd a few years back, Ellison has pivoted his focus into product development as Oracle's CTO. Much of Oracle's growth over the past few years has centered on applications (for example, when it bought Netsuite for nearly $10 billion), but Ellison's biggest focus of late seems to be Oracle's Autonomous Database, bringing the software giant's focus back into its core roots. Like MongoDB, Oracle's Autonomous Database proposes to automate much of the maintenance processes that often render a database expensive to run.
Oracle's latest database offering only began selling in earnest this year, so it's still difficult to assess its impacts to the market. It would be foolish for MongoDB investors, however, to ignore Oracle as a threat. If more of MongoDB's deals become competitive bake-offs next year against Oracle or other database vendors, its pace of growth could slow down significantly.
Free cash flow losses remain steep
At the same time, MongoDB continues to incur heavy losses. Though the company's pro forma operating margins improved to -26% this quarter (an eighteen-point improvement over 44% in 3Q18), its free cash flow profile remains deep in the red.
Year to date, MongoDB has burned through -$36.2 million of cash, or about 23% of revenues.
Figure 2. MongoDB FCF

Source: MongoDB Q3 earnings release
We note that many of MongoDB's software peers have reached breakeven free cash flows. Dropbox (DBX), Docusign (DOCU), and Alteryx (AYX) are all examples of fast-growing SaaS stocks and recent IPOs that are all producing generous free cash flows.
Liquidity isn't the concern for MongoDB - its ~$500 million cash balance ensures that the company still has years of runway left at its current burn rate. The risk, rather, is in investor perceptions. At a time when investors are shunning growth stocks and rotating toward safer, more profitable names, MongoDB's heavy FCF losses give the company another black mark.
Certainly, MongoDB's growth rate in the mid-50s trumps many of its SaaS peers - but if investors choose to value profitability and FCF margins more than growth amid turbulent markets in 2019, MongoDB's star may diminish.
Final thoughts
The recent crash in the Nasdaq, particularly in high-growth SaaS names, have created a bastion of buying opportunities in perennially expensive names that are trading much cheaper than usual. Among my most bullish picks at the moment are Docusign (DOCU), Palo Alto Networks (PANW), Talend (TLND), and Mimecast (MIME).
Conversely, MongoDB alone has retained its high valuation. There's no doubt that its business is continuing at a strong pace - but we can say the same of most SaaS businesses whose stocks have been knocked off course in the back half of 2018. Investors would do well to lock in gains on MongoDB and rotate into cheaper names.
Disclosure: I/we have no positions in any stocks mentioned, and no plans to initiate any positions within the next 72 hours. I wrote this article myself, and it expresses my own opinions. I am not receiving compensation for it (other than from Seeking Alpha). I have no business relationship with any company whose stock is mentioned in this article.