Stocks and bonds - domestic and international - small cap and large-cap, commodities, and real estate - have all broadly produced low or negative returns in 2018. However, if you combined a signal from the bond market as a guide to stock selection, you could have produced near double digit gains this year.
The 23 companies in the S&P 500 (SPY) with AAA or AA ratings from major rating agency Standard and Poor's have produced an average return of 9.7% in 2018. This compares very favorably to the 0.3% total return for the broad market gauge.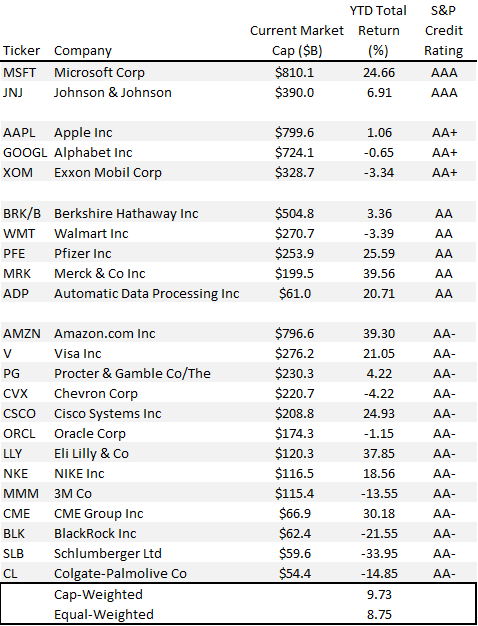 A few observations from this list:
It's a small list - only 23 of the 500 companies in the index carry S&P bond ratings with the top two letter ratings of AAA and AA. This is driven by the decline in AAA and AA credits as a percentage of the broader index over the last decade. This decline in AAA/AA credits was driven by the re-rating of banks and the re-leveraging of many industrial credits amidst a decade of low interest rates and receptive credit markets.
While the list is small - representing only 4.6% of index constituents - on a market value basis, the list includes companies with a combined $6.8 trillion market capitalization, which represents 28% of the broad index.
If 28% of the index has produced a weighted average return of 9.73% using beginning of year market caps, then the remaining 72% of the S&P 500 not rated AAA or AA has returned a dismal -3.3%.
To formulate this list, I am using current bond ratings. I did not have a simple way to pull in beginning of year ratings for all of the constituents. General Electric (GE) was downgraded from AA- to A by Standard and Poor's on December 4th, 2017, so it would have been excluded from this list regardless. If that ratings downgrade would have been forestalled by three weeks, the company's -59% return this year would have weighed heavily on this average. The company, of course, was downgraded again by two notches in early October to BBB+; the company's debt trades like higher quality junk. General Electric is a microcosm of the broader trend of the equity market punishing companies with deteriorating credit metrics.
The 39.3% return of Amazon (AMZN) in part powers this list. If I would have used Moody's credit ratings, the e-commerce and web services giant would have been excluded given its A3 ratings, which are three notches lower than the equivalent rating at S&P. The divergence of opinion on the creditworthiness of the company is one that I have highlighted previously, and is driven by the dichotomy between the company's market leadership and tremendous scale and its relatively low profitability. Excluding Amazon from this list would have lowered the average return of the AAA and AA constituents to 6.7%.
Nine of the twenty-three constituents (39%) have still posted negative returns with oil field services giant Schlumberger (SLB) trailing. In the broader S&P 500, 56% of companies have produced negative total returns year-to-date.
The strong equity performance of highly rated companies is reflective of the outpeformance of defensive names and low volatility stocks (NYSE:SPLV). Equity markets have become more attuned to the growing balance sheet issues of select companies. Years of debt-financed share buybacks could be ending as higher interest rates and wider credit spreads makes the math less desirable for management teams. Companies that have re-levered during this extended period of historically low financing yields may opt to use marginal dollars to pay down debt instead of buying back shares of making capital expenditures - these decisions could have negative implications on equity returns and economic growth. In a year of weak returns, it has been the company's with the very best balance sheets that have outperformed.
Disclaimer
My articles may contain statements and projections that are forward-looking in nature, and therefore inherently subject to numerous risks, uncertainties and assumptions. While my articles focus on generating long-term, risk-adjusted returns, investment decisions necessarily involve the risk of loss of principal. Individual investor circumstances vary significantly, and information gleaned from my articles should be applied to your own unique investment situation, objectives, risk tolerance and investment horizon.
Disclosure: I am/we are long SPY, SPLV. I wrote this article myself, and it expresses my own opinions. I am not receiving compensation for it (other than from Seeking Alpha). I have no business relationship with any company whose stock is mentioned in this article.