As Uber (UBER) apparently finally filed documents for a potential IPO next year, the one certainty is that public investors should avoid this offering. The company follows fellow ride-sharing service Lyft (LYFT) in a race to go public, but the company has already fallen behind industry giants in the crucial self-driving race. The public markets won't reward a money-losing company with the suggested pre-IPO value.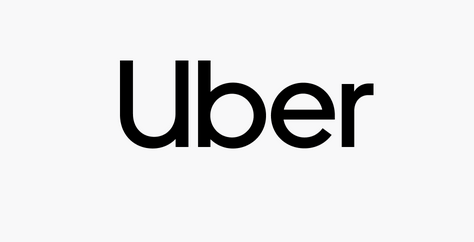 Image Source: Uber website
$100+ Billion Value
According to Bloomberg, bankers expect an offering valuation of over $100 billion and up to an absurd $120 billion level. Lyft is only valued in the $15 billion range, but beating Uber to the public markets could provide a marketing lift to the ride-sharing service.
The biggest issue with the valuation for Uber is that public markets hate money-losing operations while the private markets are more rewarding of all-out growth. In Q3, Uber lost an absurd $1.1 billion on quarterly revenues of $2.95 billion. Some of the highlights were as follows:
Q3 revenue was $2.95 billion, up 38 percent from the same quarter last year.
Adjusted net loss widened in the third quarter to $939 million; it was $680 million in Q2.
Adjusted EBITDA loss for Q3 came in at $527 million, which is down 13 percent year over year, but up 24 percent since Q2.
Clearly, the actual losses are not as bad as the headlines with the adjusted EBTIDA down at $527 million. The big, big problem here is that revenues only grew 5% sequentially while losses are still widening.
Slowing revenue growth doesn't match up very well with expanding losses. The picture is actually very reminiscent of Snap (SNAP). The social messaging service went public with prospects for fast growth that eventually stalled while the company had never done anything to resolve ongoing massive losses and cash burn.
Despite a quarter where the now well-established ride-sharing service generated nearly $3 billion in revenues, the company burned about $750 million in cash. Uber needs a path to reach cash flow breakeven before the public markets will reward the stock, especially at a suggested market valuation of nearly 10x the projected valuation of $120 billion.
Late To Market
The even bigger issue is that both Waymo (GOOG) and Cruise Automation (GM) are both expected to enter the robotaxi market far before Uber is ready to shift away from contract drivers. In fact, Waymo has officially launched the service, called Waymo One, around the Phoenix area while Uber is only now returning to testing self-driving cars again after the accident that killed a person in Arizona about nine months ago.
The Waymo One service will actually start with Waymo trained drivers before the service officially transitions to a robotaxi service. The service is limited to initial test riders, but the company is already operating fully driverless cars for the test so it's only a matter of time before transitioning the service to fully autonomous.
In a way, Uber faces the Facebook (FB) mobile issue as the social networking company went public. The big difference is that Facebook didn't face a formidable foe entering their market while burning billions in cash each year.
Waymo expects to charge a similar fare as Uber while the later has to pay a large fee to a driver. The problem for both parties is that Uber hasn't come close to figuring out how to generate a profit off these ride-sharing trips since the company was founded back in 2010.
The ironic part here is the comparison to Facebook and Snap. While Facebook came public with a mobile issue and Uber is probably coming public with a self-driving issue, the company actually faces the financial position of Snap. Uber is generating large ongoing losses and a large competitor in Waymo is copying and improving their business model similar to how Facebook has done to Snap.
When comparing the market caps of Facebook and Snap, one can quickly see how the profitable Facebook has surged while the cash burning Snap has collapsed. Uber has placed itself in the same financial picture as Snap and will ultimately flop like Snap.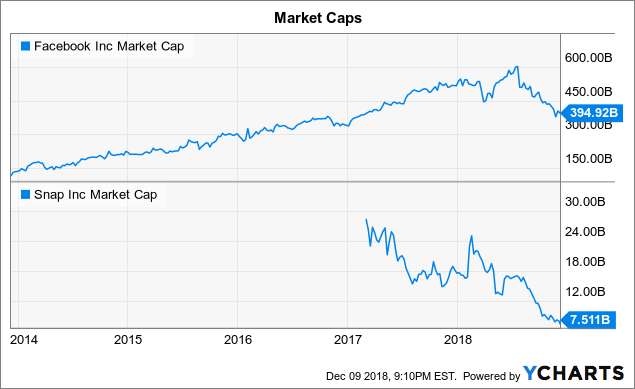 Takeaway
The key investor takeaway is that Uber plans to finally go public next year, but the company has placed itself in a bad position for an IPO. A bad business model leaves the ride-sharing service at the risk of not being able to fend off competition and not worthy of a premium valuation.
The one warning to bears is that Uber could easily see an initial post-IPO pop similar to Snap before a few quarters of massive losses crush the stock. The IPO of a hot money losing business is only for traders.
Disclaimer: The information contained herein is for informational purposes only. Nothing in this article should be taken as a solicitation to purchase or sell securities. Before buying or selling any stock you should do your own research and reach your own conclusion or consult a financial advisor. Investing includes risks, including loss of principal.
Disclosure: I/we have no positions in any stocks mentioned, and no plans to initiate any positions within the next 72 hours. I wrote this article myself, and it expresses my own opinions. I am not receiving compensation for it (other than from Seeking Alpha). I have no business relationship with any company whose stock is mentioned in this article.