Shares in Chinese social media and entertainment company Momo (MOMO) have dived further after Q3 results. If the company can stabilize these, we see huge upside for the shares, which are already way too cheap in our view.
The company offers services like life streaming person-to-person chat and chat room, short videos, dating and social games with much of the monetization driven by a phenomenon called virtual gifting.
The shares of Momo rode high not so long ago, driven by triple digit growth in revenues. However, growth, while still pretty impressive, is slowing down significantly, and competition and cost are increasing.
The shares had already crashed with much of the Chinese market and went further downwards after Q3 earnings to end up basically where they started the year. Is it that bad?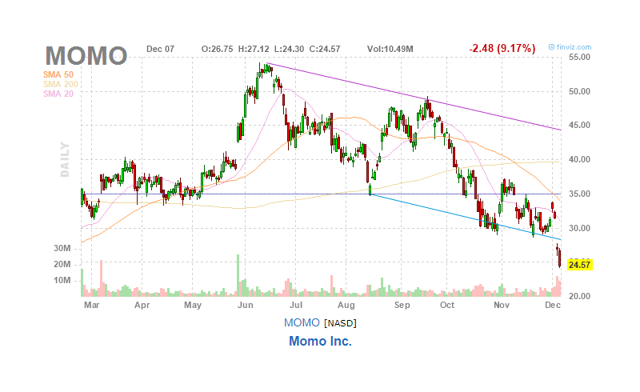 Growth
Let's see how the performance has been: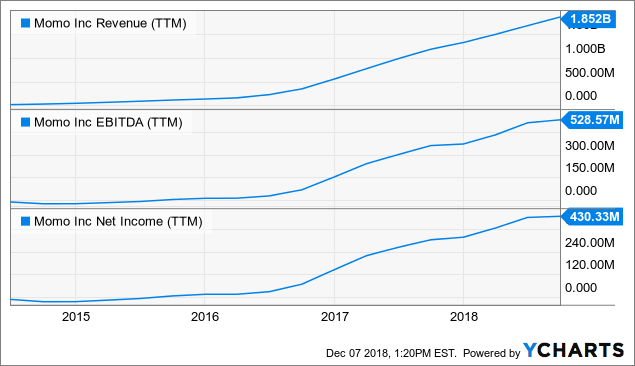 Revenue growth has been amazing and operational performance has also been very good. Q3 wasn't an exception:
Core Momo App generated 110.5M active monthly users, up 17% from last year and 2.5M higher than at the end of Q2.
Overall (Momo App and live streaming, without double counting) paying users increased to 8.9M from 7.3M (+22%) a year ago and 8.5M at the end of Q2.
Tantan paid users was 3.6M, up from 0.5M a year ago and 3.1M at the end of Q2.
Tantan created RMB 164M or $24.1M of revenues and average monthly revenues were up 77% sequentially.
Revenues increased 54% to RMB3.65B (up 16% sequentially), although in USD there was an 8% negative exchange rate effect during the quarter, revenue grew 51% (y/y) in USD to $536M.
Live streaming still generates most of the revenues ($406.9M) growing 34% y/y. VAS (value added services) was second, generating $84.2M in the quarter but growing much faster at 221%. Ex-Tantan, VAS growth was 129% producing $60.1M
Mobile marketing revenues decreased 1% y/y to $17.2M because of regulatory headwinds in the financial and gaming sector.
Growth came in at the low end of expectations at least in part because of efforts to clean up spam accounts.
Growth initiatives
The company has embarked on a host of activities to keep growth going:
For starters, the acquisition of dating site Tantan, which only started to monetize in January this year and the growth has been impressive and management believes that it can grow at least 3x in size, given 300M millennials and lack of ways meeting offline. Improvements in AI and new features will likely increase engagement.
The company has also been introducing more VAS services like Quick Chat (which tripled its revenues from Q2), gift features and interactive games in the chat rooms, which increases their engagement (it's now one of the key social use cases on the platform).
The company also launched two new paid features; See Who Likes Me (See) and Super Exposure for Tantan. This will not only to drive growth but also supposed to enhance the user experience and increase retention ratios.
The company is further diversifying connecting elements besides location, increasing user's chances of building meaningful relationships.
Any social networking site depends heavily on the quality of its algorithms and Momo isn't an exception. It is constantly improving and refining its algorithms in order to increase engagement and click through and watch through rates and enabling more relevant discovery for users.
Management is also revamping the ranking system of the broadcasters to provide greater motivation and better stimulate consumption and tying down the best broadcasters further through the Golden Broadcaster Contracts and also providing better incentives for talent agencies to increase the supply of new talent.
The company is also working on a new KPI system in order to more effectively leverage the agency and the broadcasts to drive demand.
The chat rooms are not yet revenue-oriented but management sees opportunities here as well. It's difficult to gauge how successful these (and coming) initiatives will be but the rapid increase in revenues from VAS and Tantan ensures the company will keep growing for quite some time.
Margins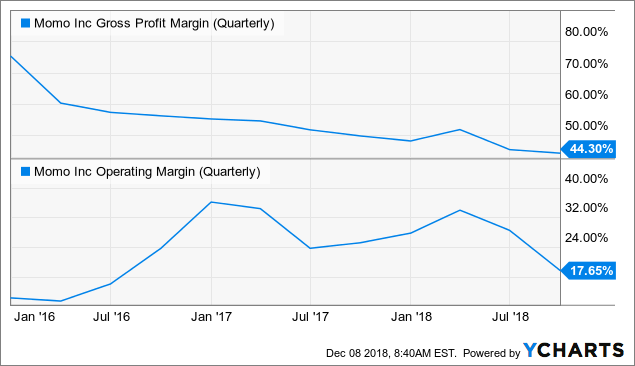 Above you see what is the main worry for shareholders, increasing competition is forcing the company to spend more to keep the growth going, which is eating into margins.
Non-GAAP cost of revenue increased to 55% an increase of 5 percentage points from last year, although some of that was inflated a bit by the production cost of the Phanta City variety show, most came from the incentive programs.
The result of this is that profits are growing much slower (+21% y/y in Q3) compared to revenues (+51%).
The main impulse for rising cost is the need to keep the top broadcasters and the talent agencies.
Momo, as a social platform where people come to make new connections, might have a leg up in that competition, according to management (Q3CC):
realizing that the social attributes and the unique user base of MOMO platform means higher revenue potential for them and these are the unique advantages that we can leverage to continue to attract more quality agencies and broadcasters. At this point, we are not feeling any concrete competitive pressure coming from any competing platform out there on that front.
Another thing is that the company has already scaled back the incentive program for the Golden Broadcaster in Q4 and together with the rising Tantan revenue, management expects Q4 margins to at least stabilize at Q3 levels.
They are also decreasing the bonuses for the year-end tournament.
Operational cost also increased, but not as much as revenues:
Non-GAAP S&M decreased from 15.3% of revenues a year ago to 13.8% in Q3 ($73.9M).
Non-GAAP R&D expenses rose to $29M or 5.4% of revenue compared to 3.1% a year ago.
Non-GAAP G&A expenses rose from $9M a year ago to $13.8M in Q3.
This resulted in non-GAAP operating margin of 23.3%, operating income was $125.1M, up 21% y/y. Management guided margins (Q3CC):
With the Phanta City impact behind us and Tantan's net loss continuing to narrow down, we expect the bottom line margins will be stabilized at Q3 level in the fourth quarter.
Management argues that the rise in content cost can be stemmed, and there is compensation at least in part from operational leverage (Q3CC):
there is also a good chance that we are going to increase the bottom line margin from this year's level.
Cash
One of the more impressive figures is the following:
The company generated $50.9M in operational cash flow in Q3, down from $104.6M last year because (Q3CC):
the revenue generated from Phanta City still sits as accounts receivable on the balance sheet as of the quarter end while related costs have largely been fully paid.
The company has a very healthy balance sheet with cash, cash equivalents, term deposit and restricted cash totaled $1.48B compared to $1.06B as of December 31, 2017.
Guidance
Revenues will increase 43%-47% (3% sequentially)
Ex-Phanta City (which increased Q3 revenues temporarily) the growth is a little higher, 4%-7% sequentially.
Valuation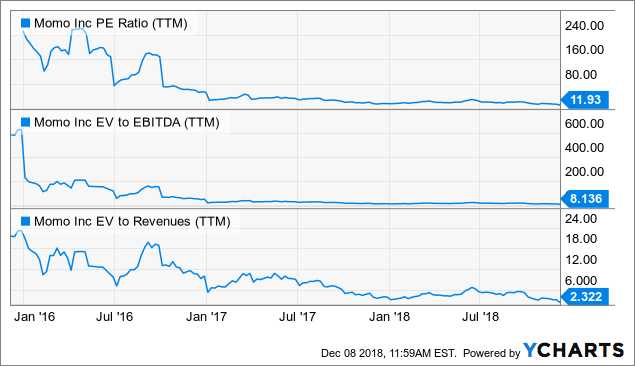 The shares are remarkably cheap on basically any metric, selling for instance at 10x free cash flow: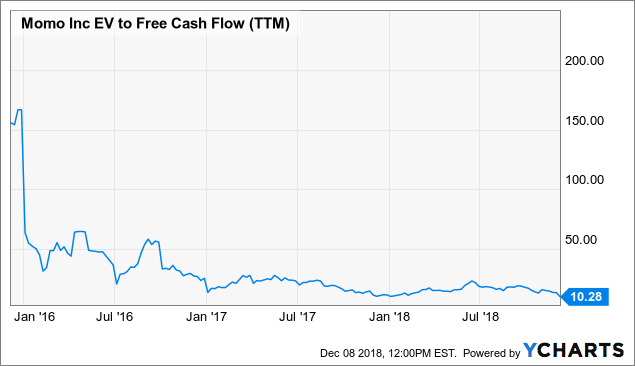 Analyst expect an EPS of $2.43 this year rising to $3.01 in 2019, giving the shares a remarkable sub 10 earnings multiple.
Conclusion
Momo shares have been dumped with most other Chinese stocks. While revenue growth is slowing, it's still pretty impressive at 40%+, and given the rapid increase in growth from VAS and Tantan, the company is set to keep on growing briskly.
The biggest worry is escalating cost. Management argues content cost will stabilize in Q4, which is a necessary start. The content cost are partly countered by operational leverage, which is likely to continue with the company growth.
Valuation is way too low, especially given the amount of free cash flow the company generates and the amount of cash it already has on the books.
Disclosure: I/we have no positions in any stocks mentioned, but may initiate a long position in MOMO over the next 72 hours. I wrote this article myself, and it expresses my own opinions. I am not receiving compensation for it (other than from Seeking Alpha). I have no business relationship with any company whose stock is mentioned in this article.