Thesis
With solid operations and continued diversification and transformation, JD.com (NASDAQ:JD) provides an attractive buying opportunity. Trading at its cheapest valuation since IPO, JD.com remains a high-growth company with expected revenue growth of 20 percent in 2019. I believe that the market is overacting to macroeconomic and company-specific risks and JD.com remains a solid long-term investment.
JD.com vs. Chinese Peers Key Metrics
| | | | | | | |
| --- | --- | --- | --- | --- | --- | --- |
| | 2018 GMV | Market Cap | Net Profit Margin (%) | Price to GMV | 2018 Revenue | Projected 2019 Revenue Growth (%) |
| JD.com | ~$240B | $29B | 2.86 | 0.121 | ~$66.05B | 20.00 |
| Pinduoduo | ~$65B | $25B | -32.57 | 0.385 | ~$1.74B | 119.90 |
| Alibaba | ~$770B | $400B | 23.64 | 0.519 | ~$54.68B | 36.70 |
Source: Ycharts and Yahoo Finance
Net Profit Margin is based on the latest quarterly results.
Accompanied by faster GMV growth in the past several years, JD.com's GMV has reached about 30 percent of Alibaba's (BABA). Yet JD.com's market cap, as seen from the chart below, has consistently decreased and is now less than one-tenth of Alibaba's. Both companies have been punished by trade war concerns. Certainly, JD.com has been punished more, as its stock price approaches the IPO level back in 2014. While Alibaba's light-asset, platform-based business model justifies a valuation premium over JD.com, its expansion into lower-margin businesses vs. JD.com's expansion into higher margins business should see the narrowing of the valuation premium in the long term.
Although JD.com's projected revenue growth for 2019 is expected to be lower than that of Alibaba's, this number is too generic and somewhat deceptive. In the past few years, Alibaba's rapid expansion is fuelled with acquisitions and organic growth into lower profit margin businesses, illustrated by the $9.5B acquisition of Ele.me in March 2018, a food delivery service company at that time was loss-generating. Alibaba's high revenue growth may further drag down its profit margin next year. This is in direct contrast with JD.com, where its revenue from higher-margin service segment is accelerating as it allows for more third-party merchants to sell on its platform. The company also has opened up the logistics service to consumers. In the latest quarterly report, Alibaba's T-mall and JD.com's GMV grew neck-to-neck at 30 percent. Additionally, JD.com disclosed that GMV by third-party sellers has increased by 40 percent. For the service segment, JD.com has seen its service revenue contributing more than 10% of total revenue with growth steady at 50 percent. JD.com does not disclose the breakdown of profit from non-third-party and third-party segments. It's likely that the profit margin from charging third-party sellers is much higher than its own operating business. This improvement is already reflected in JD.com's earnings with the operating margin of 2.86 percent, the highest since its IPO. That being said, JD.com's lower revenue growth does not indicate that it's necessarily losing in the race between itself and Alibaba. At least in the core-commerce segment, the companies are neck-to-neck in terms of GMV growth and JD.com's growth of higher-margin businesses is more remarkable, which I will illustrate further in the next section.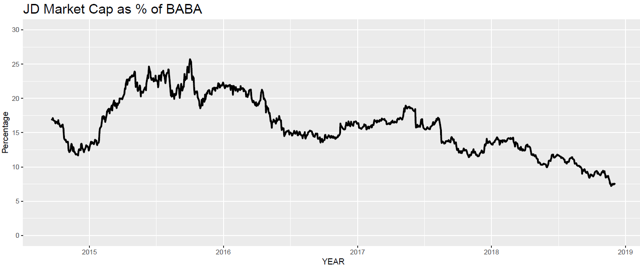 Source: Yahoo Finance
Many also have feared that the rapid growth of Pinduoduo (PDD) will threaten JD.com. The company has seen its revenue growing by 700 percent this year and is predicted to double its revenue in the next fiscal year. With Tencent holding a minority stake in both companies, there are concerns that if a competition begins between the two, Tencent might have to pick a favorite. Currently, both companies have granted access to their respective platforms inside the Chinese social media app WeChat (in the form of Mini-Program). According to a research report by QuestMobile, Pinduoduo's DAU (Daily Active User) during the Singles' Day peaked at 119 million while JD.com peaked at 67.8 million. Pinduoduo's DAU surpassing JD has become a concern among many investors. However, JD.com and PDD are targeted toward two different consumer groups with the former focusing on first- and second-tier cities' rising middle class and the latter focusing on third- and fourth-tier cities as well as rural towns and villages. The rise in Pinduoduo's DAU is not a result of JD.com's loyal users switching to Pinduoduo. To put it simply, an active JD.com customer would less likely switch to Pinduoduo for its cheap price while risking getting low quality/counterfeited products and an active PDD customer also would not switch to JD.com as they are more price sensitive. There does not exist a direct competition between these two companies, as their targeted demographics are dramatically different.
With smaller companies constituting a minuscule market share, JD.com's direct competition mainly comes from Alibaba's Tmall segment. For the latest Single's Day Event, JD.com's GMV grew 25.7 percent to 159.8B RMB while Tmall grew by 27 percent to 213.5B RMB. JD.com's decelerating revenue growth, accompanied by its direct competitors' slower growth, does not reflect a significant loss of market share, but rather reflects the gradual saturation of the Chinese e-commerce market.
Service Revenue is an Engine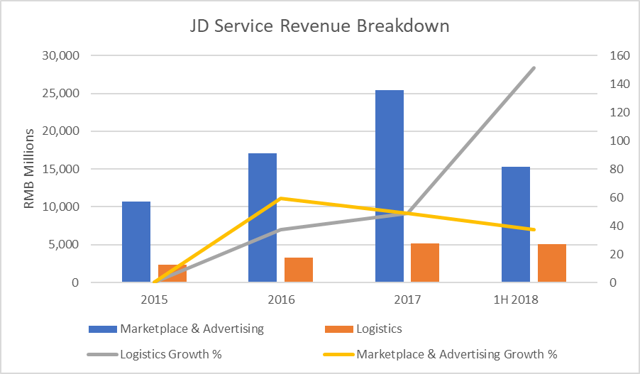 Source: JD.com Q2 2018 Report
JD.com's ~50 percent service revenue growth in recent quarters is often not highlighted. In the first half of FY 2018, JD.com generated RMB 20.43B in service revenue. Marketplace and advertising revenue accounted for 15.32B and Logistics service revenues accounted for RMB 5.11B. The logistics segment of service growth accelerated from 56 percent to 151 percent. With JD.com's announcement in October to open up its logistics network to consumers, it's highly likely that the logistics segment would see even higher growth next year. This segment is a moat JD.com has built up compared with its peers due to the large fixed costs associated with building fulfillment centers, warehouses, and the delivery network. With most Chinese logistics companies seeing a 5-8 percent net profit margin, JD.com can quickly turn the Logistics unit into a profit and revenue generating machine. In addition, CFO Sidney Huang said in the Q1 conference call that JD.com's advertisement segment still has a lot of potential as he pointed out indirectly that Alibaba generated much larger advertisement revenue by optimizing content on its platform. The slowdown in the lower-margin direct sales segment will be compensated with higher growth in the higher-margin service segment and this should boost investor confidence in JD.com's diversification and profit-generating ability.
Transformation into a Retail Infrastructure Service Provider
Last year, JD.com outlined its strategic objectives to transform the company into a "retail infrastructure service provider." The company has expressed ambitions to become a supply chain service provider as an attempt to capitalize on its existing infrastructure. JD Logistics and JD Finance, the two subsidiaries of JD.com operating independently, are two pillars of JD's visionary of transition. The two subsidiaries are planning to go public in 2019/2020. Those two entities became two offshoots of JD.com in 2016 and 2017, respectively, as at that time they were loss generating. However, these two subsidiaries are growing fiercely as the current valuation of JD Finance is at USD 20B and JD logistics at USD 13.5B. JD.com, according to the filing for a spinoff, has claims to a 40 percent stake of pre-tax income of JD Finance and an 81.4% stake in JD Logistics. The good news is that CEO Richard Liu has announced at the beginning of the year that JD Finance has turned profitable. This can elevate the company's cash flow and profit as the entity goes public. Both subsidiaries are hoping to go public in mainland China, which gives a much higher valuation to high-tech companies than the US market. (An example would be Qihoo 360 which was privatized at a valuation of USD 9.3B and re-listed in Shanghai with a valuation of RMB 440B ($63B USD). The listing of these two subsidiaries in the near future should provide a robust boost to JD.com's stock price. Therefore, JD.com remains a long-term growth story as the company expands toward higher-margin businesses and plans for the IPO for these two entities.
R&D Spending
JD.com's heavy spending on R&D is reflected in the latest quarterly report. JD.com's technology and content spending, its new name for R&D, has grown 88 percent this year as the company invests heavily in AI and automation. The company's total R&D spending has exceeded Alibaba for the last three quarters. This may sound like a familiar "Amazon" story as JD.com reinvests its profit for long-term margin improvement. With its heavy investments in infrastructure, automation and supply chain management, these should all turn into long-term growth engines for the company.
Risks
There are worrying signs in JD.com's recent quarterly report. Revenue growth deceleration is larger than expected. This is partially attributable to RMB depreciation as revenue growth remains steady at 25 percent in RMB terms and is in line with analysts' expectations. The more alarming issue is the company's first ever QoQ drop (2.8 percent) in Monthly Active Users to 305M. The decline in MAU is compensated with an increase in ARPU (Average Revenue Per User) but whether this increase can sustain remains a concern. In 1H 2018, Home & Electric Appliances revenue increased from 112.4B to 139.3B RMB, a 12% increase while General Merchandise revenue increased by 46.4 percent, from 42.8B to 62.7B. JD.com's effort to diversify away from Home & Electric Appliances, which accounts for 72.5 percent of its product revenues, should attract new users and reignite growth next year.
As JD.com has turned volatile lately, I would remain cautious when choosing buying entry points and follow closely with the next quarterly report which discloses the Singles' Day Event more in-depth. A few key indicators to watch would be MAU and GMV growth. If MAU continues to exhibit a sequential decline or if GMV growth lags significantly behind Alibaba's Tmall, I would reconsider my position in holding the stock.
Where to Go Next
With uncertainties in the trade war, I expect some volatile fluctuations of the stock price in the short run. For the fundamental side, I firmly believe that JD.com's revenue growth will stabilize and its profit margin will see improvements as service segment growth catches up. The transition of JD.com from a purely online retailer to a retail service company with supply chain management logistics network should lead to higher profitability and sustainable growth in the long run.