Shares of Zynerba Pharmaceuticals (NASDAQ:ZYNE) have lost a third of their value since I initially brought this small biotech firm to readers' attention. The first time around, in my personal account, I played the runup to clinical results for a double and change before selling prior to data. On the other hand, the stock has shed over 60% of its value since my article from last December stated that the bullish case had strengthened.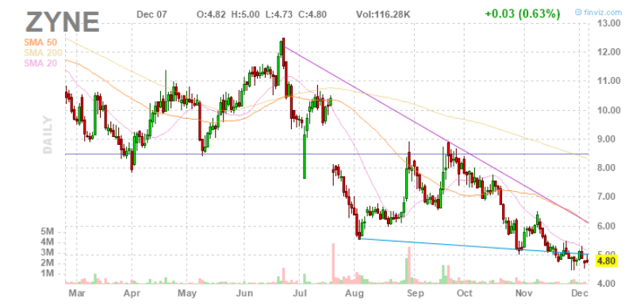 Figure 1: ZYNE daily advanced chart (Source: Finviz)

Figure 2: ZYNE 15-minute chart (Source: Finviz)
When looking at charts, clarity often comes from taking a look at distinct time frames in order to determine important technical levels to get a feel for what's going on. In the first chart (daily advanced), we can see continued weakness in the second half of the year due in part to a poorly timed secondary offering and "sell the news" reaction on positive mid-stage data. In the second chart (15-minute), we can see shares trading in a range near the 52 week low.
Overview
In my last update piece, keys to the bullish thesis presented included the following:
I stated that I was a fan of the improved direction management is taking the company in by focusing on rare or near rare neuropsychiatric conditions. Large market indications such as osteoarthritis and fibromyalgia require lots of capital to run clinical studies, something the firm didn't have a lot of.
I noted that lead product candidate ZYN002 is a pharmaceutically produced CBD gel which could avoid much of the controversy surrounding similar botanically derived drug candidates. Other benefits included efficient scale marketing and avoiding the gastrointestinal tract (and negative psychoactive effects).
Lead indication Fragile X syndrome appeared to be a high value indication considering there are 71,0000 patients in the United States

and no approved products. An inherited autism spectrum disorder which has been linked to deficiencies in the endocannabinoid system, Phase 2 open label (should be taken with a grain of skepticism due to lack of control arm) appeared quite convincing with high statistical significance achieved. I stated that Breakthrough Therapy Designation is a possibility based on encouraging improvement versus baseline in the ADAMS total score and across several categories of the ABC-FXS subscale.

A second indication to evaluate the drug candidate was being pursued with the Phase 2 BELIEVE 1 trial evaluating ZYN002 in children and adolescents with Developmental and Epileptic Encephalopathy. With 50 patients to be enrolled and topline data in 2019, this represented another potential catalyst for upside in the medium term. I also stated that while the STAR 1 and 2 studies were technically considered failures, later it was demonstrated that patients with more severe epilepsy (over 15 seizures per month) had greater percentage reduction in seizures as opposed to those with less severe disease. I felt that this bodes well for both the BELIEVE 1 trial and for the Phase 2b study in adult refractory focal epilepsy.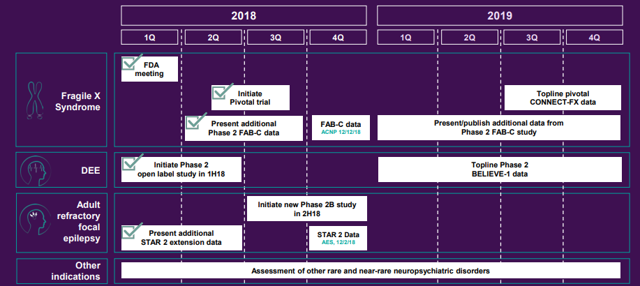 Figure 3: Pipeline (Source: corporate presentation)
With several potential value creating catalysts in 2019, let's take a closer look at what's happened lately.
Recent Developments
On July 5th, the company announced disappointing top line data for second drug candidate ZYN001 (pro-drug of tetrahydrocannabinol delivered via a transdermal patch) in healthy volunteers. While the fact that target blood levels of 5 to 15 ng/ml THC were not achieved caused the stock to tank, at the same time a silver lining is that as a result the company is focusing its resources on a more lucrative lead program that's further along.
Later on management decided to extend the operational runway via secondary offering, with over 4 million shares sold at a price point of $8 for net proceeds of $30 million.
Also in July, the company initiated the CONNECT FX randomized, double blind, placebo-controlled trial evaluating ZYN002 in children ages three to 17 with full mutation Fragile X syndrome. While there's significant risk in the trial making the jump from open-label to randomized study, if successful a first to market product for the treatment of behavioral symptoms for this condition would be a big win for the company and garner much attention in a market currently infatuated with anything "cannabis-related."
Patients will be treated for 14 weeks with the primary endpoint being change from baseline to the end of the treatment period in the Aberrant Behavior Checklist-Community FXS Specific (ABC-CFXS) Social Avoidance subscale. Key secondary endpoints include change from baseline to the end of the treatment period in the ABC-CFXS Irritability subscale score, the ABC-CFXS Socially Unresponsive/Lethargic subscale score, and improvement in Clinical Global Impression - Improvement (CGI-I). Positive data is by no means a guarantee that regulatory approval will follow, as management would still have to meet with the FDA to determine whether results are acceptable as a basis for NDA filing.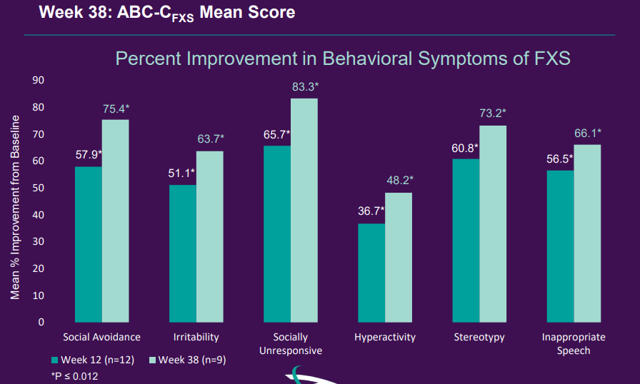 Figure 4: FAB-C open label data shows further improvement over longer priod of time (Source: corporate presentation)
Other Information
For the third quarter of 2018, the company reported cash and equivalents of $66.2 million as compared to net loss of $7.8 million. Research and development expenses totaled $4.9 million while G&A came in at $3.1 million. Management has guided for operational runway into the first half of 2020.
As for future catalysts of note, top line data for the CONNECT FX study is expected in the second half of 2019. In the very near term, we can expect updated longer-term data for ZYN002 in FXS to be presented at the ACNP (American College of Neuropsychopharmacology) Annual Meeting on December 12th. So far, it bodes well that improvement in key measures of efficacy reflecting improved core behavior symptoms of FXS continue to trend in the right direction, including social avoidance improvement as measured by the ABC-CFXS at 12 weeks (58%; p=0.0040) versus 38 weeks (75%; p=0.0013).
Management has stated that enrollment in the Phase 2 BELIEVE 1 trial is finishing up and data is expected in 2019. A Phase 2b trial in adult patients with refractory focal epilepsy should get underway around the end of the year.
For readers interested in the story, I suggest tuning into November's presentation at Piper Jaffray Healthcare Conference. Here are a few nuggets that stuck out to me:
Management confirmed that 1-year data for ZYN002 in FX will be shared at the ACNP Annual Meeting in a couple of days. While (as stated before) skepticism is warranted given the leap the company wants to make from open label to placebo controlled studies, sustained improvement in symptoms over a longer period of time would add an element of derisking (to an extent). I remind readers that Zogenix (ZGNX) was a strong winner of ours that also made the leap from open label to randomized study, while GTx Inc.'s (GTXI) 90% loss serves as an example of what can happen when a negative readout occurs (and most of the value is based on a single asset).
In the CONNECT FX trial, keep in mind that weight-based dosing is being used in the active arm (patients under 35kg receive 250mg daily and those above receive 500 mg daily). The company is aiming for a greater than 20% difference between active arm and placebo in Social Avoidance subscale (considered clinically meaningful in eyes of KOLs). In the Phase 2 trial, a 55% improvement was observed and management has brought that down to expectations of 40% improvement in this study as compared to an expected 20% improvement in placebo.
As for the second indication DEE, management estimates an addressable patient population of 45,000 and notes that data for GW Pharmaceuticals´ Epidiolex gives them hope that ZYN002 can show similar activity. In the Phase 2 trial note that no more than half of those enrolled are allowed to be Dravet syndrome or Lennox Gastaut Syndrome. Weight-based dosing is also being used and during the maintenance phase physicians are allowed to up or lower the dose as needed. At the end of the trial patients who wish to can continue on a 12-month extension.
In regards to the third trial in adult refractory focal epilepsy, note that it's a larger market (500,0000 patients more or less) than the other two rare disease indications.
In response to an analyst question, management responds that patent protection for ZYN002 extends into 2030 (via patent covering formulation). Interesting to note that the company tried out 30 different formulations using all currently available penetration enhancers and this one was the only method to yield substantial blood levels (believe it will be hard for competition to get around that).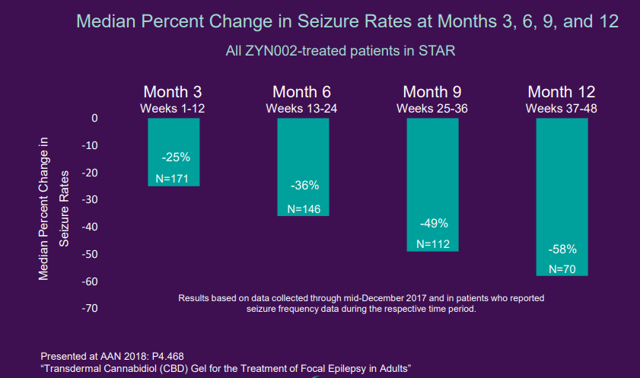 Figure 5: Long-term STAR 2 efficacy data as basis for pursuing mid-stage study in adult refractory focal epilepsy (Source: corporate presentation)
Final Thoughts
To conclude, Zynerba Pharmaceuticals appears to be more on the speculative side when it comes to catalyst and run-up ideas in the biotech sector. However, the current market capitalization of $85 million (around $20 million enterprise value or EV if cash is backed out) seems cheap considering data generated thus far and substantial market opportunities being targeted.
For readers who are interested in the story and have done their due diligence, there are multiple approaches you could take based on risk tolerance and time frame. One could be to establish a pilot position in the near term and wait for technical strength to add. A more conservative strategy could be to wait on the sidelines until the stock starts to show signs of life and then accumulate as the run-up gets underway. Given the risks involved (including binary nature of clinical readout) I suggest taking partial profits on the way up and holding no more than a half size stake through data (if at all).
Dilution in the near term appears unlikely given the current cash position and burn rate. Disappointing data in DEE and FXS readouts would weigh heavily on the stock (including possibility for outsized placebo response), as would any setbacks in the clinic including safety concerns or delays. The possibility of negative regulatory feedback is also a concern. Cash burn could increase significantly with clinical trials for all three programs underway, necessitating yet another financing of some kind.
As for downside cushion and elements of derisking, the current cash position accounts for about 75% of the market capitalization. That number should decrease in coming quarters as the burn rate rises and in the event of negative data the valuation could dip substantially below cash value. Prior data generated does add a slight element of derisking in lead indications, but this is still a speculative idea where the majority of an investor's capital could be lost.
Author's Note: I greatly appreciate you taking the time out of your day to read my material and hope you found it to be helpful in some form or fashion. If you´re willing, I look forward to interacting with you in the Comments Section. Whether bull, bear or simply a skeptic, we all typically have something worth saying and feedback (plus community-driven due diligence) is one of the reasons I enjoy writing. Have a good one!
Disclaimer: Commentary presented is NOT individualized investment advice. Opinions offered here are NOT personalized recommendations. Readers are expected to do their own due diligence or consult an investment professional if needed prior to making trades. Strategies discussed should not be mistaken for recommendations, and past performance may not be indicative of future results. Although I do my best to present factual research, I do not in any way guarantee the accuracy of the information I post. I reserve the right to make investment decisions on behalf of myself and affiliates regarding any security without notification except where it is required by law. Keep in mind that any opinion or position disclosed on this platform is subject to change at any moment as the thesis evolves. Investing in common stock can result in partial or total loss of capital. In other words, readers are expected to form their own trading plan, do their own research and take responsibility for their own actions. If they are not able or willing to do so, better to buy index funds or find a thoroughly vetted fee-only financial advisor to handle your account.