Quick Take
Nasdaq (NASDAQ:NDAQ) announced it has acquired Quandl for an undisclosed sum.
Quandl has developed an aggregated series of data sets that track alternative sources of data relevant to financial markets.
NDAQ acquired Quandl to bolster its alternative data offerings as it seeks to be a trusted source of real-time data for investors seeking alpha insights.
Target Company & Market
Toronto, Canada-based Quandl was founded in 2011 to create a comprehensive source for alternative data sets desired by investment professionals.
Management is headed by co-founder and CEO Tammer Kamel, who was previously Partner at the Iluka Consulting Group.
Below is an overview video of Quandl's private data platform:
Source: Quandl
The firm divides its primary offerings into two areas: Alternative Data and Financial Data.
Quandl has raised at least $17.4 million in private investment and investors in the firm have included Nexus Venture Partners, August Capital, and iGan Partners. Source: Crunchbase
According to a research report by Deloitte, the alternative data market could reach $7 billion by 2020.
The percentage of funds that 'use or expect to use alternative data,' per EY Global HF, is now 78% vs. 52% in 2016.
Although originally used by hedge funds, alternative data is expanding into 'larger, more complex IM (Investment Management) firms.
Acquisition Terms and Rationale
NDAQ didn't disclose the acquisition price or terms and didn't file a form 8-K or provide a change in financial guidance, so the deal was likely for a financially non-material amount.
A review of the firm's most recent 10-Q filing indicates that as of September 30, 2018, it had $526 million in cash, equivalents, and financial investments. It had total liabilities of $9.3 billion, of which long-term debt was $3.1 billion, and Default funds and margin deposits accounted for $4.2 billion.
Free cash flow during the nine months ended September 30, 2018, was $596 million.
Nasdaq acquired Quandl for its alternative financial data sets and business relationships.
As Nasdaq stated in the deal announcement,
Quandl provides alternative data and core financial data from over 350 sources to more than 30,000 active monthly users. The company offers a global database of alternative, financial and public data, including information on capital markets, energy, shipping, healthcare, education, demography, economics and society. Nasdaq plans to combine Quandl with its existing Analytics Hub business within Global Information Services.
In the past 12 months, NDAQ's stock price has risen 11.0% vs. the S&P 500 Index' drop of 1.9%, as the chart below indicates: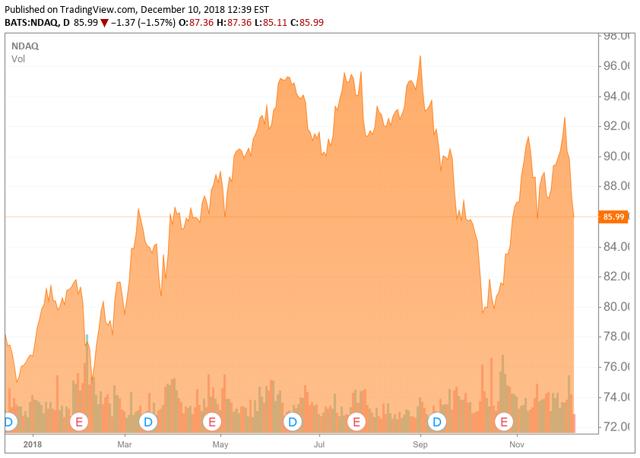 Source: Seeking Alpha
Nasdaq has been developing an alternative data group within its Global Information Services business segment.
One of the challenges for alternative data is data 'hygiene,' since it is frequently unstructured in format.
The Quandl acquisition will combine with Nasdaq's Analytics Hub to provide 'strengthened real-time capabilities and greatly enhanced data hygiene and symbology.'
For Nasdaq, Quandl will provide new data sets, as Bjorn Sibbern, EVP and Head of Nasdaq's Global Information Services stated,
Quandl will allow Nasdaq to partner more closely with the investing community as the industry continuously seeks ways to evaluate an endless supply of information to drive new insights, investment ideas and deliver alpha.
In an investment environment that has shifted in recent years toward index fund investing, Nasdaq is making a bet that, over time, investors seeking alpha opportunities will increasingly value alternative data sources to obtain an 'edge' in the market.
I tend to agree. Traditional financial data is widely disseminated within moments of its availability, leaving professional investors less opportunity to differentiate their trading or investing approaches.
The challenge for Nasdaq will be to continue to grow as well as normalize the data sources from which investment professionals will be able to access and derive advanced insights in real-time.